With US consumer confidence reaching an 18-year high, the demand for seasonal workers in stores and distribution centers has become more intense. According to the Bureau of Labor Statistics, there were 802,000 retail job openings across the US in August 2018, which is 100,000 more than in August 2017, and 141,000 more than in August 2016. In September, Target announced plans to hire 120,000 seasonal workers for the upcoming holiday season, an increase of 20 percent from its 2017 hiring commitment.
At the same time, low unemployment means competition for holiday retail workers is stiff. Major chains started posting help-wanted ads for seasonal workers much earlier than usual, and some started as early as June.
For HR leaders in retail, the stakes are incredibly high. One sign of a strong economy is poor customer service due to staffing shortfalls, experts say, and according to Korn Ferry, "about a quarter of retailers won't be able to hire all the temporary workers they plan to this year."
Staffing Shortfalls: Use What-if Analyses
Proactive HR leaders got a jump on workforce planning for the busy season long before they started posting job ads this past summer. But this does not mean there is no time to act. When time is short and the margin of error is small, the key is to focus on evaluating the outcomes of potential actions using two simple words: "What" and "If."
By combining "what-if" questions with a data-driven approach, HR can more accurately identify potential outcomes and mitigate the impact of talent shortfalls. One HR team from a company we work with, for example, asks "what-if" questions during executive meetings to continually assess how they are performing against their hiring targets, getting answers from their people data to determine whether they need to change gears in response to new developments.
If you work in HR for retail and need to close the gap between talent supply and demand this holiday season, follow these four steps to apply a "what-if" approach to your workforce data:
Step 1: Gather Input Metrics
To the casual observer, it might look like increasing the number of help-wanted ads is all it takes to get more hires. But I liken this approach to turning the faucet on full blast without plugging the bathtub drain — you are never going to get the volume you need. Effective HR leaders look across the recruitment pipeline.
The recruitment process can stall out at multiple points, so it's important to consider it at a granular level. To this end, gather your data for each of these input metrics:
Recruiter volumes: the number of hires each recruiter is tasked with finding

Hires per recruiter: the number of actual hires per recruiter

Applicant volumes: the number of applicants applying for open positions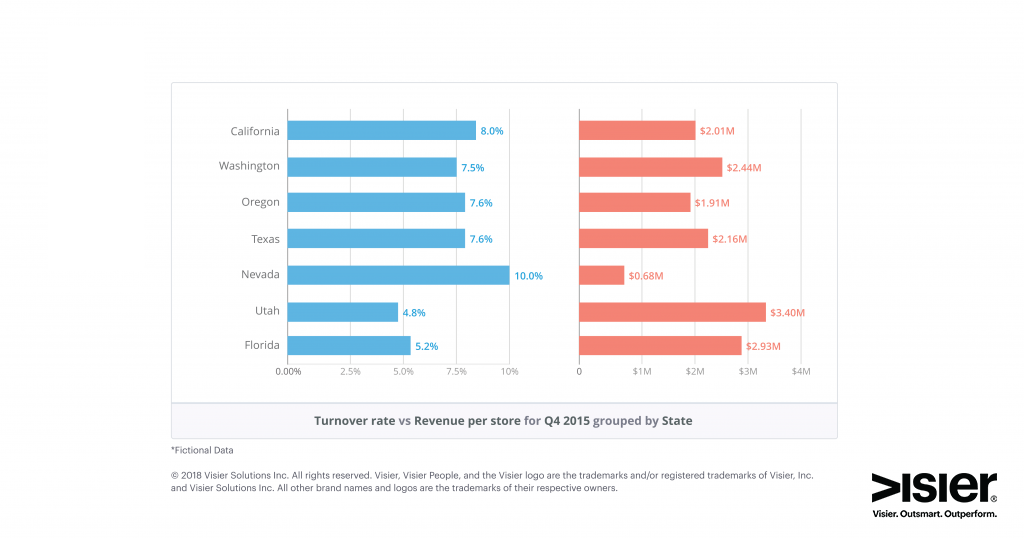 Other measures, such as hiring success rates by diversity group, are just as important — they ensure you are hiring a diverse team that looks like your customers. With this information at-the-ready, you can frequently check in and see how close you are to meeting your goals.
Step 2: Choose What-If Scenarios to Model
Next, look at the input metrics mentioned above and focus on areas where there needs to be an improvement. Moving the needle on recruiter volumes, for example, will require a different approach than trying to increase applicant-to-hire conversion rates. If the hires-per-recruiter metric is too low, you can ask: "What if I add more recruiters to deliver the required volume?"
Step 3: Run Scenarios
At this stage, you review the outcomes for the various different changes to the inputs, finding answers to what happens if you take a particular course of action. Essentially, you are assessing where the risks and opportunities are in your plan so that you can formulate a better and more resilient approach. For example, hiring more recruiters may not be feasible given the time constraints, but investing in more experienced recruiters may be possible.
Step 4: Adjust and Repeat
As the work unfolds, keep running your what-if analyses to get a sense of how likely you are to hit the plan targets and where an adjustment will bring the most success. If new developments crop up, such as you manage to increase new applicants but your hire conversion rate is dropping, you can then ask new "what-if" questions and adjust accordingly.
The Power of What-If? Analyses
How long it takes to run and measure what-if scenarios depends on your technology environment and whether you are pulling data from a people analytics platform. It will take longer, of course, if you are collecting this data manually using spreadsheets, but you will be much farther ahead than if you are just guessing at which tactics will yield the best results. This way, you can focus on getting what the business needs: the right people at the right time to act on increased consumer demand.
A version of this article first appeared in Retail Touchpoints.
About the author: Ian Cook
Ian is an advocate for the crucial role that people play in helping companies thrive. His career has focused on enabling people, teams and companies to perform at their best. For the last 15 years Ian has been helping leaders elevate their HR strategies and programs through the effective use of people analytics. At Visier, Ian led the development of our market leading solution and is now focused on the overall strategy for the people analytics business.
Be the first to know!
Never miss a story! Get the Outsmart newsletter.
Related Articles
DEEPER INSIGHTS
Every company needs clear alignment around the employee data it should collect. Here are six steps to developing a people analytics data ethics charter.
TALENT MANAGEMENT
Follow these steps to model different merit pay employee salary increase configurations and make the right decision for your company using people analytics.
LEADERSHIP
Imagine a world where every great HR initiative gets properly funded. Follow these suggestions to get C-suite buy-in for great HR initiatives.