Deeper Insights
5 Min Read
How Can Strategic HR Keep Up With The Future of Work?
The evolving work ecosystem demands that leaders consider applying new work arrangements, but are those arrangements associated with HR's role as a strategic partner? A unique survey of U.S. HR leaders shows how HR's strategic activities associate with using new work arrangements.
Organizational Talent Systems Lag Behind the Emerging Work Ecosystem
An emerging work ecosystem brings both opportunities and demands for leaders to "Lead the Work" by reconfiguring work, rewards, and their organization to encompass a greater array of work arrangements — both for their regular full-time employees, and for an increasing array of non-employee workers who will be engaged through other approaches (freelancers, contractors, volunteers, crowdsourcing, etc).
HR has an opportunity to enlighten and guide leaders through this new work ecosystem, and through systems and activities that support "total talent management" strategies. Such strategies will require embracing and integrating data, systems, and frameworks from new disciplines such as procurement.
But is HR stepping up to this opportunity?
Recent research from Staffing Industry Associates suggests room to improve. Their survey of hundreds of company executives and recruitment product suppliers found that 30% of organizations don't know their total quantity and cost of workers. Under 20% of organizations make significant efforts to motivate their non-employee workers, and the visibility of motivation, skills, productivity, and costs of non-employee workers is only 2/3 as high as for regular employees. Nearly half (46%) perceived that HR and executive leadership are indifferent to a combined view of talent.
What New Work Arrangements Are Used the Most?
In Lead the Work, my colleagues Ravin Jesuthasan, David Creelman and I suggested that new work arrangements can be designed with decisions about combinations of three key work elements:
The "Assignment" (How small can tasks be deconstructed? How widely dispersed? How detached from regular employment?)
The "Organization" (How permeable, interlinked, cross-boundary collaborative and flexible should the boundary be?)
The "Rewards" (How rapid and frequent, how individualized, and how creatively non-traditional?)
Our twenty-year research program at the Center for Effective Organizations surveys top HR leaders in large organizations every three years. In 2016, we surveyed a high-level HR leader in each of 114 U.S. organizations, with average annual revenue of $13.7 billion and average number of employees of 25,421.
The table below shows the survey items, and the percentage of organizations reporting that their organization applied each work arrangement to more than 20% of their workforce: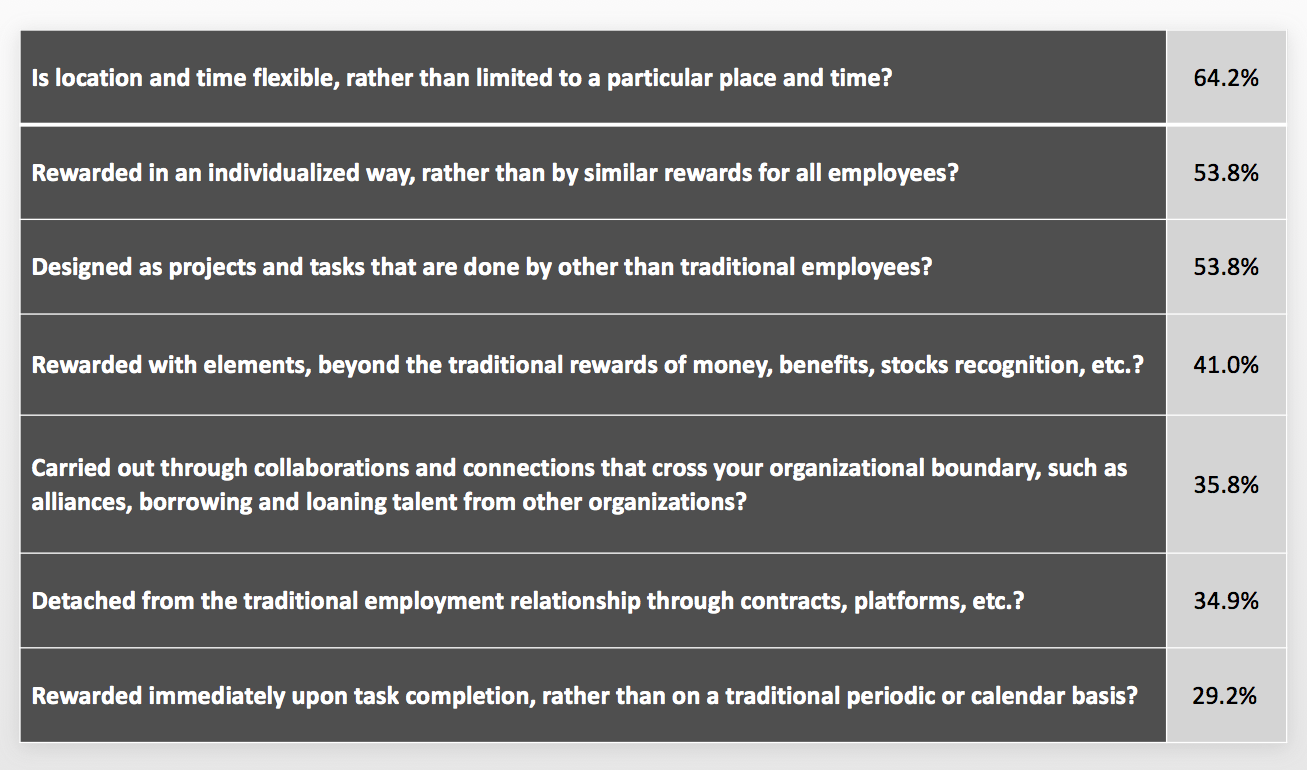 These new work arrangements remain relatively rare, but some are applied more frequently than others. Does their frequency relate to HR strategy?
Do the New Work Arrangements Associate with Strategic HR?
If work practices are correlated with strategic HR activities, that means that more strategic HR organizations adopt them and/or that such arrangements lead more strategic HR.
Only one work arrangement — "non-traditional reward elements" — was significantly related to the proportion of time spent as a "strategic business partner." It was also negatively associated with the proportion of time spent "maintaining records." Other work arrangements had no relationship with strategic business partnership or other activities.
To dig deeper, we posed the following six questions describing HR's strategic activities (the numbers show the average response on a scale from "1 = little or no extent to 5 = very great extent":
A human capital strategy integrated with business strategy (3.27)
HR drives change management (3.56)
Provides HR data to support change management (3.08)
Provides analytic support for business decision making (2.92)
Makes rigorous data-based decisions about human capital management (2.89)
Data-Based Talent Strategy (2.74)
The table below shows the statistically significant correlations between the adoption of each work arrangement and each HR strategy activity. Think of the table as a "heat map," where the numbers show the existence and strength of the association.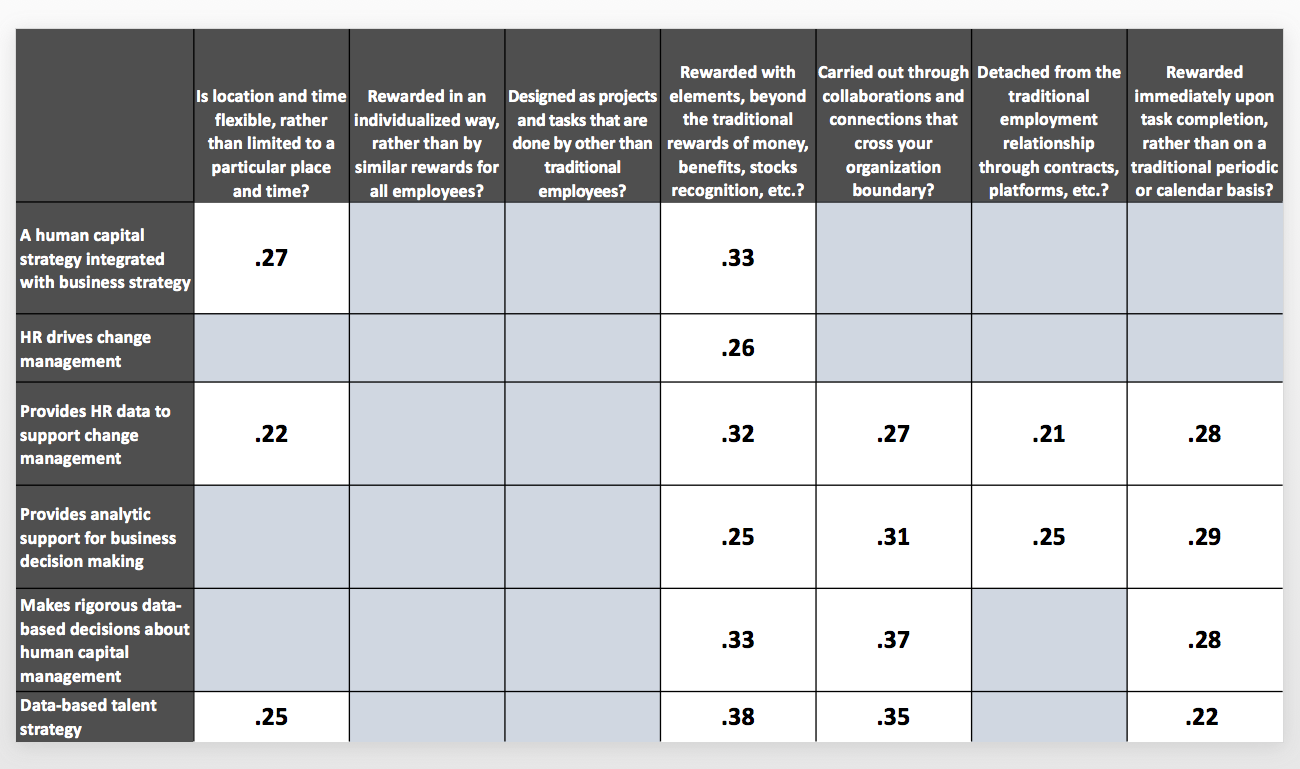 Surprisingly, the most extensively-applied work arrangements are least often associated with strategic HR activities. Two of the more extensive practices – individualized rewards and project/task work – were not significantly associated with any HR strategy activities.
Only one work arrangement – "Using non-traditional reward elements" – associated with all of the HR strategy activities, yet only 41% of organizations applied it to more than 20% of their workforce.
Choose the Most Strategic New Work Arrangements
The low interest in systems that depict "total talent management" may explain the low association between the most commonly-applied work arrangements and strategic HR.
If organization leaders do not yet see the value in systems that address the emerging new work ecosystem, they are unlikely to see the strategic value of HR adopting new work practices. Our data suggest that a few new work arrangements relate positively to HR strategy activities, but the most extensively-applied work arrangements are not associated with strategic HR.
HR leaders should consider adopting work arrangements that associate more strongly with strategic partnership. Also, HR must build constituents' awareness of the value of arrangements that are not yet associated with HR strategy.
About the Authors:
John Boudreau is professor and research director at the University of Southern California's Marshall School of Business and Center for Effective Organizations, and author of the forthcoming books, "Lead the Work" with Ravin Jesuthasan and David Creelman and "Global Trends in Human Resource Management" with Edward E. Lawler III.
Ed E. Lawler III is Director of the Center for Effective Organizations and Distinguished Professor at the University of Southern California. He is the author of over 400 articles and 51 books. His forthcoming book Reinventing Talent Management: Principles and Practices for the New World of Work (2017) is be out this spring. For more information, visit his website and Center for Effective Organizations site.
Be the first to know!
Never miss a story! Get the Outsmart newsletter.