Outsmart 2021 brought together over 2000 attendees from around the world and 50 amazing speakers for two days of inspiring and thought-provoking conversations. 
The entire conference is now available for free and on-demand. We invite you to access all the keynotes, breakout sessions, and resources in the Sponsor Booths and Networking Lounge! 
Below were just a few of the exciting moments from this year's conference. Don't forget to share yours on social using #VisierOutsmart!
1. Lazslo Bock urged us to measure what matters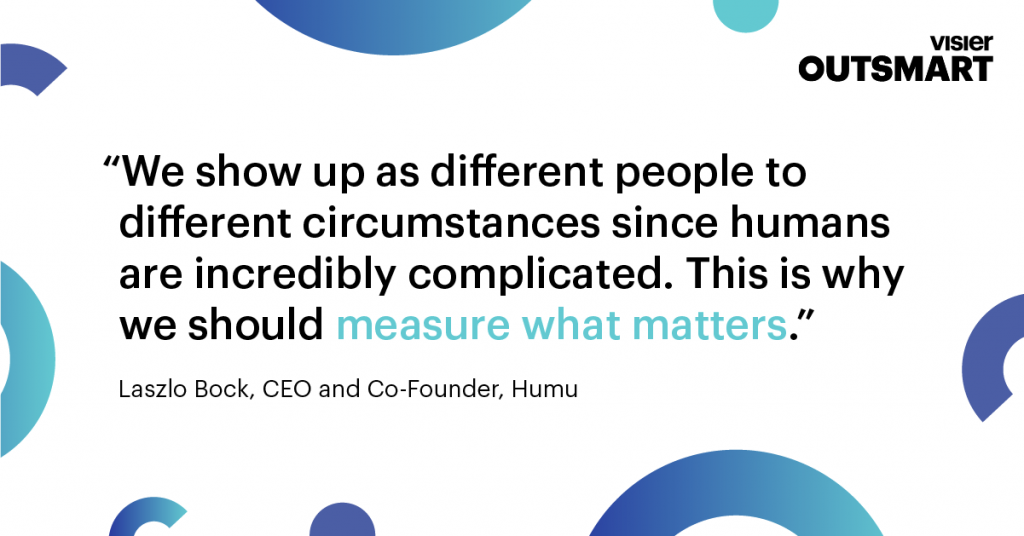 According to McKinsey, 70% of change efforts tend to fail. Throughout his Day 1 keynote, Humo CEO and Co-Founder Laszlo Bock urged us to stop focusing on meaningless data. To ensure we solve the right problems, one of his recommendations was to gather as much data as you can and use it to develop your hypotheses of "what good looks like."
2. Lenora Billings-Harris gave us tools to disrupt bias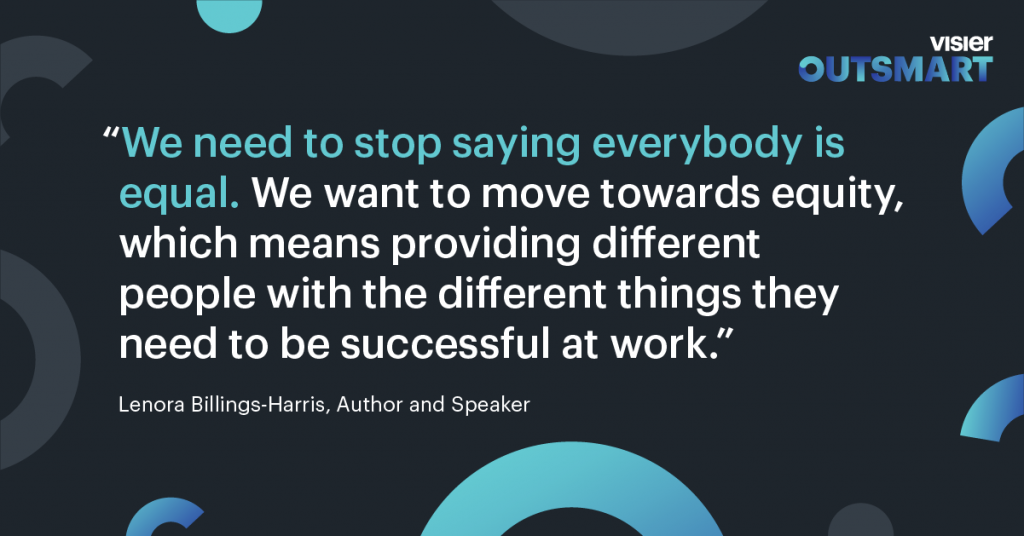 "When we're around people like us, that's when we let our guard down, and biased thoughts can turn into actions," D&I speaker and author Lenora Billings-Harris said during her keynote on Day 2. "That's when it's important to speak up. We need to be willing to do this more often to disrupt biases in that person, but also their sphere of influence." Her moving talk is filled with new ways to think about diversity, inclusion, and privilege–and how HR can take real action today.
3. Visier enables more successful Workday implementations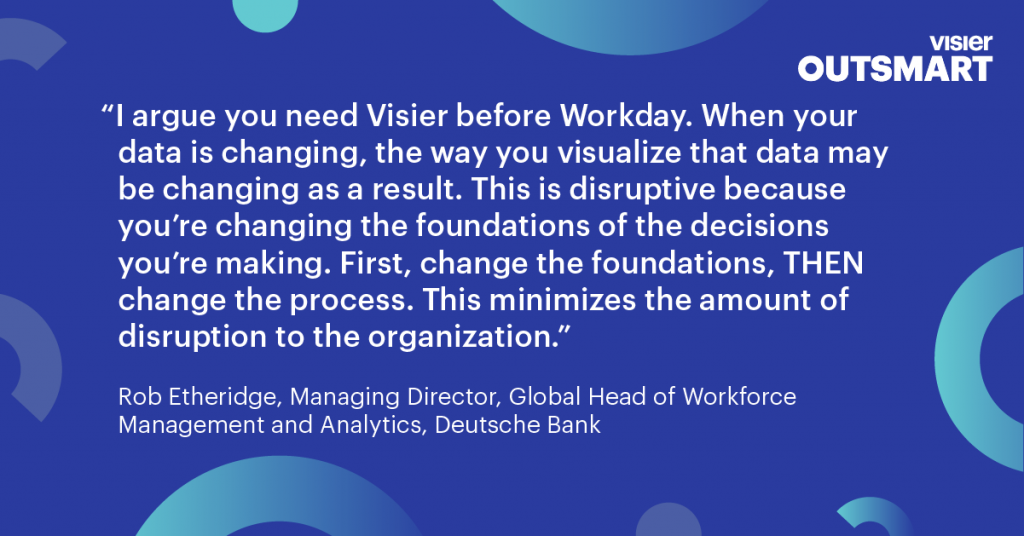 Melissa Kantor, Vice President of People Analytics and Insights, The LEGO Group
Rob Etheridge, Managing Director, Global Head of Workforce Management and Analytics, Deutsche Bank
Nicky Clement, Vice President HR, Organisation & People Analytics, Unilever
Steve Holder, Vice President, Solution Advisory, Visier (Moderator)
Visier and Workday are complementary tools that our panelists use to power their people analytics strategy and approach. Visier was brought in before or during their Workday HCM implementation to set themselves up for success, get data and information fast, and leapfrog their analytics maturity levels.
4. Talent acquisition plans must be focused on engagement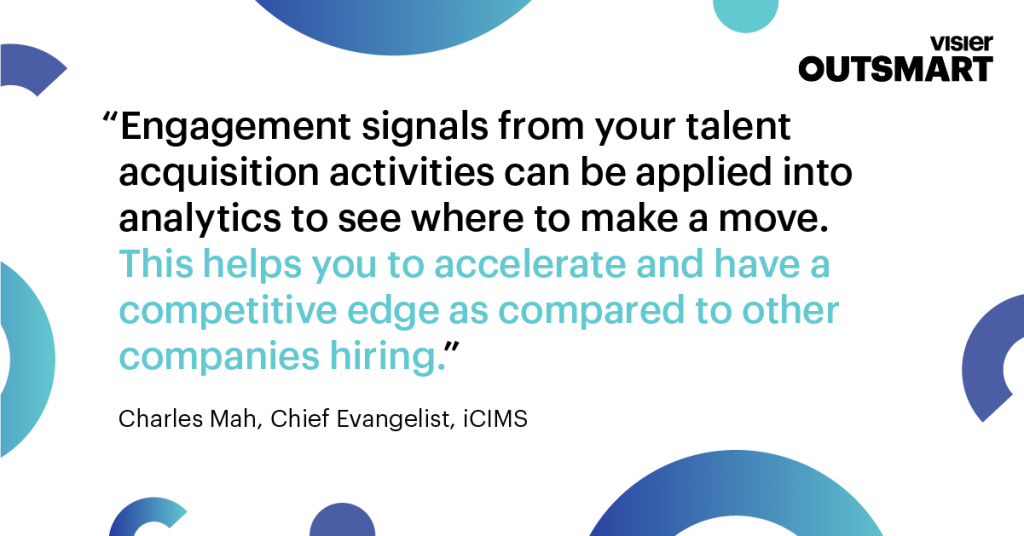 Charles Mah, Chief Evangelist, iCIMS
Jayne Landry, Chief of Staff, Visier
Charles and Jayne discussed that talent acquisition needs to change focus from filling positions to stirring engagement in candidates. They provide fantastic tips for using analytics to mine engagement signals from your talent acquisition activities and make opportunities come to you in a competitive market.
5. Access to historical people data is key during a merger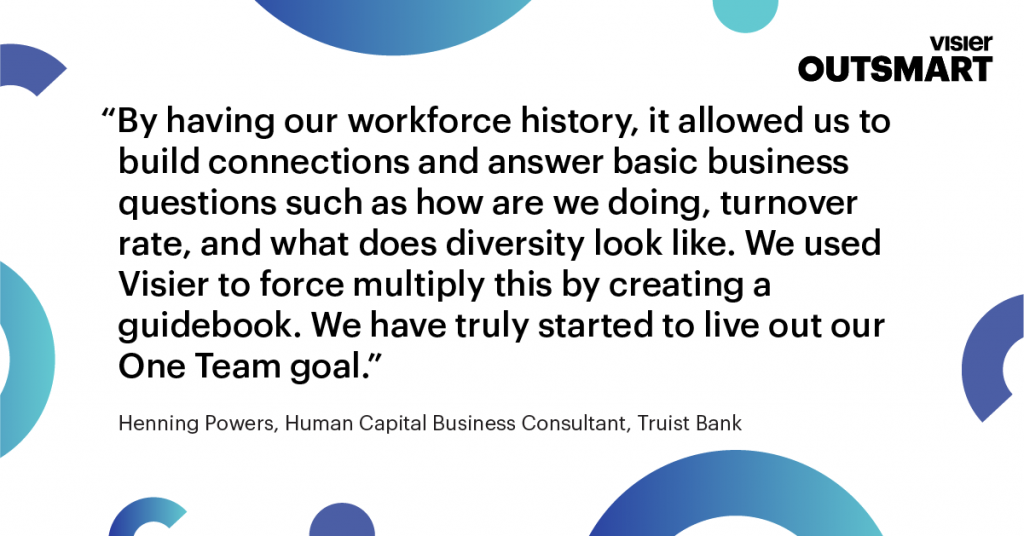 Henning Powers, Human Capital Business Consultant, Truist Bank
Nick Patriciu, Human Capital Business Consultant, Truist Bank
In February 2019, SunTrust and BB&T announced a merger to become the sixth-largest bank in the U.S.–Truist Bank. Employee retention is a key concern during any merger; the Truist team used Visier to tell if turnover was spiking–and then help business leaders see where they needed to act. They shared more on how being data-driven from the beginning helped them meet their merger workforce objectives. 
6. The gap between customer experience and employee experience needs to close for companies to succeed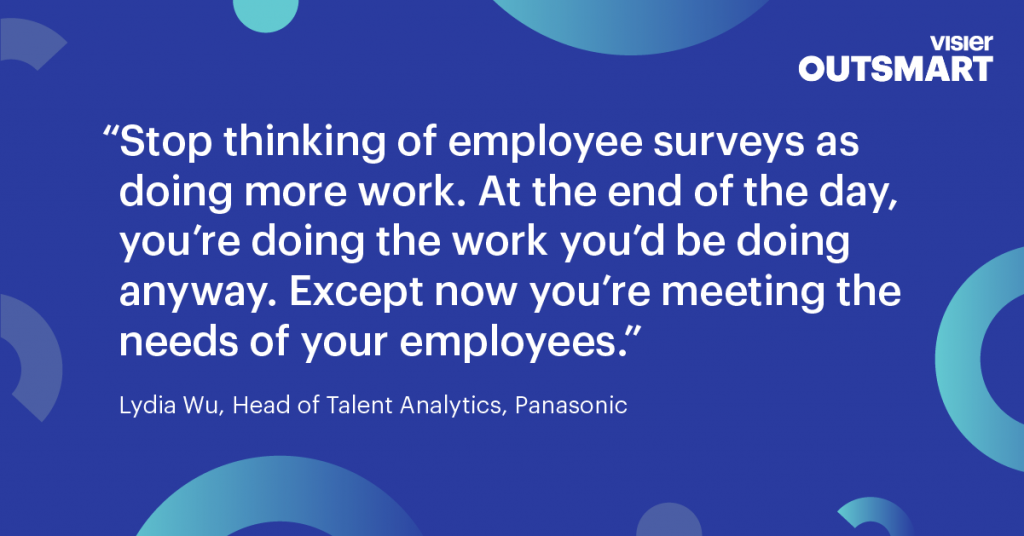 Melissa Arronte, Employee Experience Solution Principal, Medallia
Lydia Wu, Head of Talent Analytics, Panasonic
Zack Johnson, GM, Strategic Solutions & Partnerships, Visier (Moderator)
Melissa and Lydia made us think about all obstacles we're putting in our employee's pathway to success–and how we can use data and analytics to do better. "When customer experience and employee experience are together, it frees up our people to be human and have impact," said Melissa in a session full of mic drop moments!
7. People analytics isn't just for the big firms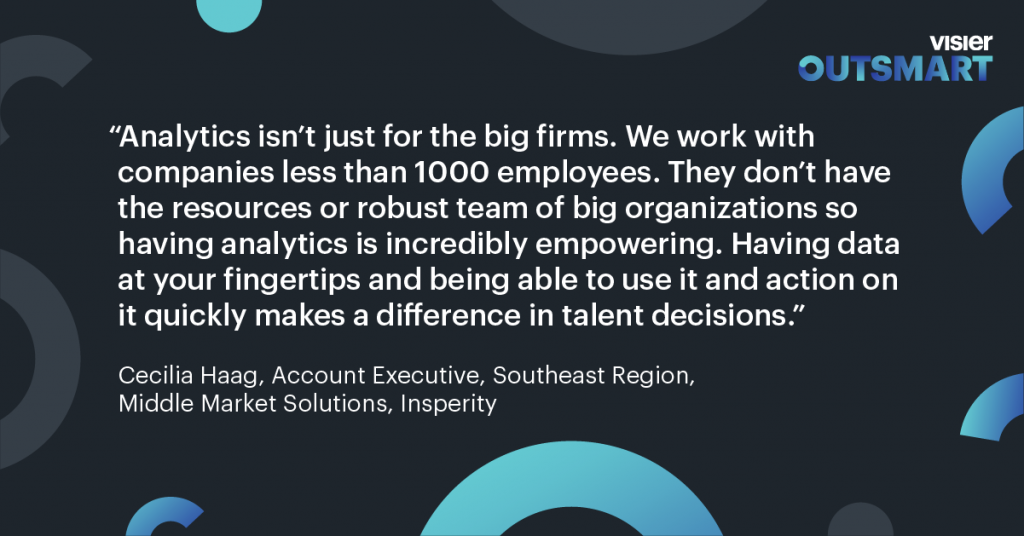 Cecilia Haag, Account Executive, Southeast Region, Middle Market Solutions, Insperity
Stephen Bruce, Managing Director, PeopleFluent
Chris Bovard, Vice President of Product Strategy, Paycor
Dave Weisbeck, Chief Strategy Officer, Visier (Moderator)
This panel was all about debunking common misconceptions about the value of data and people analytics for small to medium-sized businesses. Tune in for insights on everything from how small HR teams can make a big impact with data at their fingertips to how to be more agile as the return to workplace conversations heat up. 
8. Your people don't quit overnight–they quit in "papercuts"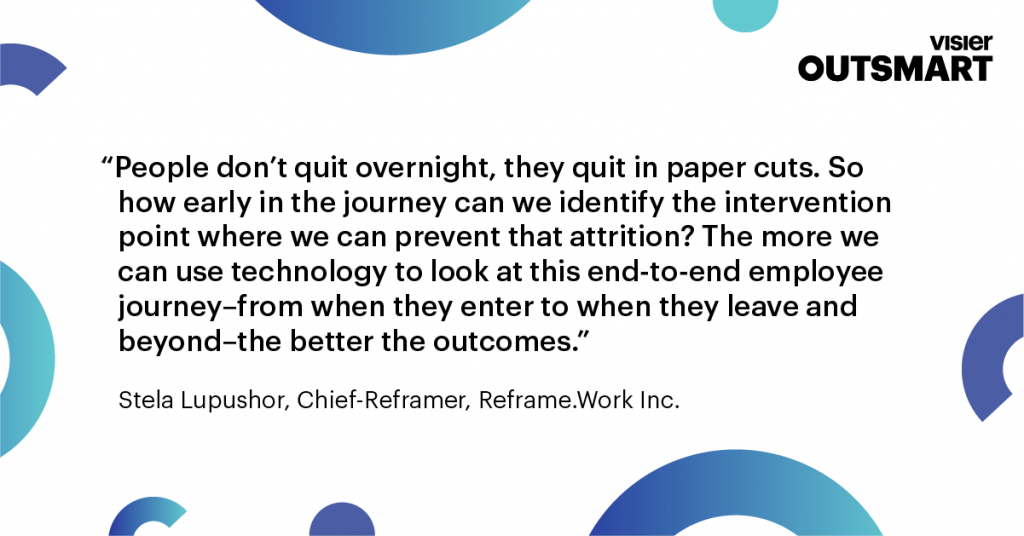 Our closing panel discussed the future of HR from the lenses of technology, leadership, HR processes, and more. One key takeaway was that organizations need to change their behaviors first before getting employees to adapt to new tech and policies. "Use your people data to be agile, but with the core goal of using that data for good," Lexy reminded us as she closed out the panel and conference.  
Watch Outsmart to your heart's content
There were so many amazing sessions at Outsmart 2021–more than we could fit in one article. We hope you'll give the sessions a rewatch if you attended (just log into the event platform to access) and encourage your colleagues to sign up to watch them on demand. 
And if you didn't get a chance to sign up for Outsmart the first time around, all the jaw-dropping, mind blowing, and inspiration-filling moments are just a click away–watch the sessions on demand today (all at no cost!).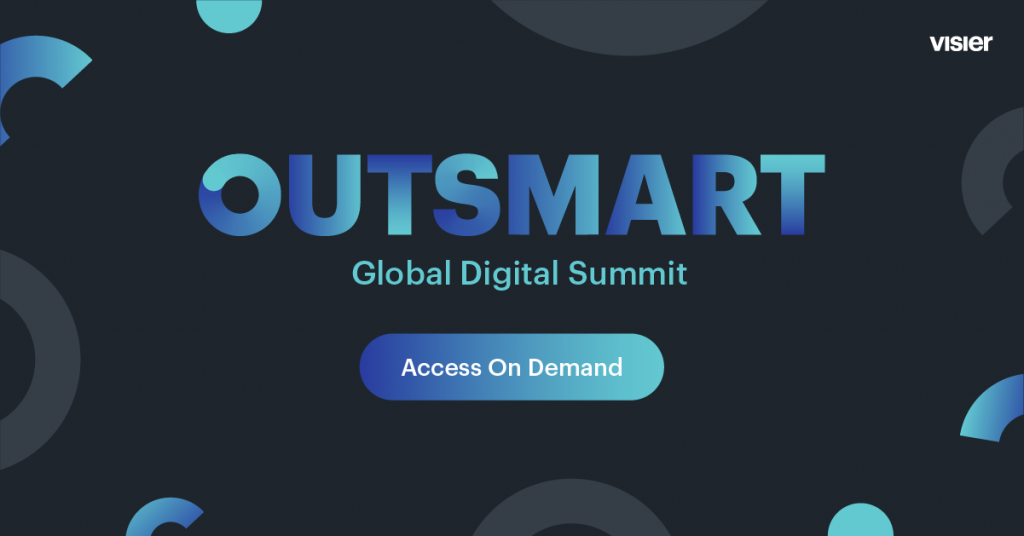 About the author: Karra Barron
Karra Barron is Visier's Sr. Content Marketing Manager and has over a decade of experience using storytelling to move people into action. At Visier, she is responsible for developing a wide range of thought leadership resources that educate and inspire business users to become data-driven leaders.
Be the first to know!
Never miss a story! Get the Outsmart newsletter.
Related Articles
DIVERSITY & INCLUSION
Empowering female leaders is critical to business success. But many women–burnt out at home and at work–are considering dropping out of the workforce.
LEADERSHIP
Continuous listening and contextual analysis can help organizations take meaningful actions that build positive employee experiences.
DEEPER INSIGHTS
Many organizations struggle to help managers make better people decisions. But others are thriving. What separates the haves from the have-nots?