We've created an e-book to help you navigate the three stages of a crisis with the right workforce questions and data analysis. Download it here. You may also find this checklist on Key Questions to Answer During a Crisis handy. Check it out at this link. Looking for more resources to guide you through crisis management? Visit our Crisis Management Resource Center.
This unprecedented challenge to our society has forced us all to rethink how we approach business as usual.
Some organizations are now part of an enormous work from home experiment that may be leaving people prone to isolation, burnout, and stress. Tech giants have chosen to continue paying people who are no longer required to work. Major car manufacturers have completely shut down their US plants due to workers' fear of infection. In other industries, organizations have re-tooled their operations to make surgical masks or hand sanitizer.
The compelling need to flatten the curve and control the spread of the virus–before it overwhelms our health services–has led to a huge reduction in economic activity. All of these changes are disorienting, but a framework for making people decisions is emerging.
Navigating the three stages of crisis management
Along with our partners, we are actively working with customers, helping them leverage their people data assets to rapidly respond to the pandemic. Our work is based on the following three stages for crisis management:
Stage 1: React
As soon as a crisis hits, leaders should be reacting immediately to changing developments and tailoring response plans for optimal employee safety.
Stage 2: Respond
In this stage, businesses need to stabilize and engage their employees. They also need to start thinking long-term about what happens once the crisis has passed.
Stage 3: Recover
This stage is about guiding people out of a crisis and longer-term planning. The way in which stage one and two have been navigated will determine success during this final recovery phase.
We are now entering stage two of the pandemic, where businesses are looking to stabilize and manage through the risks.
No one knows yet how long this stage will last or what the economic situation will look like. But what we do know from the 2008 recession is that those organizations who looked after their people during the crisis did better coming out of it. And this time around, public health is the number one priority.
If you are involved with people data at your organization, our community wants to hear about your experiences. Please read on and share your input with us at #AskVisier.
Crisis Management Stage 2: Critical people metrics to monitor
Our work is evolving, and the intent of this article is to continue sharing the business questions, approaches, and data which will be of value as your organization works through the three phases of crisis management. (We started looking at the critical people metrics to monitor in our first blog post here).
Here are the next set of questions to answer at this stage:
1. Which employees are essential?
Identifying which roles (and specifically, which people within those roles are essential to the stable function of the organization) is a step every leadership group should be taking. In the current situation, an "essential employee" can be defined as follows:
Essential Employee: A person who is the most knowledgeable and adaptable in performing a role that the organization needs to function day to day.
The data produced from this closed door exercise should not live in a spreadsheet or in someone's head. It needs to be available to decision-makers across the business.
Whether the business decisions are about re-aligning teams to focus on core work or reducing employee counts to survive a drop in revenue, you need to keep these employees and quickly engage them in stabilizing the business.
Also consider the broader economic implications of your actions: I would advise businesses not to reduce employee hours to zero, in order to keep employees under contract for when the crisis is over. This can prevent access to necessary social assistance programs and will damage the reputation of the organization.
2. How is the situation impacting employee sentiment?
The COVID-19 public health challenge has put employees through unusual levels of stress and required organizations to step up their internal communications, both to keep employees informed of changes to work schedules and facilities, as well as to provide general health information. This is a true test of your leaders and HR department and it has had a significant impact on the employee experience.
You can measure the impact on employees by measuring their overall sentiment, as well as how they're responding to things such as working from home.
Organizations like Qualtrics enable you to monitor the pulse of employees. Correlate this sentiment data with other critical employee data points to see the relationship between your communications and emergency response efforts. This will help you determine how best to support your employees.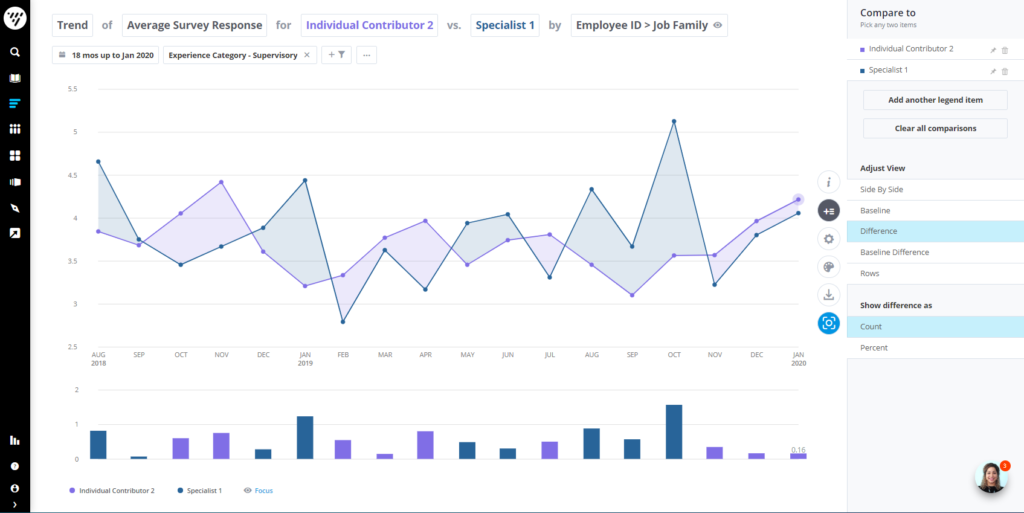 Just the act of reaching out to employees and asking them questions can help them feel heard during this challenging time. However, keep your questions relevant to the current situation at hand. Now is not the time to be asking people about Net Promoter Scores. It will be even more important to act on what you hear back from employees through this process. It is one thing to ask, it is far more engaging when real change comes from this process.
3. How will different scenarios impact our talent needs?
It is possible that even though planes are not flying, customer support people are overloaded. Pilots handle customers daily–could these people temporarily join the customer support team and help? How would it look for the organization if they are letting go of people in one role and hiring them in another?
No one yet knows how this crisis will unfold. This is why it is crucial to run a series of scenarios that model the potential impacts to your workforce:
What happens if the all clear comes in two months' time? How would we cover those two months and ramp back up? Alternatively, what happens if the pandemic shutdown lasts 12 months? How would our operations and business be impacted?
Your scenarios should consider short-, medium-, and long-term time frames. You should determine who you need where, doing what, to stabilize the organization and engage customers.
The need for creativity and looking at people, not just jobs, is really important. When deciding who goes where, we need to look past the job and at the skills, commitment, and adaptability of each person. The role being done by the person may not be required, however, they likely have the capacity to do something else that is important and valuable.
Alternatively, they may be able to help out in another organization that is struggling to cope. The need for taxis has reduced, but the need for delivery driving has increased. Clothing retailers have slowed down; however, food retailers are coming under intense pressure to keep this important supply chain flowing.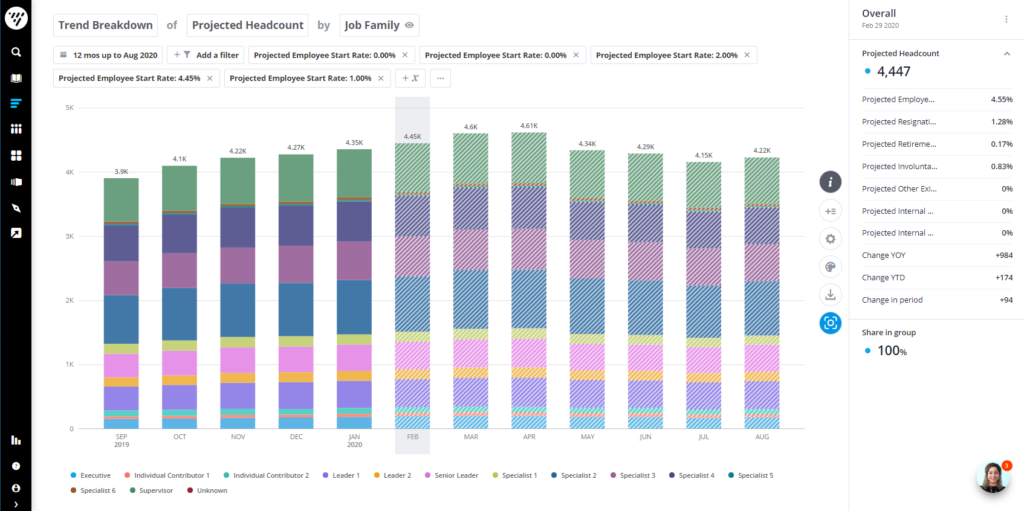 Having run the scenarios and monitored the progression of the pandemic, the next step is to take action. Decide the most likely time frame (not necessarily the most optimistic), and start to take the actions that realign leaders, people, and teams to this new approach. Whatever steps you take, it is key that you and your organization put people first.
4. How effective are our emergency response measures?
As organizations respond to COVID-19, it has forced us to put in place and test emergency measures. This won't be the last time that we'll need to check on the safety of our employees or test our emergency responses.
As you assess the effectiveness of your response and think about rolling out new protocols and training, determine how well those programs are working by measuring response rate, and the impact to employee safety. In addition to safety response, you'll also want to measure how your IT infrastructure performed as more and more people started working from home.
The Way Forward
As you work through the three phases of crisis management, urge your leaders to make stopping the spread of the virus the number one goal. This is a responsibility we bear for all employees, their families, and their communities.
Learn from the crisis management open forum
For more best practices on how to use people analytics for crisis management, review these key takeaways from our last open forum.
Share your People Data insights #AskVisier
Share insights, ask questions, and discover the latest best practices on crisis management and employee safety using people analytics via the #AskVisier LinkedIn community.
About the author: Ian Cook
Ian is an advocate for the crucial role that people play in helping companies thrive. His career has focused on enabling people, teams and companies to perform at their best. For the last 15 years Ian has been helping leaders elevate their HR strategies and programs through the effective use of people analytics. At Visier, Ian led the development of our market leading solution and is now focused on the overall strategy for the people analytics business.
Be the first to know!
Never miss a story! Get the Outsmart newsletter.
Related Articles
CULTURE
During our recent COVID-19 open forum, leading experts and practitioners in the data and analytics field shared emerging best practices for managing employee safety and business continuity.
DEEPER INSIGHTS
The COVID-19 pandemic is changing quickly. As you develop your COVID-19 response plan, here are 5 important questions that employers must ask.
DIVERSITY & INCLUSION
How do you take the leap from knowing D&I improvement is important to doing something about it? Follow these four steps to start changing your organization.