On October 21, 2019, our HR and Visier for mid-market teams joined forces at the CPHR HR Technology Symposium and Showcase in Vancouver, BC. We were joined by fellow Vancouver-based technology companies like TELUS and Jostle, as well as international HR tech leaders like Ceridian and Culture Amp.
Along with mingling and networking with our peers, the team learned a lot from the speakers and panels at the event. Here are a few of our key takeaways:
Not all companies are utilizing an HRIS yet
Companies still in their early growth may not be taking advantage of HRIS cloud software yet. If you intend to get started gaining business insight with people analytics, collecting your HR data within an HRIS is the best place to begin.
The CPHR HR Technology Showcase was an excellent place to explore HRIS technology, with booths from leading HRIS providers like Ceridian. If you're looking to implement your first HRIS system, here is a great place to start your search for the right solution.
The business value of employee experience cannot be ignored
HR leaders have long known that engaged employees perform better in their jobs. But recent years have shown that the full employee experience impacts organizational success, perhaps more than any other HR strategy. Nicole Severin of Ceridian made waves at the event when reporting that companies that invest most heavily in employee experience are 11.5x more likely to be placed on Glassdoor's Best Place to Work list, and 28x more likely to make it onto Fast Company's Most Innovative Companies.
Employee experience begins before they even apply
Leading employers like Netflix have opted to design an application process that takes about 1 minute, even for upper management and executives. Yep, you heard that right. With some large corporations still using application tools that take upwards of 30 minutes for the applicant to complete, it's important to consider how this could be seen as a barrier to entry.
The way we value HR technology has changed
As net-new HR technologies arrive, the way organizations budget for them and understand their value has to change. In the late 80s and early 90s when HR technology first started becoming mainstream, organizations looked at the total cost of ownership (TCO) to understand value. To create budget for HR tools, the HR budget had to be decreased—usually by reducing headcount.
Today, leaders must also analyze the total business impact (TBI) to understand the true value of technology. Business impact value can be seen in workforce outcomes such as reduction in turnover or absences. These new HR technologies impact an organization's bottom line, meaning they can no longer simply analyze the cost of ownership to understand the return on investment.
There's a right and wrong way to adopt new technologies
Aaron Hudson from ADP believes that you're probably adopting new technology wrong. That's not to say that there aren't bad HR tech tools, or that all technology adoptions are the fault of the company using them. However, companies are investing in a new technology platform (whether it's for HR or otherwise) should anticipate taking the time and effort to make that technology successful.
So how can you get it right? Hudson suggests treating a new technology platform like it's a marketing project. Communicate regularly and effectively with the team who will be utilizing your new tech. Convince them of why it's a necessity. Take advantage of the resources available to you from your technology provider, whether that is online tutorials or personalized education seminars. Technology is only as powerful as the hands it is put in.
79% of people in Canada are either actively looking or open to a new job
Saeed Sadooghi, Recruitment Evangelist at Indeed, rounded out the keynote speakers with this hard-hitting statistic. There are two ways to consider this data. As a talent recruiter, this is great news. Your next amazing hire might already be searching for you—it's just up to you to find the right strategy to acquire them.
The second way of approaching this news is to panic, go beg your top 10 employees to never leave you, and then review your current retention strategies. People analytics can help you analyze and improve retention strategies by bringing to light why people stay, why they leave, and where you might have red flags on your horizon.
Do you want to meet the Visier team in person? Here is where you can catch us at the latest HR technology events.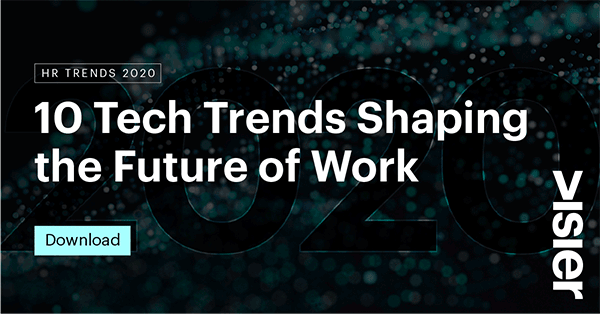 About the author: Deep Litt
Deep Litt is a certified HR Professional with over 15 years of experience across numerous facets of HR. Deep has demonstrated capabilities influencing business leaders with data-driven insights and recommendations to improve the employee experience. She also has a sushi roll named after her!
Be the first to know!
Never miss a story! Get the Outsmart newsletter.
Related Articles
TALENT MANAGEMENT
Access to actionable data leads to more informed business decisions Discover how to make the democratization of people data more of a standard practice.
PRODUCT INSIGHTS
HR leaders from Bosch share how gamification, sponsorship, and communication played equally important roles in their people analytics change management.
TRENDS
New research on workplace climate offers important insights for measuring, facilitating and enhancing successful work automation.