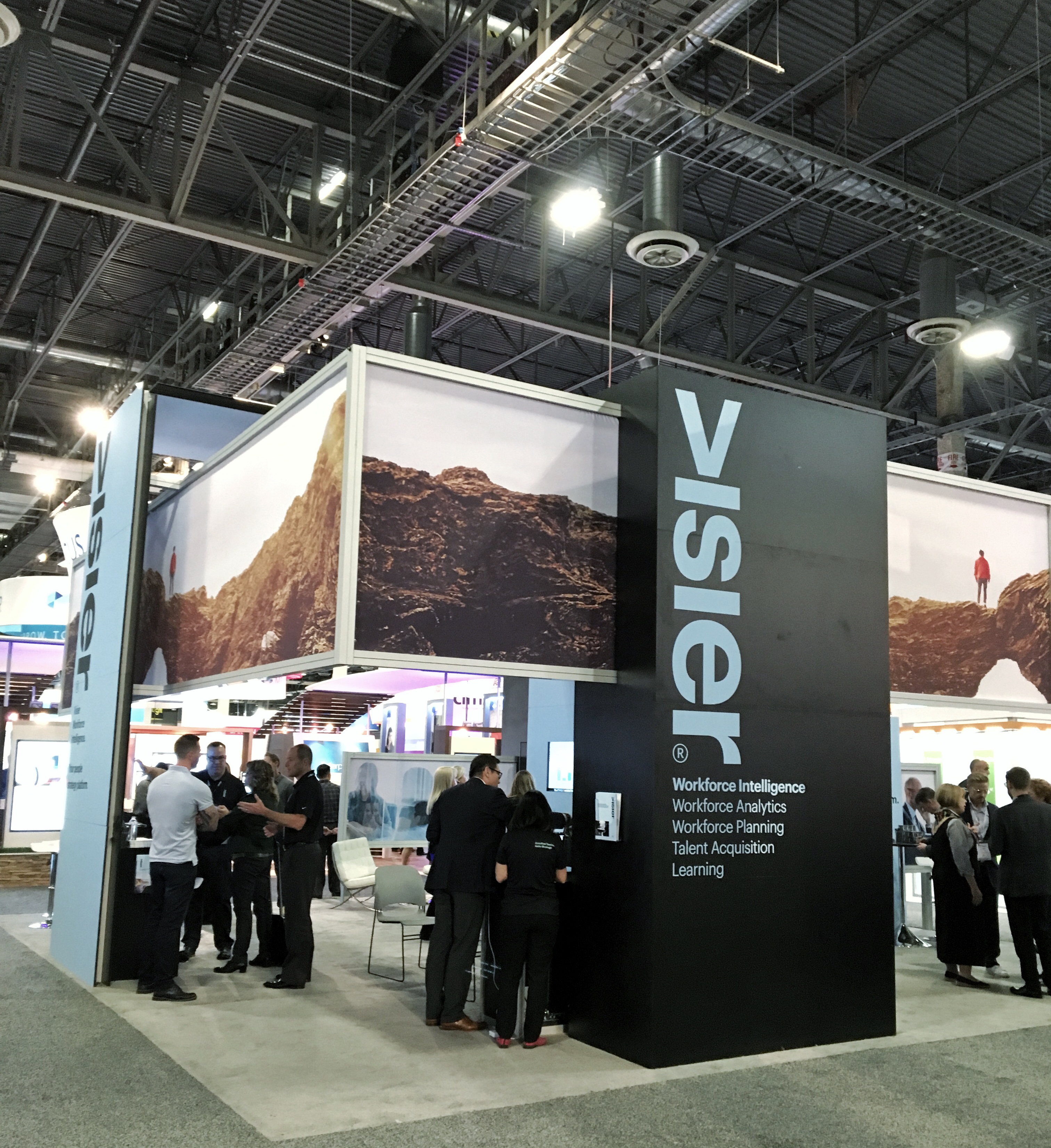 The Visier team came back from the 20th annual HR Technology Conference and Exposition (#HRTechConf) buzzing over the bright future of the HR technology industry.
We were excited to hear the importance of data and analytics repeated throughout the conference by several speakers, including at Laszlo Bock's opening keynote, where he said, "CEOs are looking for more digital and people analytics from their HR departments."
Analytics wasn't the only hot topic. From gamification to diversity and inclusion to AI to employee experience, we've tried to capture key insights for you here. Please feel free to download our notes straight from the link below!
Here's a taste of some of the great takeaways from this year's HR Technology Conference:
Data-driven organizations have a higher proportion of people managers doing their own analysis to make decisions about their workforce.

Collect stories of the people who achieve

roofshots

(small but important improvements to the business) and share these widely.

Gamifying your graduate hiring program can reveal a candidate's thinking, behavioral and social traits while also eliminating bias from the process.

Focus on human-centered design. When you have an in-depth understanding of your workforce, you will be able to use talent analytics in a much more impactful way.

To move diversity and inclusion forward, set actionable goals and objectives tied to compensation at the senior level.

Don't start with the technology. Instead, start with your strategy, which should involve vision, prioritization, and action.

Make internal training and upskilling within your organization a bigger deal. This gives employees more potential to grow and encourages them to stay.
Speaking of internal training, we launched our newest product at the conference: Visier Learning. Part of the Visier Workforce Intelligence solution, this analytics product connects data from your LMS with other HR and business system data, so you can understand the real impact of learning on both employee and business outcomes. You can discover more about Visier Learning from our press release.
About the author: Karra Barron
Karra Barron is Visier's Sr. Content Marketing Manager and has over a decade of experience using storytelling to move people into action. At Visier, she is responsible for developing a wide range of thought leadership resources that educate and inspire business users to become data-driven leaders.
Be the first to know!
Never miss a story! Get the Outsmart newsletter.
Related Articles
PRODUCT INSIGHTS
Read the Merck KGaA case study to learn the roll out and internal marketing strategy they used to implement people analytics across their organization.
CULTURE
In our Visier Insights: Ageism in Tech report, we identified a new finding: older workers are actually more valued in Tech. A septuagenarian speaks out.
CULTURE
Experience and maturity are more valued in tech. We call this the "Tech Sage Age." Here are four common tech ageism myths we debunked with the data.