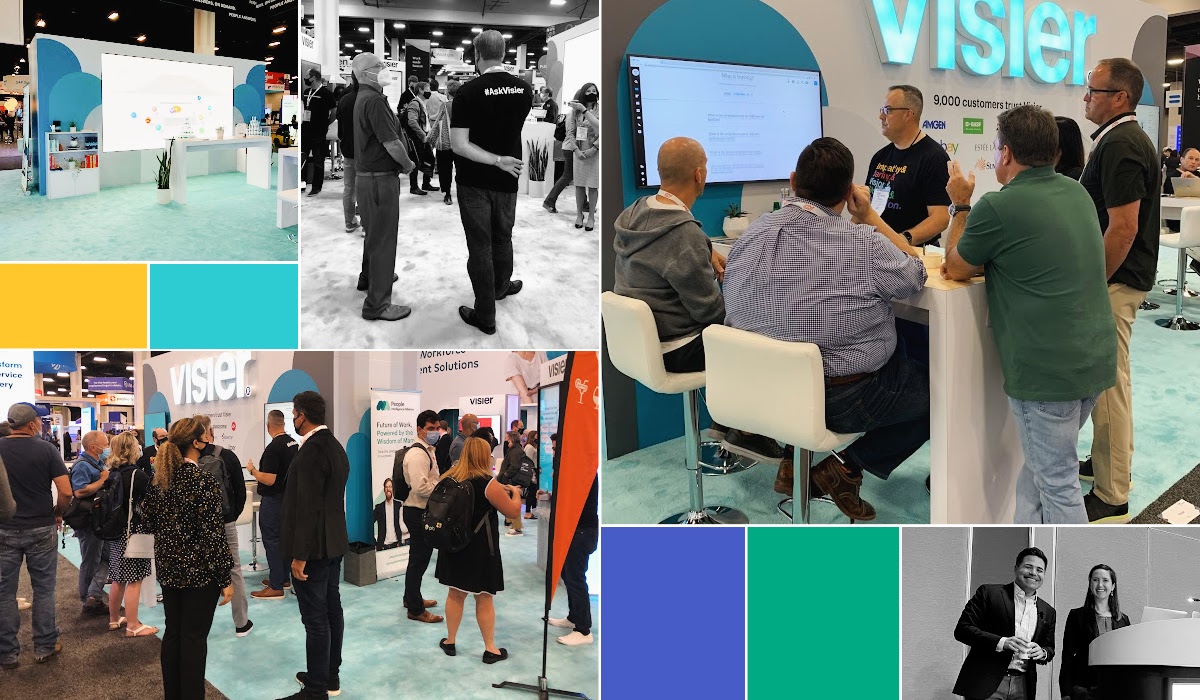 The 2021 HR Technology Conference in Las Vegas last week brought the return of the live conference experience. It was great to connect with HR and business leaders on what their HR superpowers might be, to explore the latest in the people analytics space, and to introduce our new People Intelligence Alliance to the HR Tech community.
HR Tech provided great learning opportunities as well. Several sessions focused on how to make good on DEI promises, especially with regards to women, who were disproportionately set back by job disruptions during the pandemic. Also of note were tips on making the best use of new technologies and designing ways to make these work for and with your employees more intuitively.
Here are seven key takeaways we're bringing back from this year's conference:
1. Keep women going forward in their careers
Rebecca Henderson, CEO, Global Businesses & Executive Board Member at Randstad shared that the pandemic left women stressed and underrepresented in the workforce with 1.5 times more layoffs for women than men because of seniority. The cost of childcare has gone up 15% and women's careers have been backsliding as they made choices favoring home life, leaving for jobs with lower titles, and less pay.
How do leaders make sure their companies undo this damage? Reskilling women for higher-paying roles and a better social and employee contract can give women the resources and flexibility they need to balance work and home life.
2. Look beyond the annual survey to collect employee insights
Experts from Degreed, Deloitte, Medallia, and Visier shared that when it comes to collecting good data for making people analytics decisions, emailing an annual employee survey isn't going to cut it. Instead, a digital survey inserted in a system that employees actually use can increase your chances of collecting helpful information about obstacles or issues they face at work.
Let employees know they can send you voice memos, videos, meeting recordings, and call transcripts to show what is happening in their worlds. Manager feedback and manager performance can also give you clues as to what's really going on with a situation. And remember: transparency is key! Letting employees opt-in, and showing exactly how their data will be used (and sticking to those promises) builds the trust needed for honest feedback.
If you're interested in learning more, we have curated a list of resources that you might find useful!
3. Futurize with machine learning, chatbots, & predictive analysis apps
Whether you're trying to decide which HR tech to focus your research on or need to make your case for a certain technology that will elevate your organization, the Annual Sapient Insights HR Systems Survey never fails to provide valuable insights for this work. In Stacey Harris's session (she's Chief Research Officer and Managing Partner of the Sapient Insights Group) she shared highlights from the survey—which encompassed more than 2,700 unique organizations—like:
HR spending has bounced back to higher than 2019 levels with more than half of medium and large organizations planning to increase spending.
Technology adoption is increasing, but it's not there yet: Systems are becoming too complex for functional HR teams to manage.
More companies (25%) are using machine learning, chatbots, and robotic process automation
Recruiting is the number one metric included in executive/business leader reports
30% of organizations are currently evaluating an HR app with predictive analytics. capabilities
4. Clean out your app drawer
Global Industry Analyst, Josh Bersin, shared in his session that it may be time to Marie Kondo your HR systems. Okta put in a study that a large company has more than 70 employee-facing applications. Are all these apps really necessary? Some technologies are like kitchen drawers: we keep piling stuff in and they sit unused in the back of the drawer. Is your company still using a program that hasn't been useful for two years or more? It's time to declutter old tools that don't serve your employees to focus our time on the technologies that will make a real difference going forward!
5. Optimize the employee journey to be better at DEI
Recruiting is where most employers want to start improving their diversity, equity, and inclusion efforts, but this is not a band-aid solution because bias creeps in, shared Hallie Bregman of PTC, Aaron Rodriguez of Wayfair (we previously shared their people analytics strategy for DEI here), and Cat Hoepner of Takeda in their joint session. Doing better starts with making sure job descriptions contain the right skills and keywords to get good candidates, without excluding those who gained skills through alternate routes.
It's also important to think beyond your network! Managers who want diversity means being open to hiring people they don't know. And objective interviewing is critical so make sure interviewers are trained in avoiding bias.
After employees have been hired, technology will help you identify and close gaps in the rest of the employee experience. Topic modeling and structured performance feedback will clarify demographic themes, and analyzing performance reviews can assess skill gaps.
Organizations adopting a broader definition of inclusion can measure the extent to which specific groups of employees have the opportunity to reach their full potential. Empowering individual leaders with DEI data gives them more opportunities to help everyone in their teams thrive. Wayfair, for example, is using people analytics to help leaders and managers steward an inclusive culture that fosters a sense of belonging and retains their people.
6. Tell people data stories using your hands, heads, & hearts
According to Jason Averbook, CEO and Founder of Leapgen, every HR function should be thinking about the concept of hands, heads, and hearts, especially when we're designing programs or implementing technology for our employees. In order for people to adapt, it has to be a journey that adds value along the way and thinking how much of your HR people are doing hands work versus hearts work is helpful.
Jason teaches his clients to use their heads and hearts together to not just understand data but to use that data to tell stories. Data stories help organizational leadership understand the value of their people and identify opportunities for further shaping and optimizing the workforce. When you put people data in the hands of managers, it allows them to lead their employees to show up in the best way possible.
Thank you to everyone that stopped by our booth to learn more about our solutions, see a demo, learn more about our incredible partners—or just to say hello!
And remember, you don't have to wait till next year's #HRTechConf to see a demo of Visier. Here's how you can see it in action anytime you want.
About the author: Catherine Cheek
Catherine "Kater" Cheek is an award-winning author with a breadth of writing experience from corporate communications to storytelling. As Senior Copywriter at Visier, she aims to highlight the human stories behind the data and showcase details that make complicated concepts easy to understand.
Be the first to know!
Never miss a story! Get the Outsmart newsletter.
Related Articles
FEATURED READ
Why did summer 2021 bring a resignation wave and which demographics were most affected? Knowing which groups resigned is the first step to an effective retention strategy.
TRENDS
How are companies evolving their workforce planning strategy to meet today's challenges? Here are four ways to make your plans future ready.
THE C SHEET
This week on The C Sheet, we cover the move towards a career in cannabis, top states for work-life balance, and the qualms of identifying with your job.