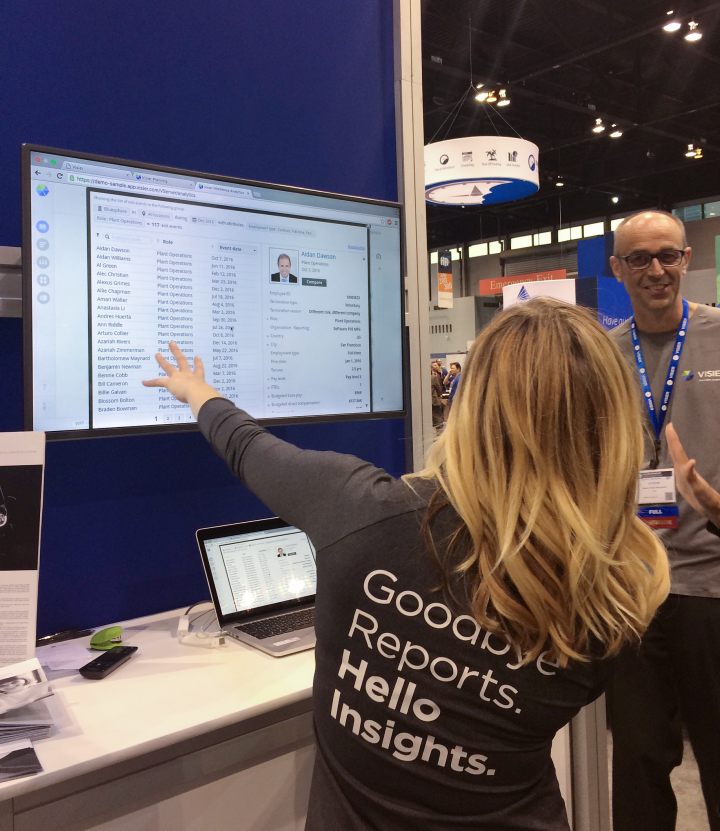 The 16 annual HR Technology Conference and Expo was a fast-paced three days of learning, idea sharing, connecting, and of course, trying out the latest in HR tech. As mentioned in our previous post, top themes from the show included:
Making Sense of HR and People Data

Engaging and Retaining Talent

The Continuing Impact of Marketing on HR and HR Tech

Succeeding with Modern HR Technology

Design and User Experience Comes to the Forefront
We sent our team into sessions to gather insights around these different themes. Feel free to download the notes straight from the link below (no need to fill out a form).
Some of the top takeaways include:
Leverage a digital network of human capital that goes beyond the walls of your organization

A modernization agenda is needed to solve challenges of today's workplace

To succeed with change management, include your core team in decision making, gain buy-in from execs, have a communications & training plan

You should be using people data for as many business problems as possible

Good recruitment marketing content can help candidates screen themselves and lessen work for recruiters

Employee experience has to be consumer great

Contingent workers have luxury to pick their team, so your culture needs to shine to attract their talent

Put promotable people on your project implementation team. When they get promoted, they will understand this part of the business and how the decisions were made during the implementation

Make your recruiting team mimic the sales organization and invest in the technologies that will help you impact the business like sales does

Employee-centric HR means thinking about what you would do differently if employees were paying you instead of you paying them
We also launched our Visier Talent Acquisition solution at the conference. It's a new advanced predictive analytics solution that empowers recruiters to quickly track, secure and place top talent. I invite you all to read more about this exciting new technology for Talent Acquisition here.
If you'd like session notes from this year's LinkedIn Talent Connect conference, you can download them here.
About the author: Karra Barron
Karra Barron is Visier's Sr. Content Marketing Manager and has over a decade of experience using storytelling to move people into action. At Visier, she is responsible for developing a wide range of thought leadership resources that educate and inspire business users to become data-driven leaders.
Be the first to know!
Never miss a story! Get the Outsmart newsletter.
Related Articles
PRODUCT INSIGHTS
Predicting time-to-fill for a job is the holy grail of talent acquisition. Dave Weisbeck explains how Visier uses predictive analytics to achieve this goal.
CULTURE
Improve your candidate experience with a data-driven approach to talent acquisition as well as expert tips from Tim Sackett, Sharlyn Lauby, and more.
TRENDS
19th Annual HR Technology Conference & Expo. Here's your guide to the HR Technology Conference 2016 sessions that will bring you real value.