Talent Management
9 Min Read
Navigating New Overtime Rules and Changes with HR Analytics
Update: The New Overtime Rule Has Been Temporarily Blocked
On November 22, a federal injunction was issued against the Department of Labor regarding the new overtime rules, which would have gone into effect on December 1. This means that employers and employees are in a temporary holding pattern.
Employers can continue to follow the old overtime rules — where the employee salary threshold is capped at $23,660 a year (or $455 per week) — but they must keep in mind that the new overtime rules could still be implemented in the future.
It's also important to coach managers on how to communicate the consequences of the injunction to their staff. Over 4 million employees were scheduled to become eligible for overtime pay under the new rules, so these conversations will be vital in the coming days to keep up morale, productivity, and employee retention.
The eleventh hour filing of this injunction reminds HR leaders that they need to be prepared to change course at anytime. No longer can you expect a 12-month window for any change. No longer can you start a data project just to deal with workforce surprises — you and your team need to be able to analyze and shift on a dime.
The uncertainty of this legal battle reasserts the need for HR to get the right analytics tools, processes, and people in place to react quickly to the regulatory shocks that have become part of the world of work.
Here's what you need to know to prepare for the future of overtime regulations — and beyond.
What are the new rules around overtime?
The rules around overtime work have been largely unchanged since 2004, but in May 2016 the U.S. Department of Labor (DOL) established a new ruling under the Fair Labor Standards Act that increases the minimum exempt employee salary threshold from $23,660 a year (or $455 per week) to $47,476 annually (or $913 per week).
The ruling means that any employee paid less than $47,476 per year will be entitled to overtime pay on any work beyond 40 hours a week. The DOL predicts that an additional 4 million workers across the U.S will become eligible for overtime pay based on the new criteria.
HR leaders across the country are being asked by their C-suites and Boards if they can avoid the millions of dollars in overtime costs their organizations are now at risk of incurring — thanks to new overtime rules passed by the Department of Labor — without negatively impacting business objectives.
And, in this pivotal moment, many are turning to cumbersome, error prone, insecure spreadsheets. However, with the mantra "never let a good crisis go to waste" ringing in their heads, the smartest of the group are realizing that now is the perfect time to move their organization forward with data-driven HR.
The regulation comes into effect on December 1, 2016, giving organizations only six months to adjust their pay practices and employee classifications. As a result, HR teams around the country are now scrambling to determine what this new overtime rule means to their organizations and how they are going to implement the appropriate changes by the deadline. Even more importantly, HR leaders are being asked — by their C-suite and Board — to determine if they can avoid the additional millions of dollars in overtime costs their organizations are now at risk of incurring, without negatively impacting business objectives.
Compounding this already complex, time-pressured situation is the fact that it's not a "one and done" event. The DOL will be updating the salary threshold every three years beginning in January 2020.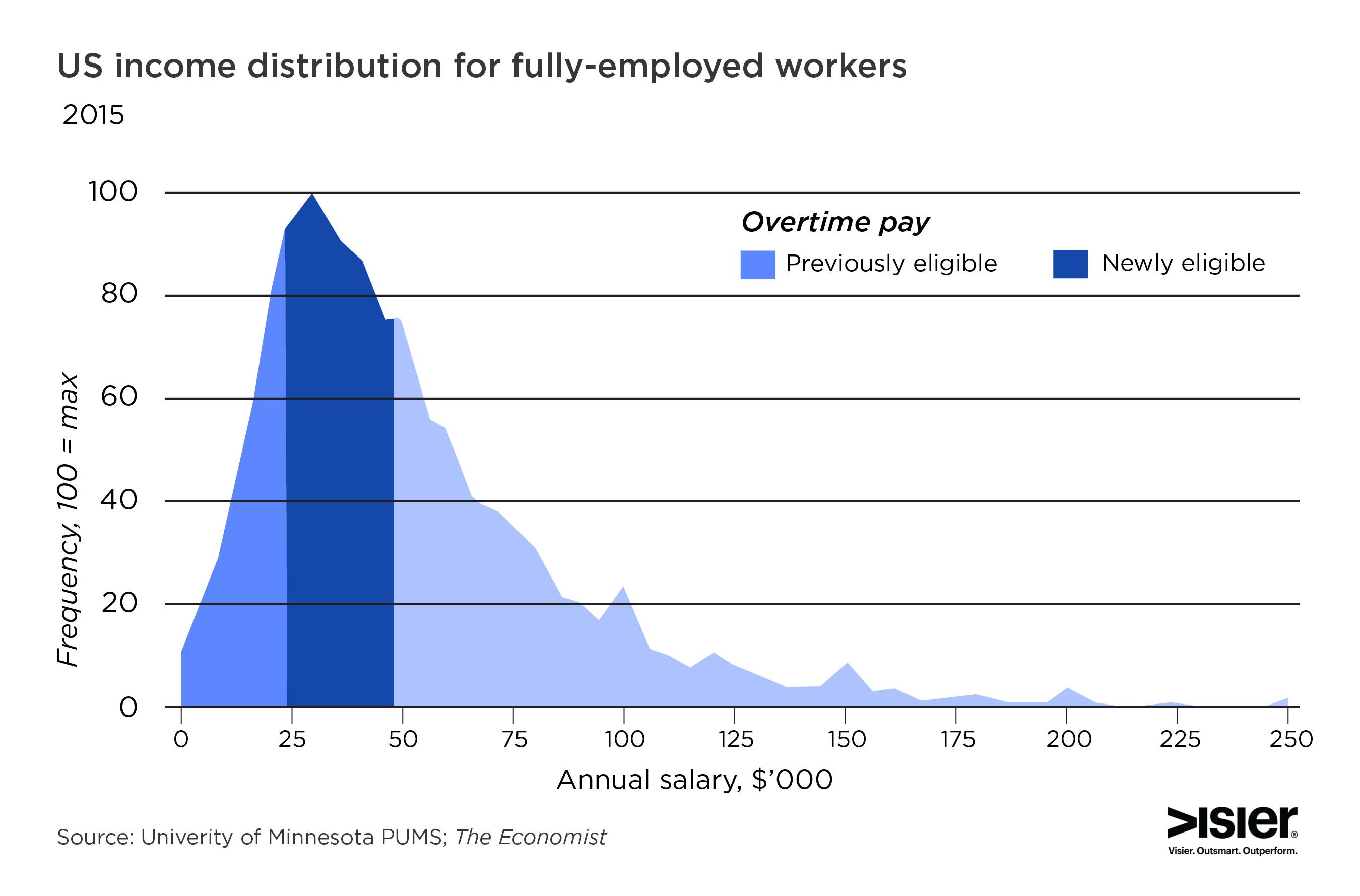 WorldatWork, a global association for HR management professionals, predicts that the new rule will have a significant impact on both workers and employers:
"This phased-in approach will still disrupt long-term wage planning for many organizations, and future annual updates based on unknown increases will wreak even more havoc on compensation planning for large businesses."
"If implemented, many workers will see a reduction in pay and workplace flexibility options."
The pressure is on HR to find the delicate balance between productivity, employee engagement, and the workforce budget, while staying compliant. In order to achieve this, HR must find an effective solution that will help them make the right compensation and workforce changes — while balancing the needs of staff and the business — every time the threshold is updated.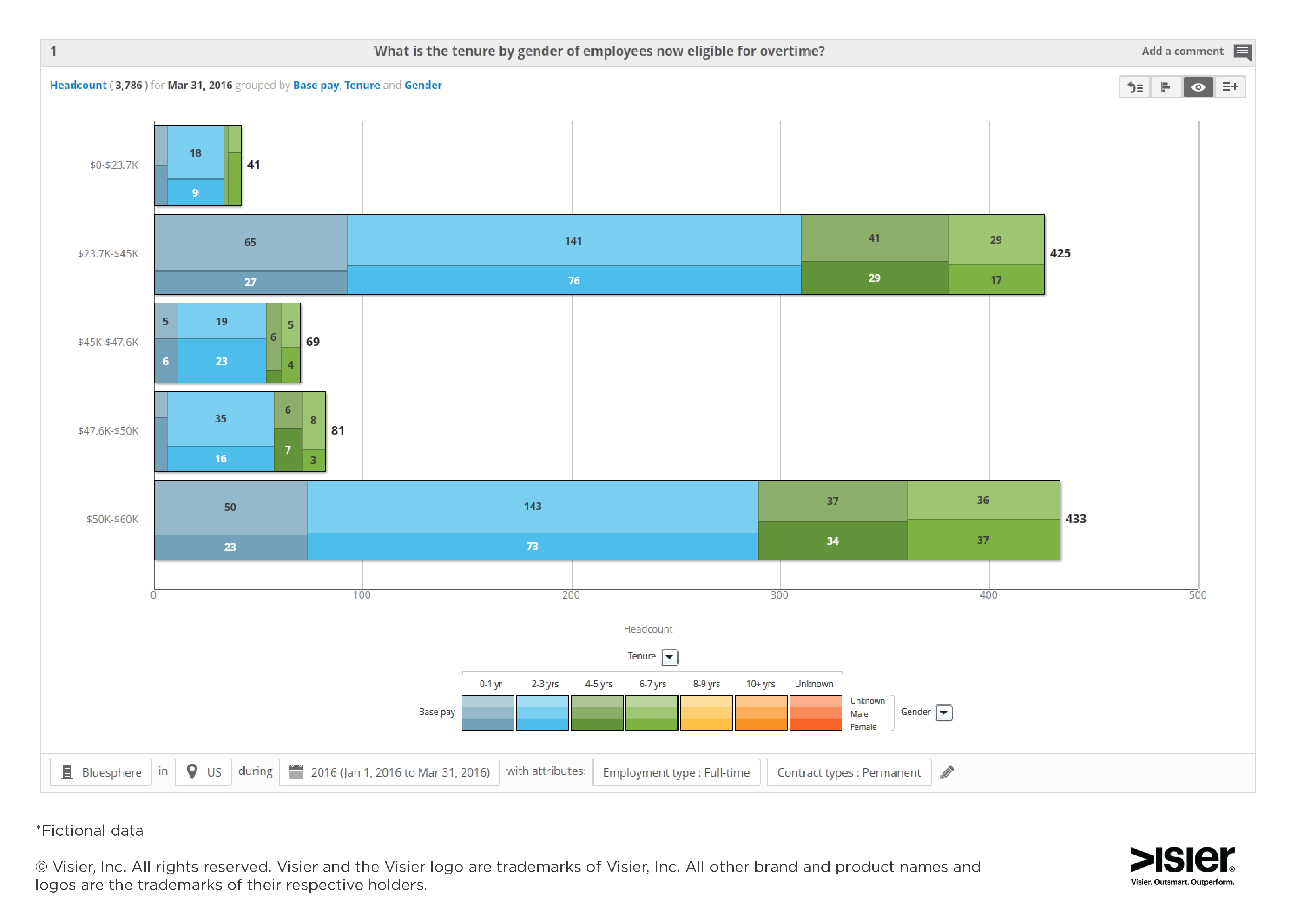 The Importance of an HR Analytics Function
The first thing HR must do is determine which employees fall into the new salary range. It isn't enough to know the total number of people now eligible for overtime though. This information needs to be broken down into specific buckets that can be used to plan future workforce options.
For example, if the majority of people who have become eligible are paid $45,000 per year, then it may be more cost effective to increase the pay for this group to $48,000 annually and maintain their exempt status. However, if you discover that the majority of employees are paid $30,000 per year, then another approach is required — one that will help you choose the right workforce plan and implement it before the December 1st deadline.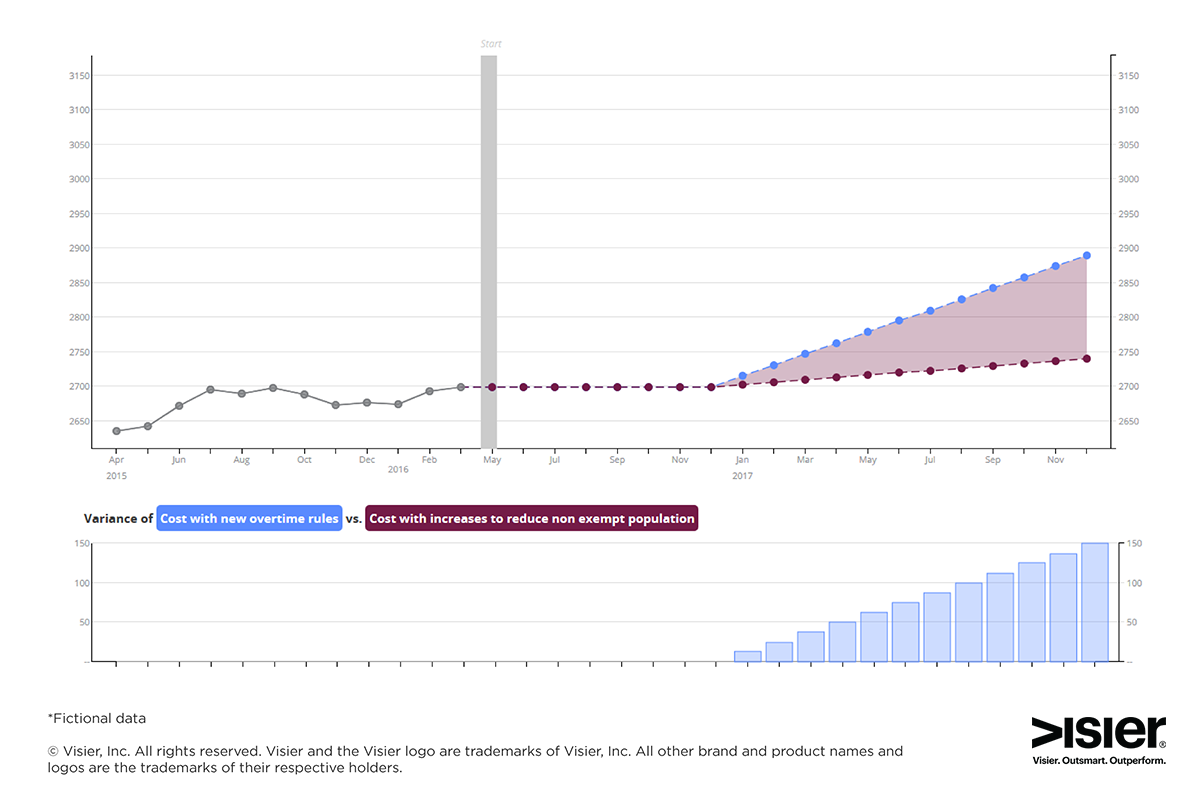 Large-scale changes such as these don't just affect the workforce — they have a direct impact on business results too. Investing in a well-developed workforce analytics function, one that is supported by effective processes and technology, will better equip the organization to handle, assess and implement any necessary changes that come out of the woodwork.
New regulations and business changes are introduced all the time, and CHROs must be able to provide an accurate and strategic response. An effective analytics function makes this process less chaotic and stressful. The team can quickly assess the cost impacts of a change, break headcount down into the groups that will be affected by it, and develop and cost multiple workforce scenarios related to different options the business can take. In addition, the team can determine how these talent changes will directly affect business outcomes ahead of time and mitigate any negative consequences.
Leave the Spreadsheets Behind
A properly implemented analytics function can only operate with speed and accuracy if the right tools and processes are in place. This means eliminating the reliance on spreadsheets to assess and plan out the workforce. There are several reasons why this method doesn't serve HR well.
Data inaccuracy is the first and most common problem with this tool. Any movement of data requires validation and this inevitably becomes a time-consuming and error-prone process when spreadsheets are used. For example, if you are doing a deep dive into what overtime looks like in your organization, you need to be certain that none of your data is incorrect, missing and/or misaligned; otherwise, you may end up with inaccurate calculations that lead to poor workforce decisions.
The second problem is the data is nearly impossible to keep updated. Employees are constantly moving in and out of the organization, so the spreadsheet must be regularly refreshed or you could be working off of a "frozen snapshot" of your company without realizing it. While there are many ways to manage this refresh process, they always lead to a macro-heavy spreadsheet that only one or two people know how to work, and everyone lives in constant fear it will crash.
Lastly, if you have to communicate anything contained within your spreadsheet — say a presentation to the C-suite on what to do about the new overtime rule — it invariably leads to hours of work building out as a slide deck.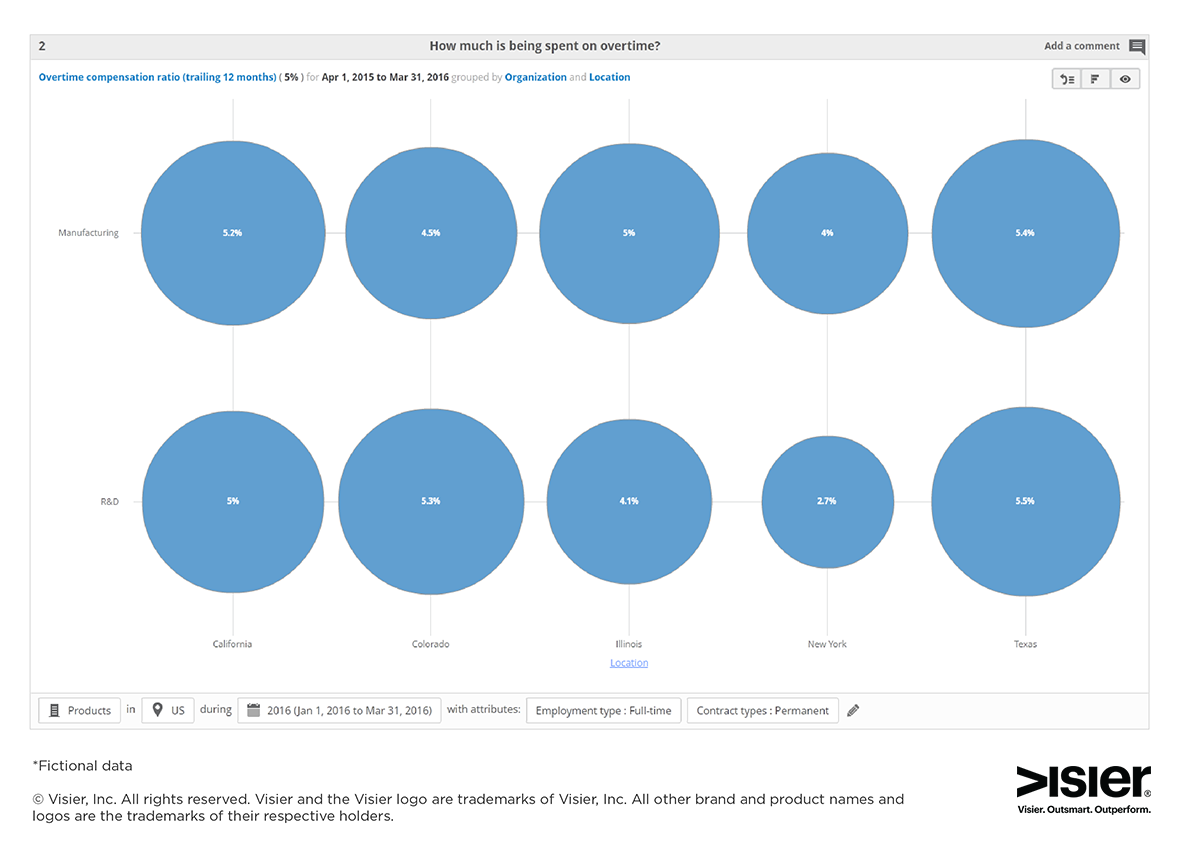 The complexity of HR data makes it very hard to handle on a spreadsheet. It's a process that requires HR to spend most of their time merging data from multiple sources, refreshing and updating the data regularly, and handling 30 to 40 different columns across thousands of people. To top it off, there is no guarantee that you will end up analyzing error-free data, which prevents HR from making the best suggestions for navigating the business through changes.
HR has suffered from credibility challenges when it comes to urgent business issues, and spreadsheet dependence is one of the leading causes. With the right mix of technology, processes, and people, HR can build a highly functioning analytics team that can gather and analyze data, and present detailed fully-costed options for any change with accuracy and within hours — not weeks.
This same approach also makes it easy to collaborate with stakeholders across your organization — including Finance, executives, and line-of-business leaders — on your workforce plans. Spreadsheets have made this a traditionally slow process, but new cloud-based workforce planning technology quickly collects stakeholder input, shares plan details with them, and, since it's in the cloud, ensures everyone is always working with the latest information.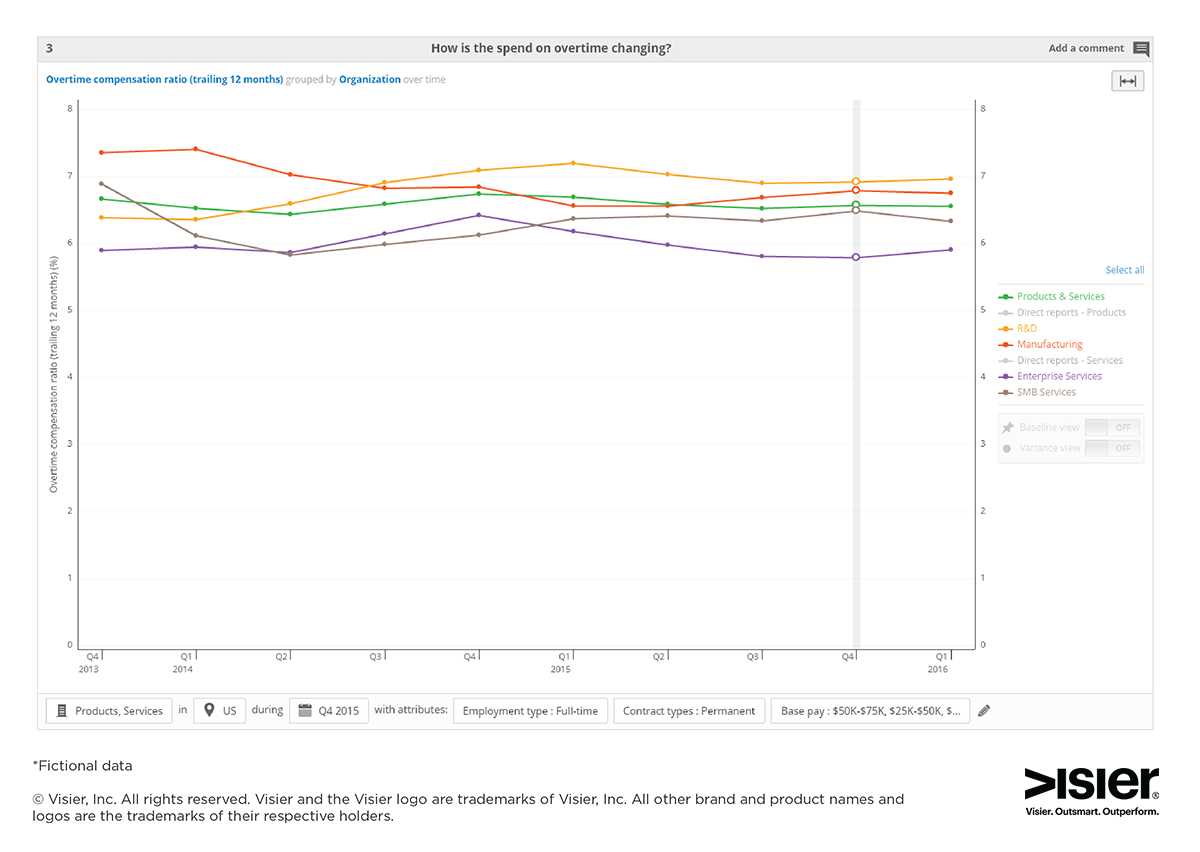 The New Future of Work Requires a Proactive Approach
It should take HR minutes, not weeks to answer business-critical workforce questions, such as:
How does the new rule impact us?

What are our overtime usage trends?

What are our changing costs?

What are our areas of greatest cost risk?
How can we optimize workforce costs?

Should we raise salaries to retain exempt statuses for those on the cusp of the new salary level?

Should we reclassify those who fall under the new threshold and/or change their pay structure?

Since bonuses and commissions are included in the calculation of salary threshold, should we make changes to pay to move workers over the threshold?
How can we better track, report, and manage overtime?
If it takes weeks to come up with answers to a multi-million dollar business problem like this, and the solution presented is plagued with errors and inconsistencies, it is no surprise that CHROs have difficulty getting and maintaining their seat at the table. While the new overtime ruling presents a major problem today (and every three years thereafter), it won't be the only crisis HR will need to quickly assess and take action on.
Deloitte's 2016 Global Human Capital Trends report has found that "organizations are more aggressively building people analytics teams, buying analytics offerings, and developing analytics solutions." The new future of work requires HR to be more data-driven and proactive when it comes to solving talent issues that directly involve the business.
The key to unlocking this value is starting an HR analytics function that will ensure HR is always prepared for any changes that crop up.
Be the first to know!
Never miss a story! Get the Outsmart newsletter.