"People analytics is here to stay," declared Lexy Martin, Principal, Customer Value and Research at Visier, during a recent Outsmart Global Digital Summit panel. "Organizations are successfully using it, but where do we go from here?"
Clearly, data-driven decision-making for HR leaders is not a passing fad, but part of a permanent transformation. In the panel, Where do we go from here? The future of HR: 2021 and Beyond, Lexy discussed a number of trends and best practices with:
Amit Mohindra, Founder & CEO of People Analytics Success
Jason Averbook, CEO & Co-Founder of Leapgen
Stela Lupushor, Chief-Reframer of Reframe.Work Inc.
Nigel Dias, Managing Director of 3n Strategy
Below are some of the great Q&A that came out of that discussion:
Lexy: What do you see as the critical success factor that drives faster time-to-value for organizations as they become more data-driven today?
Amit: I surveyed almost 200 founding people analytics leaders and they really spoke about this notion of helping people to adapt to change.
The adaptive leadership system prepares and encourages people to deal with change. It's a much more empathetic approach to leadership than transformational leadership, which is very much command and control and perhaps top-down. Adaptive leadership helps to recognize the distress that people are feeling, and move them from the current state to the future desired state.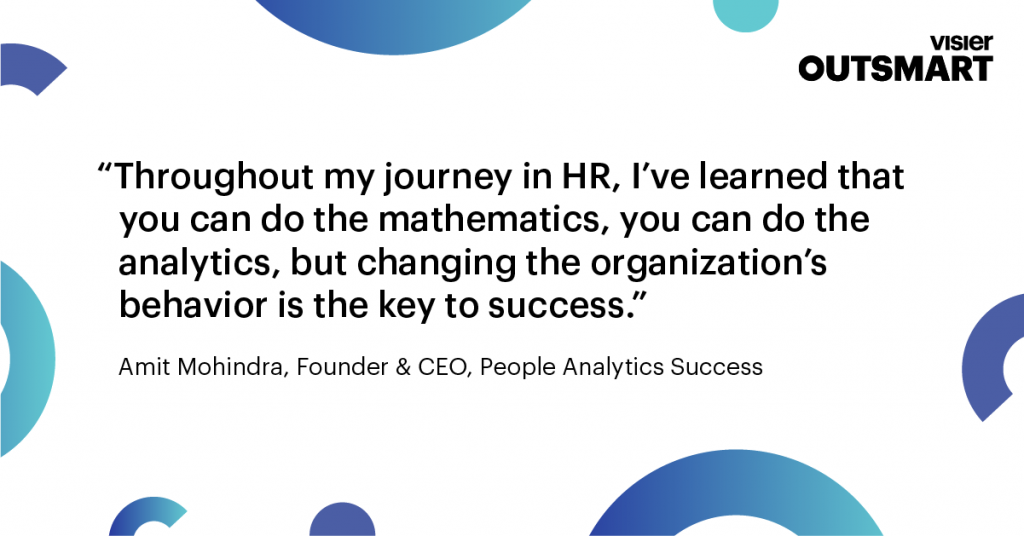 Nigel: Investing in people analytics is like investing in decision-making. If we make better choices, we hopefully drive better outcomes. From our research, we saw that functions where leaders understood that value were eight times more likely to say they were creating strategic value from analytics. Key players enable that view of "we're not just doing numbers, we're investing in making better choices."
Lexy: What are the critical success factors…to make employees want to share their data?
Stela: Traditionally in HR, we think in terms of the processes we manage. We just look through the lens of making choices about the measurements we plan for, technologies we implement or the process improvements we do. But when we start thinking of the worker as a consumer of our internal products and offerings, the lens is shifting. And now we have the ability to look at the journey end-to-end.
One simple example: people don't quit overnight, they quit in what I call "paper cuts". How early in the journey we can identify that intervention point where we may be able to make a positive impact and prevent the attrition. There are a lot of little breadcrumbs that have data and evidence along the journey, that we can then make intelligent decisions about ways to–in a small or in a major way–make a positive impact.
Jason: Dumb self-service isn't an experience–it's a transaction. HR people might get excited about new modules, but employees don't get excited about new modules. What's really important to understand is that great journeys allow employees–and entice employees–to take part in completing processes.
When we think about this concept of design and how we design for employees, we have to realize that we don't design in a B2B format. We don't even design in a B2C format. We have to design it in B2Me format that meets me–the persona that I am–in a way we'll all actually use these solutions.
Lexy: What are the key roles needed in people analytics five years from now?
Nigel: We conducted that research last year, where we looked at the career paths of 200-300 people. And the really interesting thing that came out of it was how many people didn't have people analytics in their title but took part. Isn't it interesting that normal HR people see themselves as part of our field? And what does that mean for us? I don't know if there will be new people in the roles, but I definitely think you should be asking yourself, well, are you prepared with the right tools, right technologies?
Lexy: What are the new questions that are going to be set for us five years from now?
Stela: There are a couple of things that both touch–not only on the profession and the tooling–but also on the types of roles we need to look for, and the types of questions we need to answer.
On one side there is a lot of energy and effort being put into bringing more intelligence, more AI-type solutions to the world of HR. And I think HR is really in a very unique place. We have the role and the opportunity to become that central point that makes informed decisions about ethical use, about the implications of bias, about the recency of the data, about the datasets that are being used to train the algorithm.
The other part that I think we haven't really gotten much into as HR professionals is scenario planning. Typical organizations need to do scenario planning to ensure organizational resilience, and planning for unforeseen black swan events.
Jason: We have to prepare, but right now we have to prepare for the fact that [we] might not have good data. Five years from now, AI is going to help us a lot with this. But right now we live in this world that's made up of these three body parts: hands, heads, and hearts. Machines are really good at automating hands work. We in HR are great at hearts work because people need empathy, people need to feel felt in their experiences at work.
Amit: This notion of how pervasive the data is, and how the data is being used is very important…especially as we get into artificial intelligence, because unless we can get people really comfortable on the ethical use, and that "what's in it for them" aspect, people are not going to be willing to offer up their data.
What we'll see over time, especially as we begin to track [people] using Organization Network Analysis…is that people will realize that they need to just change the way they behave so that the signals being sent are the right ones. What's going to be really critical at that point is determining what's authentic.
Lexy: What should the people analytics community go back and demand of their CHRO?
Amit: Take people analytics seriously, make sure that the team gets resourcing, attention, and opportunities.
Jason: CHRO, you have to build a foundation. You have to invest in data, you have to invest in your foundation. Please don't let that go, because if you let that go, all of this new technology that comes out, you're going to miss the opportunity to leverage it.
The future of HR: Adaptability
It may not be possible to peer into a crystal ball for HR, but one thing is clear: people analytics is not going away. People leaders must use technology and the right behaviors to develop a muscle for agility. This way, they can be ready for the future–whatever that may bring.
About the author: Visier Team
People-centered ideas and insights by the editorial team at Visier.
Be the first to know!
Never miss a story! Get the Outsmart newsletter.
Related Articles
OUTSMART EXCLUSIVE
Reskilling is critical to preparing for the future so experts from Willis Towers Watson and Visier shared seven strategies you can implement today.
OUTSMART EXCLUSIVE
Mid-sized businesses face a set of unique challenges on their way to growth. Here's how analytics can help SMBs make great decisions about their people.
LEADERSHIP
Jason Averbook, industry analyst and CEO and Co-Founder of Leapgen, shares the three areas that will help HR meet the future of work.