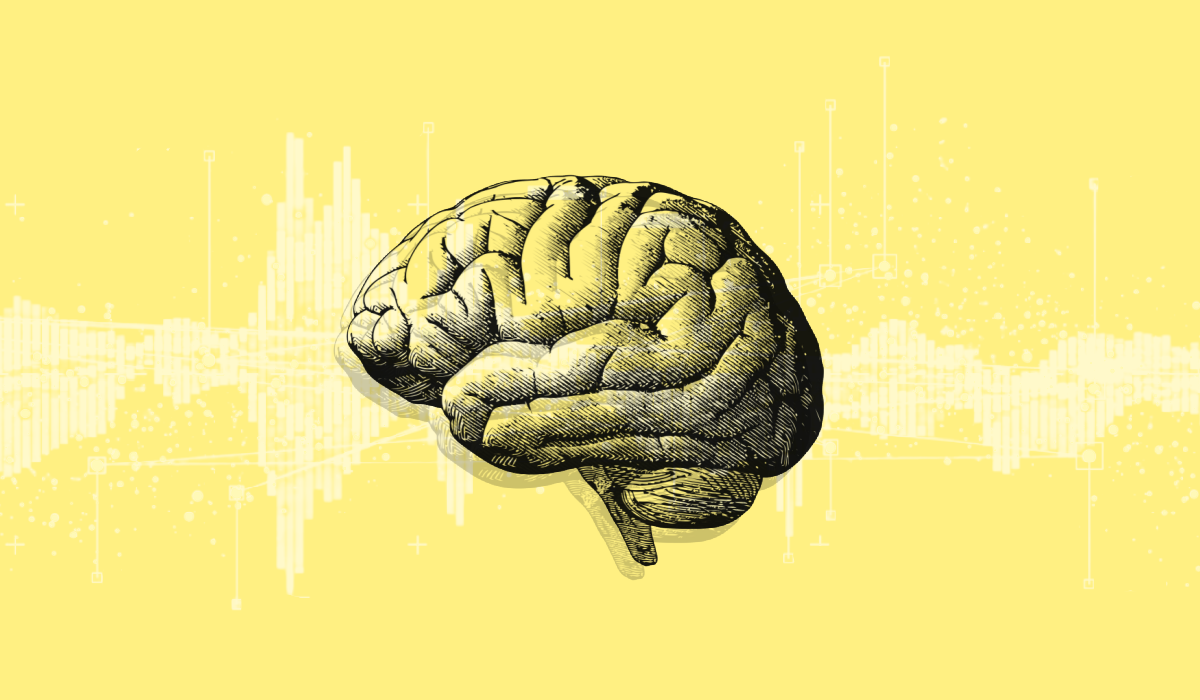 Editor's note: This post was updated from the original version published on July 6th, 2020.
---
How to use people analytics to make better decisions–faster.
The constantly changing business environment creates an urgent need for better people decisions everywhere. At the same time, the volume of workforce data continues to grow at an unprecedented rate, but merely having this data isn't enough to succeed. 
You must be able to interrogate your data to determine the root cause of problems, apply appropriate interventions, and anticipate future developments based on hard evidence. People analytics empower organizations to leverage data to optimize employee experience, create the best possible organization structure and maximize productivity.
Here's what you need need to know about how to get started with people analytics.
What is people analytics?
People analytics (also commonly known as HR analytics or workforce analytics) is the practice of collecting and transforming HR data and organizational data into actionable insights that improve the way you do business.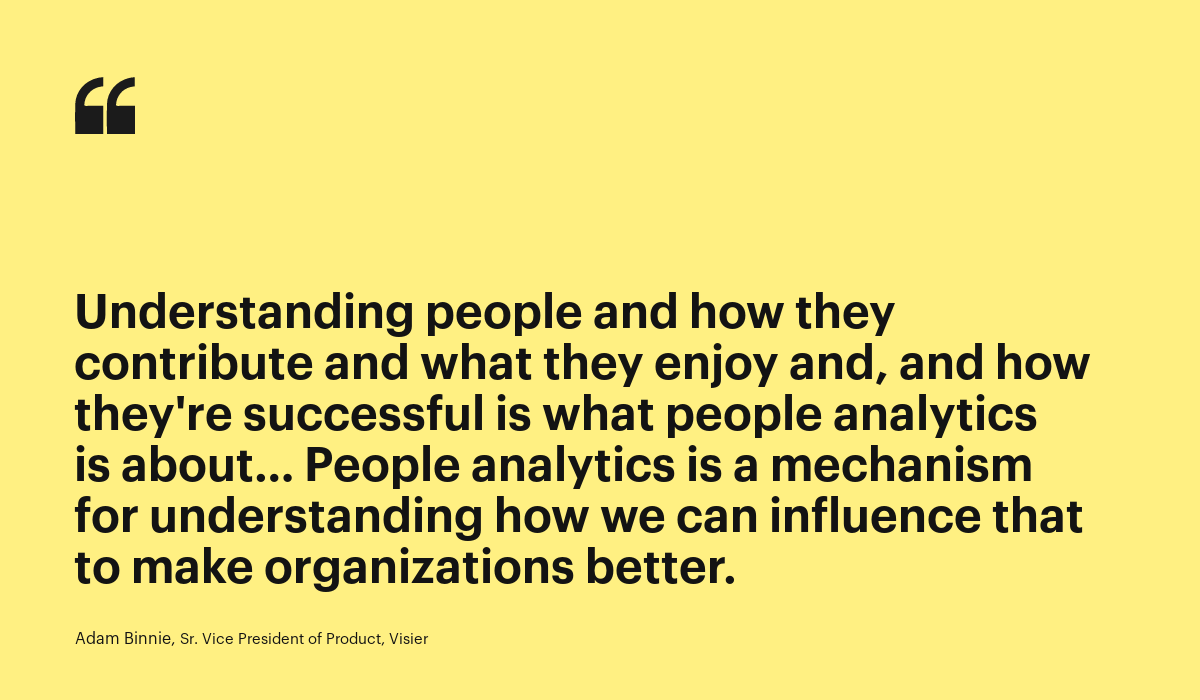 For Visier's Sr. Vice President of Product, Adam Binnie, "Understanding people and how they contribute and what they enjoy and, and how they're successful is what people analytics is about… People analytics is a mechanism for understanding how we can influence that to make organizations better."
This information is presented in easily understandable graphs, charts, visualizations, questions, and answers using data extracted from the HR tools you're already using. While many people assume that people analytics exists strictly to improve HR functions, the insights uncovered helps companies drive overall organizational success and meet their business goals. 
People analytics has been an HR buzzword for nearly a decade, but up until recently has only been available to large enterprises with tens of thousands of employees, and the budget to match. Today, that's no longer the case. Now, over 70 percent of organizations are investing in people analytics solutions to integrate data into their decision-making.
People analytics solutions that were previously sized and priced to meet the needs of large enterprises have been modified to fit mid-size organizations who are also looking for deeper insights to grow and improve their workforce. A global consumer goods company successfully rolled out a robust people analytics platform with a people analytics team composed of just one person.
While many organizations have digitized their transactional HR functions with tools like Applicant Tracking Systems (ATS), digital engagement surveys, and your Human Resources Information System (HRIS), the benefits of digital HR have not yet been felt on an organization level. 
Deloitte's 2021 Global Human Capital Trends survey found that only 3% of their 6,300+ executive respondents said they had the information needed to make sound people decisions.
However, once organizations start using analytics effectively, they can make decisions that have a far-reaching impact. For example, a financial services organization used people analytics to considerably improve its workforce planning process. It reduced its workforce planning cycle by 25%, improved the accuracy of its hiring plan from 78% to 95%, and increased the accuracy of its headcount plan from 60% to 95%.
Taking the first steps into data-driven HR can feel daunting, but it doesn't have to. We've broken down a simple checklist to prepare for your analytics journey and set your organization up for success.
---

---
How to get started with people analytics
Determine if your organization is truly ready
Find your data champions
Define your questions
1. Determine if your organization is truly ready
A people analytics solution can have significant impact on organizational success, but a tool is only as impactful as the people using it. If your organization isn't fully prepared to make changes in how things are done, you might not be ready to invest in an analytics platform quite yet. 
People analytics, and the workforce planning that comes with it, is less about tools, technology, statistics, artificial intelligence, and complicated data science than we think. When it comes to the practical application of analytics, it is far more about change management. 
"People analytics solutions that were previously sized and priced to meet the needs of large enterprises have been modified to fit mid-size organizations who are also looking for deeper insights to grow and improve their workforce."
2. Find your data champions
Convincing your company's leadership team to undertake a people analytics project isn't always easy. Building a data-driven culture requires a full organizational shift and change-management plan. 
Identifying data champions within your organization can help you persist in making that shift. Are there managers in other departments who have invested in analytics and technology? Does someone on your board or C-suite keep lamenting that your workforce is not as efficient as it could be? Do you have a data-focused finance leader who can help you calculate the value of investing in an analytics solution?
Finding fellow data-champions internally can help you build your business case, and navigate the organizational change required to fully put people analytics to use. 
3. Define your questions
Without strategic, relevant questions, people analytics is a means to no clear end.
While you'll still be able to draw insight into your organization without clearly defined questions, you won't see the same level of impact and organizational change.
To begin, take a look at your big-picture business goals. Determine how HR and your workforce fits into those goals, then work back to the types of questions you'd like to answer to move the needle on that goal. 
For example, if your organization needs to cut workforce costs, you'll first want to identify where you are losing money. Are you overspending on overtime? Are your total rewards actually working to retain employees, or can you cut back on unappreciated rewards while still maintaining a happy workforce? 
"Building a data-driven culture requires a full organizational shift and change-management plan. Identifying data champions within your organization can help you persist in making that shift."
Be prepared to look deeper in your data. People analytics will enable you to go beyond typical HR questions to understand the "why". Why are you overspending on your overtime budget? Did you lose a key employee or department, and the overtime is to compensate for this? Why are your total rewards not aligned with the actual needs and wants of your employees? 
Applications of people analytics
Many HR departments are struggling to uncover the important connections and patterns in data that lead to better workforce decisions. To capitalize on this demand for insights, several software companies offer analytics capabilities with their reporting solutions. These tools, however, typically yield the kind of metrics that prompt executives to ask "so what?" 
Common recruiting metrics, for example, such as "time-to-fill" and "offers accepted rate," do not answer strategic questions about the quality and value of the people being hired. A true analytics tool goes further, enabling you to:
Link recruiting to business outcomes
Tackle turnover problems
Strategically develop workforce plans
Set your sights on a diverse and inclusive workforce
Enhance performance
Plan for success
Maximize your learning investment
1. Link recruiting to business outcomes
Identify what candidate attributes, such as source and education, are proven to produce quality hires, so you can focus efforts on the hiring activities that drive the best results long term.
2. Tackle turnover problems
Identify employees at risk of leaving, based on analysis of key characteristics of past resignations, and take action to prevent top talent from leaving before they are out the door. (Try this Manager Turnover Calculator to see what losing these employees costs your organization).
Identify the cost savings of retention programs by analyzing the direct and indirect costs of turnover in relation to compensation, absenteeism, productivity, and learning and development.
3. Strategically develop workforce plans
When organizations face unexpected situations, strategic workforce planning is critical. People analytics makes it easier to align headcount supply with the business vision and balance cost constraints, even if the future is uncertain. Analyzing people data is the key to knowing what your organization needs in terms of skills, roles, and operational requirements.
4. Set your sights on a diverse and inclusive workforce
Track diversity ratios at every single stage in the hiring funnel to ensure equity throughout the hiring process. Also, set goals on the metrics that matter to you, so you can share your progress, and get ahead of areas of risk.
5. Enhance performance
Analyze and predict the promotion rates, lateral moves, promotion wait times, and internal hiring rates to determine whether you are using the tools of opportunity to retain and maximize performance.
Additionally, analytics enables you to correlate total rewards, compa-ratio, and performance levels to determine if you are effectively rewarding performance— top performers will revert to average or resign if they do not perceive themselves to be receiving a level of reward that recognizes their differential performance.
6. Plan for success
Analyze career paths to uncover the lineage for leaders, and see how departments have evolved over time in order to understand how to develop existing employees to meet future needs. Move beyond total rewards and consider your total cost of workforce—including taxes, long-term incentives, facilities, contingent labor, and other costs—to accurately plan for the future.
7. Maximize your learning investment
Analyze how long employees are taking to become fully ramped up and how this impacts the business, and also identify which training programs are best at getting new hires onboarded and productive the quickest – and which need improvement.
With the right insights, HR professionals and leaders can better understand the contributing factors that are impacting their organization, and take the right actions to implement programs that will provide a true competitive advantage.
Select your people analytics solution
Once you've identified your key questions, it's time to select the right people analytics solution for your company. If you have an in-house HR analyst who can translate your results, you may be able to work with a solution that is a bit less user-friendly. If your analytics solution will be used by your HR department, C-suite, and managers, you may want to consider a solution that offers easy visualizations and interpretations of data. 
Consider the scope of your solution. Are you prepared to undertake a data warehouse project, or are you looking for a more plug-and-play solution that can connect your HRIS data to your analytics provider using an API? 
Be prepared to clean up your data 
Data cleanliness is a common barrier to organizations who feel unprepared to begin a people analytics project. While any analytics project would be most successful with spotlessly clean data, this isn't a realistic goal for most companies. Begin with the data you have already, and take a look at the analyses you've got there. Is it directionally correct? Is 80% accuracy sufficient to make the right business decisions? 
Many organizations have seen the impact that people analytics can have on even one business challenge. Once the ROI of people analytics is felt throughout the organization, many companies will in turn find the time or budget to clean up their data to build on the organizational benefits they've already experienced.
Looking for more information on getting started with people analytics? Read more:
---
On the Outsmart blog, we write about workforce-related topics like what makes a good manager, how to reduce employee turnover, and employee burnout. We also report on trending topics like the Great Resignation and preparing for a recession, and advise on HR best practices like how to present headcount data to your CEO, metrics every CHRO should track, and connecting people data to business data. But if you really want to know the bread and butter of Visier, read our post about the benefits of people analytics.
About the author: Zack Johnson
As GM, Embedded Analytics & Mid-Market, Zack Johnson is focused on building strategic partnerships with organizations that believe analytics unlocks critical, untapped value for their customers. Zack manages Visier's OEM analytics business, where we partner with other software providers to bring world-class analytics to their customers. Prior to Visier, Zack was the co-founder and CEO of Syndio, a people analytics platform that helps business leaders make informed people management decisions around retention, engagement, and driving a more connected organization. Beyond Visier, Zack advises Grammy-nominated artist Mike Posner (Island Records) and regularly lectures on analytics and entrepreneurship at the Kellogg School of Management.
Be the first to know!
Never miss a story! Get the Outsmart newsletter.
Related Articles
TRENDS
Employee turnover has a huge effect on workforce budgets. Get the monthly resignation rate at Visier.com so you can make better decisions.
TRENDS
The moneyball hiring strategy is all about making winning data-informed decisions. Bleacher Report CEO Dave Finocchio shares his thoughts.
TRENDS
Boomerang (rehired) employees are on the rise, with many former employees returning. Learn 5 metrics to watch with this trend.