This article is a companion piece to the white paper, The Employee Value Proposition of People Analytics. Give it a read today.
I'm one of those people who believes that most individuals want to do good in the world. People generally want to treat others properly, they want to contribute to society in some meaningful way, and they want to improve the lives of their friends and families around them. Having a sense of meaning or purpose is an essential element of personal well-being.
I also believe that this applies to one's professional life. Regardless of what's listed in the job description, employers naturally expect people to excel at their jobs, contribute to the success and health of the organization, and improve colleagues' work lives. In many ways, a job can be a vehicle for fulfilling a broader social purpose.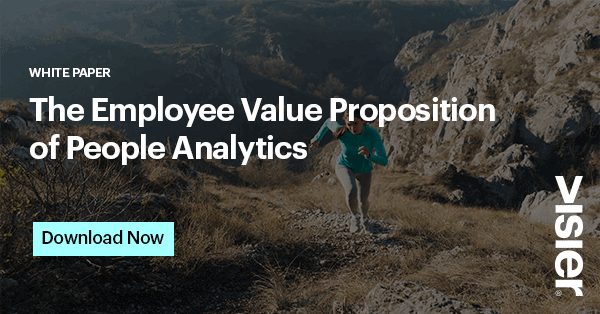 If you are part of a larger company, however, how do you know whether you have been successful in accomplishing these admirable goals? Just as importantly, will the company even notice?
People Analytics: What's in it for Your People?
At first blush, it seems like the above questions could be answered with people analytics. Numerous surveys report that in the aggregate, organizations with people analytics outperform those without. Strong business performance (whether it's solid profit margins or enhanced innovation) can sometimes give an employee more opportunities to fulfill a bigger purpose and enhance personal well-being. Consider the following statements: 
"Improving the business I work for means that my professional life improves too."
"A high-performance culture means that I have more opportunities to excel and affect change."
"The optimization of learning and certification programs means that I'll have the opportunity to build the necessary skills to fulfill a broader purpose."
Indeed, many of the business leaders I speak with feel that a person has more opportunities to make an impact if they are part of a high-performing organization than if they are working for a struggling firm.
I see it differently.
While the above statements may be true, they don't conclusively prove that there is always a connection between business performance and individual well-being. I feel that it's not purely the overall success of the corporate entity that creates the opportunity for an individual to deliver impact.
In reality, it's a company's active focus on the individual, coupled with the constant analytic exploration of how various functions are performing. If organizations are serious about meeting the needs of individual employees through people analytics, it must be done by design.
An EVP: Why People Analytics, Why Now
Defining and having targets for a model of company/employee partnership for people analytics should be on every HR and people analytics manager's radar this year. Workers are becoming increasingly aware of information security and data privacy issues. When it comes to collecting and analyzing employee data, organizations must work to gain or maintain the trust of employees. One way to do this is to consistently engage the employee in understanding "What's in it for me?"
Determining how people analytics can provide value for individual employees is not an easy task. How do we obtain detail on the measurement of the effect of people analytics for an individual? How do we decide who is accountable to deliver a value plan for employees?
These were questions that Lexy Martin, Visier's head of research and customer value, and I started mulling over more than a year ago at a conference in Amsterdam. Having spent more than 30 years examining the value of HR technology from the perspective of the employer, she felt it was time to start tackling the concept of value from the perspective of individual employees. We then collaborated and expanded on the idea of developing an Employee Value Proposition (EVP) for people analytics.
An EVP is a crucial component of a fully humanized people analytics practice. Rather than having the organization merely interpret data about an individual, a fully humanized practice gives a worker the tools to interpret and analyze her employee data to provide explicit value to her.
Lexy often likes to work with frameworks, and so we delved into this topic by exploring a familiar framework for understanding human motivation: Maslow's Hierarchy of Needs. To sum it up, Maslow's theory is that once basic needs (like safety, security, and belonging) are met, a person becomes motivated by personal mastery. After this need is met, people become motivated by transcendence — the desire to pursue more universal goals.
We concluded that any discussion about people analytics from the employee perspective should emphasize the human desire to learn, grow, and fulfill a purpose. At the same time, more basic human needs cannot be ignored.
Lexy and I then built our own version of Maslow's hierarchy by stating an employee's basic needs and more universal career-oriented goals within this construct. We hope that companies will consider it as they build their own EVP.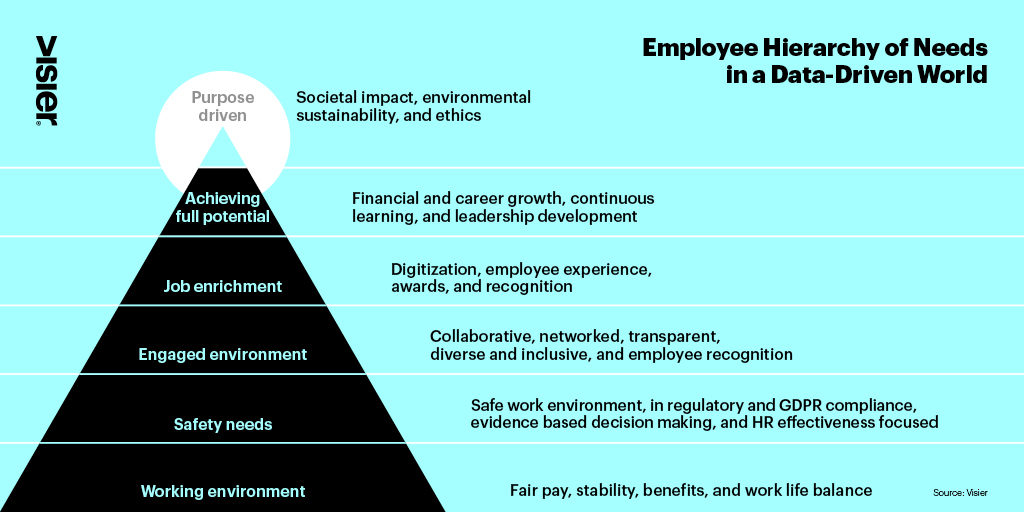 The Way Forward
If HR and people analytics leaders advocate for an employee value proposition that is based on an understanding of human motivation, their people analytics activities will go more smoothly while delivering value for both the employee and the employer.
The ideas Lexy and I have curated to date — with the help of internal and external experts — have been captured in the white paper, The Employee Value Proposition of People Analytics, but the work is far from complete. It will take more discussion and reflection to build out what an Employee Value Proposition should really look like in practice.
As people analytics practitioners and vendors, I propose that we consciously decide to work towards an important goal: delivering as much value to the individual employee as we do to shareholders and business leaders.
I sincerely invite anyone involved in workforce data collection and analysis to review our report and share their thoughts. Send me an email at jan@visier.com.
About the author: Jan Schwarz
With more than fifteen years of experience in business, sales, and software technologies, Jan has led teams in both start-up and large enterprise environments. Prior to Visier, Jan founded a company that developed small business office software, and grew that company to a top ten highest grossing software product in Australian/New Zealand. Jan has also started and managed businesses based on AJAX web application technologies, marketing and publishing, desktop and server hardware, and e-retailing. Jan began his career at IBM, and over eight years held roles in OS development, emerging voice and video technologies, research, and automotive technologies, including four years as a sales manager serving IBM's large finance and technology customers.
Be the first to know!
Never miss a story! Get the Outsmart newsletter.
Related Articles
LEADERSHIP
Does people analytics consistently help organizations reduce manager turnover? New research shows the impact people analytics has on manager retention.
LEADERSHIP
Learn how you can set HRBPs for success when it comes to becoming people anlaytics evangelists and championing data-driven decision-making.
TALENT MANAGEMENT
4 Ways to Build Agile Teams Using People Analytics | Visier People Analytics is a cloud-based analytic application designed to answer critical workforce strategy questions.