"If Brexit occurs there will almost inevitably be a period of uncertainty, and uncertainty is what we can't cope with."
This statement, delivered by Rolls-Royce's chief executive days before the UK voted to leave the EU in June of 2016, identifies one of the biggest challenges Brexit has created for businesses so far.
The uncertainty around the trade dimension and the rights of EU workers has proven to be a force in and of itself: manufacturers have held off on making big investment decisions, major banks are pulling their headquarters out of the UK, and in the year following the referendum vote, the number of EU citizens leaving the UK increased by 29%.
For HR leaders, these trends will undoubtedly lead to medium- and long-term impacts on the supply and demand dynamics of talent strategy. Regardless of which side of the political debate you are on, if your organization has operations in Britain, you are likely experiencing some Brexit-related workforce challenges.
But as the old adage goes, a smooth sea never made a skilled sailor, and there is an opportunity for HR leaders in all of this.
In times of uncertainty, strong people leaders who can rapidly define and shape the workforce required to strategically position the organization for success offer more than a competitive advantage. They are a necessity.
Brexit: Strategic Implications for HR
The way Brexit will impact your organization will vary depending on your industry and how the divorce bill negotiations play out. Worker shortages, a potential brain drain, and rapid shifts in talent requirements due to relocation are all important considerations for many HR teams.
Indeed, HR can get ahead of these changes by leading the charge on workforce planning, a role typically reserved for finance. At the end of the day, when recruitment strategies fail, skills gaps widen, and talent shortages start impacting the business, it is HR–not Finance–that carries the burden.
Worker Shortages
According to an Office for National Statistics report of migration statistics for the first full year since the referendum, "the number of EU citizens leaving the UK has almost reached the higher level seen during the 2008 recession." An August 2017 survey conducted by KPMG found that 35 percent of EU citizens working in the UK were considering leaving. Of the top five reasons why people might not stay, 50% stated it was because they felt less welcome and valued.
Ultimately, an exodus of EU workers would have significant impacts on foreign worker-reliant industries, namely social care, hospitality, and agriculture.
The recent changes in migration patterns of EU citizens has undoubtedly left certain organizations wondering how they can keep the lights on in Britain: Consider the case of the HR director for the Pret a Manger coffee chain who stated that only one in 50 applicants for jobs at the chain are British.
Brain Drain
An exodus of EU workers is also a consideration for businesses relying on highly skilled workers. According to the KPMG survey of EU workers, "half of respondents with PhDs and 39% with postgraduate degrees are thinking about leaving. Equally, the likelihood of leaving rose the higher people's income." A study by Deloitte found that nearly half of highly skilled workers from the EU were thinking about leaving the UK in the next five years.
Whilst an outflow of highly skilled workers may not generate as many immediate impacts as, say, having more open positions than candidates, it is definitely a consideration for HR, particularly if those workers possess hard-to-find skills that are crucial to an organization's success.
Shifts in Talent Requirements
Even though the jury is still out on whether a "hard" Brexit (whereby the UK leaves the EU with no deal in place) is possible, certain types of businesses will remain vulnerable in the face of more "moderate" versions of Brexit, creating dramatic shifts in talent demand.
For example, a limited free trade deal would likely remove tariffs for goods, but not for services. Financial services would be hardest hit by a limited deal that removes the industry's unfettered access to the EU market. (For a helpful outline of which types of businesses are most affected by which Brexit scenario, read this Financial Times article.)
A transition period after March 2019, when Britain is due to leave the EU, will buy time to agree on trade details, but many major banks aren't taking a "wait and see" approach. With Brexit on the horizon, Morgan Stanley, Citigroup Inc., Standard Chartered Plc, and Nomura Holdings Inc. have picked Frankfurt for their EU headquarters.
Evidently, a structural shift such as relocation puts strategic people planning higher up the corporate agenda, creating more pressure on talent functions.
Strategic Planning Through Ambiguity: An Opportunity for HR
What will it take to thrive in the face of shifting socio-economic trends and regulatory requirements? The answer can be found by looking at how successful HR leaders currently deal with rapidly shifting business environments. These types of HR leaders demonstrate three core competencies:
an economist's mindset; and
These three proven competencies will only become more important as the trade dimension becomes more clear and businesses start setting new strategic priorities. By developing these capabilities now, HR leaders will be in a much better position to make better decisions in the near future.
Competency #1: Business Acumen
The RBL group, a global professional services firm, surveyed thousands of professionals and chronicled what it means to be an effective HR professional in a paper called The New HR Competencies: Business Partnering from the Outside-In. The best HR professionals, according to the report's findings, "are credible activists because they build their personal trust through business acumen."
In the context of Brexit, a strong business acumen will help HR leaders have a relevant point of view when, for example, scenario planning for different office locations or determining how to manage worker shortages.
This means that, as an HR expert, you need to become familiar with your company's balance sheet, and know where your business makes and spends money. The goal is to understand how the metrics you collect — about engagement, retention, benefits, etc. — lead to improved organizational performance and a stronger bottom line.
Beyond financial metrics, effective HR leaders also understand how the organization's talent strategy is impacted by business constraints.
In a 2010 CIPD study on strategic talent planning, Alex Merrylees, who was head of HR for Virgin Atlantic Airways at the time, described how for an airline the planning process is led by its aircraft acquisition/fleet plan because "this will start to indicate the size of the operational work groups. Aircraft can't be left unused because that would be monstrously expensive."
By developing these capabilities now, HR leaders will be in a much better position to make better decisions in the near future.
A software developer, on the other hand, will have fewer constraints when it comes to determining staffing requirements. The company would quickly be outpaced by the competition if it adopted the same talent planning cadence as an airline or another capital-intensive business.
HR leaders who can understand the C-suite's frame of reference when everything is "business as usual" have the capacity to make strategic recommendations when change is around the corner.
Competency #2: Economist's Mindset
Navigating Brexit will require HR leaders to balance day-to-day metrics with big picture trends. This kind of "economist's mindset" is essential at a time when megatrends — such as a significant outflow of workers — may impact business-critical operations.
Consider this example of a Gallup client, a government agency, that was facing significant recruitment shortfalls and budget pressure: The agency realized that its traditional approach of relying on "reams of internal historical recruitment data" to guide its recruitment process was no longer working.
To address this issue, it shifted to a data-analytics approach focused on incorporating external, macro-market intelligence — including unemployment and market population demographic trends — and reallocated its marketing and advertising budgets accordingly. Ultimately, shifting to this approach helped the agency surpass its annual recruitment goals by 25%.
An understanding of megatrends extends beyond recruitment: Many tech companies have moved their R&D teams to Toronto, Canada, for example, where a highly educated workforce is available for less capital. This takes some economic analysis, "not the typical work of most HR teams," writes HR expert Josh Bersin in this Forbes article.
These are not isolated examples. Along with business acumen, an understanding of megatrends is recognised as another core competency of high-performing HR leaders in the RBL paper: successful HR leaders "understand the general business conditions (e.g., social, technological, economic, political, environmental, and demographic trends) that affect their industry and geography."
Regardless of which type of Brexit deal emerges, the referendum itself and resulting uncertainty is shaping labour market trends, now a key component of talent supply analysis.
Competency #3: Agility
As observed by the CIPD experts in their 2010 study on workforce planning, "the reality….is that managers only become interested in workforce planning when they have to: when they are faced with a restructure or sudden shifts in demand for goods."
This means that the major operational changes businesses are exploring in light of Brexit will likely create more urgency for workforce planning. And yet, for the most successful HR teams, this is not a one-and-done process, nor is it a knee-jerk reaction to a significant event.
One of our financial services customers, with an employee population of 50,000, uses a monthly planning process to capture workforce demand for the different groups within the organization.
The planning process involves over 100 VPs, directors, and managers, but other stakeholders are pulled in as necessary: If hiring isn't progressing as fast as required, they talk to recruiting; if the plan is over budget, they discuss it with finance. This allows the organization to more closely match talent demand with business requirements.
Navigating Brexit will require HR leaders to balance day-to-day metrics with big picture trends.
Continuous planning is a benefit for all organizations. As I explained in this previous post, when workforce planning is done on a yearly basis, businesses often need to set aside money for extra budget "just in case" people end up costing more than expected. One large organization I worked with had allocated 5% of its compensation budget to cover any overage resulting from an imprecise budgeting process.
When refreshed on a shorter cycle, workforce plans are more accurate, and this type of budget padding can be significantly reduced. This frees up funds for other critical projects, such as learning and development, which may be crucial when serving new markets or managing future skills gaps.
In an era of unpredictable outcomes, quickly aligning resources to different projects is key.
The Next Step: Lay the Foundation For Data-Driven Scenario Planning
What are some practical steps you can take now to start building the capabilities you need as a post-Brexit HR leader?
Start forging connections with senior executives from other areas of the business. Work with them to understand why certain decisions are being made in light of Brexit. Also align yourself with managers and SMEs to get an understanding of where skills gaps may be emerging.
Doing the above will help you define a strategic framework within which your people data can be considered. This will ultimately help you strategize for all the relevant variations of Brexit and talent supply trends, and emerge as a beacon of certainty for the CEO.
Embraced proactively, Brexit can be the catalyst for HR leaders in the UK to step up and take a strategic role in helping shape the business alongside their functional peers. Brexit is not just a challenge, it is an opportunity for HR to demonstrate the value that it can add to the business. HR leaders who can start anticipating potential issues now will be in the best position to thrive during the change.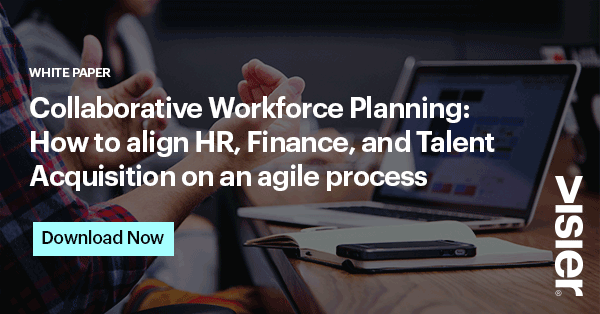 About the author: Ian Cook
Ian is an advocate for the crucial role that people play in helping companies thrive. His career has focused on enabling people, teams and companies to perform at their best. For the last 15 years Ian has been helping leaders elevate their HR strategies and programs through the effective use of people analytics. At Visier, Ian led the development of our market leading solution and is now focused on the overall strategy for the people analytics business.
Be the first to know!
Never miss a story! Get the Outsmart newsletter.
Related Articles
PRODUCT INSIGHTS
John Boudreau and Rob Cross share examples and insights for using Organization Network Analytics (ONA) to improve HR programs. 
TRENDS
HR technology industry veteran Lexy Martin describes why you should bypass navigating the HCM application roadmap to go directly to workforce optimization.
CULTURE
Agile HR teams need real-time feedback to get things done. We'll explore a few ways to can use Agile principles to take action on employee feedback.