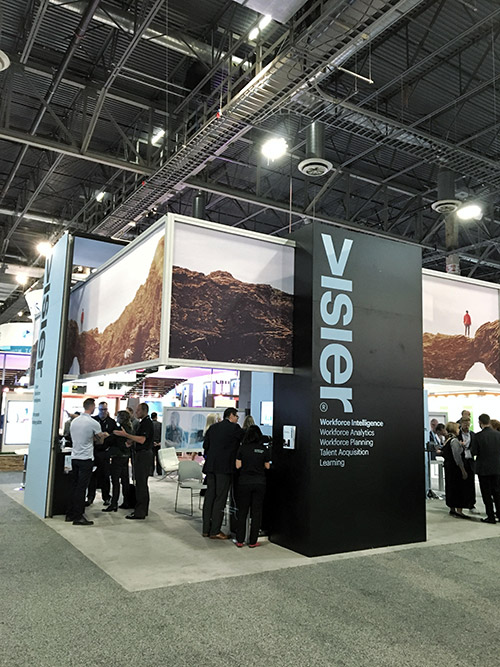 People analytics is now business-critical and, more than ever, HR must take advantage of the massive opportunities that analytics provides. The HR teams that will succeed in 2018 and beyond are those that have a grasp on how the developments of the data age will impact the workforce and their business. To support this, we've gathered a list of the top 2018 people analytics conferences for data-driven HR leaders of all skill levels.
Why is it so important for HR to attend at least one conference on data and analytics? In this post, Visier Chief Strategy Officer, Dave Weisbeck, points out that:
"Workforce data isn't limited to the processes HR manages, though, and whether we are trying to connect learning programs to productivity, or are hiring for customer satisfaction, we must expand our view of what workforce data is."
If you're looking for a local event to attend, consider attending a Visier People Strategy Power Lunch. These interactive networking luncheons focus on the best practices for using people analytics to achieve your HR goals. See when we'll be coming to a city near you!  
This industry is fast-paced and continuously evolving. We'll update this page as more people analytics and workforce planning conferences come up. Be sure to check back!
February
People Analytics & Future of Work
When: February 1-2
Where: San Francisco, CA
What data-driven HR leaders can expect: Cutting-edge practices and research on how work will be measured and organized, as well as deep dives into the impact analytics, automation, AI, and globalization will have on these.
IQPC HR Analytics & Metrics Summit
When: February 26-28
Where: Orlando, FL
What data-driven HR leaders can expect: Come away with new knowledge on creating a strategic analytics plan, finding the ROI of your human capital initiatives, establishing a data-driven HR organization, and more.
HCI Workforce Planning & People Analytics Conference
When: February 27-March 1
Where: Miami, FL
What data-driven HR leaders can expect: While the agenda boasts session topics such as how to forecast for the business by merging planning and analytics and how to use analytics to make better teams, there are also opportunities to meet other data-driven leaders through interactive roundtables and hands-on workshops.
LEAP HR Retail
When: February 28-March 1
Where: Nashville, TN
What data-driven HR leaders can expect: This conference will challenge retail HR professionals to reimagine their traditional processes and build innovative strategies for an increasingly digital world and consumer.
March
UNLEASH Conference & Expo
When: March 20-21
Where: London, UK  (also occurring May 14-15 in Las Vegas, NV and October 23-24 in Amsterdam, Netherlands)
What data-driven HR leaders can expect: This conference offers something for every HR professional looking for the latest tech and solutions, including how to work smarter using your data and analytical tools. Don't miss the think tank sessions for deeper dives with HR and tech experts!
April
HR Insight Summit
When: April 9-11
Where: Austin, TX
What data-driven HR leaders can expect: Ideal for senior HR decision-makers, this conference focuses on a wide-range of topics: data and innovation insights, workforce analytics, multigenerational management, the digital and diverse workplace, and organizational culture and productivity from hiring, training, engagement, retention, and succession planning.
Tucana People Analytics World
When: April 11-12
Where: London, UK
What data-driven HR leaders can expect: Presentations and conversations about the expanding role of people analytics in business, case studies from all stages of the analytics journey, and examples of new technology and methodologies to leverage such as Organizational Network Analytics, Natural Language Processing, and more.
May
Visier Outsmart 2018
When: May 23-24
Where: San Francisco, CA
What data-driven HR leaders can expect: A keynote by Josh Bersin, Principal and Founder of Bersin by Deloitte, kicks off our annual people analytics and workforce planning conference. Expect case studies and best practices from top global brands on topics such as why people analytics should come before HRMS implementations, the steps to successful analytics adoption and roll out, agile workforce planning, and much more.
June
Strategic Talent Acquisition Conference
When: June 6-7
Where: Miami, FL
What data-driven HR leaders can expect: In addition to a pre-conference workshop on Talent Acquisition Analytics, there are an abundance of data- and technology-focused sessions that promise to help you better attract, source, assess, select, and onboard candidates.
TMA Human Capital Analytics & Workforce Planning Event
When: June 11-13
Where: San Diego, CA
What data-driven HR leaders can expect: Attendees of all skill-levels will learn how to design an agile organization with people analytics and a data-driven HR department at the helm. Find out how to measure the strengths and weaknesses of your current analytics program, use predictive analytics to identify future high potentials, and more.
July
LEAP HR Healthcare
When: July 10-11
Where: Chicago, IL
What data-driven HR leaders can expect: Discover how to solve healthcare's most complex workforce challenges using the latest analytics best practices and technology. This conference focuses on preparing HR pros for the future of work while patient satisfaction and other business outcomes top of mind.  
September
HR Technology Conference & Exposition
When: September 11-14
Where: Las Vegas, NV
What data-driven HR leaders can expect: From SaaS to analytics, to big data to social media, and more—learn from industry experts on business processes and organizational successes enabled by technology. Expect topics to cover everything from best practices for buying and implementing technology to the digital disruptions coming HR's way.
October
The Future of HR
When: October 4
Where: Dallas, TX
What data-driven HR leaders can expect: Co-led by John Boudreau, research director of the Center for Effective Organizations and frequent Visier guest writer, this unique program focuses on the changes coming to the nature of work, workers, and the work ecosystem, such as automation, robotics, and workforce planning in uncertain times.
November
The HR Congress
When: Nov 27-28
Where: Brussels, Belgium
What data-driven HR leaders can expect: A TED-style conference focused on content that will help you build an agile and responsive organization, and foster a performance-driven culture. Expect to hear actionable sessions and keynotes with a slant towards HR technology and preparing for the future of work.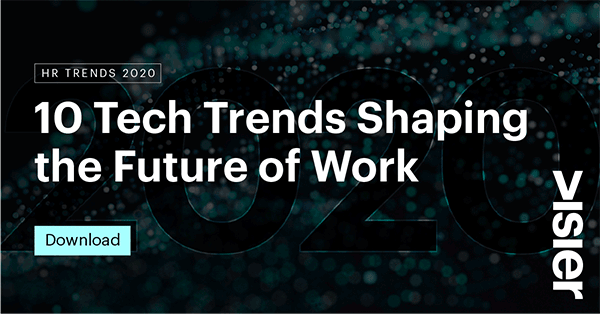 About the author: Karra Barron
Karra Barron is Visier's Sr. Content Marketing Manager and has over a decade of experience using storytelling to move people into action. At Visier, she is responsible for developing a wide range of thought leadership resources that educate and inspire business users to become data-driven leaders.
Be the first to know!
Never miss a story! Get the Outsmart newsletter.
Related Articles
TRENDS
A HR technology rollout can be daunting, especially when combined with having to train colleagues to use this new tool - there is a lot of pressure to get it right. If users feel frustrated and uncertain while using a new tool, such as a workforce intelligence (WFI) solution, they may return to the old methods of figuring out their HR data despite how antiquated or cumbersome they are.
PRODUCT INSIGHTS
Automation will certainly reduce some work, but it will also create new work.  To accomplish this, it requires reinventing the concept of a "job" and ROIP.
LEADERSHIP
This Entrepreneur Uses Data and Location-Based Technology to Improve Hospital Health | Visier People Analytics is a cloud-based analytic application designed to answer critical workforce strategy questions.