To develop a learning strategy that will help you narrow the manufacturing skills gap in a way that contributes to business success, follow these three steps.
For many companies struggling to fill job vacancies, "corporate colleges" have become a necessity.
At one factory complex in Washington, workers check out books from a company library, reports this recent WSJ article. At another in Atlanta, a faculty teaches workers lessons from the factory floor.
If you work in HR for the manufacturing sector, you may be wondering if your company should be following suit: By 2025, over 2 million manufacturing jobs could go unfilled. A shrinking pool of workers with advanced manufacturing skills, along with baby boomer retirements, is contributing to this major talent shortfall.
To deal with the shortage, internal employee training and development is typically the preferred solution. In fact, 94% of manufacturing executives say it's the most effective strategy for skilled production workforce development, according to data gathered by Deloitte and the Manufacturing Institute.
But if you are a learning leader, be warned: simply copying the bold moves of other businesses can lead to wasted spending.
Learning Investments: Look Before You Leap
With the rapid pace of technological advances, it comes as no surprise that organizations from across industries continue to spend more on learning every year. According to Training magazine's most recent Training Industry Report, "total 2017 U.S. training expenditures rose significantly, increasing 32.5 percent to $90.6 billion." AT&T recently announced that it is retraining nearly half its workforce to the tune of $1 billion.
Before pouring resources into new programs, however, it is important to identify where your organization will gain the most advantage from strategic learning programs. What is a critical skill set today may soon become obsolete due to new technology, or what is merely a nice-to-have skill now may become critical when business priorities shift.
This kind of strategic planning can't be accomplished with isolated metrics like learning completions or learner satisfaction scores. Instead, it requires a rich analysis of data from within and outside of the learning function, combined with a razor sharp focus on business goals and an eye towards the future.
To develop a learning strategy that will help you narrow the manufacturing skills gap in a way that contributes to business success, follow these steps:
Step #1: Map the Vision to Skills Requirements
Start by connecting with the visionaries in your organization and ask: How will our business evolve over the next year and beyond? What processes will we need to get there? What kind of skills will be required to support those processes?
By looking ahead at the future business direction, the true impact of skills gaps become apparent. One of our customers, as it expanded its mission of providing mailing and shipping products to incorporate an e-commerce focus, realized that it needed to train an entirely new skill set to support their business of the future.
For many manufacturers, the company of the future will likely be characterized by Industry 4.0, a term used to describe the move towards automation and data exchange in manufacturing technologies.
But even with a "robots managing robots" scenario, skilled human workers will still be needed. In Siemens' Amberg factory, for example, where 75% of the production process is automated, workers with specific skills make many critical decisions.
Understanding where your skills requirements are likely to change will require you to make connections with executives and managers outside of the HR function. If you work in a centralized L&D department, reaching outside your immediate group will help you see how learning complements other initiatives, such as teaming up with a local college to nurture the broader talent pool.
With all of this information, a view of how aggressive you will need to be when closing the gaps with learning activities will start to come into focus.
Step #2: Define the Gap
To gain some precision in defining just how big of a gap you have and where, you will need to take the business vision and combine it with a look at where you are today.
The juxtaposition of where you want to go and a clear picture of where you are now generates what Peter Senge (author of the classic business management book The Fifth Discipline: The Art & Practice of the Learning Organization) calls "creative tension," a force that brings current reality in line with the vision.
From a learning perspective, defining current reality means looking at who you can train within your existing workforce and the impact of them taking time off to do training. Combine the following metrics with your business direction, and you can effectively determine where you need to take action:
Trainable Employees
This type of analysis enables you to quantify who is likely to both succeed at training as well as those who are likely to stay with the organization long enough to get the training needed and use it to benefit the business. For example, if someone is at risk of resigning or retiring in three months, but it takes them six months to get the required skills, then they are not good candidates for training investments.
How to get this metric:
You will need these kind of data sources: HRIS data, LMS data, exit data, and performance data. You also need a way of running clustering algorithms once you get that data together to find commonalities such as: What makes employees succeed in training? Which employees are likely to leave?
Time to Productivity
This metric allows you to look at how long it takes a new employee (who lacks all the required skills) to get to the point where they are independently productive.

Time to productivity is very important because it is an indicator of how much of an investment is required to reach your business goals. The more aggressively you need to shorten time to productivity, the higher the learning investment.

For example, Novelis (a producer of rolled aluminum products and recycling) started a school within the company because a new engineering graduate took five years to get up to speed, and they had to "shorten that time to about two years," the company's vice president for human resources in North America

told the WSJ

.
How to get this metric:
Calculate the sum of days to productivity for analysis group and divide that by the number of employees in the analysis group. The sum is based on the number of days from the employee start date to when they reach productivity. This may be defined as a flag in the employee profile, or you may choose to count it as the day they complete their onboarding training programs, as captured in your LMS.  
Employee Participation Rate
This is the number of employees who have participated in learning as a percentage of average headcount for the group. This lets you see where you have numbers of employees who have received training for specific skills. For example,

100 people may have learned how to use a new type of manufacturing software

, but by looking at the participation rate grouped by location, you may see you have very few in a given location who have received the training. Or, you may see you have a bias in the types of employees who have been trained once you look at the participation rate by different diversity groups.
How to get this metric:
Divide the number of employee who complete a course in the analysis group by the average number of employees in an analysis group.
Expiring Certifications
Looking at certification coverage

by manufacturing plant, job role, and tenure is important because it helps you see whether you have the coverage you need to meet the plan three months from now, six months from now, and five years from now.

If you factor in

risk of turnover and retirement

, it can also help you determine if the certifications are held by employees who will stay and grow within the organization.
How to get this metric:
This metric is generated by looking at the number of certifications with expiry dates in the defined future timeframe. (This may be for the following year or each upcoming month.) Once you have done this step, you can then group  the certifications by type, the location of the certification holders, and whether those certified are at risk of leaving, and evaluate it all against your future needs. This allows you to determine what to schedule for future training to ensure compliance coverage.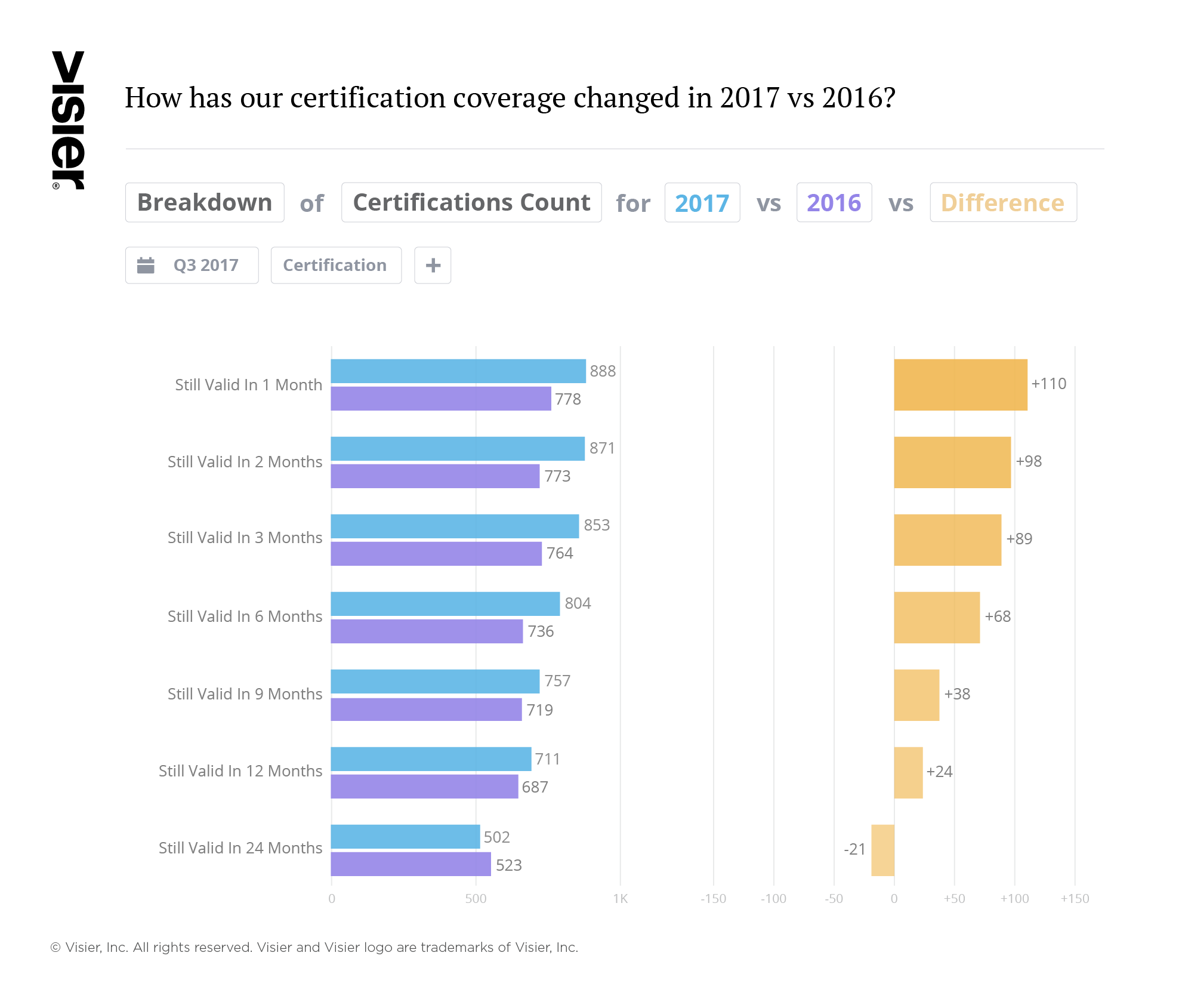 When all of the above metrics are taken into account, you can see where you need to prioritize your investments.
Step #3: Set goals
Once you have determined how aggressively you need to close certain gaps, you can set goals, such as a 50% participation in a certain type of training program during the year. This will also give you an idea of how much budget you need for the training program to deliver on business goals.
In the future, to determine whether the training program has been successful, you will need to look beyond participation rates. The participation rate metrics can be combined with an analysis of things such as who has moved into a new role at the end of the training to determine if it has had an impact. You can also consider whether this training has helped move the needle on areas the business really cares about, such as production quality rate and number of units produced.
Regular review of the goals with senior leaders will ensure the organization is aligned on what needs to be accomplished, and what kind of progress has been made.
Manufacturing Productivity: The Paradigm Shift
During the industrial revolution, the outputs generated from human capital were more closely correlated to the number of people working in the system. Now, with rapid technology advances, it's no longer just a question of "how many?" but "how many with what kind of skills?" This has made learning a key component of skills-starved industries like manufacturing.
It is easy — especially in this age of billion-dollar investments in learning — to see learning as an entity in and of itself.  But the point is to impact and lift the capabilities of the entire business. This means that a successful learning professional will need to establish a good relationship between herself, the talent acquisition team, the rest of HR, and their relevant data sources. Ultimately, you can work on developing employees to keep the business on course — now and in the future.
About the author: Visier Team
People-centered ideas and insights by the editorial team at Visier.
Be the first to know!
Never miss a story! Get the Outsmart newsletter.
Related Articles
CULTURE
We know that employee social networks and ONA offer untapped potential. It's high time HR leaders applied those lessons to their freelancers.
CULTURE
When it comes to dealing with opioid addiction in the workplace, it's not clear what's needed most from HR. Follow these steps to tackle this issue.
LEADERSHIP
Tracing the path from leadership development to customer satisfaction requires an analytical approach. Here is an overview of what to look for.