This year's virtual HR Technology Conference was packed with amazing insights that will help HR weather uncertainty, increase diversity and inclusion success, drive employee productivity, and more. Two things related to people analytics specifically resonated in many of the sessions:
We need to making it easier for people leaders to use data in their workforce decision-making
The only way to improve is to be able to measure your baseline and progress
One session that showed the benefits of taking these two addages to heart was "Data and Action Drive Improvement In Diversity and Inclusion." This panel was moderated by D&I thought leader Stela Lupushor of Reframe.Work, and featured people analytics leaders Jeremy Shapiro of Merck, Lydia Wu of Panasonic, and RJ Milnor of Uber.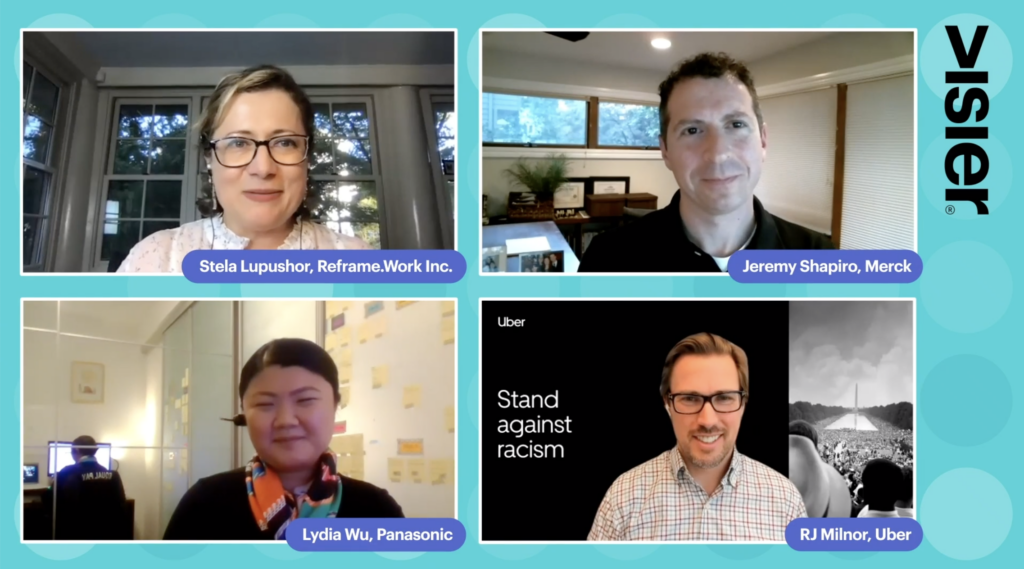 The panelists had a rousing discussion on how they use data and analytics to improve equality for all and their strategies for growing maturity and achieving results. Here are some snippets:
It's critical to look at the intersectionality of data. We need to talk about lifestyle differences. Need to talk about a lot of different things that we typically don't capture in the demographics data.
Global data gives you the opportunity to investigate the differences of the global level. Because what's considered a minority group in the U.S. could be something different elsewhere
Empowering HR business partners with data that they can use on the fly is quite critical. The people analytics team should create the environment for them to tell stories that they need to tell to foster and influence conversations
We feature notes from that session, as well as many others, in our key takeaways from HR Tech 2020. Click the link below to take a look:
Get answers now to react, respond, and recover
With the COVID-19 pandemic continually shaping the new normal, many speakers shared how data has enabled them to make better decisions in this dynamic environment. For example, David Wilkins of HealthcareSource noted that at the beginning of the pandemic, nurses and anesthesiologists for elective surgeries were furloughed rather than moved to where their skills would be most needed.
"The key is information. You need information to make decisions more effectively and quickly so you have a chance of remaining productive," said Dave Weisbeck, Chief Strategy Officer of Visier in his session on why all-sized businesses need analytics now.
This is why, when the pandemic hit, we built new COVID-19 capabilities in just two weeks and offered this to our customers for free. In his demo of Visier People®, Ian Cook, our VP of People Solutions, showed how exactly our people analytics equips HR and business leaders with agility to adapt quickly and always stay ahead.
Visier People has been proven and tested with over 5000 customers. If you'd like to see more of what our platform can do, please check out our video library today!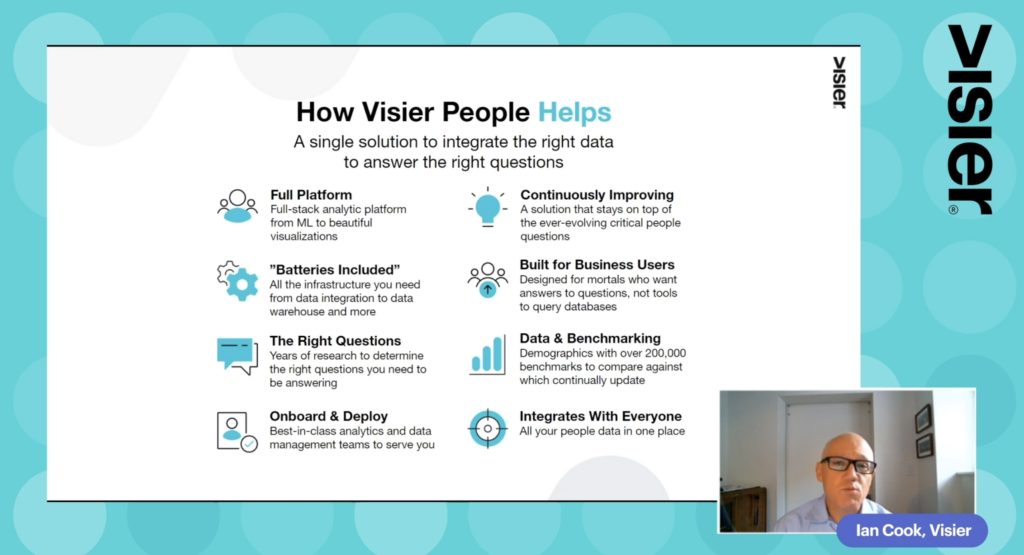 About the author: Karra Barron
Karra Barron is Visier's Sr. Content Marketing Manager and has over a decade of experience using storytelling to move people into action. At Visier, she is responsible for developing a wide range of thought leadership resources that educate and inspire business users to become data-driven leaders.
Be the first to know!
Never miss a story! Get the Outsmart newsletter.
Related Articles
CULTURE
Want to take action to increase diversity and inclusion in your organization? Discover how successful companies are using people analytics to support D&I.
PRODUCT INSIGHTS
Discover how Standard Bank decided to purchase–rather than build–their people analytics solution and how it allows insights scale across the organization.
PRODUCT INSIGHTS
The right workforce analytics framework should help develop tailored employee turnover solution and design a tailored employee retention programs.