A smarter approach to compensation planning
Visier® Smart Compensation makes compensation planning radically effective. Finally a compensation solution that combines the art + science of your pay philosophy across the business for better decisions, elevates manager competency for better pay conversations with employees, and helps remove bias.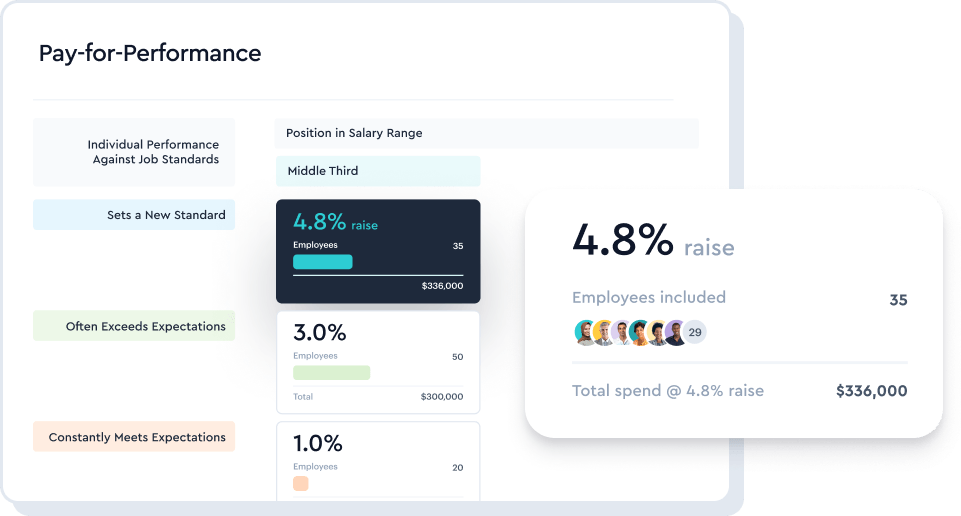 Visier Smart Compensation video (1:27)
Fixing what's broken in compensation planning
Automate compensation workflows and deliver a simplified manager experience
Encodes your pay philosophy—such as pay-for-performance, or reducing risk of resignation—into each merit cycle, so you connect strategy with execution.
A data-driven, 360-degree view of each employee leverages people analytics that matter to automatically optimize merit pay decisions while simplifying the manager experience.
Empower managers to make data-driven compensation decisions
Support managers to make more data-driven decisions to create more consistency for effective decisions while maintaining accountability and avoid exceptions that lead to pay disparities.
Elevate manager competency so they can have more effective pay discussions with employees that supports growing pay transparency needs.
Meet the next-generation compensation planning solution
Unbiased pay decisions made easy for managers. Maximize the financial impact of merit pay decisions before committing your budget dollars.
Unbiased compensation, unlimited visibility
Guide a more fair and equitable process by accounting for more factors that drive differences in pay decisions.
Proactively address bias with an unbiased baseline recommendation and deviation tracking that gives HR a log of rationale.
Drive retention of high performers and reduce turnover
Retain top talent by understanding the risk of resignation as part of your compensation strategy.
Dedicate budget in the merit cycle to retain key talent in critical roles in your organization, and avoid turnover cost.
Over the last 12 months, we've mapped the market, reviewing a myriad of tools for compensation planning. There is nothing comparable to Visier Smart Compensation.
Mark Berry, Senior Vice President, People