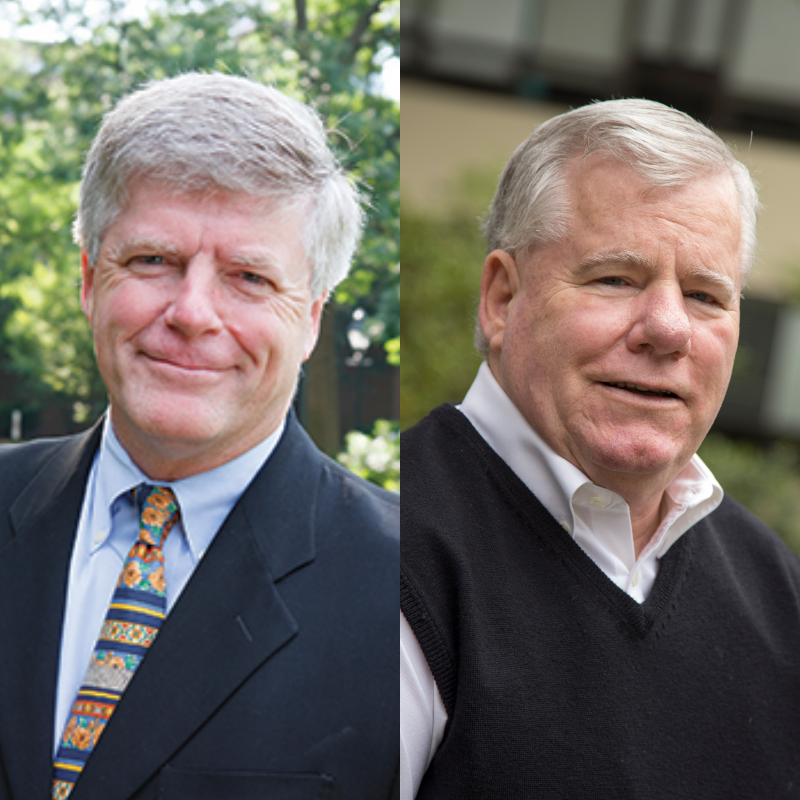 At this year's Visier Outsmart (our annual user conference), we were fortunate to have two notable industry thought leaders take part: Tom Davenport, Big Data luminary and pioneer of the concept of "competing on analytics," and Dr. John Sullivan, internationally renowned HR thought leader (and guest writer on the Visier blog).
The underlying theme tying their two presentations together was that in order for HR to be successful with analytics, it's necessary to connect HR goals (or your people strategy) to organizational goals (the business strategy). It brought to mind what Dave Ulrich — the author of modern HR and a past Visier Outsmart speaker — and his team wrote in their paper The New HR Competencies: Business Partnering from the Outside-In:
"High-performing HR professionals think and act from the outside-in. They are deeply knowledgeable of and able to translate external business trends into internal decisions and actions. They understand the general business conditions (e.g., social, technological, economic, political, environmental, and demographic trends) that affect their industry and geography. They target and serve key customers of their organization by identifying customer segments, knowing customer expectations, and aligning organizational actions to meet customer needs."
Below are some analytics learnings from the presentations.
The Four Eras of Analytics in Workforce and Elsewhere: From Artisanal Analytics to Augmented Automation — Tom Davenport
In his keynote, Davenport explained that there are four eras of analytics, each one progressing in the complexity of the data being analyzed and the range of insights that can be derived as a result of innovations that occur in each.
Rather than thinking of each era as a period of time, with a defined start and end date, the eras are open-ended stages, where businesses and functions can enter and leave as their need to make sense of their data increases and becomes more complex. The eras are:
Analytics 1.0: Artisanal Analytics
This is also what we think of as traditional analytics, where descriptive analytics and reporting are the norm. Analytics use here is focused on internal decision support and any predictive models are based mainly on human hypotheses. Business users may be starting to use analytics, but it's primarily the domain of analysts.
Analytics 2.0: Big Data Analytics
This era is characterized by large, complex, and unstructured data that requires new computational capabilities to sort through it all. Data scientists and data products are introduced as a result; however, not every business is taking advantage of these.  
Analytics 3.0: Data Economy Analytics
In this era, analytics is core to the business. Data and analytics-based products are utilized to make decisions at scale. For example, employee location data and employee communications and network data can be mined for insights such as attrition risk, organizational design and effectiveness, and fraud and malfeasance detection.
Analytics 4.0: Cognitive Analytics
Analytics is used to make automated decisions in this era. Cognitive technologies, such as machine learning, enable faster and more accurate decision-making, and also the replacement of certain knowledge work tasks with automation.
According to Davenport, HR had a later start on analytics than other business functions and most of HR is in the first era of our analytics journey. In the Analytics 1.0 stage, HR is integrating and curating their workforce data from various transactional systems, as well as developing the business acumen to tell a story with the data that will lead to better and more productive business decisions.
For those looking ahead to Analytics 4.0, Davenport stressed that while many knowledge work job tasks will be automated, immense productivity gains from this could fund the retraining and redeployment of people. HR should be prepared in the future for a workforce augmented by technology rather than replaced by it — HR will need to play a leading role in enabling their organization's success with it.
The Critical Role of Data In Talent Acquisition — Dr. John Sullivan
According to Dr. Sullivan, Human Capital is the #1 global business challenge facing CEOs for the fourth year in a row. This is because few CEOs are confident in the quality of their Human Capital metrics. Often what is shared with the C-Suite is what Sullivan calls the "So What" metrics, which elicit a "Why Should I Care?" reaction from executives. To capture the C-Suite's attention, Talent Acquisition needs to become more businesslike and begin to calculate all standard business analytics. The more Talent Acquisition professionals are measuring what matters to CEOs, the more value they can provide to the business.
Sullivan illustrated this with an anecdote about a referral program at a retailer that was cut in order to save each retail store a few thousand dollars. The cut led to lower quality of hire and customer service, as well as unintended consequences in other departments from decreased customer loyalty and amount spent per visit. The resulting financial loss after a year was well into the six figures!
Your CEO expects every function to have a measurable impact on business results — and within HR, recruiting has the most impact on revenue and profit. So what kind of data should Talent Acquisition be analyzing, measuring, and sharing with the C-suite? These are the six highest impact talent acquisition data actions, in Sullivan's view:
Hiring innovators

Prioritizing jobs and hiring top talent into revenue impact jobs

Calculating the dollar impact of quality hires

Calculating the dollar impact of hiring top diversity talent into "customer and product impact jobs"

Calculating the cost of "excess vacancy days" for revenue and high-impact jobs

Shifting to a metric model that is designed to influence executives
Insights and actions in these areas can measurably improve business results. They're the kind of metrics that gain your CEO's immediate attention, especially if they they meet these criteria:

It impacts a strategic business goal

It impacts at least 1% of revenue

It includes a future trend line and the cost of a delay

It includes benchmark comparison numbers

It includes the root cause

When they see it, they think "Oh my god!"

It drives them to demand immediate action

It highlights the recommended actions

It includes a just-in-time alert reminder
Here are two articles by Dr. John Sullivan that diver deeper into the talent analytic concepts he shared at Visier Outsmart: Influence Your CEO With WOW And OW! Talent Data and Impress Your CEO With These Strategic Business Impact Recruiting Metrics.
About the author: Karra Barron
Karra Barron is Visier's Sr. Content Marketing Manager and has over a decade of experience using storytelling to move people into action. At Visier, she is responsible for developing a wide range of thought leadership resources that educate and inspire business users to become data-driven leaders.
Be the first to know!
Never miss a story! Get the Outsmart newsletter.
Related Articles
PRODUCT INSIGHTS
The Eight Step Model for Purposeful HR Analytics | Visier People Analytics is a cloud-based analytic application designed to answer critical workforce strategy questions.
LEADERSHIP
In this article, we dig deeper into the HR leadership lessons from these non-traditional CHROs that apply to all HR leaders.
PRODUCT INSIGHTS
Merck is tackling the digitalization of HR and, in doing so, has taken on a pioneering role – a fact confirmed by sources outside the company. Learn how.