As a woman who first joined the workforce in 1967, I have witnessed firsthand the gradual progress many organizations have made on the gender equity front. But with the current health crisis impacting women disproportionately, both in employment numbers and the stresses of home life on their careers, we are now experiencing what could become a major setback.
Mitigating these impacts will take a concerted effort. Targeted interventions, goal setting, continuous monitoring, and holding leaders accountable are needed to ensure women's representation evolves in the right direction. This is true gender equity by design–and the data suggests that some organizations are better at moving the needle on outcomes than others.
In a recent report we released on the female leadership ratio, we showed how our customers have improved their representation of women in the successor pool for leadership roles beyond McKinsey's benchmark range. In another study released last year, we found cracks in the glass ceiling, with our customer organizations replacing males with females at higher rates in lower management.
Clearly, our customers are making real, meaningful progress through the use of people analytics. New findings suggest that they are also using a data-driven approach to tackle a phenomenon called the Manager Divide–an underrepresentation of women in manager roles beginning at the age when they typically have children. As we uncovered in our 2016 gender equity report, this gap starts at age 32 and becomes increasingly difficult to close.
Gains for Women Aged 35 to 40: A Turning Point for Gender Equity?
In the 2021 report, Visier InsightsTM Report: Gender Equity and the Problem of the Managerial Divide, we measured changes in Manager Divide trends between 2017 and 2020 using a US enterprise subset of the Visier Insights database.
The overall picture was encouraging, with organizations moving from 74 female managers for every 100 males in manager positions to 78 female managers per 100 males in manager positions.
While the overall improvement in the Manager Divide has been driven by several age categories, one demographic stood out in terms of progress. Between 2017 and 2020, the Manager Divide narrowed the most for employees aged 35 to 40.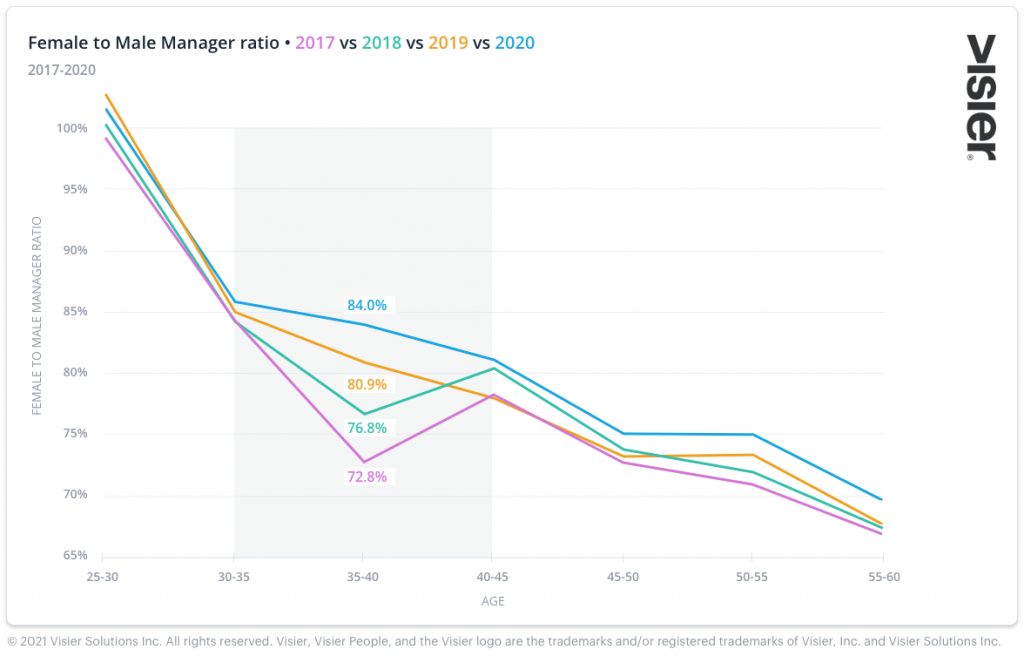 This distinct change is not likely the result of natural forces. Given that women in the US typically have children in their early 30s, this data suggests that organizations in our database have been doing more to support working mothers, and thus have set the stage for future progress as this cohort ages up.
Another bright spot identified from our Visier Insights is that the traditionally male-dominated sector of high tech experienced the most improvement. Between 2017 and 2020, high-tech moved from 53 female managers per 100 male managers to 63 female managers per 100 male managers. This suggests that organizations in this industry have been making a concerted effort to increase female representation.
Leading practices contribute to business performance
Gender equity is not only good for society, but for business performance too: Companies with an equal representation of men and women perform better financially than male-dominated firms.
Analytics and dedication to proactive diversity and inclusion programs are helping to increase female leadership retention, improve diversity, and address inclusion inequity in all phases of business operations, processes, and activities.
For advice on how to lay the strategic foundation for gender equity in leadership roles, read this research report, Visier Value: People Analytics Improves Female Leadership Ratio by 11.5%. With the right approach, organizations can recover from the current economic crisis with gender equity as a top priority–and continue on the path to progress.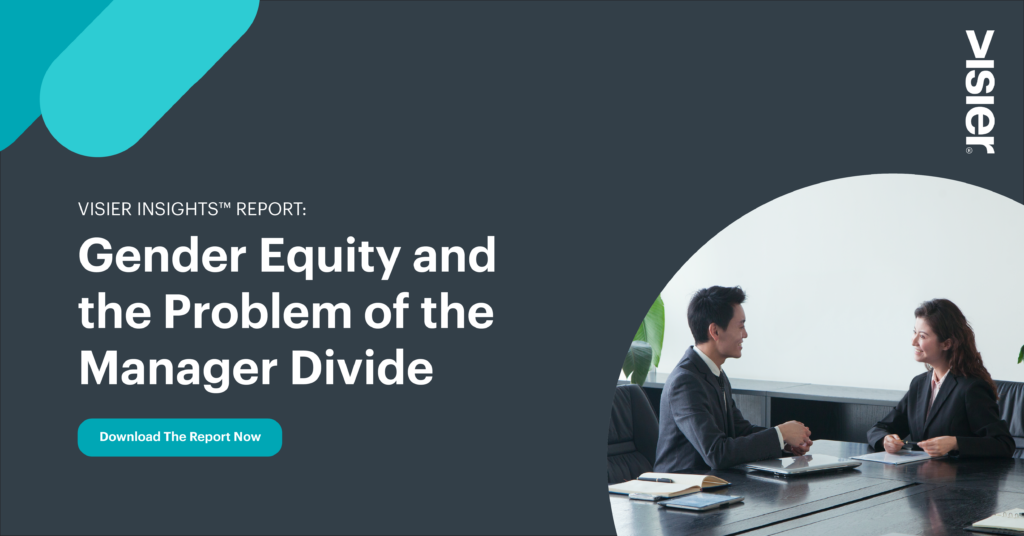 About the author: Lexy Martin
Lexy Martin is a respected thought leader on HR technology adoption and value achieved. Known as the originator of the Sierra-Cedar HR Systems Survey, she now works at Visier with customers to support them in their HR transformation to become data-driven organizations. Lexy is Principal, Research and Customer Value at Visier.
Be the first to know!
Never miss a story! Get the Outsmart newsletter.
Related Articles
PRODUCT INSIGHTS
When it comes to people analytics, there are always more questions than answers. Learn how to identify the right people analytics projects for your needs.
TRENDS
Did you know that you can use people analytics to prepare for your organization's recovery from COVID-19? Find out how in this article.
TALENT MANAGEMENT
By having the right employee experience approach, organizations will be in a better position for recovery. See what actions you can take in 2021 here.