Is your workforce data disparate, incomplete, inaccurate, and constantly changing? If so, you are not alone. HR data is inherently bad and difficult to integrate.
Here's the good news: You don't need to let dirty data hold you up on your workforce analytics journey. Here are four top tips for dealing with your dirty HR data.
Tip #1: Don't cleanse data for cleansing sake
When using workforce analytics, your main goal is to get insight and information that will drive better business decisions. The insight that you can pull from the data is the most important element.
Let's say you want to know whether you are retaining the right people to support next year's growth target. If you only focus on cleaning your data, a year will pass by very quickly — projects that solely exist for the purpose of getting data cleaned, aligned, and normalized tend to have low business priority. All the questions you had in the first place about required skills and aptitudes will be irrelevant by the time you have all the data in hand. It is more effective to put time and resources into projects that have a direct link to business objectives.
Tip #2: Aim for accuracy instead of perfection
Indeed, good business decisions require accurate data. But the data does not need to be perfect all the time.  Let's put on our finance hats for a moment: How often do you think financial decisions are changed because of adjusted costs, restated data, or realignments? Countless times – and those perpetual adjustments are widely accepted.
There are times when you will need to be extremely precise, however. Which brings me to my next point…..
Tip #3: Map accuracy to impact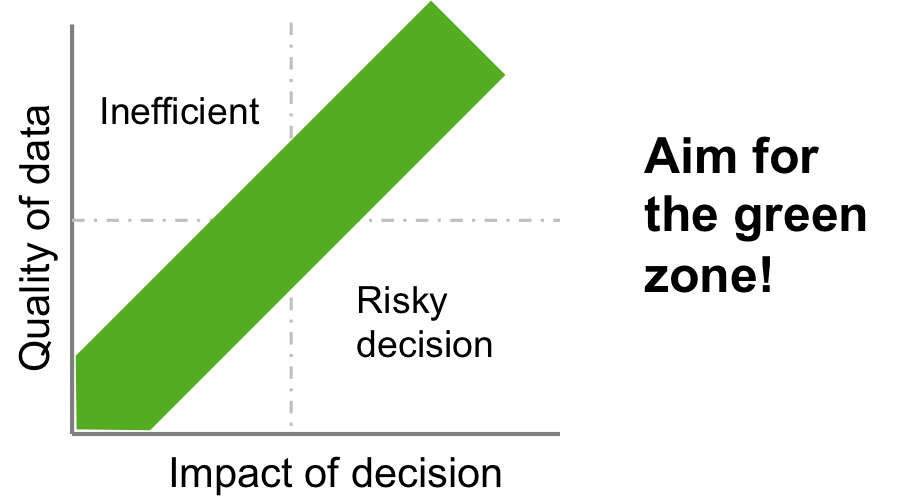 Analytics is about making decisions, but not all decisions are equally important. When cleansing data, you want to consider the impact of the decision. For example, there are times when you need to have near-pristine data, such as mapping succession candidates to future positions or determining changes to compensation.
On the other hand, if your organization is running analytics for a low impact decision, such as monitoring headcount change or tenure rates, striving for 100% accuracy is inefficient. In these circumstances, missing 1 person among one thousand people gives an error smaller than +/- 0.01.
In short, you want to aim for the green zone (shown here), allocating your resources appropriately.
Tip #4: Work with dirty data while improving it
What's the best way to clean data? Start with a business question, such as: "are we retaining the right people?" Next, you can bring all your relevant data to the light, and work with it while improving it. This approach drives two favorable results:
You won't let good data go unused. Get useful information out of it while you navigate through your remaining data. This will drive more interest in improving the overall quality of data.
The people who are responsible for the data and accountable for the decisions that are based on that data will be given a more compelling reason to get the data in the system, get it right, and get it done.
Follow these tips and you will be on the workforce analytics fast-track.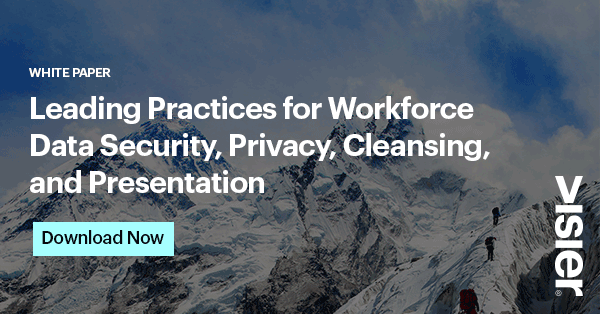 About the author: Ian Cook
Ian is an advocate for the crucial role that people play in helping companies thrive. His career has focused on enabling people, teams and companies to perform at their best. For the last 15 years Ian has been helping leaders elevate their HR strategies and programs through the effective use of people analytics. At Visier, Ian led the development of our market leading solution and is now focused on the overall strategy for the people analytics business.
Be the first to know!
Never miss a story! Get the Outsmart newsletter.
Related Articles
PRODUCT INSIGHTS
Whatever you call it, unwarranted employee absences -- particularly those that fall under the category of FMLA abuse -- can be tricky to track and manage.
PRODUCT INSIGHTS
If you want to tell better stories with data, bring the numbers to life. Swap out jargon for plain English. Your key audience will appreciate it.
LEADERSHIP
How can you measure your return on investment when it comes to workforce decisions? It starts with an understanding of organizational strategy.