We've created an e-book to help you navigate the three stages of a crisis with the right workforce questions and data analysis. Download it here. You may also find this checklist on Key Questions to Answer During a Crisis handy. Check it out at this link. Looking for more resources to guide you through crisis management? Visit our Crisis Management Resource Center.
We are all in this together for the long haul. Whether you are an HR executive, analytics guru, or a manager on the front lines, if you are involved in supporting or making people decisions, we want to hear from you. Are the questions and observations here consistent with your experience as you implement response plans and (possibly) start thinking about recovery? Please read on and share your thoughts via the #AskVisier LinkedIn community.
"Putting people first" is a value that most organizations hold. Through our work with customers during the COVID-19 pandemic, we are seeing signs that many leaders are staying true to this value–even in the face of unprecedented challenges.
What does putting people first mean in this current reality? We are hearing that it's about ensuring people are safe, financially secure, informed, and heard.
One delivery services organization, for example, has a real-time view into pandemic spread in correlation with employee delivery locations to maintain employee safety. A number of companies are offering paid leave during quarantine periods and offering additional insurance coverage.
We will be in the response phase of this pandemic for the foreseeable future (for a full definition of the three phases of crisis management–React, Respond, and Recover–read this guide).
Below are five more forward-looking critical and reflective questions organizations are asking as they continue to respond to this crisis, along with some ideas on how firms can maintain a commitment to their values in each area:
1. Are we adapting to changing environmental factors?
The New York Times has described government responses in the United States, as "a patchwork of local and state directives." California was the first to order all residents to stay home. Other states have been more hesitant to take action.
Proactive organizations haven't waited for government orders to make work from home plans or consider employee safety measures. A purely reactive response can be suboptimal and might be delivered in a way that induces panic. No amount of money can help if people just don't feel safe.
The right blend of data can provide clarity about what organizations need to be doing next. For example, by mapping the number of new confirmed cases to your headcount by geography, you can very quickly see where you need to be prioritizing your efforts. This information will also be critical as you determine how to transition back to work, reopen locations, and plan for new workplace strategies.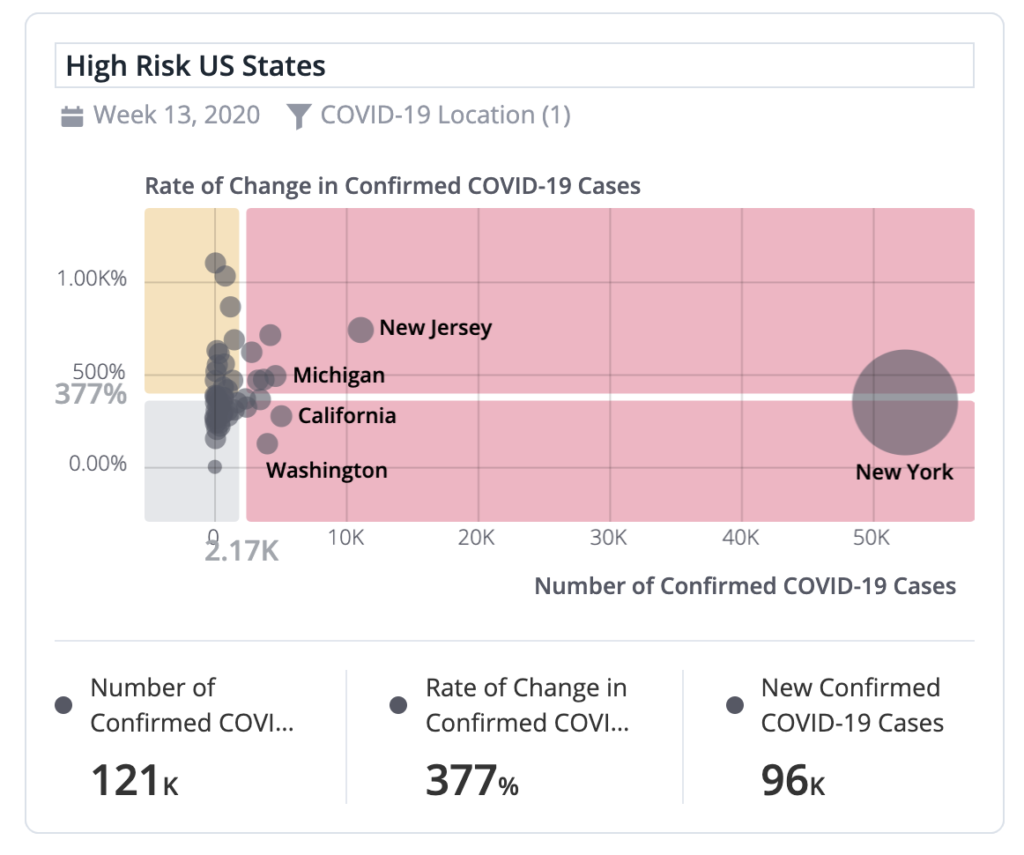 2. How are we managing our people remotely?
Early research conducted by APPS RUN THE WORLD revealed that 15% of companies in the US were not allowing remote work, and globally, 44% of companies were not allowing remote work. Many leaders are nervous about maintaining productivity when they can't physically see their people. Performance platforms will soon be able to capture and track work commitments so that managers can keep a handle on who is being productive and who is not.
These systems will come equipped with their own set of analytics–good news for leaders who are desperate for visibility. But this is a time for trust and flexibility. What if someone who is typically a high performer experiences a drop in productivity–but he is also a single father with three kids in the house and a sick mother to worry about?
Organizations that work from a foundation of trust evaluate employees based on output, and, during this challenging transition, are getting a sense of employee circumstances with surveys. And they are not only listening, but taking meaningful action to address concerns. This all requires a holistic view of the situation at hand.
3. What happens if our leaders get sick–or worse?
With the average age of CEOs and CFOs getting higher, it is possible that some members of your senior management team are in the high risk group. Even if your leaders are young and seem healthy, there are no guarantees that they are not vulnerable. This is why proactive HR leaders have made succession planning a top priority so they can ensure business continuity. The best plans look at people by position, determine whether there are enough succession candidates, and what leadership and succession risks need to be reviewed.
4. Are we the right size?
If you have to release people, it is important to ask: What is fair, right, and best? Instead of rushing to job cuts, explore other options: Can we furlough people? Can we reskill them for other much needed roles?
A reduction in force (RIF) is a tough exercise under any scenario. HR needs an accurate snapshot of the current situation to make a starting point for the plan and to compare actuals to the plan. But often, getting an accurate headcount from individual systems takes too long to compile and does not provide a holistic view.
It's also important to remember that actions you take today may have a longer term impact on retention. A workforce planning tool with unified data from your HRIS and financial systems can give you an accurate picture of your current headcount, projected attrition, and total cost of workforce. This can enable the modeling of post COVID-19 workforce scenarios that have the potential to create longer-term talent shortages.
5. Are we handling employee absences well?
Many people are going to get sick. Some are going to require time to care for family illness or even need bereavement leave. This has an impact on your capacity and on morale. You need to be prepared to support people during their absence and ensure continuity while they are away.
To do this well, you need to analyze–not just basic absence data–but where absences are occurring and in which departments. If you're tracking skills, you may need to re-allocate teams with similar skills to provide coverage. Voluntary self-reporting of COVID-19 coupled with accurate attendance data will also help you quickly identify other staff who may have been exposed.
COVID-19: A true test of your values
When organizations eventually come out of the crisis, they will face new challenges as they return to normal operations. Can we recover those people we have lost? Has our business model changed such that a new set of skills/people are needed? How has our talent competitive landscape changed?
But by far, the most important question will be whether the business still has the good will of the workforce. When job candidates start asking potential employers how they helped their people during this time, those who stayed true to their values will be proud of the answer.
Share your experience
Share insights, ask questions, and discover the latest best practices on crisis management and employee safety using people analytics via the #AskVisier LinkedIn community.
The recordings of the first and second open forums are available in our Crisis Management Resource Center.
About the author: Caitlin Bigsby
Caitlin Bigsby has over 22 years of experience in HCM software solutions and has worked with dozens of organizations over the years to help them maximize the value of their investments, in both their people and their software. Caitlin shines a light on how analytic insight can elevate the strategy of Human Resources. In her spare time, she enjoys spending time with her family and dog, Toby.
Be the first to know!
Never miss a story! Get the Outsmart newsletter.
Related Articles
PRODUCT INSIGHTS
Here is a recap of the main topics that emerged in our most recent open forum on how to use people analytics during the stages of a pandemic.
DEEPER INSIGHTS
These are the questions you need to ask as your business stabilizes and engages employees during the respond stage of a crisis.
CULTURE
During our recent COVID-19 open forum, leading experts and practitioners in the data and analytics field shared emerging best practices for managing employee safety and business continuity.