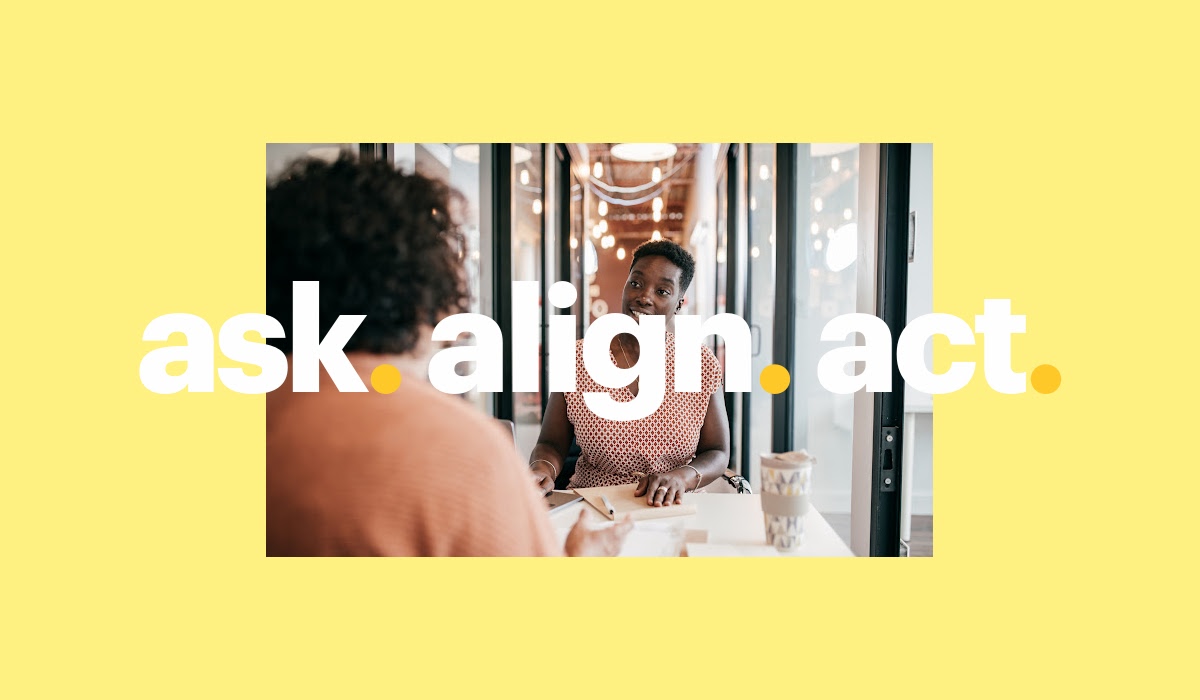 Despite the best of intentions, many companies have found it incredibly difficult to make good on the pledges they made amid last year's massive reckoning around racial and ethic inequality.
What's holding them back? Often, they simply don't know where they currently stand in regards to diversity, equity, and inclusion (DEI), let alone where they need to go. Companies who are serious about realizing the promises they've made to their people are measuring, quantifying, and analyzing their way towards more equal workforces, even if it's not as quickly as they'd like.
One great example? Snap Inc, parent company of Snapchat, who used data and analytics to keep a close eye on diversity at their organization, then set ambitious goals that will have a true, profound impact on diversity among their people.
"We have really lofty hiring goals," explained Kami Tilmann, Head of Data Science and People Analytics at Snap. "We understand that we have a long ramp ahead of us, so it's important that we weave DEI into everything we do."
Forward-thinking organizations like Snap, understand that to create more diverse teams, you need to hire more diverse candidates. That puts Talent Acquisition (TA) teams and their processes at the forefront of the battle for ethnic and gender parity.
The 3 A's that lead to better workforce DEI
It takes data for TA teams to pursue that goal in a measurable, impactful way. During the hiring process, just like in many other workplace scenarios, implicit bias inevitably creeps in when we rely on intuition or assumptions. And of course, without the other elements in place to keep and promote diversity, it simply creates a revolving door of talent. There's no real change until research and data is translated into action.
Here, we break down how TA teams can use Visier to better understand diversity issues in their applicant funnel, identify the root causes behind them, and involve the rest of their colleagues in taking corrective action.
This strategy for recruiting talent with diversity, equity, and inclusion in mind falls into three steps:
Ask: Investigate the current state of DEI in your talent pipeline
Align: Bring everyone on your team in on your findings and brainstorm solutions together
Act: Share your findings with stakeholder groups and get ready to translate them into action
Step 1: Ask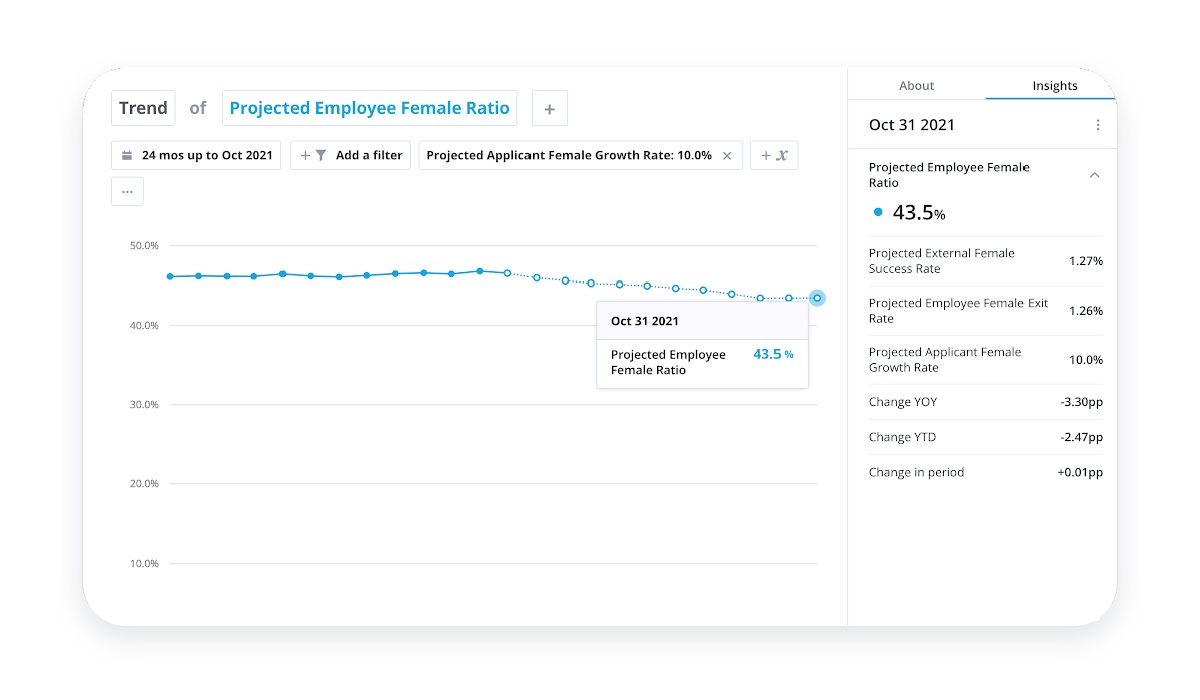 Take the time to assess all of your data so you can see the full picture, and get a better sense of where your organizations' blind spots are—they're likely not where you expect.
It takes data to truly understand where your TA funnel's strengths and weaknesses are when it comes to diversity. Establishing that baseline is your first step towards realizing your DEI goals.
Here are a few questions that you can answer with Visier, in order to assess the diversity of your candidate funnel:
If you were to take no action to improve diversity, how much farther from your goals will you be in the future?
If you took one specific action (such as increasing female hires by 10%), how much closer would those actions bring you towards equity?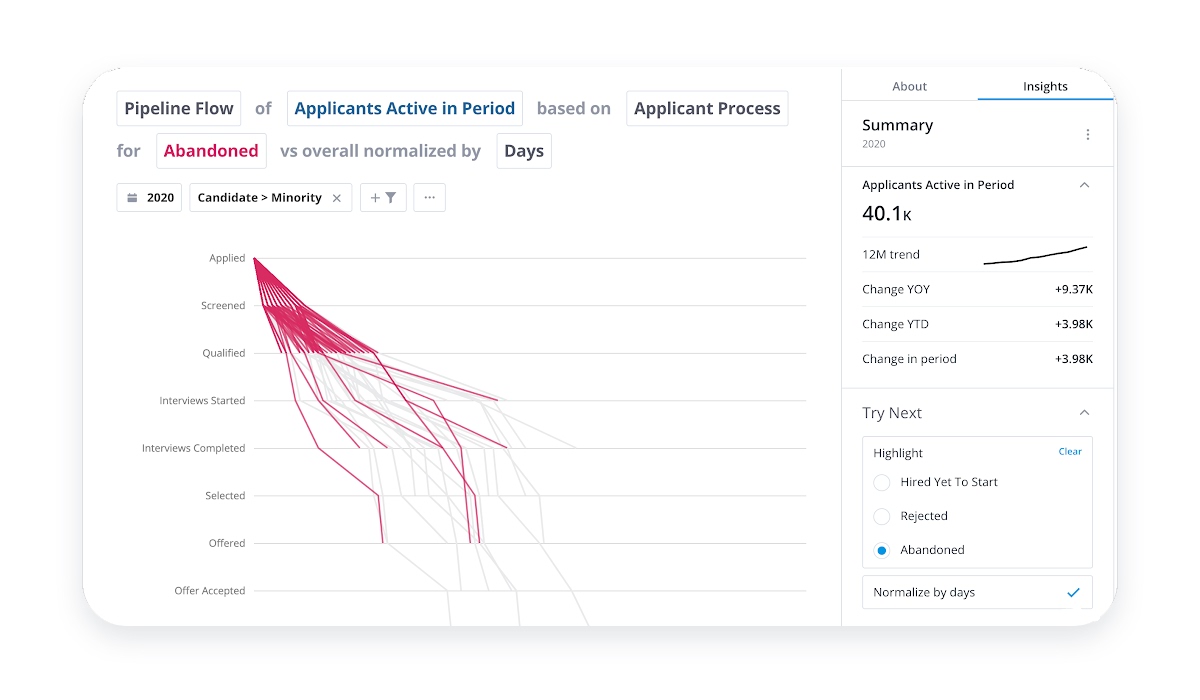 At what point in your pipeline are diverse applicants dropping out?
Which sources of applications are bringing you the most diverse candidates? Do you go on to successfully hire from those sources?
How do turnover rates for diverse new hires compare to those for all new hires generally?
Are you keeping your candidates from historically excluded groups as engaged as non-diverse candidates? If you lose diverse candidates in the funnel because they've had a poor candidate experience, you've wasted all your work attracting them.
Are there any noticeable differences when you filter by organization? Hiring manager? Job level?
Once you've collected this data, you've laid the foundation for understanding where issues with DEI could be found within your applicant funnel. Next, you and your team need to examine it together. It's important to go into this with an open mind since the data might reveal weaknesses you didn't expect—and that might feel uncomfortable to see.
Step 2: Align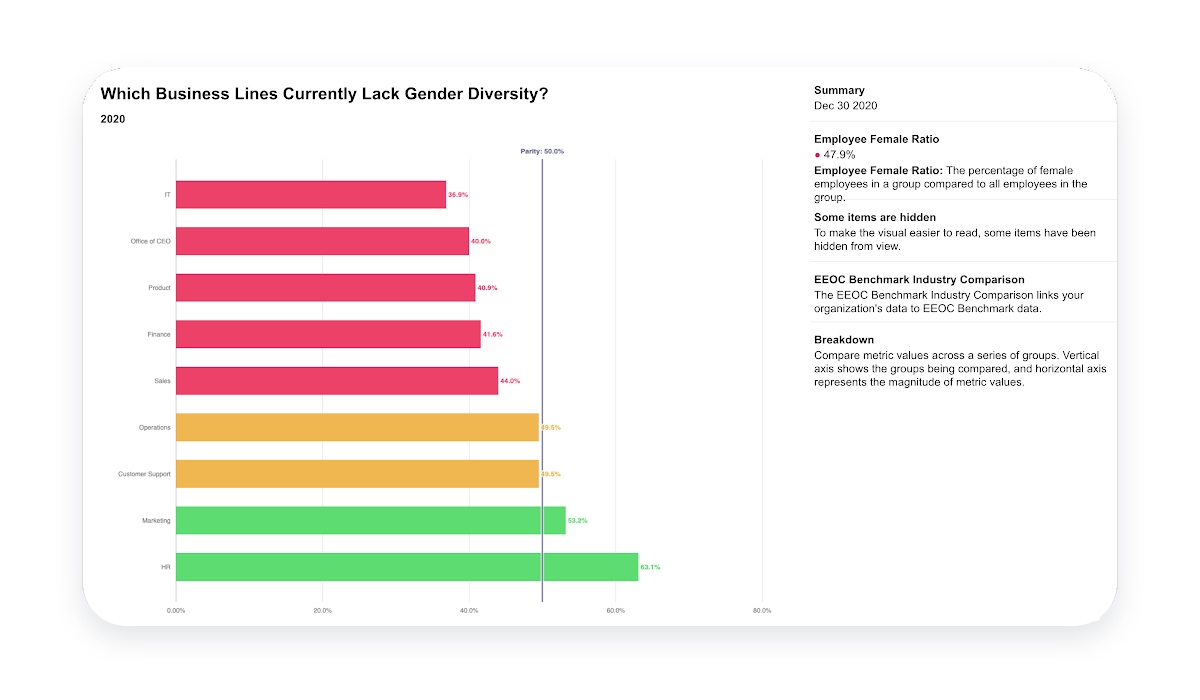 In the first stage, you used data to create a clear picture of your organization's strengths and weaknesses when it comes to TA diversity. Now, it's time to share those findings with the people actually doing this work every day—your recruiters and hiring managers.
Data and real-life knowledge is a powerful combination, so you need your people to weigh in and contextualize your findings against their experience. They'll be able to validate what you've found or maybe provide insight into any confusing anomalies.
Of course, it's possible that what you've uncovered may be surprising and it may contradict existing pre-conceptions. In that case, listen without judgment. Then return to the data together, collaborating to find the root causes behind trends and problems and understand why your results differed from what you expected to see.
Here's an example of how you could work with your team to explore TA data at the Align stage.
If you've uncovered specific business lines that are lacking in gender diversity, such as Sales or Operations, you could look at the pipeline funnel and candidate sources for those departments.
By looking into which applicant sources generate the most female, transgender, and non-binary applicants, you could uncover the success rate of candidates from those sources.
Then, you could examine whether hiring managers' and recruiters' gender influenced how many women, transgender, and non-binary applicants made it to the hiring stage.
Step 3: Act
After you've reached a solid understanding of which areas in your recruiting funnel need improvement—and you've got the data to back it up—it's time to share them with stakeholder groups, and get ready to organize people for action.
With the power of storytelling, you make it easy for everyone to grasp the significance of your findings. Create a strong, compelling presentation that guides everyone through the state of your TA process, where the issues lie, and why it's so crucial that you act now.
Start with an introduction that explains the current state of your hiring process in regards to diversity, equity, and inclusion, then move into explaining the problem with as much specificity as possible. That will set the stage to brainstorm ways to translate the data into action.
Here are some examples of steps you can take to address the problems you've uncovered:
If you found that some applicant sources provide a more diverse group of applicants than others: Increase your efforts on those stronger sources and decrease your reliance on less effective ones.
If you found that you have a great deal of success in attracting qualified candidates from a source, but they're not getting hired: Investigate the biases of the hiring committees and redact resume information that isn't relevant to candidates' qualifications.
If you found that diverse candidates are entering the funnel but dropping out at a higher rate: Evaluate every interaction point along the way. In your ATS, you can review screening questions, job descriptions, website content, onboarding training, and more to provide a more inclusive, welcoming experience
If you found that your current sources of hire aren't effective for your diversity strategy: Expand your sourcing strategy to include clubs, events, universities, colleges, or trade schools to nurture talent pools of historically excluded groups.
A diverse future relies on data—and people
Working towards a more diverse, equitable, and inclusive future isn't easy. But data, and solutions to translate it into action, can help you identify and counteract bias within the hiring process, helping to build a more diverse future.
Visier uses actionable data to bring diversity issues into the light, and give you the data to truly understand them. Combined with tools like iCIMS' Candidate Relationship Management, teams can stay in contact with, and nurture, the diverse talent they worked so hard to attract.
The Ask, Align, Act framework makes it easier to identify, visualize, and address problem areas for diversity within your organization's hiring process. But it's up to your people to use it to enact real change.
Download our Problem Solving for D&I in Your Talent Acquisition Funnel white paper now, and get more detailed guidance on how to put the Ask, Align, Act framework into practice at your organization.
About the author: Visier Team
People-centered ideas and insights by the editorial team at Visier.
Be the first to know!
Never miss a story! Get the Outsmart newsletter.
Related Articles
HR SUPER LEADERS 2021
In this profile, we talk to Becton Dickinson's Corinna Schwartz on supporting a global workforce, influencing the C-Suite, and making connections.
HR SUPER LEADERS 2021
What's the key to fighting the Resignation Wave? Just listen to your employees says NCI's CHRO Clay Worley.
CULTURE
Organisations are continuing to struggle to meet their diversity goals. Here are five ways to improve DEI within your business.