Ask Visier is a weekly column where a people analytics expert dives into one of the 2,000+ business questions available in Visier—and shares how to take action on the answers you might uncover on that topic. 
 It is well documented that more diverse organizations consistently outperform ones with employees who tend to come from the same background, which is a compelling reason for working towards a workforce that represents a wide variety of people. However, a recent Harvard Business Review article, Getting Serious Already about Diversity: Enough Already with the Business Case, says simply, "We should make the necessary investment because doing so honors our own and others' humanity and gives our lives meaning." 
 Improving representation at every level of the organization is consistently the first or second priority of most of the customers that we work with. Many companies have made public goals of achieving greater parity, especially in leadership roles, as they strive to achieve greater diversity while enabling a fairer, safer, and more inclusive place to work. 
Why should an HR professional ask this question?
One of the most important talent decisions we make that impacts diversity representation is who we hire. After all, we can't make an organization more diverse without bringing in more diverse talent. But, hiring is a multi-layered process. If you are challenged with hiring diverse talent, these questions are critical to understanding what can be done to improve your results:
Are diverse candidates applying for open positions?

Are these candidates advancing through the hiring process?

If not, where are they dropping off and why?
How can Visier help?
The chart below is a hiring funnel that displays the number of candidates at each stage of the hiring process beginning with applicants. Blue represents all candidates and purple represents minority candidates. This allows us to identify where in the process we may want to focus our attention.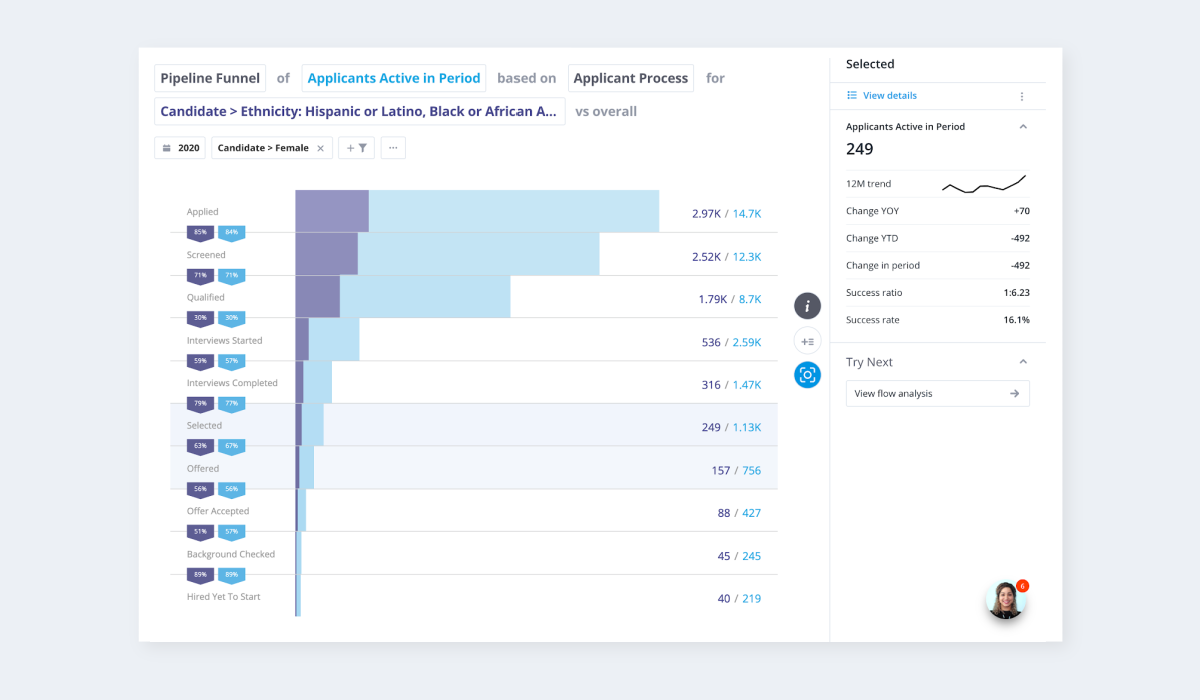 Is there a problem with sourcing candidates?
This view shows that in the example data, there are fewer minority candidates that applied for this position. In this case, leaders would want to follow up by understanding and improving the number of candidates applying for a job to get a sense of which sources are yielding the most diverse candidates. The following chart illustrates the number of applicants our example organization received by source.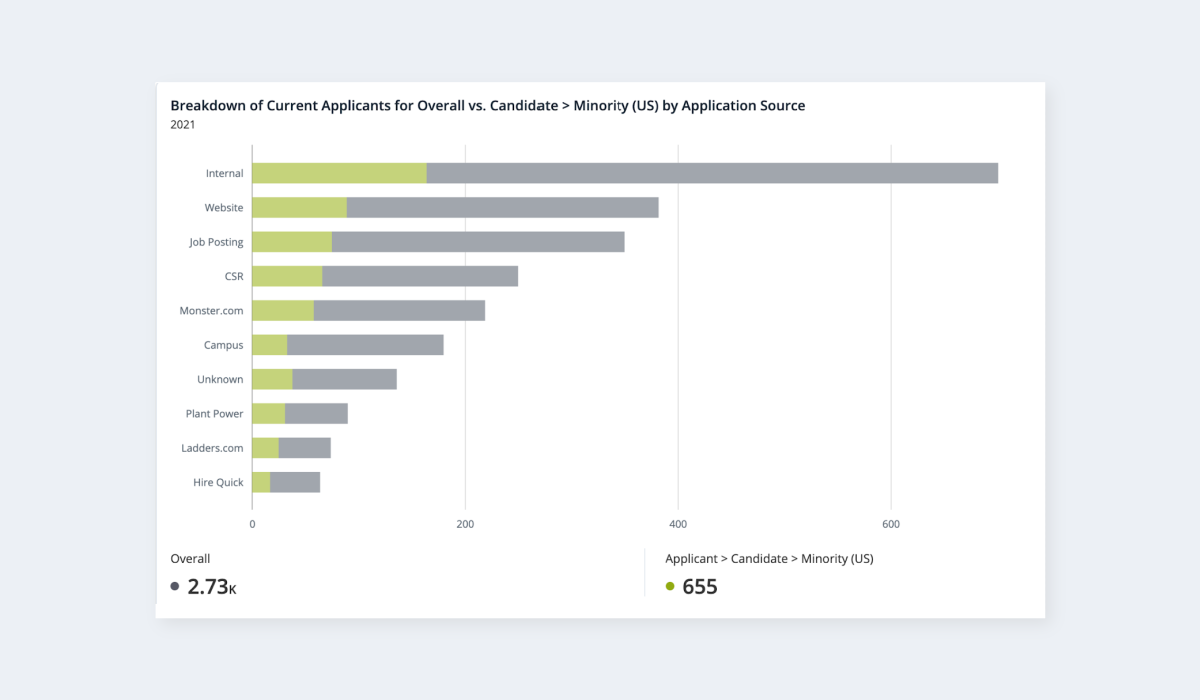 The breakdown of current applicants overall versus minority candidates in this chart shows the percentage of minority candidates applying from each of these sources. We may want to explore what may be a barrier to getting higher numbers of qualified applicants to enter the process. Possible reasons include: 
Availability of talent in that region

Job boards/recruiting sources yielding a different number of qualified diverse candidates

Job descriptions with words and phrases that discourage certain groups from applying 
Is there bias in the selection process?
Based on this funnel, we can also see that there is a drop in the number of applicants during the selection process. This would be something to investigate further to determine if there is bias in the interview process. Things to assess here are the diversity of our interview panel and the pass rate of diverse candidates with different interviewers. Visier can help you evaluate the success rates of diverse and non-diverse candidates with a diverse and non-diverse interview panel. This allows us to see if there may be some biases in the interview process itself. Understanding if there is bias in the interview process allows you to have targeted training and practices that can help mitigate against these. 
Are diverse candidates accepting offers?
So, you found the perfect candidate, but they rejected the offer to become part of your team. This is another place where data can be your friend. Surveys offer a great opportunity to collect information that can help you understand the candidate experience and reason for leaving. However, sometimes survey responses can be difficult to collect and the results may be unreliable as applicants may not want to 'burn bridges' should a future opportunity arise.
The following pipeline chart illustrates each unique minority applicant path through the recruitment process, including the dimension of time. One of the reasons candidates decline offers is because they accepted another offer. Evaluating the duration of the interview process is a good way to assess if the process is leaving you open to competition in a tight labor market.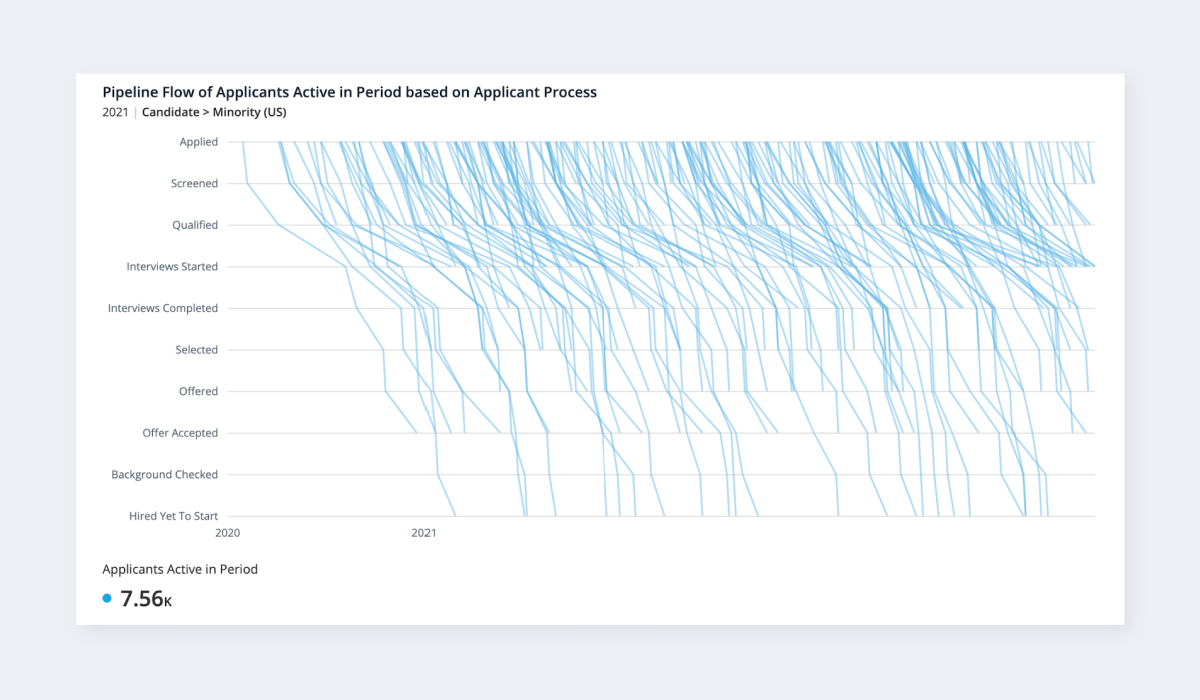 We can see that there is a significant drop, likely related to the time it takes for interviews to start. As the process continues, we see another drop off between 'offered' and 'offer accepted'. This may be related to:
The amount of time it takes to make the offer

The competitiveness of the package

Intangible benefits such as organizational culture or brand
Why is this question hard to answer without Visier?
Visier makes it easy to pull data from various sources and display it in an easy-to-understand format. Having insight into your recruiting process allows a more targeted assessment of what can be done to improve success in having a greater pool of qualified and diverse candidates to join your organization. Your diversity and inclusion success begins with an optimized recruiting strategy, and the best recruiting strategy uses data to show the strengths and shortcomings of the entire journey.
Further reading on increasing diversity within your organization: 
About the author: Carla Williams
Leaning on her 20+ years of HR experience in talent management, leadership development, operations and technology, Carla Williams has a passion for improving how work gets done by integrating technology into business processes. As a senior client executive at Visier, she enjoys sharing this experience to help organizations maximize their Visier People investment to achieve their desired strategic outcomes.
Be the first to know!
Never miss a story! Get the Outsmart newsletter.
Related Articles
ASK VISIER
Succession planning means having candidates ready to be promoted into crucial roles. Find out how Visier can provide valuable insights.
ASK VISIER
You're not a compensation expert but you need to advise your managers on compensation? Visier can tell you how well your organization pays people relative to their peers and the market and why this matters.
EMBEDDED ANALYTICS
To discuss how HR tech providers can build products that truly respond to their customers' needs, we brought together three experts.