Diversity and inclusion is now a business imperative with consumers demanding that organizations take action on their promises. New research from Edelman on racial justice and brands in America supports this: 60% of people say they will boycott a brand if they're not aligned to their values.
Improving D&I is not easy, especially when only 35% of Chief Diversity Officers are tracking diversity data, according to a Russell Reynolds study. But when organizations put fact-based insights in the hands of the right people–from the CEO to line managers–and they share those numbers using a thoughtful approach, it is possible to drive meaningful change.
Below are some examples of how real organizations use people analytics to take action on D&I:
1. Examine your data by the right dimensions
While your overall D&I may actually be good, when you look by any other dimension you may find pockets of problems where equality is lacking. Drill down deeper into your D&I data by location, department, or job to ensure you don't have any hidden red flags.
In 2018, Merck KGaA leveraged people analytics and a variety of HR tools to increase the representation of women in leadership positions. By the end of 2018, women occupied 32% of leadership roles (manager-level and above) group-wide–exceeding their 2021 target of maintaining a 30% representation of women in these positions!
However, though their figures are increasing steadily across the company, this is not the case within all business units, group functions, and hierarchical levels. Therefore, the organization is developing processes and implementing programs to increase female leadership where they are still underrepresented.
2. Focus on bottlenecks
When looking at the talent in their organization, an industrial manufacturer found that women perform as well as men–and occasionally outperform them. However, a review of the talent acquisition process uncovered the amount of women applicants was disproportionately lower than their male counterparts. Further, as women moved through the hiring process, more were dropped during the interview process.
The company took strategic, programmatic action to mitigate bias and increase the amount of women and minorities who move through the full hiring process. Programs implemented for hiring managers include unconscious bias training, as well as workshops on inclusive conversations, which enable a better hiring experience for women and minority candidates moving through the process.
Furthermore, the company shared their goals publicly to increase accountability: They've signed on to significant public pledges and acts to establish gender parity and advance minorities.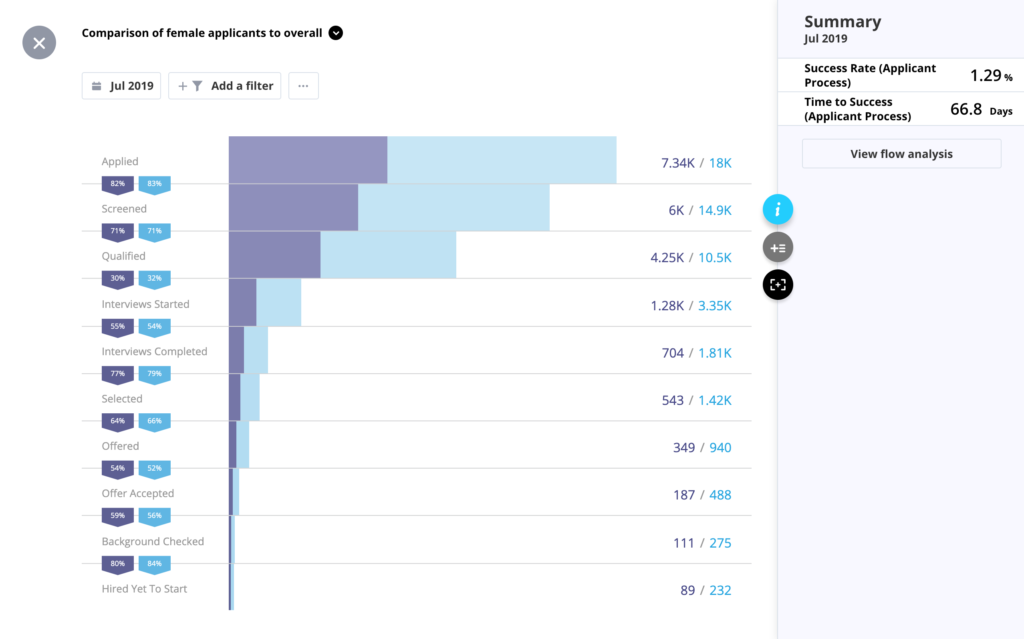 3. Embed D&I into your other work
When priorities are competing, it can be hard to juggle them all, but for real change to be made towards a fair and equitable workplace, D&I should be embedded in everything you do. When Comerica embarked on finding the right spans and layers for their organization, they kept diverse populations in mind.
For example, their HR team looked at why hundreds of managers were only managing one person (often another manager)–including filtering these groups by gender, minority group, and other values–to find ways to reduce the layers of decision-making and empower more employees within the organization.
Additionally, the analytics work they did enabled them to also look at retention issues with their diverse groups. "[We] drill into why [they're leaving] and how we can better address the needs of that population," said Catherine Garrett, SVP of HR Administrative Management at Comerica in a recent webinar.
4. Make it easy for managers to access the data
In order to take action on D&I now, it's important to have quick and reliable access to insights. To prevent bottlenecks on the analysis side, look for people analytics solutions that make it easy for leaders to access the data they need to make fact-based workforce decisions.
Merck KGaA provides leaders with access to people analytics so they can quickly and reliably analyze their people and team data, foster an inclusive culture that helps all team members contribute, and continuously track progress.
Likewise, Experian uses self-serve people analytics to provide segmented insights on gender diversity across the globe quickly, easily, and consistently—helping boost the credibility of HR.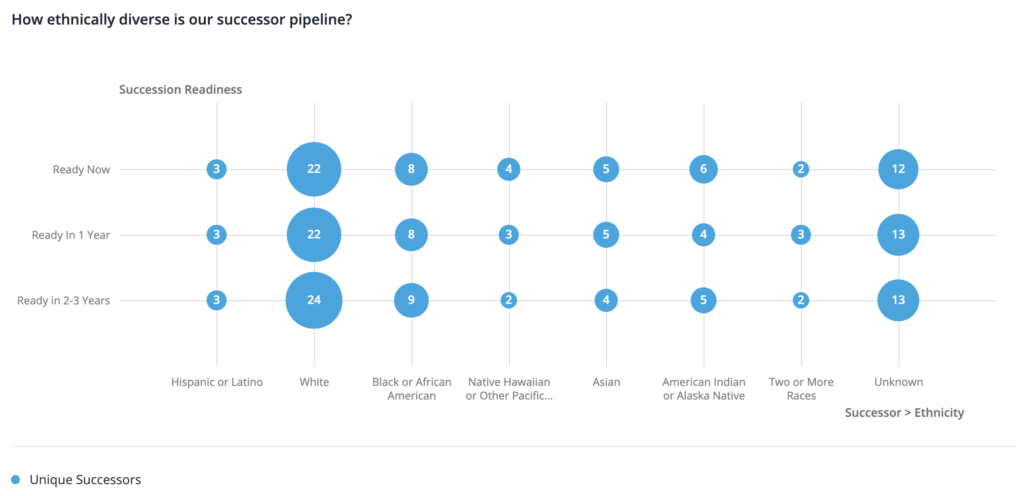 5. Keep leaders accountable
The lifecycle of an employee can be quite complex and ultimately, you need to get quite granular to impact activities across the employee lifecycle. Dig deeper into these numbers to identify what biases exist in your business processes, policies, and activities that are preventing equality in all stages from hire to retire. Then, share this data with leaders to hold them accountable for implementing changes.
The D&I leader at Pitney Bowes, for example, uses people analytics to track how each business unit is progressing not just on hiring–but also promoting and retaining–the right mix of diverse talent. This data helps managers and leaders remain accountable as they make daily staffing decisions.
Make meaningful D&I changes through listening
It's likely that your people are already talking about their thoughts on D&I in your organization. The key to driving meaningful change is listening to your workforce and using people analytics to understand how you can improve D&I initiatives.
As Stela Lupushor, Founder of Reframe.Work says, "people analytics can help you to understand the perception and sentiment of the workforce, the areas or processes that are creating frustrations or impeding employees' ability to perform, and deliver insights about which specific efforts to focus on."
With data and analytics, D&I leaders are in a better position to create work environments where everyone–regardless of ethnicity, gender identity, sexual orientation, age, social class, mental or physical ability, or other characteristics–will reach their full potential, feel valued, and be able to make a difference.
About the author: Visier Team
People-centered ideas and insights by the editorial team at Visier.
Be the first to know!
Never miss a story! Get the Outsmart newsletter.
Related Articles
PRODUCT INSIGHTS
Discover how Standard Bank decided to purchase–rather than build–their people analytics solution and how it allows insights scale across the organization.
CULTURE
Findings from the new Visier Insights Report: Cracks in the Glass Ceiling show two contrasting realities on women's advancement in the workplace. Read on.
TRENDS
The annual HR Technology Conference & Expo is going digital and Visier has your definitive guide for making the most of the biggest virtual HR event.