Challenges
Digital HR transformation started with global standardization
Until 2011, all talent processes, including recruiting, performance, compensation, and succession planning at Merck KGaA were designed and driven by local countries or divisions. The lack of global processes meant that data and associated analytics often varied based on the region from which they were drawn, providing no correlations across processes and regions.
Merck KGaA began work to standardize and integrate its processes and related data to enable a global data view. All talent processes including recruiting, performance, compensation, and succession planning were moved from local country or division processes to standardized global processes.
The aim was to have integrated processes. For example, if succession planning is scrutinized, performance results can be accessed as well. This standardization and process integration set up Merck KGaA for subsequent people analytics, allowing them to see correlations across processes. During this aspect of the Merck KGaA HR transformation redesign, involved parties also began to review technology they could use to support analysis across the talent processes.
Data unification: One of three key drivers to choose Visier
What Merck KGaA was doing naturally led to people analytics that would support the needed integration. The standardization initiative uncovered data from various processes, but what should be done with it? Merck KGaA looked to people analytics technology for three driving reasons:
The team was struck by how many people were building reports from process data. Rather than counting heads to monitor reduction in headcount, they wanted to see an increase in the number of employees working on reporting and analytics with an improvement in the overall quality of the data. Instead of less reporting, they wanted increased use of data and analytics to drive workforce decisions.
Merck KGaA wanted a single source of truth. They had a myriad of regional systems and managers who were picking and choosing the data they wanted. By moving to global processes, everyone could leverage the same data and definitions. For example, the definition of talent should not vary between China and Germany.
The team recognized that certain assumptions about talent trends were not based on data but rather on "gut feelings." For example, many managers believed that talent was not being rewarded, performance was not impacting turnover, and that the wrong people were leaving. The team used analytics as a driver to change mindsets and to encourage leaders to make data-based decisions.
"You cannot make decisions based on data alone in the same way you should not make decisions based only on gut feeling. It's important to put the data – now easily accessible – in the right context to be able to drive better business decisions."

Anna Lena Fritzsche, Organization Development & People Analytics Expert Merck KGaA Germany
Successful rollout of Visier
The Visier technical implementation for Merck KGaA consolidated more than 45 million single data points. The sources and data included:
SAP: The fundamentals of human capital, hierarchy, movement, role level, career path, diversity, and compensation
SuccessFactors HRSuite: Talent, potential, performance, recruiting, and succession
External provider: Employee engagement
The data was organized within Visier using chapters and presented to users in a slide format.
Users can access standard insights based on the same transparent data. The chapters are delivered through the Visier slideshow capability using a dashboard as the starting point so everyone can easily leverage people analytics.
Merck KGaA manages their analytics platform with the end user in mind. Managers and HR colleagues can access information based on user-friendly and non-technical questions that focus on organization and people management.
For example: "How are demographic developments impacting our organization?" Then they can slice, dice, and compare the data based upon the results of the entire company, yielding a new standard of transparency.
Coupled with the experience and knowledge of Merck KGaA managers, the results provide firm footing for making decisions on a wide variety of issues. For example, managers can track how staff turnover is impacted by targeted feedback from the performance assessment process.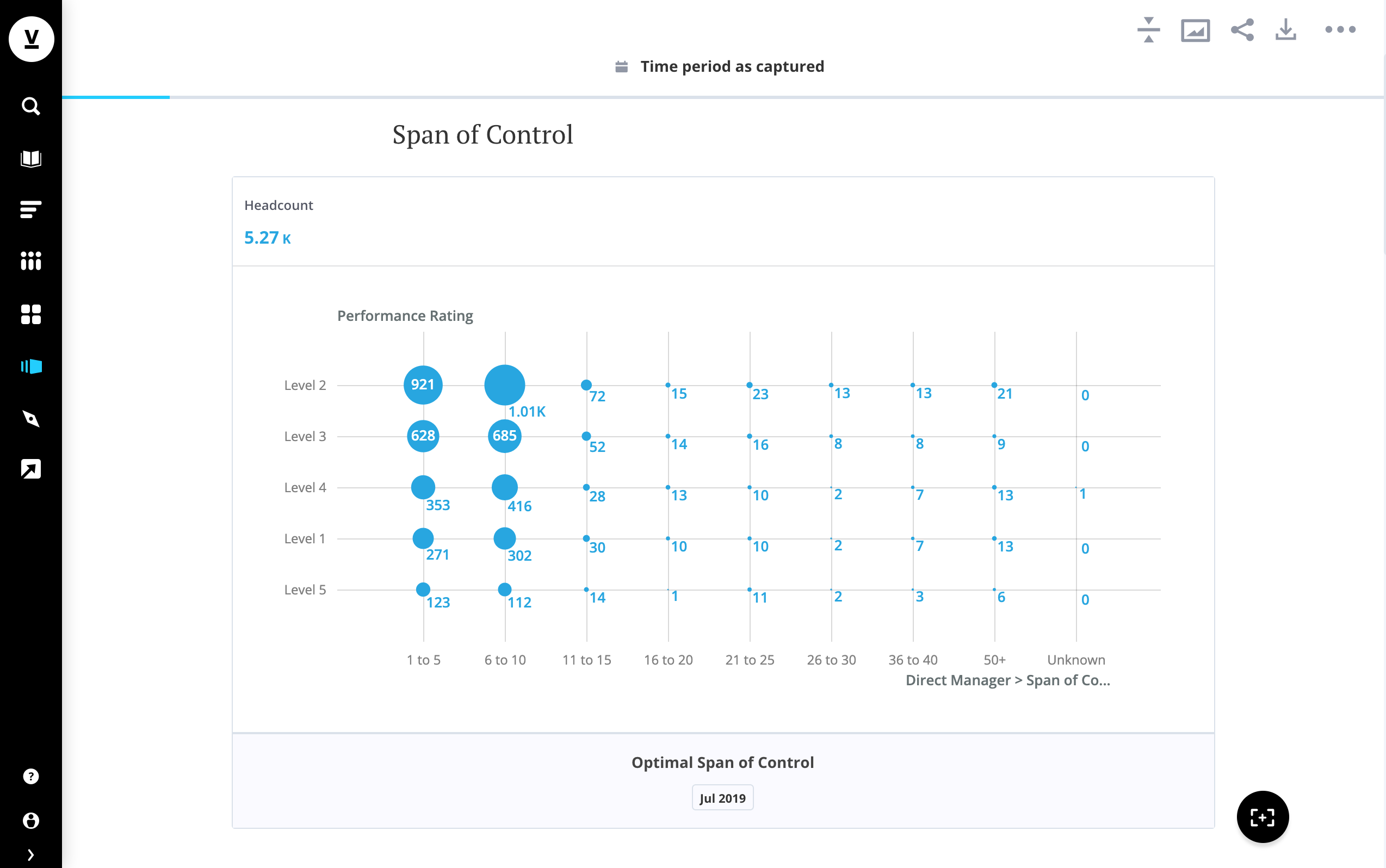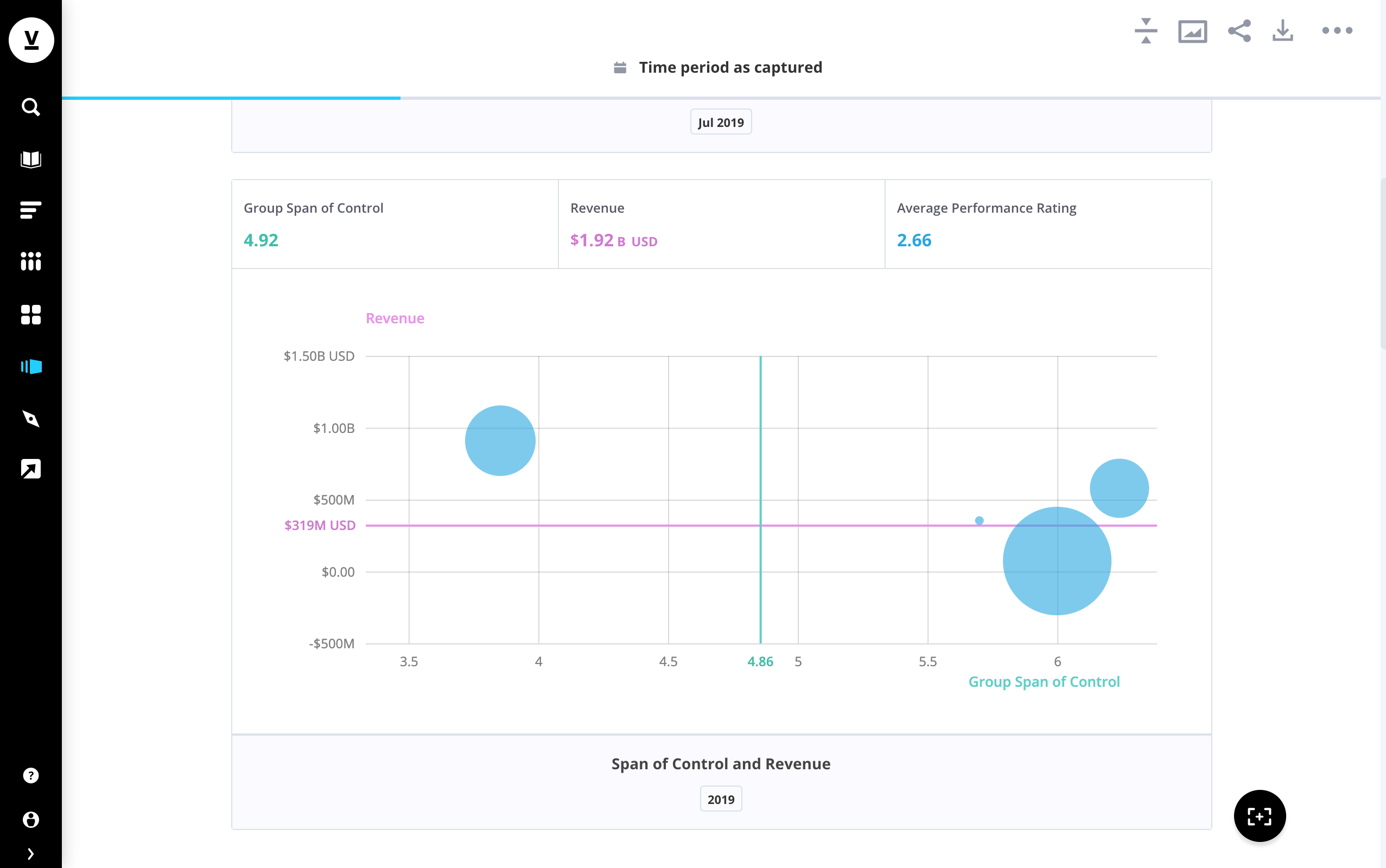 Implementation approach to analytics capitalizes on organization development
Merck KGaA's approach is unusual in that it combines Organization Development (OD) and People Analytics to deliver practical and differentiated support to the business. As a result, a fundamental shift has occurred. Today, the team is no longer asked to provide data. Instead, it is asked to provide input on what the data means as well as recommendations for interventions.
The team is small and truly global, operating from within Europe, the US, and Asia Pacific. They combine different expertise from typical implementation teams (Organizational Development, Mergers and Acquisitions, Change Management, etc.) and work closely with HR and business leaders to deliver business-specific insights and consulting that leverage analytics insights.
They focus on partnering with internal teams as well as external partners such as universities and research firms. This allows them to constantly combine internal and external trends so they can deliver additional value.
With Visier implemented, there is no need for data crunchers. Instead, the team focuses on telling stories using data and being close to the business supported by their common knowledge of OD.
"At Merck KGaA, it's not just HR doing analytics for HR. Our people analytics aims to increase the quality of people capital and the organizational decisions we make."

Anna Lena Fritzsche, Organization Development & People Analytics Expert
Enabling the business
Leaders at Merck KGaA attend OD and People Analytics enablement sessions to practice how analytics can support organizational and people decisions. The context involves "unleashing the power of we" and delivers on goals by focusing on performance, collaboration, and seizing opportunities through technology.
The main focus of the enablement sessions is to enable leaders to learn through case study work. Teams are encouraged to start with a business topic or question and not the data. They are asked to break down their topic or question into sub questions, then use analytics to provide insights for discussion, and finally to prioritize findings and actions.
A good example of a successful case study was one where the team wanted to determine whether Merck KGaA was an agile organization. They began by discussing the components that define an agile organization such as:
What is our ability to renew/adapt based on internal and external trends? Do we have a healthy employee renewal balance? Is our turnover aligned with our changing needs?
Are we quick to decide and to mobilize? Are we set up for efficient decision making?
Are we encouraging enough movements?
At the end of the enablement sessions, attendees are encouraged to continue working with Visier and participate in ongoing e-learnings.
Merck KGaA also promotes interaction via social media and digital collaboration. As a result, attendees can follow OD and People Analytics on the internal community platform so they can stay connected and share their experiences in support of organizational learning.
Beyond the enablement sessions, the team created a specific HR Analytics Navigator which serves as a source for internal assets, best practices, tips, and research about People Analytics. Visier also supports mobility, providing users with access via smartphones, tablets, and laptops.
Work Council collaboration
Many European organizations – especially Germany-based – must work closely with their Work Council to ensure compliance with data privacy and other regulatory requirements. Kai Beckman reports that "Introducing and applying HR analytics systems like these obviously has to comply with all data privacy requirements. And the appropriate bodies and committees need to be involved in advance. Close collaboration with our Works Council, for instance, has been crucial.
"We have a great Works Council at Merck KGaA. They immediately saw the value of making decisions using data that can be accessed transparently."

Anna Lena Fritzsche, Organization Development & People Analytics Expert Merck KGaA Germany
Data privacy and security
The team took appropriate measures to secure the data and the processes. For example, managers cannot drill to an organization with less than three people, and diversity (age, nationality, etc.) is only shown at the aggregate.
The issue of data privacy is also addressed within the enablement sessions. Legal pitfalls, especially within the United States, are discussed. Attendees are taught that Visier contains sensitive employee information and are provided with the following guidance to ensure the company can avoid claims and successfully defend against them:
Do not share Visier data, analyses or reports internally unless the recipient has Visier privileges and a legitimate business need to know the information.
When sharing Visier data, analyses or reports internally, always share it within the Visier system. Do not download, save or print the information.
Never disclose Visier data, analyses or reports externally, unless pre-approved by Legal.
Never consider or make decisions based on the age, sex or national origin / citizenship (or any other protected class status) of the applicant or employee in the hiring, promotion, discipline or termination context.
Understand how to lawfully execute diversity initiatives before addressing diversity concerns within your group. In the US, targets and quotas are not permitted.
Document your reasons for taking any adverse employment action (e.g. discipline, termination, etc.) to demonstrate it wasn't taken on the basis or in consideration of any protected class status.
Results with Visier
Merck KGaA emphasizes that the value of investment is not a monetary value, but a strategic value. At Merck KGaA, people analytics is not for HR. It's a tool for line managers. As a result, HR has become a strategic consultant to line managers. People no longer have to go with a gut feeling on decisions, but instead can rely on data. Merck KGaA believes it has increased the quality of decisions with Human Capital while professionalizing HR as a function.