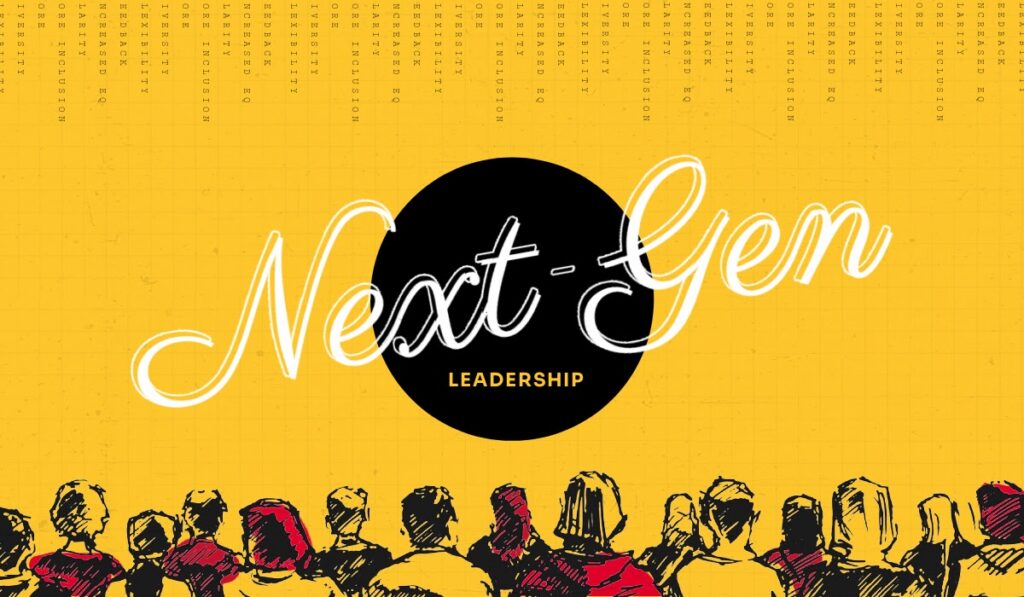 Another effect of the pandemic and the Great Resignation is starting to bubble up: a woeful lack of trained leaders ready to manage in the future. Why? One of the biggest reasons is that the traditional way of training up future leaders isn't quite jibing with our new-normal way of hybrid working—in other words, it's nigh impossible to shadow someone when they're in a different time zone. There are emerging ways of filling this leadership-training gap, however, and it starts with a power shift.
Today, in most U.S. organizations, the power resides at the top and is shared between a select few. For modern businesses to be truly effective in the long term, though, they must harness the value of the input that employees can provide—sharing that power with them. In this manner, employees will, in essence, be better developed and better positioned to step into leadership roles. Roles that current research says are desperately needed to ensure enough leaders for the future, and the present.
Empowering good leadership in others requires sharing power—something that doesn't exist at most organizations today says author and Harvard Business School professor Julie Battilana. Battilana is the Joseph C. Wilson Professor of Business Administration in the Organizational Behavior Unit at Harvard Business School, and the Alan L. Gleitsman Professor of Social Innovation at Harvard Kennedy School, where she is also the founder and faculty chair of the Social Innovation and Change Initiative. She is the co-author of Power, for All: How it Really Works and Why it's Everyone's Business.
"It seems to me that there are two critical things that have to happen within organizations," Battilana tells Visier. More power sharing and new accountability systems to hold those in power accountable within corporations."
Give future leaders a seat at the table
Companies, says Battilana, need to change their decision-making structures and processes to include the voices of the people. "Employees want to be able to have a say and they want to participate in the decisions," says Battilana. If company leaders just take a top-down perspective with the idea that they simply want to ensure that employees do what they tell them to do, "they're going to be going nowhere."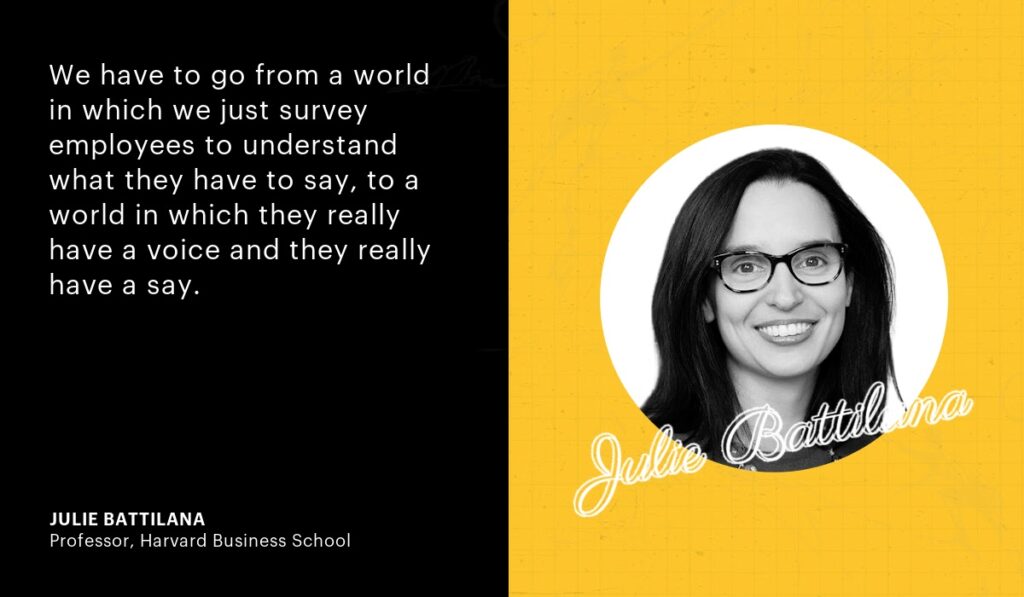 Battilana says that both through experience and research we know that "when employees feel that they do not have a sense of autonomy they report less job satisfaction, they're less productive, and it has detrimental consequences for the atmosphere within the company." Instead, a shift towards listening means a shift toward better business outcomes: "We have to go from a world in which we just survey employees to understand what they have to say, to a world in which they really have a voice and they really have a say."
These models, she says, do exist in other parts of the world. She points to Germany and its use of codetermination where employees are actually given the right to actively participate in making decisions.
"We need leaders and we need managers who are going to be able to respect the need for autonomy of the people on their teams and who will find ways to inspire them," Battilana says. "Workers really do not have much power, internally, and that's something that I think is going to have to evolve."
Gaining that power in itself can provide development experiences that can help employees successfully transition into, and succeed in, the leadership roles that are so desperately needed.
---
The leadership gap is widening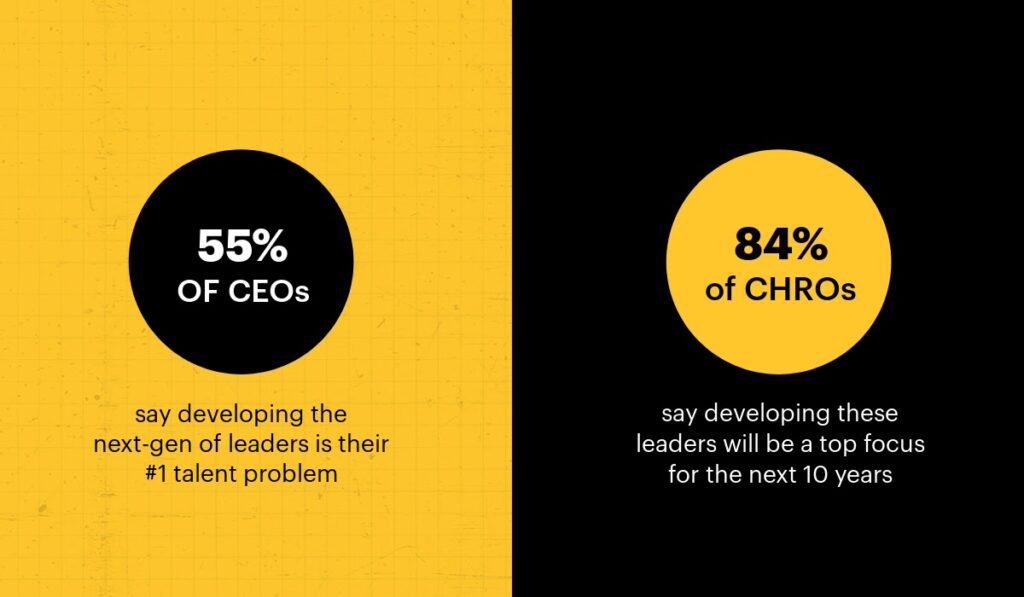 In a recent report, DDI notes that the top challenge for leaders around the globe is developing the next generation of leaders. This is especially true now that the pandemic has upended the workforce and many employees are deciding it's time to leave to pursue other jobs or other life interests. That's leaving a big leadership gap that must be filled.
But organizations are increasingly challenged to do this for a variety of reasons:
Employees, managers, and training and development teams continue to be working in remote or hybrid settings meaning that they must communicate in new ways.
The management skills required today are significantly different from what they were just a few years ago. The pandemic has created an entirely new environment for leaders, and an entirely new work model.
The pace of change is frantic and becoming more so—what managers need to know today is likely to shift in months, if not weeks. Employers are finding that even recent graduates do not come to the job equipped with everything they need to know to be successful.
Traditional training methods—lectures, seminars, classroom learning—are giving way to new and different forms of learning, from webinars and Zoom events, to micro-learning, certificates and credentials. In addition, much learning is taking place in real-time, through job-shadowing, stretch assignments, even apprenticeships.
Within this environment, leaders are challenged to develop the next generation of leaders—55% of those responding to DDI's Global Leadership Forecast 2021—indicated that this is the top talent problem currently plaguing them.
---
5 things the next generation of leaders want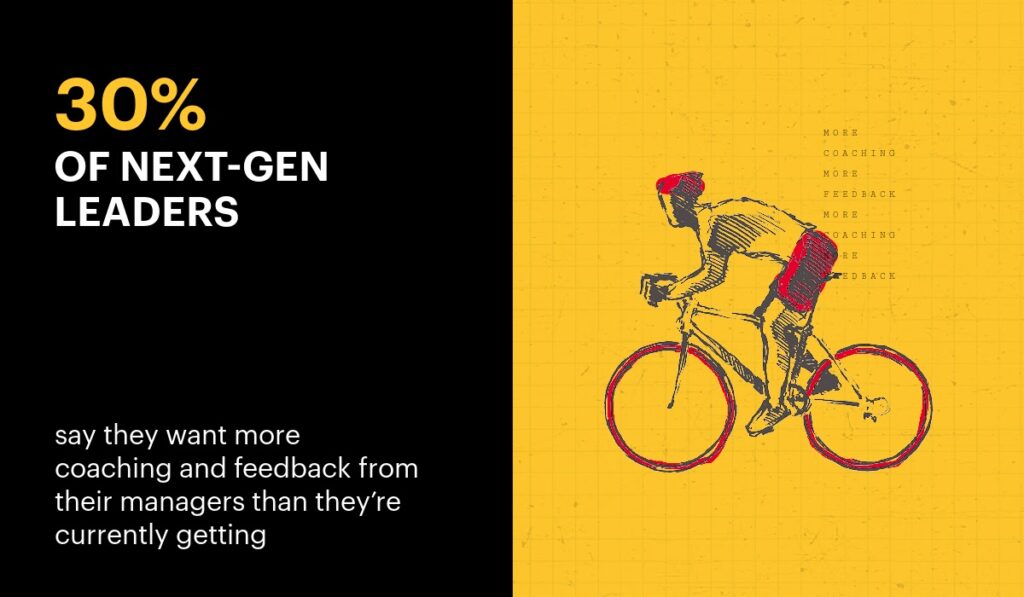 DDI asked high-potential employees, representing the next generation of leaders ranging in age from 21 to 38, what they needed to help prepare them for future leadership responsibilities. Here is what they said:
Feedback. This was, says DDI, more prevalent among this group than from those before them. For instance, 30% said they "wanted more coaching and feedback from their managers" compared to only 25% of current leaders.
Increased EQ. Future leaders recognize the need to build their skills for interacting with others, including the need for empathy.
More inclusion and diversity. "Only 56% of next-gen leaders said their leaders challenge themselves and others to recognize and eliminate bias"—67% of current leaders said this was the case.
Flexibility. This has, perhaps, been heavily influenced by the pandemic experience. Both next-gen and current leaders strongly indicated – 82% – that "flexible arrangements are common and supported."
Clarity. Next-gen leaders struggle to act without receiving clear direction. They're "unsure how to apply data to decision-making."
Next-gen leaders aren't alone in the recognition that there are gaps related to their needs to be prepared to move into future leadership roles. Only 11% of HR respondents to DDI's survey indicate that they have a strong bench available to fill leadership roles. DDI indicates that this is the lowest percentage they've seen in decades.
---
"Hands-on" training is hugely important
The good news for organizations is that employees, by and large, are interested in opportunities for career growth. For instance, according to studies by Gallup, 87% of millennials rate professional career growth and developmental opportunities as important to them in a job.
The term "training" may be somewhat of a misnomer here. In fact, traditional training may be woefully inadequate to develop successful leaders.
As Josh Bersin says: "The idea that we could build a leadership pipeline through 'development programs' and 'a well-defined schedule of experiences' is no longer sufficient: We need to provide help through mentoring, coaching, and lots of external and internal exposure. In fact, in one of our most important studies of employee development, we found that 'exposure' was one of the most important factors in development.
Adecco's CEO For One Month program is a good example of the kind of experiential "training" that can expose potential leaders to situations where they can actually gain actual experiences in leading.
Aside from the right kind of development experiences, another rate-limiting factor for successful leadership development is power, or the lack thereof.
---
People data + business data = prepared leaders
Today's data-centric organizations are using the insights from data to make a wide range of business decisions. Increasingly, they're finding that the ability to integrate data—to remove it from its former silos—is providing new insights and leading to new innovation.
People data is one great example of this. Savvy organizations are recognizing that people data doesn't "belong to HR" and that people data can't be, or shouldn't be, considered separately from business data. Both are necessary for modern managers to succeed.
"Most people want to make better decisions," says Ian Cook, Visier's VP of People Analytics, of the reason managers need these people insights. "If they're enabled, empowered, shown what's possible through data, you're going to elevate their capacity, speed of decision, and certainty."
So, who is training the next generation of managers and leaders? To a certain degree, they may largely be training themselves as they participate in teams and cross-functional collaborations, as they become more engaged in decision-making, as they increasingly rely on and understand how data can be leveraged for better decisions, and as the balance of power shifts to offer opportunities for both employees and organizations to benefit from a more egalitarian approach to business operations.
Successful businesses don't operate in a top-down, hierarchical fashion. Successful businesses understand the power of people and the importance of sharing power. They enable that power through transparency, open communication, and the sharing of relevant data for effective decision-making.
About the author: Linda Pophal
Linda Pophal, MA, PCM, SPHR, SHRM-SCP is the founder and owner of Strategic Communications, LLC, and a marketing and communication strategist with expertise in HR and employee relations. With a background as a business journalist, her writing has appeared in the HR Daily Advisor, Human Resource Executive, and SHRM. She is a lecturer at the University of Wisconsin - Eau Claire.
Be the first to know!
Never miss a story! Get the Outsmart newsletter.
Related Articles
TRENDS
There are many drivers of The Great Resignation, but new research shows a large number of employees are leaving their jobs in search of skills.
LEADERSHIP
Stacia Garr of RedThread Research reveals why C-suite leaders who embrace people analytics outpace competitors who haven't unlocked this superpower.
TRENDS
In this C Sheet, we demystify The Great Resignation, cover why learning is good for your career, and share which state has the lowest quitting rates.