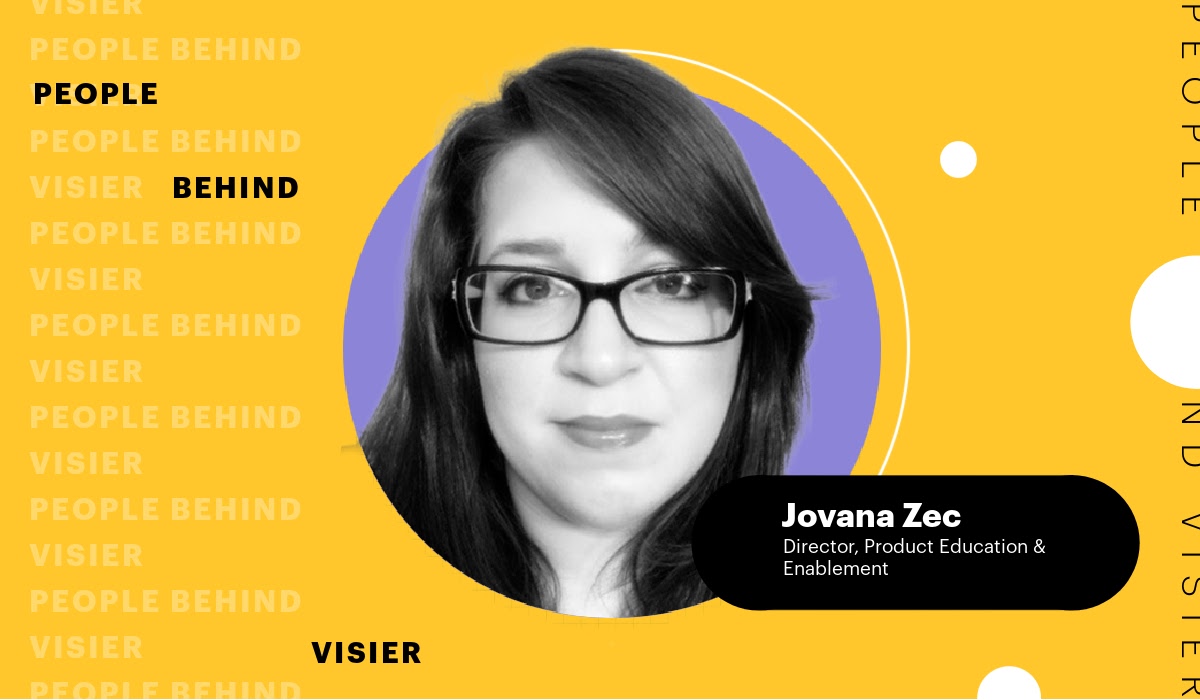 Name: Jovana Zec
Title: Director, Product Education & Enablement
Residence: Port Coquitlam, BC
Hometown: Langley, BC
Not only does Jovana Zec lead the newly formed Product Education & Enablement department at Visier, she also runs our cooking and book club social groups—because what is work without a little fun? After joining Visier in 2018 in the Customer Success division, her new team develops the documentation and learning assets to make analytics easy for everyone, everywhere. Get to know more about Jovana and her work at Visier: 
What motivates you at work? 
Results. Whether it's seeing the lightbulb go off in a training session with a customer or one of my teams completing one of their career goals, seeing tangible, traceable results is rewarding. 
What has been a big learning moment in your career?
To always keep learning. Whether it be new skills or improving on the basics, I love learning! Plus, I'm very grateful for my amazing colleagues here at Visier; I am constantly learning from them and it makes my job even more enjoyable. 
What's important to you about people analytics?
I grew up in the world of operations before moving into HR to specialize in learning and development—there was never a shortage of data to help inform my business decisions for the better. People analytics shows the macro impact employees have in an organization. It unlocks the power of data to drive higher performance and spot trends to solve problems effectively.
What Visier feature do you think is super cool?
The Career Journey: Potential Career Path! This is a great visual where you can explore an employee's career opportunities based on their current role. When you load the job history of your employees, you see the natural movement in your organization … talk about elevating career conversations with your team! 
Now let's ask some more personal questions. What book are you reading? 
I'm reading Brain Rules by John Medina. Everyone should read this book! It's about how the brain sciences might influence the way we teach our children and the way we work.
Dream travel destination? 
I'd love to go to New Zealand to see the beauty … and the hobbits. 
Do you have a fun fact about yourself that you would like to share? 
I'm an avid Formula 1 fan—going on 15 years now. One favourite memory was travelling to see the legendary Michael Schumacher race at the iconic Spa Francorchamp track in Belgium back in 2010 when he returned one last time. I need to geek out for a moment: the high performance culture and innovation coming from the F1 teams year after year is inspiring to see. While it's no surprise many automotive innovations are already in our driveways, one of the coolest examples of people and companies coming together to solve a national problem happened at the beginning of the pandemic. One F1 team answered the call when their local government was stuck: they did not have enough ventilators to fight the COVID-19 battle. Within 10 weeks of this project kicking off, production levels went from 50 ventilators a week to 200 per day. It really shows when people come together to help others, magic can happen. 
What was your dream career as a kid, and does it relate to what you're doing now?
A career in corporate law. I'm a nerd and review case law for fun. I often wonder if I was a paralegal in a past life. It's interesting to see how laws evolve over time. Working in the HR tech industry, we need to adapt to legislative changes and support our customers with their data needs.
What are you most looking forward to after the pandemic settles down? 
Getting on a plane again to travel. Learning about other cultures brings people together and expands my understanding of the world around me. There is something special when you connect with people through history, stories, and good food. People watching in airports is pretty fun too. 
About the author: Visier Team
People-centered ideas and insights by the editorial team at Visier.
Be the first to know!
Never miss a story! Get the Outsmart newsletter.
Related Articles
ASK VISIER
Succession planning means having candidates ready to be promoted into crucial roles. Find out how Visier can provide valuable insights.
ASK VISIER
You're not a compensation expert but you need to advise your managers on compensation? Visier can tell you how well your organization pays people relative to their peers and the market and why this matters.
EMBEDDED ANALYTICS
To discuss how HR tech providers can build products that truly respond to their customers' needs, we brought together three experts.