In this article, Mollie Lombardi looks at the evolution of recruiting metrics and how talent acquisition leaders are using these new measures of success.
Like many aspects of human capital management, recruiting practices and outcomes are under increasing scrutiny. Operational metrics are no longer enough. At the same time, organizations are realizing that operationally focused processes and technology solutions are no longer enough either.
Aptitude Research Partners' recent research on strategic talent acquisition found that as the pressure to identify talent intensifies, companies need to address a more holistic view of every stage of the candidate's journey, from candidate to applicant to new hire. Simply measuring time-to-hire and conversion rates is not enough to ensure hiring processes across this journey are delivering strategic impact.
In order to manage and measure a strategic recruiting practice, organizations must bring together multiple systems and multiple data sources. Aptitude's Strategic Talent Acquisition Trifecta includes recruitment marketing solutions, the traditional ATS, and onboarding solutions to create a true strategic hiring platform.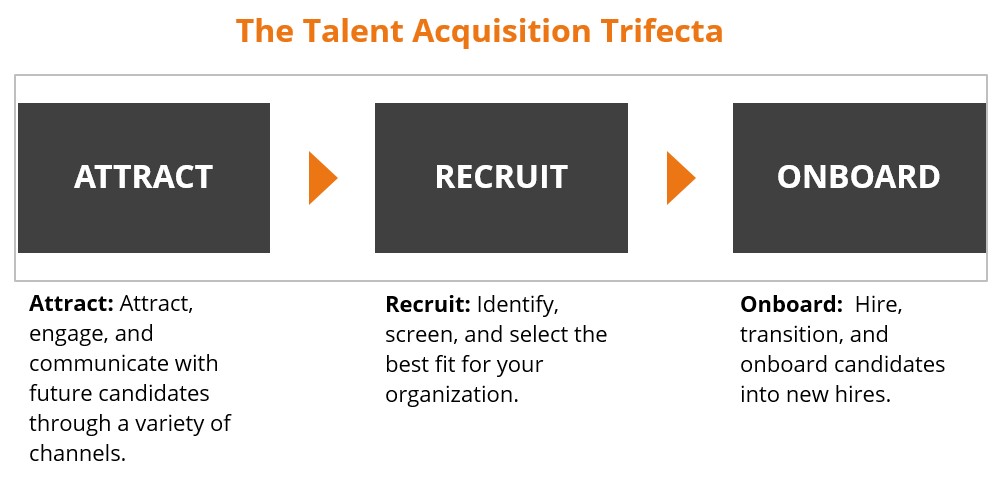 Alone, the ATS is a tool to automate the tasks of moving someone through the applicant process, and traditionally only captures operationally focused data like days-to-fill or number of candidates in various phases of the process. When combined together with recruitment marketing and sourcing solutions, as well as new hire onboarding, the broader platform helps organizations improve their ability to find and attract the candidates they need to execute on their business priorities, and set them up for long-term success.
This broader talent acquisition platform also gathers additional valuable data to measure the real impact of hiring. To truly understand the impact of this kind of strategic talent acquisition process, organizations are looking to a much broader set of recruiting metrics.
The top five metrics identified by our Hire, Engage, Retain study of over 350 organizations across all company sizes and industries  for evaluating talent acquisition success included a view of the candidate experience, the impact of hiring on the rest of the organization, and insights into what characteristics make up a great hire. Here is the full list:
Candidate experience/satisfaction (59%)
Overall turnover (56%)
Quality of hire (50%)
Source of hire (45%)
New hire attrition (43%)
This is a huge shift from measuring a process workflow to understanding the true impact of that process on individuals, hiring managers, and the business.
Organizations also realize that what they do in hiring today will impact their success in the future in two important ways: their ability to execute as a business and their ability to continue to find and attract great talent. Understanding the links between where candidates come from and how they are brought into the organization, and the ability to predict their ability to impact results, can help organizations fine tune their processes and continue to get more than their fair share of quality hires.
Hiring is too important to get wrong, so bringing data together to predict where to find top talent, and which individuals will be successful within the organization is critical. Organizations need to look at a broad set of data to understand the impact of quality hires. The elements that make up quality of hire and how quality hiring practices can improve will be the topic of my next blog. Stay tuned.
Note: The image used in this blog is credited to Aptitude Research Partners.