We've created an e-book to help you navigate the three stages of a crisis with the right workforce questions and data analysis. Download it here. You may also find this checklist on Key Questions to Answer During a Crisis handy. Check it out at this link. Looking for more resources to guide you through crisis management? Visit our Crisis Management Resource Center.
In the face of this global pandemic, "I don't know" has become the new business mantra. With so many unseen forces that are outside our control, it can be tempting to revert to gut feel decision-making as a way of managing the situation.
But there is another way, according to leading experts and practitioners in the data and analytics field.
In our most recent open forum on how to use people analytics during the stages of a pandemic (recording available here), participants shared how organizations can make better tough decisions. (You can see the key takeaways from our first open forum here).
Nobody can see the future with 100% certainty, but with the right questions and context, leaders can take charge of the factors they can control–and be prepared for whatever lies ahead.
Here is a recap of the main topics that emerged:
Put the data in the right context
"This is just the beginning," said David Shontz, Head of Workforce Analytics & Organization Management, Nokia. His team has pulled in their Health, Safety and Security people, as well as their travel and real estate groups. As a result, they have come up with a comprehensive COVID-19 dashboard for their leadership team. They can assess where business-critical travellers are coming from and determine what needs to be done in terms of response levels by geography.
Lexy Martin, Visier's Principal, Research and Customer Value, shared how it is important to put research into the broadest possible context. McKinsey & Company is releasing some great information on the pandemic, and David Green has also curated an amazing set of COVID-19 resources. (Lexy also shares a great list of COVID-19 data and business resources below).
Take charge of the new normal
Dan George, CEO of Piper Key Analytics, said that his focus is on seeing how teams operate and how they are adjusting to the new normal. In the remote world, leadership needs to enable organic interactions to continue so information can be shared. They also need to make sure nobody gets left behind.
Josh Bersin, Analyst and Founder of Bersin, described how this situation is a big reset. As much as he doesn't feel good about the crisis itself, organizations can use this as an opportunity to make the digital workplace thrive, find ways to make work easier, focus on empathy in leadership, take trust seriously, and reinvent HR.
Navigate the downturn with empathy
When asked about how organizations should approach job cuts, Josh emphasized this lesson learned from the 2008 recession: layoffs can hurt you in the long term. Using data for this kind of workforce analysis will really help make these decisions as rational as possible.
Al Adamsen, Co-Founder and Executive Director of Insight 222, discussed how the rush to layoffs isn't smart if it's all financially driven. Organizations also need to be thinking about skills. We have had legacy management models in place for a long time–now these ways of making decisions are changing.
Now is the time to add empathy to analytics, said Jason Averbook, CEO of Leapgen. This is what is going to help get us get past these moments.
Following the forum, Steve Goldberg, Analyst with Ventana Research, shared how organizations can navigate the economic downturn with people analytics. There are several use cases, including right-sizing optimization, key employee analysis, and total rewards optimization.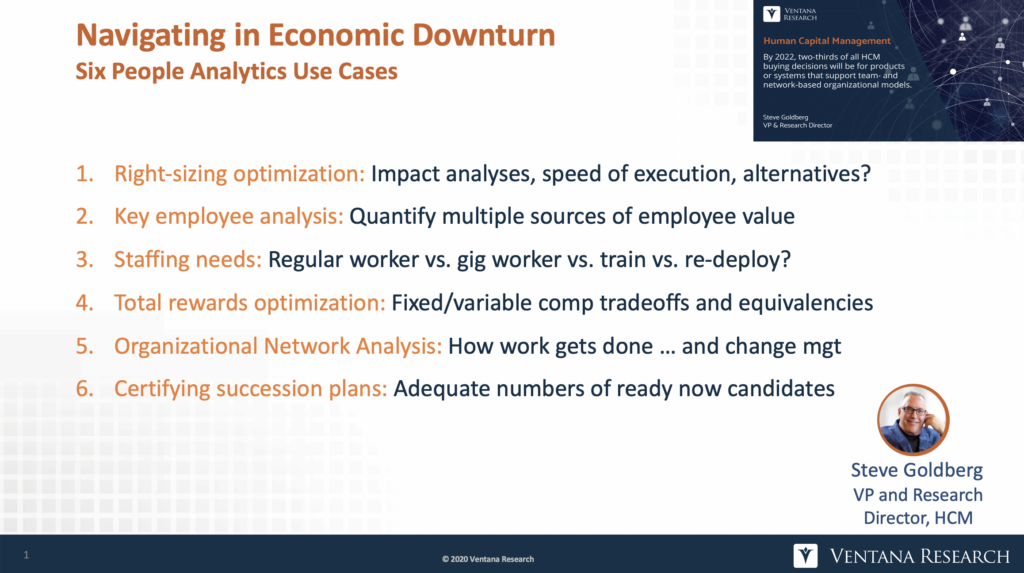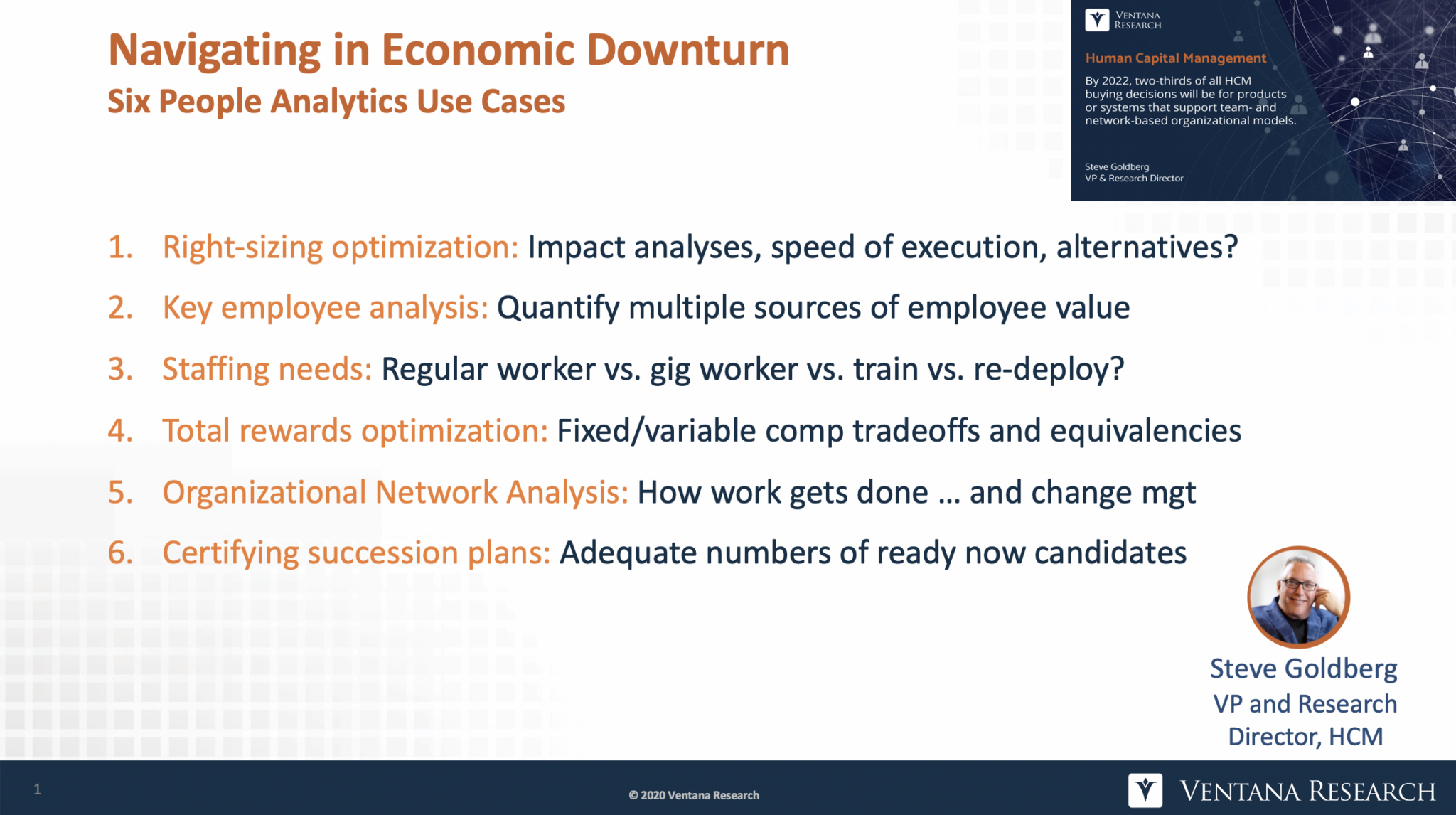 Questions and storytelling make data meaningful
Jeremy Shapiro, Executive Director of Workforce Analytics for Merck, emphasized the importance of making data meaningful for a general audience. New York is one of the largest outbreak centers in the world, and Governor Andrew Cuomo's briefings are powerful examples of excellent data-driven storytelling. The New York Times has also published some of the most compelling COVID-19 visualizations.
Serena H. Huang, Global Head of People Analytics for the Kraft Heinz Company, described how her organization has a responsibility to make sure that stores are stocked with the right food. She also stressed the importance of ensuring the data is meaningful. For example, when the WHO declared the pandemic, her group didn't start with the data–they started with the questions: What business problem are we trying to solve? Who is consuming this data? What data will we need in order to get the answers?
Ian Cook, Vice President of People Solutions, Visier, demonstrated how organizations can incorporate public data sets to answer questions such as: Which US states are currently high risk and which soon will be? This will help organizations know where to focus their efforts. Purely emotional responses and panic tends to lock up decision-making. Data visualization can provide clarity about what all this means and what organizations need to be doing next.
It's more important than ever to stay connected
During the forum, participants emphasized the importance of information-sharing during these unprecedented times.
"This is physical distancing–not social distancing," said Averbook.
There are many ways to stay connected with the people analytics community:
Share insights, ask questions, and discover the latest best practices on crisis management and employee safety using people analytics via the #AskVisier LinkedIn community. 
Helpful links
Lexy also shared a list of resources during the open forum to help with employee safety and business continuity strategies. This list is for educational and research purposes only. When accessing the materials below, please follow the content licensing agreements for each data set and give proper attribution to the creators and media outlets. Thank you!
COVID-19 data sources
These are sources for COVID-19 cases to help determine hot spots and make informed employee safety decisions:
John Hopkins University – Coronavirus COVID-19 Global Cases by the Center for Systems Science and Engineering (CSSE)
World Health Organization (WHO) – Global research on coronavirus disease (COVID-19)
European Centre for Disease Prevention and Control (ECDC) – Today's data on the geographic distribution of COVID-19 cases worldwide
Our World in Data – Research and data to make progress against the world's largest problems
USA Facts – Coronavirus in the United States: Mapping the COVID-19 outbreak in the states and counties
Esri – COVID-19 Cases US Dataset
nCoV2019.live by Avi Schiffmann – Crowdsourced COVID-19 tracking dashboard
Nextstrain – Opensource real-time tracking of pathogen evolution
Splunk – Splunk for Good
Business and HR
The following set of thought leadership pieces explore the impacts of COVID-19 on the economy, on business, on key management issues, and on the role of the CHRO. Some are specific to people analytics and HR technology, with a focus on what is being made available for immediate support of organizations:
McKinsey – COVID-19: Implications for business (sign up as the "top 10" articles per month are quite good)
The Conference Board – COVID-19 Scenarios: Rebooting an Economy in Free Fall
The Conference Board – COVID-19 Human Capital Responses
Chief Executive – Maintaining Your Team's Morale And Productivity During COVID-19
Edelman – 2020 Edelman Trust Barometer
The Economist – The coronavirus crisis thrusts corporate HR chiefs into the spotlight
Dresner Advisory Services – Research Insight: Preliminary Findings on How COVID-19 Impacts Budgets and Projects
Womply – Data dashboard: How coronavirus / COVID-19 is impacting local business revenue across the U.S
McKinsey – Small business coronavirus articles
Forbes – COVID-19's Impact On Tech Spending This Year
Smart Market Data – Smart Market Data COVID-19 Impact on Hiring Tracker
Lighthouse Research & Advisory – #HRTech Companies offering free resources and information during COVID-19 crisis
NOW of Work – NOW Community Slack Channel
David Green – COVID-19: Resources for HR and People Analytics
Financial News Sources: Bloomberg, Seeking Alpha, Reuters (look at impacts by industry), DealBook
Diversity and Inclusion
As a researcher, I keep my finger on the pulse of key organizational trends that bring value to organizations. Currently, I am working on diversity and inclusion as both correlate with improved financial performance and employee engagement:

[email protected] – Why Leadership Diversity Matters in Handling Crises Like COVID-19

Forbes – The Silver Lining: Here Is How The COVID-19 Pandemic Might Lead To Greater Inclusion

Fast Company – Why women will be hardest hit by a coronavirus-driven recession