In August 2015, the need for more workforce diversity was spotlighted in a big way when President Obama issued a call to action to technology companies, encouraging them to hire more women and minorities by implementing the Rooney Rule.
During the White House's first-ever Demo Day, over a dozen major technology companies committed to ensuring more diverse recruitment and hiring practices, including Facebook, Amazon, Microsoft and Box.
What is the Rooney Rule?
The Rooney Rule requires "at least one woman and one underrepresented minority [to] be considered in the slate of candidates for either every open position or every open senior position (the details vary from company to company)."
Originally implemented by the National Football League (NFL) and named after Pittsburgh Steelers chairman Dan Rooney, the original Rooney Rule sought to increase the opportunities for minorities to hold NFL head coaching positions. The results were impressive – minority head coaching hires in the NFL increased from 6% to 22% in 2006 – and as the White House strives to show, the implications of the rule can be far-reaching.
Many companies are already setting lofty goals as a result of the call to action:
For 2016,

Pinterest

aims to fill 30% of full-time engineering roles with women and 8% with people of underrepresented ethnic backgrounds
Why does the Rooney Rule matter to HR?
With the war for talent at an all-time high, more inclusive and diverse hiring practices are critical to a company's success. A Mckinsey & Co study showed that ethnically diverse companies are 35% more likely to have financial returns above national industry medians and gender diverse companies are 15% more likely to do the same.
The need to hire diversely goes beyond dollars and cents, too. As baby boomers head into retirement, companies will face a huge shortage of skilled workers to replace them. Consequences of this can range from reduced competitiveness and productivity to increased employee turnover to higher compensation costs. By waiting too long to make diversity a priority, companies run the risk of having a small talent pool to source from later on and rushing through the hiring process in order to fill critical roles.
How to keep track of your compliance
With President Obama's endorsement of the Rooney Rule, workforce diversity is center stage. Keeping an eye on your talent demographics is a helpful way to monitor your pipeline and evaluate the success of your recruitment practices. Here are a few demographic metrics you should be monitoring:
Three Diversity Metrics You Should be Monitoring
1. Who's getting interviewed?
To ensure a diverse group is getting into your slate, you need to start by making sure the applications coming through fit your diversity and inclusion requirements.
Metric to watch: Diversity of interviewed candidates
Keep track of  the demographic details of the people at the interview stage of your hiring process and then, use this data to show whether or not one ethnically diverse person or one female is part of this pool. If you're seeing low numbers, this may be a sign that you need to re-evaluate your sourcing channels, and/ or screening tools. Think about using new channels or revamping your screening approach to bring in more candidates with a more diverse background
2. Who's moving through each stage?
Continuously monitoring candidates progress can help you see whether diversity increases or decreases as they move through the pipeline.
Metrics to watch: Ethnic diversity by hiring stage / Female diversity by hiring stage
Use this metric to track the movement from the application stage to screening and down through interviewing and into offers accepted. This will make it clear where in your hiring process you lose your diverse candidates. A drop in diversity at different stages requires a different response. For example, if diverse candidates are rejecting offers of employment you need to understand why and make a change.
3. Who's getting hired?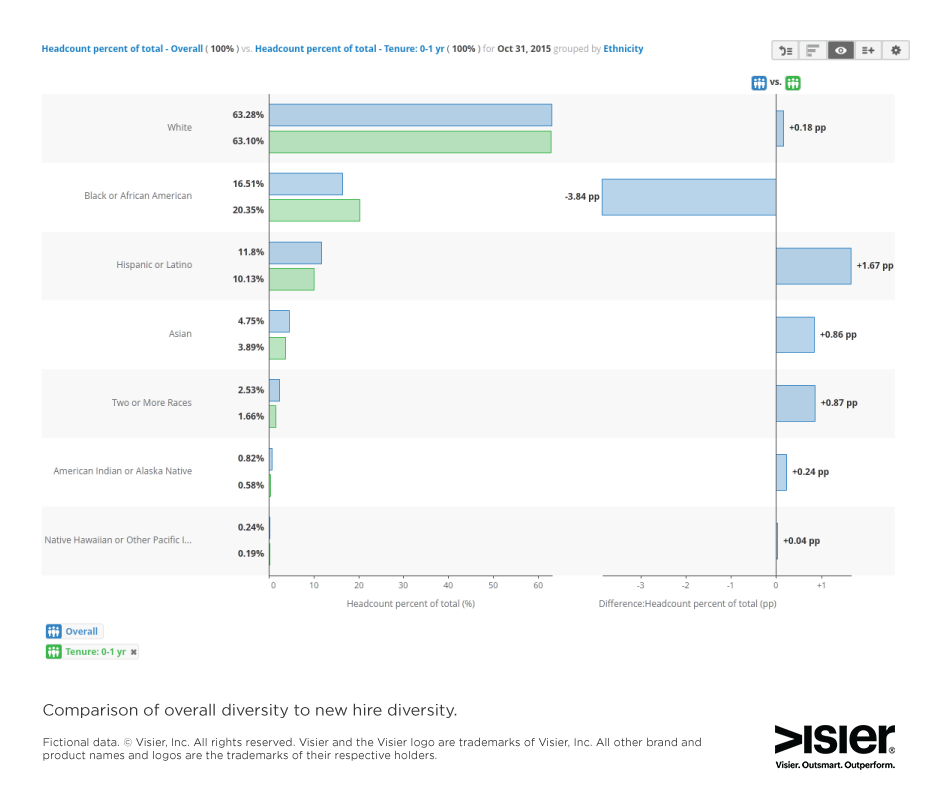 Keep an eye on how many women and underrepresented minorities are getting hired compared to your existing workforce and the industry standard.
Metrics to watch: New hires vs. existing workforce / New hires vs. industry benchmark
This data will show whether you're meeting your organization's diversity goals and keeping in line with the rest of your industry. If the numbers are low, this is a good indication that you need to review your recruitment process to determine where there's room for improvement. Alternatively, if your hiring process is doing well and landing a diverse set of new employees, but you see no change in overall organizational diversity, then you need to review the retention of your diverse employees – not just the hiring part.
Make diversity a priority throughout your employee lifecycle
Keep in mind that inclusivity doesn't end once the job has been filled. On a regular basis, it's good to check on the health of your workforce diversity. It is common for organizations to invest a lot of energy into hiring a diverse group of employees only to find they are losing them as fast as they are hiring them – leading to no overall change in organizational diversity.
A powerful people analytics solution provides the analytics and planning capabilities that make diverse recruitment and retention much easier to oversee. From beginning to end, insights that are both easy to access and analyze will enable HR and managers to better comply with the desire for more workforce diversity.
And while the Rooney Rule isn't yet the standard, the commitment of numerous high profile technology companies to diversifying their applicant pool and workforces has certainly given it precedence. If businesses want to succeed now and in the future, being proactive with diverse hiring is a crucial way to achieve this. As President Obama put it, "when everybody is participating and given a shot, there's nothing we cannot do…Because when we've got everybody on the field, that's when you win games."