Today is Equal Pay Day. A day of awareness about the pay gap that exists between men and women, Equal Pay Day symbolizes how far into the next year women must work to earn what men earned in the previous calendar year.
According to a recent CareerBuilder.com survey of 223 HR managers, men are nearly three times as likely as women to earn six-figure salaries and nearly twice as likely to earn $50,000 or more. These are staggering numbers, especially when you take into account that women at these same companies were almost twice as likely to report earning less than $35,000. Based on the slow rate at which the gender wage gap is closing each year, the Institute for Women's Policy Research has projected that women won't receive equal pay until 2059.
[Recommended Read: Overcoming the Manager Divide: How HR can Accelerate the Path to Gender Pay Equity]
According to recently published survey results, equal pay in the workplace is the gender issue both men and women most want to change in the next five years, and both genders are optimistic that it will become a reality by 2020. Considering that if full gender equality is attained, $4.3 trillion could also be added to the U.S. economy in 2025 (according to an April 2016 McKinsey Global Institute report), it is not a surprise that the White House recently announced a proposal that would require companies with 100 employees or more to report how much they pay their employees broken down by race, gender and ethnicity.
In the past, HR leaders have been woefully underserved in their ability to get in depth insights into how their organizations are performing against key Diversity and Inclusion goals. However, this is changing. According to the Deloitte Global Human Capital Trends 2016 report, "while HR organizations have been talking about building analytics teams for several years, in 2016 we see a major leap forward in capabilities."
Today, with solutions dedicated to HR analytics, HR can not only set gender equity policies, but can also effectively monitor their implementation and effectiveness. HR can view pay by gender, tenure, performance, region, manager, role, and other key factors to ensure pay equity comparisons are fair. And HR can take a step further to understand the role of gender in promotions, turnover, and hiring in their organizations. In 2016, more than ever before, HR professionals hold a unique position in their ability to shorten the timeline to achieving equal pay.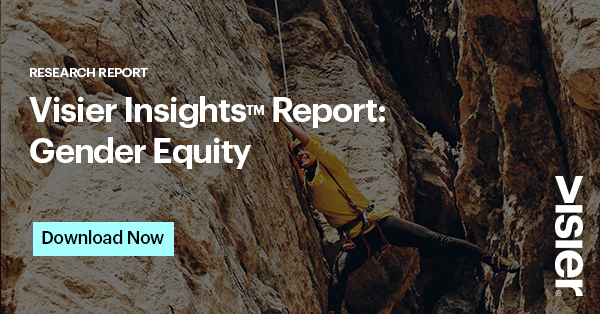 About the author: Karra Barron
Karra Barron is Visier's Sr. Content Marketing Manager and has over a decade of experience using storytelling to move people into action. At Visier, she is responsible for developing a wide range of thought leadership resources that educate and inspire business users to become data-driven leaders.
Be the first to know!
Never miss a story! Get the Outsmart newsletter.
Related Articles
CULTURE
The HR Hackathon suggests tapping professionals at the very earliest stage of their careers. Retooling HR using the disciplines familiar to the best.
TRENDS
It is critical to understand what HR transformation really is and the role HR analytics plays in transforming HR. Mark Berry shares his expertise.
TRENDS
You must be able to connect workforce outcomes to business outcomes. When you are able to do this successfully, then you've found the Holy Grail of HR.