Outsmart, the leading people analytics and workforce planning conference, takes place online on May 5-6, 2021. It's free to register so save your spot today! In honor of the global digital summit, we're excited to bring you this Q&A featuring Outsmart speakers and alumni. Enjoy!
Workforce planning is a strategic process that allows companies to get ahead of the HR and talent challenges they face. In our rapidly changing environment, this is more important than ever. The way that financial services organizations view the importance of talent strategies that will support their organizations moving forward is evolving.
According to Deloitte's 2020 Human Capital Trends report, over 67% percent of financial services leaders say that having the ability to support a multi-generational workforce is important, and more than 75% recognize reskilling as an important trend.
Still, this industry is complex, and understanding the "why" behind putting the effort into workforce planning matters. We recently asked three financial services thought leaders to share their perspectives on the role that people analytics plays in workforce planning for the industry.
These experts are: Russell Klosk, Managing Director of Strategy, Talent & Organization / Human Potential at Accenture, Amit Mohindra, Founder and CEO of People Analytics Success, and Shekar Nalle Pilli Venkateswara, Workforce Analytics & Workforce Planning Practice Leader at Willis Towers Watson.
Here's what they had to say about what changes and benefits FS organizations can expect from workforce planning backed by people data.
What role do digitization initiatives play in supporting transformation within the workforce?
Amit Mohindra (AM): True transformation entails a reliance on data-driven decision-making, an emphasis on technology, an appreciation of design thinking, gravitation toward the application of artificial intelligence, and a re-imagining of the way jobs are structured. People analytics underpins, accelerates, and sustains organizations' workforce transformations through digital initiatives.
Russell Klosk (RK): Digitization is changing the very nature of how every job is performed. This includes what skills are needed, what work is done by humans, and how work moves through its cycles. Digitization also creates a traceable footprint that allows constant and near real-time continuous improvement opportunities. Analytics, when done right, can immediately flag challenges in the supply chain and trigger people interventions before there is any impact on the business.
Shekar Nalle Pilli Venkateswara (SV): The ongoing pandemic has accelerated the digitization efforts for many firms. Most of the repetitive, manual low-skilled work is being replaced by Robotic Process Automation. Some of the more complex yet predictable work is being replaced by AI. This is bringing a need to revamp leadership behaviors, culture, job, career, and knowledge architecture. It also creates a need to reward people based on skills–not just seniority or tenure in the organization.
How do financial services organizations benefit from people analytics?
AM: People analytics adoption in financial services firms happens faster than in other industries. In the sector, there is a perpetual hunger for increased returns to sustain competitive advantage. There's a familiarity with frameworks and models which paves the way for thinking in terms of a human capital paradigm. This supports investment in people to drive operational, customer, and, ultimately, financial outcomes. There's also a deep-seated reliance on measurement. All of these things make human capital metrics a natural extension to support growth.
RK: Like all companies, financial service firms seek to attract and retain top differentiated talent, then get the maximum possible performance out of them. People analytics helps with the identification of talent, retention/flight risk identification, productivity, and engagement. This lowers HR costs while driving business results.
SV: Financial services organizations are transforming their companies into digital giants. These organizations are competing for the same tech talent as the Silicon Valley companies, so they are using analytics to screen, score, and identify the best candidates for their organizations. They can use analytics to identify the right composition and behaviors to build the most effective team and manage talent gaps.
How do you use workforce planning to close the gap between the current state and long-term business goals?
AM: Clients of all kinds need to be kept satisfied to continue their business with a financial services firm. Relationships and brand promise matter. Smart talent management strategies mixed with strategic workforce planning can mitigate potential risk. Financial services firms can use the rigor of financial planning and analysis (FPA) to ensure that their workforce is optimized in terms of capacity and capability to execute their current and long-term business strategy.

SV: At the heart of workforce planning, is the principle of creating a plan for your people that is grounded in business strategy. The first step in this process is developing a great understanding of business goals and priorities both from a short-term and a long-term perspective. What are the implications of your initiatives from a talent perspective? Using people analytics in workforce planning can provide the answer to this question.
How does gaining deeper insights on your people translate to improved workforce planning?
AM: Workforce planning, like the business strategy that it supports, thrives on information. Understanding what employees bring to the table in terms of their knowledge, skills, and abilities as well as their social and network capital is critical. Skills surpluses and gaps, engagement based on feelings of security and inclusion, and the likelihood of leaving are key metrics to consider in workforce planning.
RK: Workforce planning is looking at how people evolve to fit the jobs of tomorrow, irrespective of workforce type. People analytics gives us insights into when they will move, how they will move, where they will move, and more. The days of top-down headcount forecasts have gone the way of the dodo. Instead, deep analytics allow us to go bottoms up, function by function, to drive results holistically across the business while better engaging and rewarding people and doing so at lower costs.

How do you use people analytics for reskilling programs?

RK: Reskilling isn't difficult, the challenge is in knowing what to reskill people in, and when to reskill them. People analytics and workforce planning answers those two questions. We are in an age of constant and never-ending workforce transformation. Reskilling, in a bespoke manner, just in time, and at the right cost are the proverbial keys to the kingdom in how companies will gain competitive market share and solve tomorrow's challenges.
SV: The half-life of skills is getting shorter especially for most cloud, analytics, and digital skills. It is really important to understand what skills are prevalent, what skills are emerging, and what skills are declining. As you develop a reskilling program with people analytics, you can target a population with less relevant skills and train them on adjacent skills that they can reasonably acquire. That's a win-win situation for the employee and the company.
Use workforce planning to future-proof your financial services organization
Your people are the key to driving business forward. Financial services organizations that want to stay ahead of the competition need to introduce more information into their workforce planning with people analytics. Focusing on the gaps in your talent strategy and where you can support your people by understanding their core competencies and potential reskilling opportunities can transform your organization for years to come.
Choosing the right workforce planning solution is critical to get specific answers to your organization's biggest problems. This is what will put you on the path to reaching current and future business objectives.
Hear more from Shekar at Outsmart on Thursday, May 6 at 3:45-4:30pm EST in The Biggest Challenge Facing HR Today: Reskilling, then catch Amit right after on Thursday, May 6 at 4:30-5:15pm EST in the industry expert panel: Where Do We Go From Here? The Future of HR: 2021 and Beyond.
We're also excited to feature Truist Bank's Leveraging Visier through a $66 Billion Dollar Merger of Equals session also on Thursday, May 6 at 12:45-1:30pm EST.
Don't miss all these great sessions. Register for Outsmart, the free digital conference, today!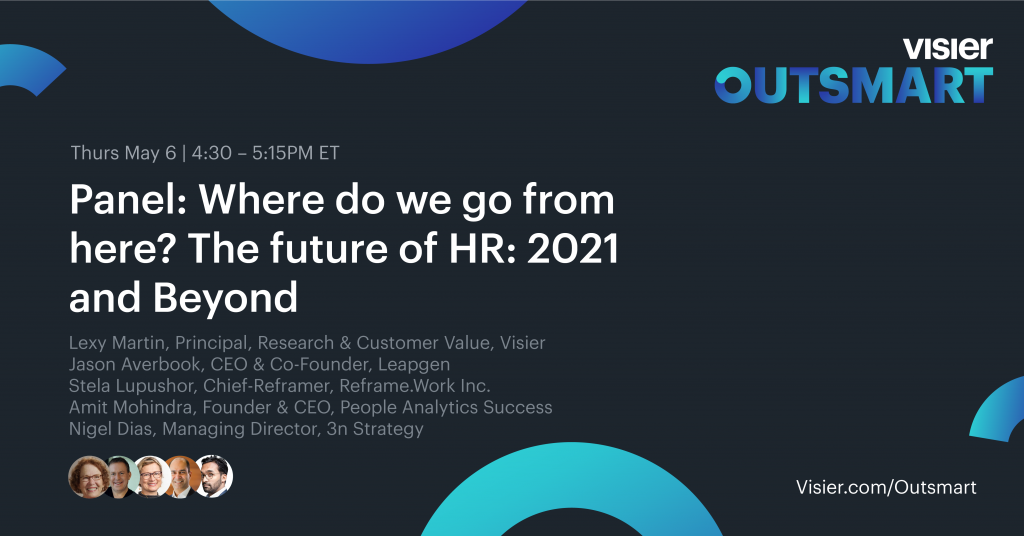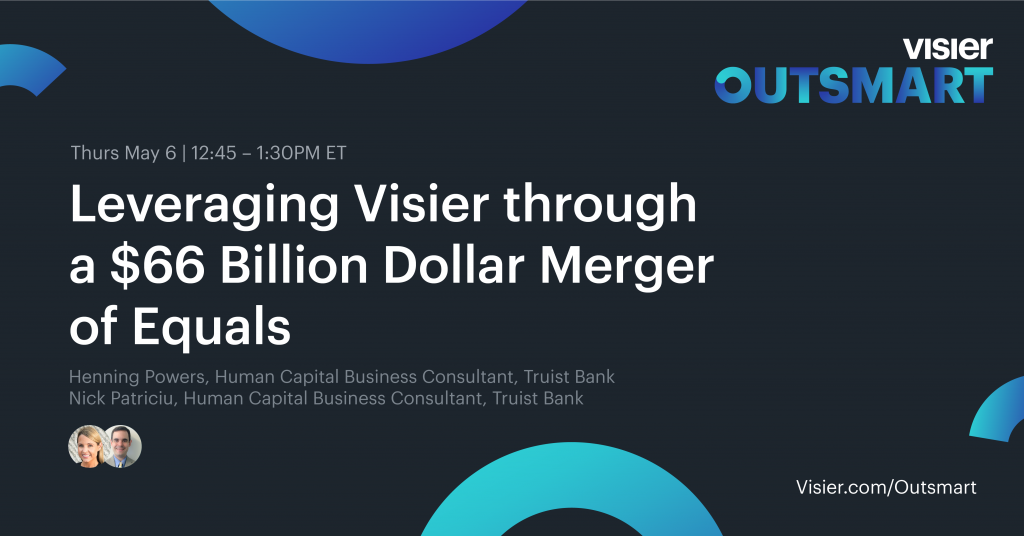 About the author: Visier Team
People-centered ideas and insights by the editorial team at Visier.
Be the first to know!
Never miss a story! Get the Outsmart newsletter.
Related Articles
PRODUCT INSIGHTS
How do you maximize the value of your people analytics? Find out why setting the right vision is key to getting change management right
PRODUCT INSIGHTS
Recruiting diverse talent is easier with this proactive framework for finding the best way to leverage your recruiting and talent data.
PRODUCT INSIGHTS
Industry experts, Stela Lupushor and Nigel Dias, give advice on what to consider when learning from others in the people analytics community.