In the late 1980s, British employers waited with bated breath as a demographic time bomb ticked: Government bodies and industry experts predicted a severe worker shortage due to declining birth rates and increasing numbers of young people remaining in full-time education. Organizations were advised to recruit older workers, invest in skills development, and compete for younger candidates.
But things didn't unfold as predicted. The early 1990s were marked by a deep recession, leaving employers with an overabundance of people. As Stephen Taylor describes in the HR textbook, People Resourcing, organizations that had acted on plans to manage the feared shortage were sometimes worse off than organizations that did not develop elaborate strategies.
At first glance, the above story might look like a cautionary tale about the perils of strategic talent planning. But it actually says less about the need to plan and more about the failings of a specific approach: betting big on one future.
Brexit: Multiple Futures Ahead
When the business environment is so unpredictable, instead of focusing on one likely outcome, employers need to "build several different talent arrays, each one well-suited to a different future scenario," writes HR expert John Boudreau in this HBR blog post
This advice is particularly salient for organizations with operations in the UK, given the current ambiguity around Brexit. Divorce bill negotiations are moving slowly, requiring many businesses to put investment and hiring decisions on hold.
At the same time, there are doubts over whether the UK will adopt a system that enables free movement of workers for both skilled and unskilled positions. "Despite employers' preference for free movement of labour, it seems inevitable that the Government will introduce migration restrictions post-Brexit that will seek to recruit 'the brightest and the best,'" states the February 2018 CIPD Labour Market Outlook.
There appears to be an infinite number of Brexit-related futures, each carrying its own implications for labour supply and demand. But it is possible to cut through the ambiguity and develop long-term talent plans.
The goal, of course, is not to see the future with 100% certainty. This is impossible. But when HR teams can gather all the relevant workforce data and model multiple scenarios — each with different talent supply, cost, and business requirement assumptions — they can re-plan more aggressively as actual trends become apparent. Business leaders can then prepare for tomorrow before they are forced to react to a sudden change.
To plan for multiple talent scenarios with Brexit on the horizon, follow these steps:
Step 1: Understand How Your Business May Be Affected
When it comes to workforce data, the real challenge — whether you are modeling a future scenario or getting an accurate snapshot of the current situation — is avoiding analysis paralysis.
Cutting through the clutter requires HR to have a razor-sharp focus on the relationship between people and business success. Before responding to a request for workforce insights, for example, the people analytics team at BBVA USA (a US banking franchise) seeks to understand the underlying business problem and assess the workforce issues that may be contributing to it.
When it comes to defining the potential impacts of Brexit, HR teams need to take a similar approach. No two businesses are exactly alike, and the key is to understand how future developments may impact your organization in particular.
To understand how your demand for talent may change, start by taking a look at the different trading scenarios, from a hard Brexit (whereby the UK leaves the EU with no trade agreement) to a soft Brexit (whereby all is pretty much status quo).
As you review each scenario, ask:
Where would the business be changing to respond?

How would this situation affect the skills we need?

Will the demand for certain types of tasks likely to decrease or grow?
From a supply perspective, think like an economist, and look at the big picture trends. Review your dependence on EU workers so you can determine whether you may be impacted by pending skills and/or worker shortages.
Keep in mind that, even if the immigration rules remain the same post-Brexit, a number of EU nationals may choose to leave of their own accord. An August 2017 KPMG survey found that 8% of EU citizens working in the UK have decided to leave, whilst 35% were undecided. According to ONS data, the number of EU nationals leaving the UK increased by 29% in the year following the referendum vote.
Having an understanding of how your people contribute to your business goals and finding any potential red flags will help you decide where you should focus your efforts in terms of scenario planning.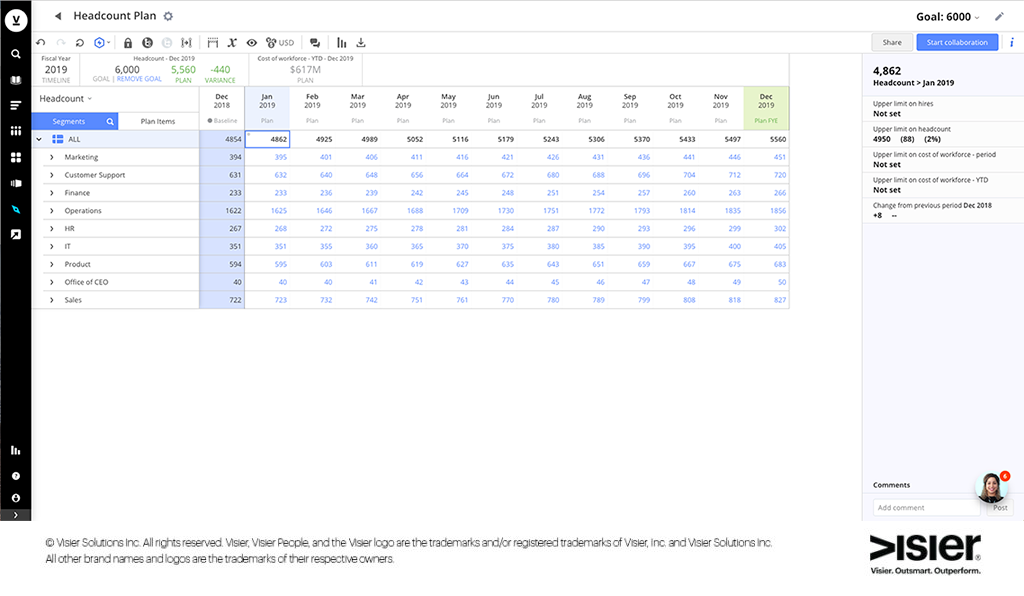 Step 2: Know Your Total Cost of Workforce
A big component of scenario planning is outlining a worst and best case scenario for cost implications. This means you need to understand your Total Cost of Workforce (TCOW), which is the full cost for people who contribute work to the organization, including all of the labour costs and the workforce overhead costs.
Why is knowing your current TCOW important when things are going to change anyway? Because it gives you an understanding, to the last penny, of what changes will mean to your business. Knowing where you are today will help you understand how potential decisions — such as investing in temporary workers to manage a shortage — would impact your organization in the future.
This level of insight is critical to fully communicate how your changes will affect the costs of the business, whilst driving outcomes supporting business success. For example, one large multinational manufacturer used our people strategy platform to analyse its workforce by location — against dimensions of revenue generation, cost, and risk — to answer strategic questions such as: "Are we in the right regions in terms of cost and productivity of labor?"
By identifying the geographies where a reduction in force would have the least impact on the business, the organization achieved the required cost savings while ensuring it remained strategically positioned for the future.
With many businesses considering drastic operational changes — such as moving their European headquarters — HR leaders who can shed light on the potential cost implications for talent will be in high demand.
Step 3: Identify Multiple Futures
Now it's time to identify several possible scenarios that will impact the supply and demand side of your talent strategy. Exactly which scenarios you use will depend on your industry and unique situation, but to give an example, let's say that your company has manufacturing operations in the UK and employs a significant number of EU nationals. Two dimensions — changes in migration patterns, along with the revenue impacts of potential trade restrictions — should be considered in your scenario planning.
Because your turnover rates will likely be drastically different from what you have previously experienced, you can use external data (such as the KPMG survey of EU nationals) to make labour supply projections. On the demand side of things, consult with business leaders to see if your organization would reduce operations in the UK if certain developments — such as increasing tariffs — became likely.
Taking this information into account, your scenarios might look something like this:
Scenario 1: 10% Revenue Reduction; 43% of our EU workforce leaves.

Scenario 2: 10% Revenue Reduction; 8% of our EU workforce leaves.

Scenario 3: 5% Revenue Increase; 43% of our EU workforce leaves.

Scenario 4: 5% Revenue Increase; 8% of our EU workforce leaves.
As you can see, there is a spectrum in terms of the kind of recruitment and skills development activities that you will need to execute for each scenario. Having thought through each situation in advance, you will be in a much better position to make rapid decisions as new developments start cropping up.
Step 4: Ask: How Many? Who? When?
For each of the scenarios identified above, ask: Who is going to be affected? Where are those people? What is the timeframe for action? Knowing the answer to these questions will allow you to be proactive, rather than reactive, when identifying talent shortages. It can also enable you to have an informed point of view when, for example, determining which circumstances would be favourable for your organization to have a strong presence in the UK post-Brexit.
You will also need to ask: How critical are specific people to our business? What happens when these people aren't there? Knowing this will help you prioritise your resources if you need to take action such as backfilling positions, hiring through an agency, or addressing potential skills gaps and worker shortages with automation.
Step 5: Rinse and Repeat
With so many EU workers undecided over whether they are planning on leaving the UK, it can be difficult to predict what will happen with talent supply a year or two in advance. Even if trading and immigration rules remain the same during an extended post-Brexit transition period, the referendum itself and resulting uncertainty is causing a shift in labour market trends. Considering this, look to refresh your plans on a quarterly basis.
Most organizations follow the finance department's annual planning cycle, which leads to hiring based on financial constraints and schedule instead of business demand. With rapid-cycle planning, on the other hand, you can look ahead at how many open positions need to be filled, when they must be filled by, and where in the organization they are needed the most. This gives you the necessary time to either move budget around or talk to the manager about delaying a hire until budget accumulates.
In this previous post, I demonstrated how one of our financial services customers, with an employee population of 50,000, uses a monthly planning process to capture workforce demand for the different groups within the organization. The planning process involves over 100 VPs, directors, and managers, but other stakeholders are pulled in as necessary: If hiring isn't progressing as fast as required, they talk to recruiting; if the plan is over budget, they discuss it with finance.
This continuous, collaborative planning approach enables HR to react more appropriately to changing business requirements. When there are so many unknowns around future economic and labour market trends, HR needs to be at the forefront of workforce planning.
Survival of the Agile
Yes, the talent plan is typically subordinate to the business plan. After all, you need to know the business strategy to understand what kind of talent is required to deliver it.
But the best HR professionals, according to a report released by the RBL group, "make an organization's internal capacity for change match or lead the external pace of change."
Foreseeing changing business requirements is a must when the socio-economic backdrop is in constant flux. The goal is not to follow the plan to the letter, but to plan continuously so you can adapt quickly when change does happen or when the probability of a specific development occurring becomes high. So the next time a strategic planning critic argues that HR should wait for everything to sort itself out before thinking ahead, you can use the words of Dwight D. Eisenhower: "plans are useless, but planning is indispensable."
About the author: Ian Cook
Ian is an advocate for the crucial role that people play in helping companies thrive. His career has focused on enabling people, teams and companies to perform at their best. For the last 15 years Ian has been helping leaders elevate their HR strategies and programs through the effective use of people analytics. At Visier, Ian led the development of our market leading solution and is now focused on the overall strategy for the people analytics business.
Be the first to know!
Never miss a story! Get the Outsmart newsletter.
Related Articles
LEADERSHIP
Olly Britnell at Experian, shares six approaches on how to be bold with analytics and build the right foundation for people analytics success.
TRENDS
Top people analytics and HR articles for spring 2018 - we look at what analytics teams must do to link people data with business outcomes.
TRENDS
We are excited to announce that this year's Outsmart keynote speaker is HR luminary Josh Bersin, founder and principal of Bersin by Deloitte!