With baby boomers heading into retirement — by 2050 an estimated 88.5 million people in the U.S. will be 65 or older — healthcare providers have an increasingly large influx of patients entering their doors. But there is another retirement population that is perhaps even more worrying to them: nurses.
According to a survey by the National Council of State Board of Nursing and the Forum of State Nursing Workforce Centers, 55% of registered nurses (RN) are age 50 or older. This means that more than one million RN's will reach retirement age within the next 10-15 years, leading to a drastic shortage of skilled, tenured nurses.
In the post-healthcare reform world of "value-based purchasing programs," patient satisfaction is now directly linked to the bottom line for healthcare providers. Yet, patient outcomes (measured by HCAHPS scores and readmission rates) are in jeopard as the growth in demand for care is at risk of outpacing the supply of nurses.
Improving HCAHPS Scores with Data-Driven HR
Healthcare providers have a unique driver to connect their workforce decisions to business outcomes: cost of healthcare delivery, and patient outcomes and satisfaction. Recruiting, developing, and engaging a highly skilled, in demand workforce that has a direct influence on the health of people raises the stakes for HR in Healthcare. Basing decisions on intuition or gut feeling is not an option.
Fortunately, healthcare organizations are no strangers to data, and "are increasingly using analytics to consume, unlock and apply new insights from information." In fact, a 2010 IBM Global CIO study found that more than 90% of healthcare CIOs from top-performing organizations are making insight and intelligence a key focus over the next three to five years.
This is good news for the HR department, since analytics will enable them to take data about their workforce and turn it into actionable insight.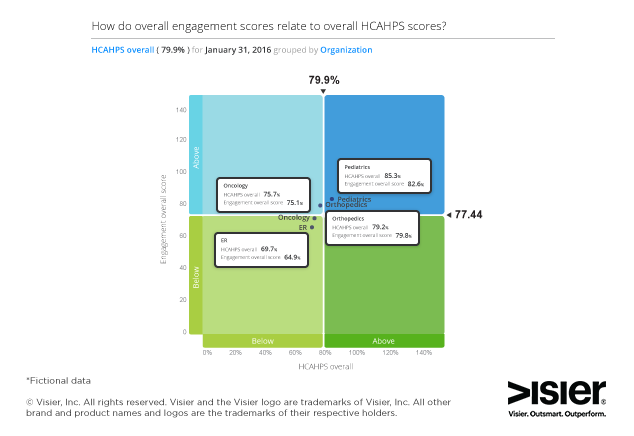 Navigating Nurse Retirement with the New Workforce Planning
Workforce planning is the business process for determining the right talent, at the right time and costs, and in the right quantity to deliver on your business goals.
A Harvard Business Review Analytic Services survey of 323 corporate executives found that 73% of these leaders experienced talent shortfalls leading to missed business objectives as a result of poor workforce planning. In the same study, 44% of respondents consider their workforce plans to be driven by Finance and do not take talent dynamics into account.
This means that important decisions related to retirement, recruitment, retention, compensation and productivity are constrained by budgets that do not reflect the people reality. Finance-driven plans focus primarily on FTEs; however, because these plans are disconnected from other workforce data, it is impossible to build an accurate forecast of what budgets and costs are needed to execute the business strategy.
As John Schwarz, Visier's CEO and founder, puts it: "Workforce planning is ultimately about ensuring you have the talent needed to deliver on your business goals."
In order to best prepare the organization for impending nurse retirements, HR should employ a new approach to workforce planning that is:
Driven by both HR and Finance
Reflective of changing workforce dynamics inside and outside the organization
This will provide not only the right information to build more accurate plans, but also help HR gain the leadership and stakeholder support crucial to putting these plans into action.
Future-proof your Healthcare Organization
According to the father of human capital strategic analysis and measurement, Jac Fitz-Enz, succession planning starts to positively affect revenue growth when 70 percent of key positions have replacements ready. A good rule of thumb is to aim to have replacements ready for 90 percent of all key positions at any time, in case the person who is currently in a critical role leaves unexpectedly.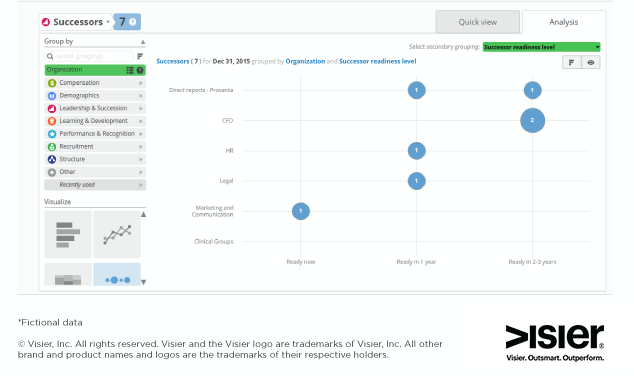 In the past it has been possible to find people to replace retirees, but this is not true for the future: those who are leaving the workforce had fewer children than their parents did, which means healthcare organizations have a smaller pool to work from. Data-centric workforce planning helps HR be strategic about when and who to recruit from this pool. This keeps hiring on pace to meet future needs, and gives retiring RN's ample time to sufficiently mentor the next generation of nurses before they leave.
As you go through this process, be sure to also develop different forecasting models and weigh them against each other to determine the right scenario to follow through on. Use a workforce intelligence solution — preferably one that seamlessly connects HCAHPS data with your workforce analytics — to make this process easier and more collaborative.
Turn Annual Practices into Monthly Habits
According to the Aberdeen Group, it is important to build a strategic workforce plan that looks out 18 months or longer, and addresses both the number of nurse required to meet patient outcomes and the skills and capabilities those individuals must possess. However, a strategic plan is not enough on its own. Healthcare providers must also create operational workforce plans that look at the near term and help the organization map its existing skills, capabilities and resources against current challenges.
Furthermore, workforce plans must never be static. Traditionally, talent planning is a once-a-year exercise, but in reality it's a practice that needs constant adjustment to ensure goals are met. The global healthcare industry is in flux and nurse retirements will occur throughout the year. To best prepare for these changes, HR must continuously review and revise plans with senior leaders. This will keep the business on track and provide early warning of any corrective actions that may need to be taken.
About the author: Ian Cook
Ian is an advocate for the crucial role that people play in helping companies thrive. His career has focused on enabling people, teams and companies to perform at their best. For the last 15 years Ian has been helping leaders elevate their HR strategies and programs through the effective use of people analytics. At Visier, Ian led the development of our market leading solution and is now focused on the overall strategy for the people analytics business.
Be the first to know!
Never miss a story! Get the Outsmart newsletter.
Related Articles
WORKFORCE PLANNING
In this post, John Schwarz explains how HR can improve the business bottom line and fulfil its strategic mandate within the organization.
LEADERSHIP
Through the ups and downs of a nearly two-year HR transformation initiative , we discovered the role of what we called the Change Pathfinder.
TRENDS
HR's goal this year should be to move up the Workforce Intelligence Maturity Curve as quickly as possible. Learn how HR can accelerate its progress.