If your organization is struggling to close the loop, it is important to shift the organizational mindset around workforce data and analytics, and help make workforce planning part of how the business functions.
We often talk about the employee lifecycle, the "recruit to retire" journey of an individual through multiple human capital processes. But the employee lifecycle really is a finite process.
It starts with the hiring process, may go through several cycles of performance management and development and the like, and then ends with separation from the organization. There might be some alumni networking but usually that's where it ends. All too often, it seems that organizations are thinking of their overall HCM strategies in the same way, which is a mistake.
It may be easy to think that we hire, manage, and develop, and eventually people leave or the organization grows and then we start the process over again by sending requisitions to the recruiter, but this creates a reactionary relationship between business need and talent acquisition process and strategy.
In order to keep up with skill shortages and avoid costly role vacancies, organizations need to close the loop between business strategy, workforce planning, and talent acquisition.
Workforce planning and analytics may sound intimidating, but it's important to note that it does not require a huge investment in technology and solutions to get started. You can start with the data you have available to you now by focusing on creating a mindset shift, helping the business see how workforce data and planning are really essential business processes.
Unfortunately, our research showed that 31% of organizations indicated that workforce data and analytics were used only by HR and not the business. And only 41% of organizations feed data from workforce planning back into their recruiting processes, and just 30% use it to inform their development priorities. This is a huge gap that organizations must overcome.
Where Workforce Data is Used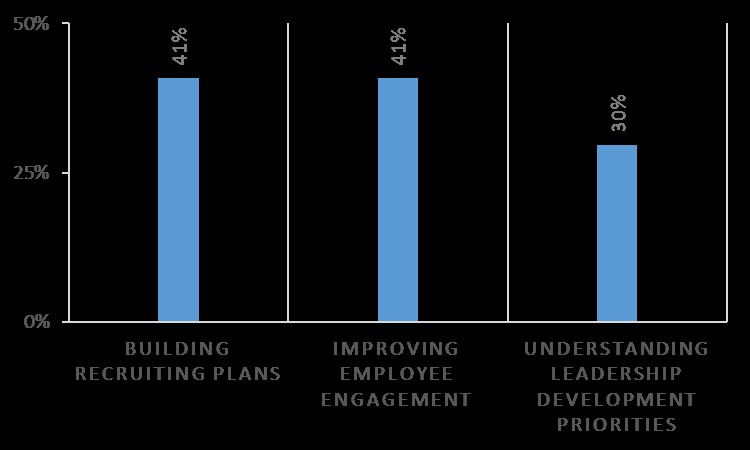 Work with business leaders to make the people conversation part of the business planning process. Find ways to visualize data and make it meaningful to business users, without overwhelming them with HR facing metrics. And help them see the action they can take based on this data.
This way you can have meaningful buy vs. build conversations around where you will find the talent required to execute against business plans. It's also important to make the case around how greater partnership and visibility between HR and the business will help them achieve their goals more quickly.
Our research found that organizations that integrate workforce planning data back into their recruiting plans were 36% more likely to have above industry average engagement levels, 17% more likely to have above industry average customer retention, and 23% more likely to have turnover levels above industry average rates.
Moving from a reactive to an integrated approach to executing against workforce plans clearly yield significant business results.
Closing the loop between workforce planning needs and the talent acquisition processes that help meet them seems like an obvious connection. But it can be a struggle when there is no communication and understanding of how workforce data can inform business planning, and when the business cannot easily access it. By shifting mindsets and helping surface data more easily, organizations can truly create an ongoing HCM strategy that is fully integrated with business outcomes.
About the author: Mollie Lombardi
With nearly two decades spent advising, developing, and studying HR and business leaders, Mollie brings a wealth of knowledge and experience in human capital and workforce management to help ignite a new conversation at the intersection of HR technology, strategy, and impact. As Co-Founder and CEO of Aptitude Research Partners, she focuses on primary research covering end-to-end human capital management, to help organizations better understand their HR needs and the landscape of HCM technology solutions, and to help solution providers articulate the unique differentiators they bring to meet those needs. She has spoken around the globe to HR audiences on topics across the HCM spectrum, and has authored hundreds of research reports and papers. Her research has been featured in the Wall Street Journal, eLearning Magazine, CIO Magazine and other trade publications. Prior to Aptitude Research Partners Mollie was Vice President, Workforce Management at Brandon Hall Group and Vice President and Principle Analyst, Human Capital Management at Aberdeen Group.
Be the first to know!
Never miss a story! Get the Outsmart newsletter.
Related Articles
TRENDS
This article is adapted from the book, The Power of People: Learn How Successful Organisations Use Workforce Analytics To Improve Business Performance.
TRENDS
HR management is one of the biggest problems facing organizations today. Setting customers up for success with their big data is key to shaping better...
CULTURE
Ari Kaplan is widely considered to be one of the pioneers of sabermetrics, which was brought beyond the baseball diamond by Moneyball–a 2003 novel...