Ask Visier is a weekly column where a people analytics expert dives into one of the 2000+ business questions available in Visier and shares how to take action on the answers you might uncover on that topic. 
Why should an HR pro or finance leader want to understand compensation trends?
Organizational leaders need to keep an eye on all aspects of pay for a comprehensive compensation strategy. Leaders need to ensure pay is aligned appropriately to the philosophy of how the organization wants to position themselves within their market. Depending on the maturity and goals of the organization, this could be 'trailing the market', 'meeting the market', or even 'leading the market'. As these philosophies are typically set as goals of the organization, it is important to revisit pay routinely to make sure the compensation philosophy is still in line with the prior set goals.
Finance leaders will also want to know how employee pay and overall compensation is trending for accurate forecasting. Visier makes this data easy to visualize. See this graph for an example:
Understanding how compensation of top performers has affected budgets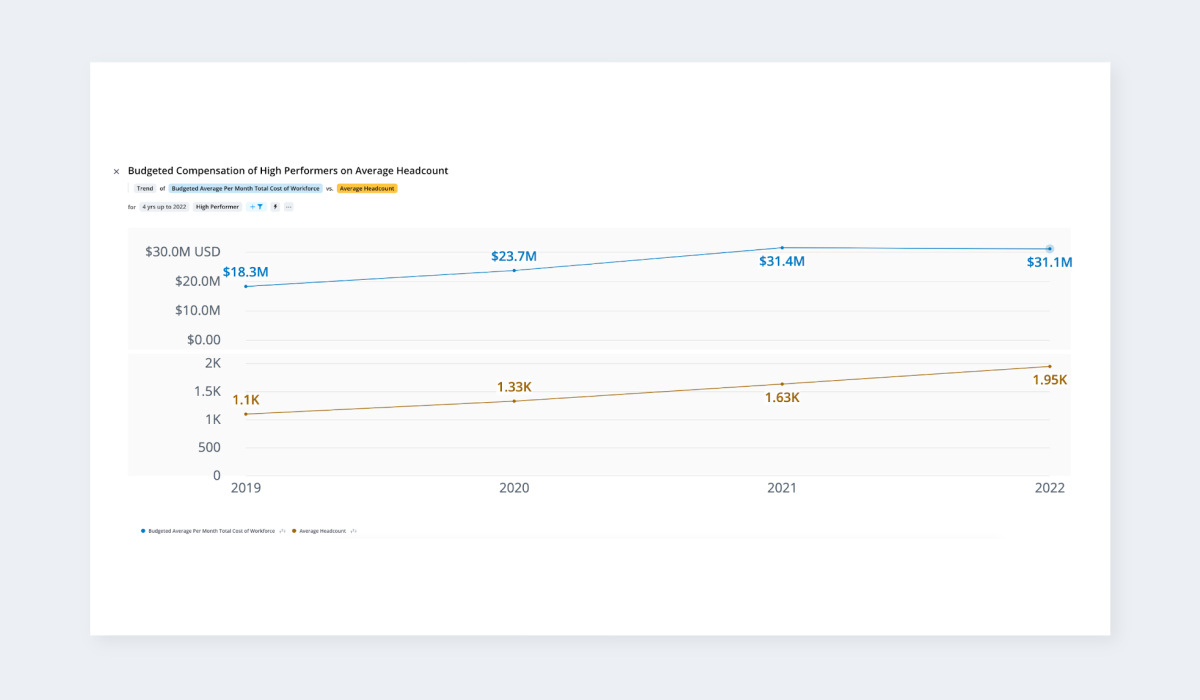 Over time, as hiring demands ebb and flow across different roles and departments within an organization, these ratios may begin to become unbalanced among teams, genders, levels, and geography. With Visier, leaders can answer these questions and more with a few clicks of the mouse, share the insights with relevant team members, and even schedule automated emails to ensure leaders stay on top of important goals around compensation.
Why are employee pay trends especially relevant today?
Trends of employee compensation, of which pay is a critical part, are more important in today's market than ever before. As the Great Resignation continues, employers continue to struggle to find and replace top talent. A recent Visier poll found that 26% of employees planned to leave their current employer when the pandemic ends. Proactive organizations could significantly reduce this attrition issue by reviewing their current state of compensation and issuing equitable adjustments to groups of employees whose pay lags behind today's current market. This could involve equitable adjustments to compensation related to DEI issues, unpaid segments of the organization, or a confluence of the two. Market adjustments are also seen as a good faith act by the employer and can help to improve employee morale and belief in the company as whole.
Why is it a challenge to understand compensation trends without Visier?
Consider an organization that has decided to investigate whether their employee pay has shifted out of alignment with the company's goals. Likely, this information lives within the existing HR information system (HRIS). While many HRIS do have limited data analysis functionality, and can likely break down compensation packages to give a general overview, they will not have the same level of detail that Visier provides. Visier can break down compensation by job type, gender, racial demographics, area, tenure, and many other variables so managers, HR professionals, and C-suite leaders can look for patterns that might indicate where the reality of compensation is misaligned with the stated goals of the organization. In addition, Visier can help companies easily benchmark their employee pay and compensation details to see if they align with others in the industry. This is especially important when retention issues highlight how swift changes have overtaken organizations who haven't had visibility into these pay trends.
Quickly understanding our compa ratios by gender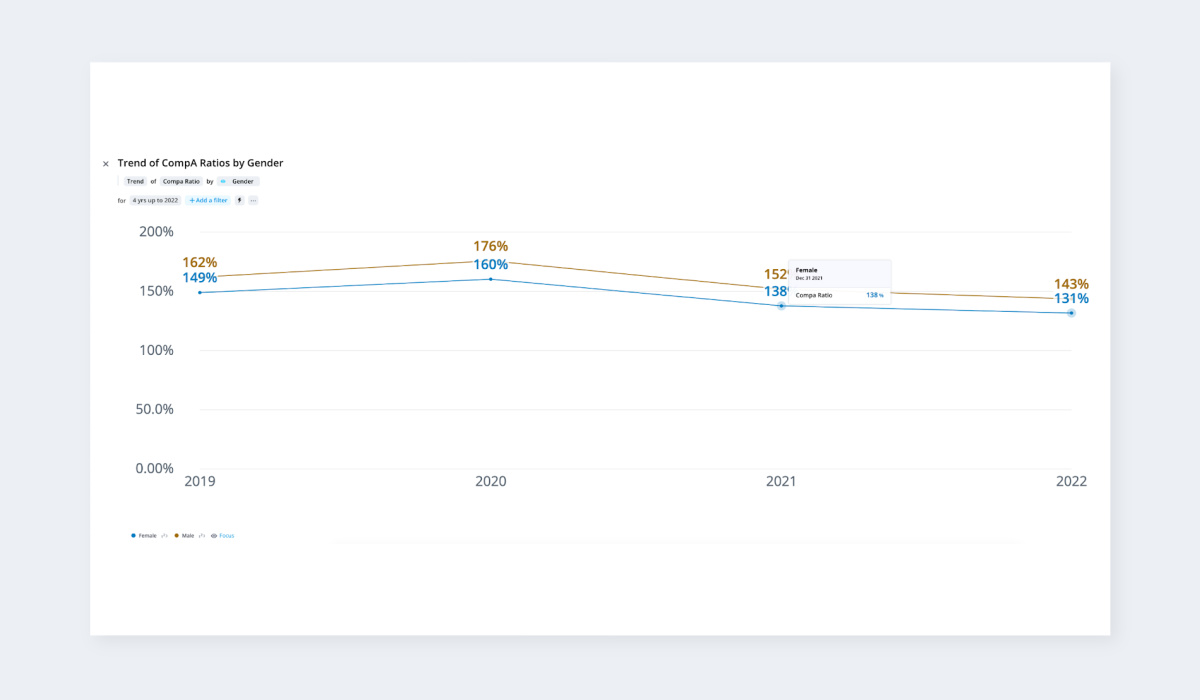 How does Visier help them answer pay trends and create a compensation strategy?
Thanks to Visier's list of prebuilt best practice metrics around compensation, the main decision HR professionals, managers, or other leaders concerned about pay trends need to make is simply how best to visualize the data. Since a customer's data has already been loaded into Visier's data model and the metrics are already in place, leaders only need to question the way they would like to slice-and-dice the data. Common metrics, such as a compa ratio, are easily available. This allows users to focus on the compensation strategy rather than spending the bulk of their time at the 'data wrangling' level. When there is confidence in data and metrics, organizations can truly focus on executing the strategy they have set forth. 
Employee compensation, including pay, forms a significant part of an organization's budget. When it comes to understanding this major budget item, compensation (including pay) is as important a metric as employee headcount. Not having a good understanding of trends in employee pay means that organizations are less prepared to make predictions about future trends, which means they're less able to make accurate budgetary forecasts as well. Without knowing how employee pay has changed over time, key financial decisions are essentially being left to guesswork and hunches. 
Further reading on compensation strategy: 
About the author: Tim Stafford
Tim is a People Analytics Consultant at Visier and has over a decade of experience within people analytics & HR project management. At Visier, he's responsible for empowering customers to tell data driven stories, along with coaching customers on leading change management & adoption strategies.
Be the first to know!
Never miss a story! Get the Outsmart newsletter.
Related Articles
ASK VISIER
Succession planning means having candidates ready to be promoted into crucial roles. Find out how Visier can provide valuable insights.
ASK VISIER
You're not a compensation expert but you need to advise your managers on compensation? Visier can tell you how well your organization pays people relative to their peers and the market and why this matters.
EMBEDDED ANALYTICS
To discuss how HR tech providers can build products that truly respond to their customers' needs, we brought together three experts.