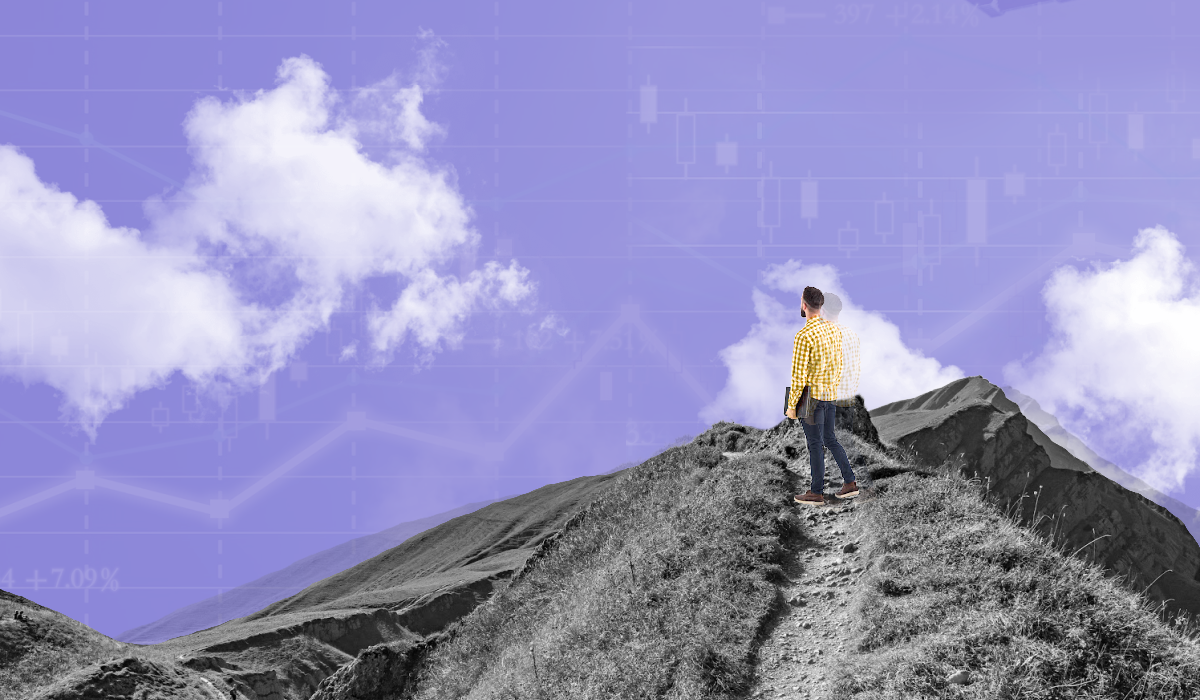 "Should I stay or should I go?"
A lot of workers have been asking this question lately, and many are clearly taking the "go" option. According to data released by the U.S. Bureau of Labor Statistics, the U.S. quits rate rose to 2.9 percent in August 2021. That's the highest quits rate on record since this data was first collected more than 20 years ago.
This mass exodus could very well be a sign of a "national existential crisis," the term used by a TIME magazine health correspondent to describe how the pandemic has prompted Americans to rethink their living situations, relationships, and jobs.
While a myriad of factors (like a demand for mid-career employees in remote work posts or extreme stress in the healthcare sector) might be in play here, it's hard to deny that when times are tough, a shake-up in the career department can seem appealing. But switching employers comes with a certain amount of risk, like a poor cultural fit with the new organization. And it might only lead to a temporary boost in happiness, according to Sonja Lyubomirsky, a professor who has been studying happiness for more than 30 years.
With the exception of toxic work cultures, it's worth carefully considering all the options when deciding whether to hand in that two weeks' notice.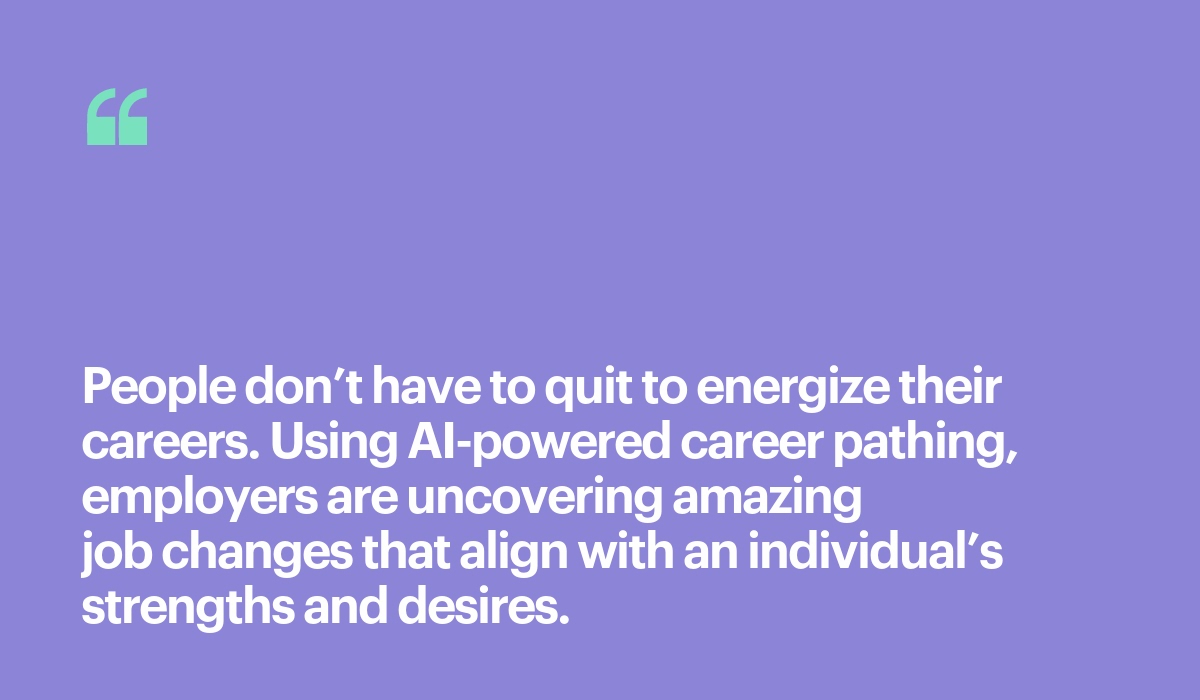 Here's the good news: People don't have to quit to energize their careers. Using AI-powered career pathing, employers are uncovering amazing job changes that align with an individual's strengths and desires. This not only motivates employees, but is also a win for companies looking to retain people and—in the face of rapid technological change—ward off potential skills shortages.
Career pathing is no longer for the "chosen few"
Employer-sponsored career pathing hasn't always been available to everyone. Because it is typically labor-intensive, it is often designed for high potential employees—or HIPOs, to use HR speak. As Roel Duess, Head of Global Solutions Consulting at Fuel50, pointed out during a panel session at Visier's virtual Outsmart event, "typical HIPO programs are staffed or filled with people that executives know because those people are in their direct orbits, but that's not being very inclusive, right?"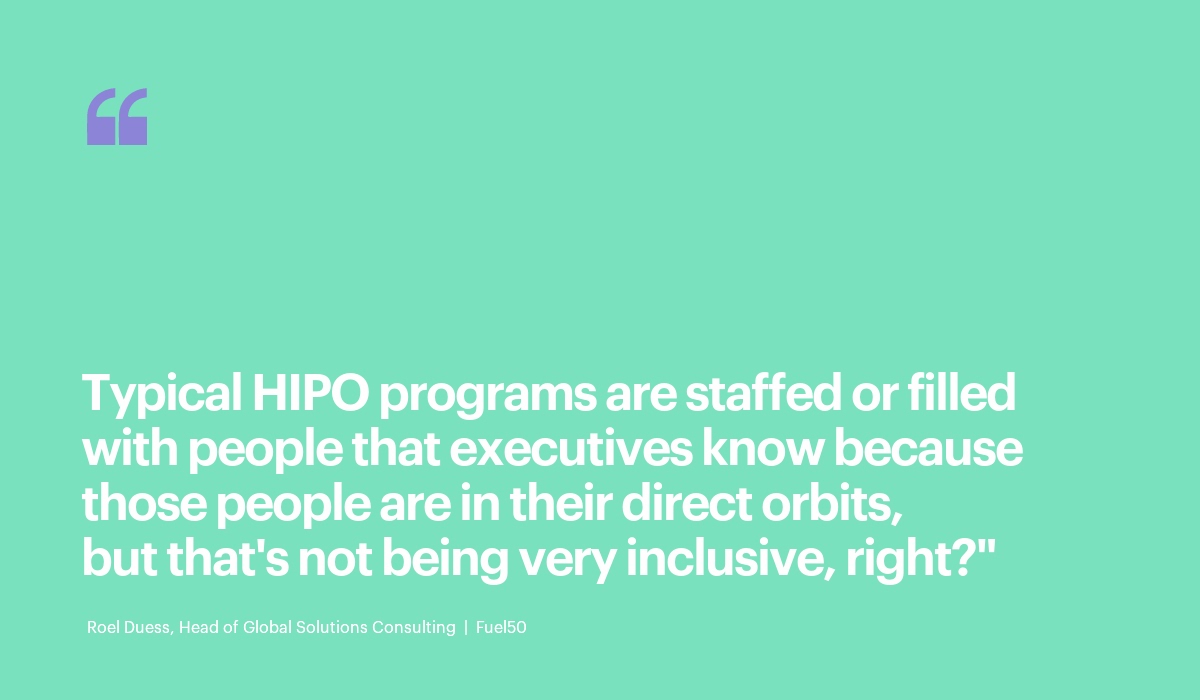 Part of the problem is technological. Identifying skills gaps within the organization and then aligning those with employee strengths and needs using spreadsheets is very time consuming. Using old tools, organizations have to be selective about who they include, and that usually allows biases and favoritism to dictate who gets the opportunity to develop. It also means that employees who ask about their options either get a copy of their organization's career ladder (if there is one) or nothing at all.
But data and machine learning (a subfield of AI) can completely transform this process by standardizing jobs and mapping jobs to standard skills very quickly. This jumpstart into skills profiling makes it easier to democratize the process of career pathing.
Organizations are not only using the tech to analyze movements within labor markets and identify skills gaps, but align people with the kind of open opportunities they are passionate about pursuing. Fuel50, for example, combines AI and human intelligence to match workers with opportunities by creating skill-based profiles that reflect their values, interests, and where they want to take their personal development. On the other side, managers and project leaders can quickly discover who in the organization is a suitable match for new projects.
Not only is AI-driven analysis more accurate and relevant, but it makes these kinds of career-building resources (previously so time- and labor-intensive to produce) readily available to everyone.
How AI helps with self-discovery
Another area where AI supports career development is by helping employees overcome limiting beliefs about their capabilities.
People tend to underestimate their skills, and AI can spot what they miss, according to a pilot study conducted by the World Economic Forum in collaboration with Unilever, Walmart, Accenture, and SkyHive. The study found that people will identify 11 skills on average for a particular role—but that number rises to 34 with SkyHive's AI-powered skill-based proximity analysis. This is partially a "blank slate" problem—in the absence of any prompts, people really struggle to recall their skills.
But more significantly, certain groups are more comfortable touting their own skills than others. One study found that women, in particular, tend to feel less comfortable than men promoting their skills and experience. "It's likely that responsible AI will help people shed more biases, create more equitable processes and more job pathways," states the report on the pilot study.
Indeed, AI can foster more expansive thinking on the skills front. But while the technology is really good at finding patterns in large data sets, it can't intuitively sense when someone is facing a reckoning with their personal goals and values. To understand a person holistically, where they want to grow and what they value, Fuel50 provides gamified exercises, which are then used to match an individual to a particular role.
It's an approach that pays off: At MBNA, for example, personalized career pathing led to an increase in employee engagement by 26% after it used Fuel50 to help managers fully understand their values, motivators, and talents so they could develop career plans for themselves and their teams.
Personal growth—it's not just about landing a promotion
Career growth is no longer purely about climbing the proverbial ladder. Since the financial crisis of 2008, many organizations have removed several layers of management, which means there are fewer opportunities for internal promotion to a manager role. While upward career mobility remains an important goal for many individuals, others are finding satisfaction in horizontal career moves that require new skills—think career lattice, not career ladder.
This kind of internal mobility is becoming more important. In fact, the World Economic Forum estimates that by 2025, the new division of labor between humans, machines, and algorithms may create 97 million new roles. AI can help organizations embody "learn-it-all" cultures by giving people more chances to participate in special projects, stretch assignments, or new jobs entirely as new types of roles become available.
The grass can be greener on this side of the fence
There are more ways to satisfy the craving for a job change than leaving the organization. With AI-powered career pathing, people are overcoming biases about human potential and uncovering new, exciting avenues for personal growth—all while staying put with their current employer. For employers, this means staying competitive in an environment where skills have increasingly shorter shelf lives and retaining more people at a time when quit rates are at historic highs.
Recent technological advances have created new possibilities for employers and employees alike on the skills front—and this is just the beginning.
About the author: Caitlin Bigsby
Caitlin Bigsby has over 22 years of experience in HCM software solutions and has worked with dozens of organizations over the years to help them maximize the value of their investments, in both their people and their software. Caitlin shines a light on how analytic insight can elevate the strategy of Human Resources. In her spare time, she enjoys spending time with her family and dog, Toby.
Be the first to know!
Never miss a story! Get the Outsmart newsletter.
Related Articles
THE C SHEET
This week on the C Sheet, we cover why work besties are good for both your mental health and the business, and how managers can prepare for Gen Z workers.
TRENDS
Turning people data into actionable insights doesn't have to be daunting. Learn how to take the first steps from spreadsheets to storytelling for better business outcomes.
PRODUCT INSIGHTS
Hybrid work is shaking up pay strategies, and AI can help. But this does not mean the tech should call the shots.