Employers have shifted from asking what they can get from employees to asking what they can do for employees. This change in mindset has emerged as a dominant trend in recent years, and an increasing number of organizations are pushing the employee experience to the top of the HR agenda.
In our HR Trends 2020 report, Isabel Naidoo, Head of People, Strategy & Analytics for FIS Global. observes that we live in a world where everything is on-demand, real-time, customized, and quick. Our working lives, however, are typically ruled by processes and complexity.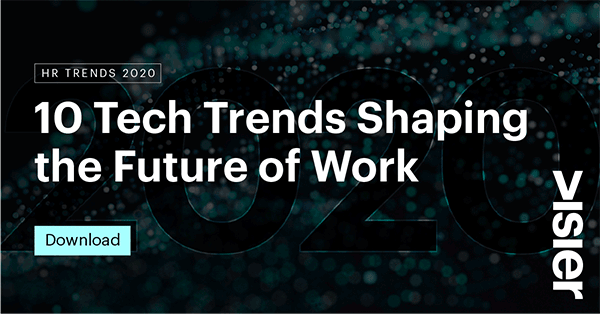 "Once we can get to a place where we can deliver experiences that are more similar to those outside the world of work–and even better, make it customizable to the individual–we'll really see our workforce thrive," explains Naidoo in the report.
Technology plays a key role in this transformation–and it's about more than enabling better HR transactions. To help employees thrive, organizations have embraced collaboration tools, developed self-service career path support, and started adopting nudge engines. This focus on improving in-the-moment productivity and engagement is certainly encouraging, but there is another building block for the employee experience: a positive corporate culture.
The employee experience beyond 2020
Over the next 10 years, organizations will focus on the employee experience more holistically, encompassing everything from D&I and data ethics to helping employees take charge of their own well-being, career development, and mental health. This will require more data sources and analytics for everyone–not just top-level decision makers.
Within the next 10 years, we will see more organizations evolve to:
Give employees the tools to interpret and analyze their own work data. This will help workers–especially those who demand and are engaged by transparent access to their data–take charge of their own financial planning, wellness, personal development, and career path. This will require organizations to develop a full Employee Value Proposition (EVP) for people analytics. One way to do this is to align people analytics activities with Maslow's Hierarchy of Needs. If HR and people analytics leaders advocate for an EVP (in addition to exploring its ethical and legal dimensions), their people analytics activities will go more smoothly and deliver value for both the employee and employer.
Promote more social accountability. The tactic that delivers the best results for diversity and inclusion is the creation of special task forces, according to sociologists Dobbin and Kalev. Further, advanced organizations are using data to shine a light and expand the conversation–not only on achieving diversity goals–but in ensuring that inclusion is also addressed. When task forces and D&I leaders can access the right data in a way that respects the privacy of individual employees, they can develop customized solutions for specific departments.
Place a greater emphasis on mental resilience. This helps boost focus, belonging, purpose, and happiness. Corporate well-being programs have covered gym memberships and smoking cessation for a long time. In the coming years, more organizations will embrace well-being technology that integrates seamlessly into the flow of work to help employees manage their internal states.
For most organizations, these transformations won't happen overnight. Here are some steps HR leaders can take to build the right foundation for a positive employee experience:
Focus on long-term development through the employee lens.

Give employees a "Fitbit for their career." Technology from Humanyze, for example, gives employees the ability to compare their behavior to team averages so they can see what they need to work on to achieve their career goals.
Use career pathing analytics. When HR leaders and managers know how people moved from job-to-job within the organization and how quickly they did this in the past, they have the structure they need to discuss real career options, assess timelines, and identify mentors for teams.

Empower diversity and inclusion task forces.

Use people analytics to understand engagement among diverse employees and monitor the impact engagement has on turnover and exit patterns as well as with inclusion. Roll out people analytics broadly (while respecting and adhering to data privacy regulations) across the organization so that grassroots initiatives can be created.

Align employee purpose with that of the organization.

Fulfilling a purpose and extracting meaning from work is the apex of the employee experience. Integrate nudge engines with people analytics to align personal behavior change with broader organizational goals–this will help individuals align their personal development with a bigger purpose.
This topic appeared as "Trend #1: Employee Experience Takes Over" in our HR Trends 2020 report. Download the full guide to get more tips related to this trend and learn about 9 other trends that will impact HR and work over the next decade.

About the author: Lexy Martin
Lexy Martin is a respected thought leader on HR technology adoption and value achieved. Known as the originator of the Sierra-Cedar HR Systems Survey, she now works at Visier with customers to support them in their HR transformation to become data-driven organizations. Lexy is Principal, Research and Customer Value at Visier.
Be the first to know!
Never miss a story! Get the Outsmart newsletter.
Related Articles
PRODUCT INSIGHTS
These stories reveal how others use people analytics analysis, what they learn from their analysis and, how they then take action to achieve value.
TALENT MANAGEMENT
Follow these 4 steps to move away from focusing on your organization's turnover rate and instead, calculate how it impacts your organization's bottom line.
LEARNING AND DEVELOPMENT
Skills-based analytics can help organizations understand the realities of employee performance. Find out how to use this data during performance reviews.