If your job is to run an HR function, you likely encounter this challenge on a regular basis.
It is often the managers and department heads who make decisions that impact the results of key HR programs, such as retention and recruitment. These are busy people and too often they rely on intuition in the decision-making process — or they default to the simplest solution. And these decisions can bring negative or suboptimal results for the organization when made without data.
This is the primary reason why the focus is on helping front line business leaders get quick answers to important people questions — just like they would from their own operational systems — in the WINTER 2015 release of Visier Workforce Analytics with the introduction of a streamlined Workforce Viewer.
The Visier Workforce Viewer is an application that contains the core reports and dashboards leaders need for data-driven people decisions. In addition, the search capabilities allow business leaders to quickly find insights and answers through a simple text search. Being able to access the right content quickly is key to engagement by line of business leaders.
As described by analyst firm Bersin by Deloitte, "[Business leaders] should be able to retrieve data on their own. They should be able to get answers to their questions—easily, quickly, and accurately—and with little or no training required. The ability to query the system should be intuitive to users."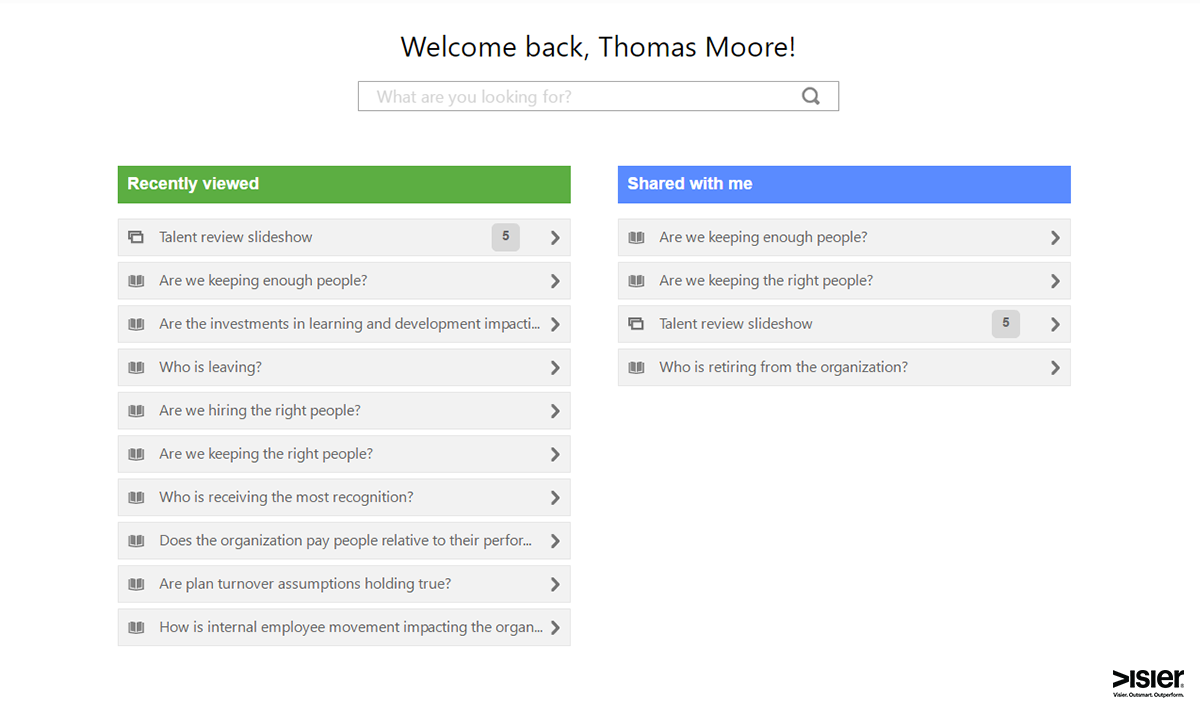 Questions posed in natural language allow business leaders to quickly find the analytics that answer their questions.
The following benefits illustrate why it is important to provide business leaders with easy and quick access to key workforce insights:
Evidence Can Play A Bigger Role in Shaping Workforce Decisions
As stated earlier, business leaders are typically the ones that make decisions about individuals. They choose who to hire, promote, educate, or terminate. By providing business leaders with direct access to workforce analytics, they are able to get access to the insights needed to make better and more informed decisions that align with the workforce strategy.
For example, a common workforce goal is to retain top performers. But without insight, how do department heads know how well they are retaining top performers? Simpler still, how do they even identify the top performers in the organization?
Without this information, department heads can incorrectly allocate resources to individuals who may not actually be top performers, or worse yet, they may be oblivious to the fact that top performers are leaving.
Analysts Can Focus More on Being Analysts
Even with the growing "Datafication of HR" movement, many HR analysts are still trapped in providing regular operational reports to the lines of business. Questions from the organization surrounding headcount, turnover rate, or anniversary reports can easily accumulate and consume a large percentage of the analyst's bandwidth.
By extending self-service analytics to line of business leaders, analysts are freed-up from being data brokers and can focus on more strategic tasks.
With the freed-up time, analysts are able to concentrate on finding high-value answers that are hidden in the data. They can focus on complex strategic questions, such as:
What contributes to employee success in specific roles?
What are the commonalities between high performers that may be indicators to identify future high performers?
What are the skill sets and career paths required that allow us to ensure we have ready successors for important roles?
The Democratization of HR Data
The power of data and information is limited by its reach. When the information is contained, the impact it makes is also contained. By providing business leaders with actionable workforce insights, the reach of this information is expanded, which ultimately enables HR to elevate its impact on the business.
About the author: Ian Cook
Ian is an advocate for the crucial role that people play in helping companies thrive. His career has focused on enabling people, teams and companies to perform at their best. For the last 15 years Ian has been helping leaders elevate their HR strategies and programs through the effective use of people analytics. At Visier, Ian led the development of our market leading solution and is now focused on the overall strategy for the people analytics business.
Be the first to know!
Never miss a story! Get the Outsmart newsletter.
Related Articles
PRODUCT INSIGHTS
How do you choose the right workforce intelligence solution for your company? Read on for critical questions to ask of your HR analytics software.
TRENDS
Infographics are everywhere, but can they tell a full data story? Compare infographics and data visualizations to learn how visuals can help HR communicate.
PRODUCT INSIGHTS
Predictive analytics can help organizations look at past workforce behavior to determine what is most likely to happen and plan accordingly.