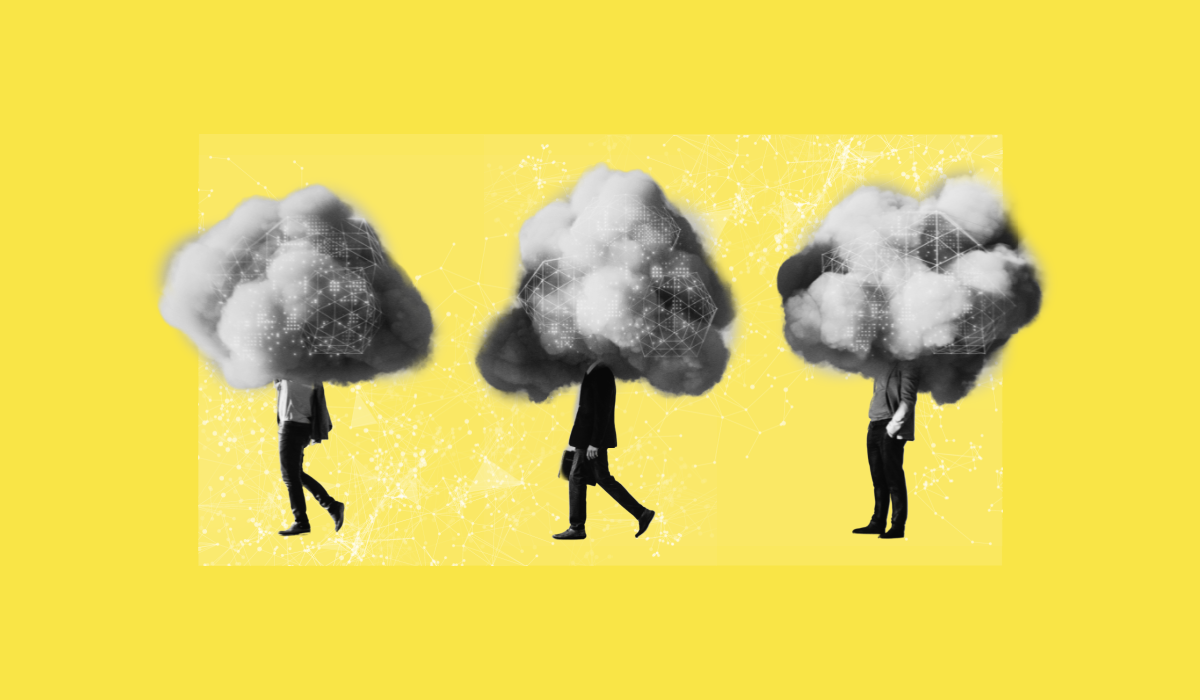 As the pandemic continues to wreak havoc and delay a return to the office, people managers are struggling with how to address the needs of the hybrid workforce. The HR game has changed and they need to understand a much wider range of employee motivations to be an effective leader. It's no longer enough to look simply at skillsets, experience, and work ethic alone when hiring. Neither is it enough to guide an employee's career trajectory through a cycle of reviews, raises, and promotions.
Understanding exactly what motivates today's employees has never been more complex. It may have been enough in the past to provide free lunch or a gym membership in addition to keeping up with salary and healthcare benefits. But today's employees need more. So, how can people leaders possibly keep up with the changes?
The good news is that data scientists have not been idle. With a year and half's worth of data from the pandemic, we have a much better sense of what employees need and want. Now that so much data is available, it's up to people managers to make sense of it all and use it to guide their everyday business decisions.
Democratizing data = better performance all around
CHROs and data analysts no longer play a supporting role, siloed in the HR department. They are now at the forefront of solving major business challenges as a trusted confidante to the CEO and CFO, while empowering people managers with the insights they need to make smart moves.
CEOs rate their leaders as twice as effective when the organization uses objective data to make strategic talent decisions. And organizations whose HR function uses data and people insights for talent predictions to create the link between talent quality and business goals are three times as likely to hire the right people and twice as likely to be in the top 10% of high performing companies, according to the CEO Leadership Report 2021 from Development Dimensions International (DDI).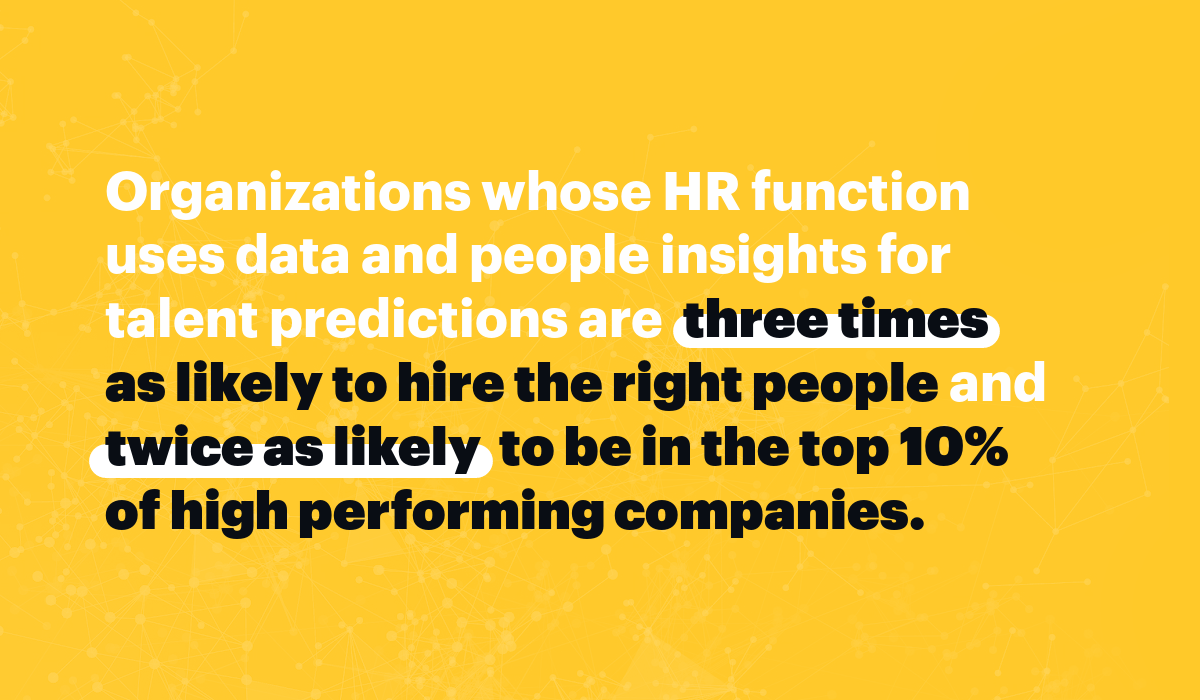 Businesses stand on the precipice of a data revolution in HR—but something is holding them back. 67% of business leaders reported in a 2019 Deloitte Insights survey, entitled Analytics and AI-driven enterprises thrive in the Age of With that most were uncomfortable with their existing tools and resources when trying to answer questions related to their business functions. Clearly, the software and processes that have been in place for the past few decades are beginning to fail.
Managing for the future of work
As people leaders start to understand what work will look like in a post-COVID world, they are discovering that it won't be as simple as merely ordering people back to the office. Research shows that, while many miss their water-cooler conversations and can't wait to return to a place where they won't have to trip over legos to get to their desk, others are rethinking their lifestyles and even outright refusing to return to work. For those in work, there is much more emphasis on work/life balance. Some have decided to accelerate their retirement. And some of the most experienced people have become independent consultants. Hybrid work, where an employee works from home at least part of the time, is becoming commonplace.
A shift is occurring as we start to see how different generations relate to the pandemic. Gen X is particularly reluctant to return to "business as usual" for a variety of factors, including how many years they've been in the workforce (how close they are to retirement), health concerns, and a lack of interest in many of the perks that companies use to appeal to Millennials. And who knows what Gen Z wants.
Geographical migrations have shifted as well. As people find they can work from anywhere, we are starting to see a move away from crowded urban centers and towards less expensive suburbs and rural destinations. This could be good in the long run, but for now it means that it is harder than ever to find talent close to a company's primary location. This is the great brain drain. HR leaders should forget about getting employees going back to work. And think instead about how best to manage employees in a hybrid workforce.
---

---
Understanding hybrid work
Zoom calls may have become standard, but a study from DDI says that business leaders are actually pretty bad at running virtual teams. They also aren't very good at preventing the burnout, frustration, and boredom that we are all feeling when on these calls all day. The bottom line is that video calls are no replacement for in-person meetings. The data shows that managers must learn how to structure meetings differently and hybrid work may require new tools such as Slack or Asana that can provide asynchronous communication for remote workers. In many cases, companies have adopted tools like Zoom, Google Meet, and Microsoft Teams without considering the psychological impact they have on people or providing employees with proper training. Even worse, these issues have led to what's being called the "Resignation Wave," an unwelcome trend that is expected to get worse.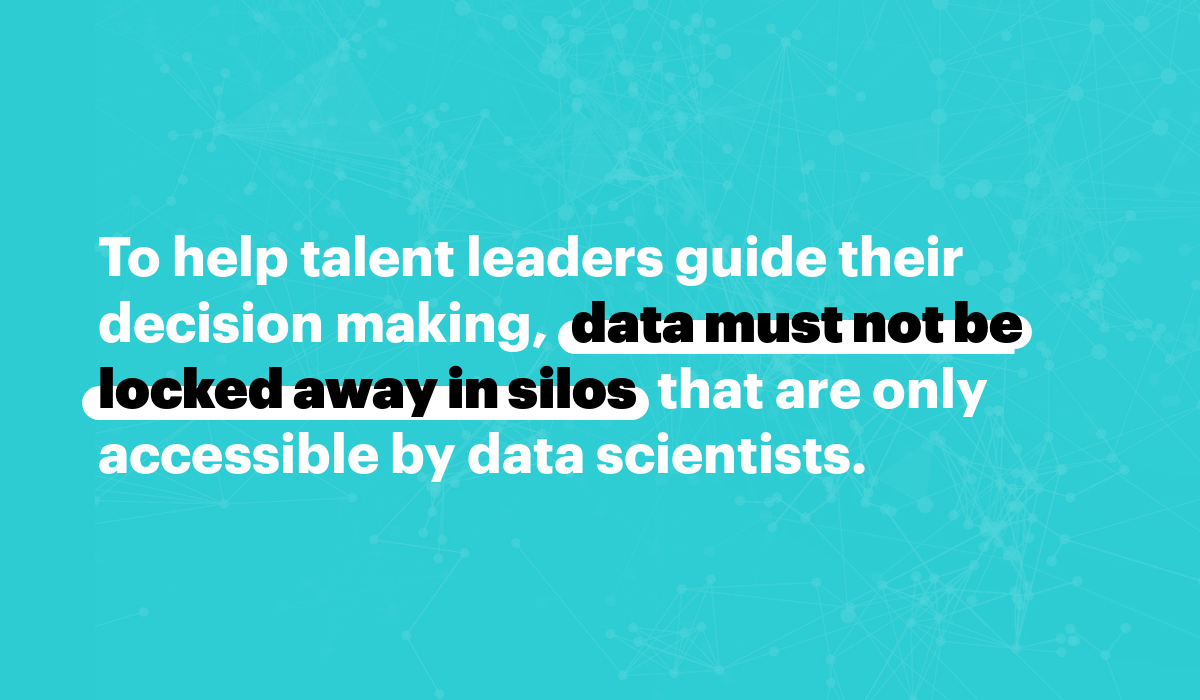 Confronting bias
Companies have long had to deal with inequity in the workplace and many have pledged to do better, but without the data to really understand that one gender or ethnic group is paid less than the other, or why one group is advancing more slowly through their career trajectory, it is hard to know how to address the problem. Good intentions aren't enough.
Data shows what is actually happening, rather than what people might perceive is happening. And it turns out, things haven't progressed much at all in the past few years when it comes to how companies deal with bias and inequality. Visier reports that people of color still make less than their white counterparts, women remain underrepresented in management, and ageism in tech is real as companies tend to favor raw talent over those with more experience. It could be true that these problems result from a lack of commitment to diversity and inclusion. Or it could be something else that's causing them. Here's the thing, without good data people leaders lack the context in which to check their assumptions—they're flying blind.
Fighting for social justice
If the past couple of years have taught as anything, it's that people care deeply about social causes. While the nation remains divided, there's also no question that in many ways the pandemic has brought people even closer together. According to the 2021 Edelman Trust Barometer, 86% of survey respondents expect business leaders to step up when it comes to social issues (pandemic impact, job automation, climate change, systemic racism, and issues affecting their local communities or churches).
It's people leaders' job to understand how to mitigate these challenges. Without a thorough understanding of the things employees may actually need to succeed in their jobs, how they feel about their organizations, or who may be a flight risk, decisions become based on gut feelings rather than rational decision making.
More companies are discovering that data can be a powerful tool in fighting for social justice while at the same time helping companies strengthen their appeal to candidates that care about these issues. A focus on Environment, Social and Governance (ESG) performance (where organizations focus on metrics that relate to the environment, social issues, and how the organization is governed) will make the difference in the quality of employees hired. According to BNB Paribas 65% of the top 1,000 companies by market capitalization in the US reported their sustainability reports in 2019 – an increase by 5% compared to 2018. According to PWC, almost one third of CEO's asked said they want to adopt new ESG disclosure standards.
Yet again, data plays a pivotal role in the way companies can even track metrics according to ESG scores, covering everything from sustainability efforts, to employee relations and executive compensation, or the type of investments an organization makes.
In short, to live up to expectations of employees and consumers, corporate leaders should always be on the lookout for the right quality data and insights derived from them when it comes to driving social change.
---

---
Become a better leader
Data savviness is no longer a nice-to-have but has become a critical and highly regarded leadership capability. But what do people managers do if they're the kind of person whose eyes glaze over when opening a spreadsheet? Well, there's good news for those who would much rather spend their time with the people they are managing rather than poring over numbers.
To help talent leaders guide their decision making, data must not be locked away in silos that are only accessible by data scientists. First, because there aren't enough data scientists in the world (now there's a career opportunity) and second, because it typically takes too long to deliver the real-time answers people managers need using legacy systems.
People analytics can help people managers better understand everything from what motivates an individual employee to global trends such as how best to increase diversity. Replacing gut feelings with knowledge will help increase rigor, reduce bias, and improve the overall performance of talent leaders. Relying on external consultants is expensive and time-consuming. It's far better to have the data available in-house when needed.
People managers have been relying on data for some time. What's new is the volume and type of data available. And, perhaps most importantly, how easy it is to access. Instead of having to write SQL queries, it is now possible to ask questions using the language they already speak.
By first arming talent leaders with the data they need to make intelligent hiring decisions, or to retain existing employees, people managers can take that important first step toward promoting a culture of data-informed decision making in their organization. People managers are on the front line when it comes to dealing with the impact of change. After a tumultuous couple of years when we saw work completely disrupted by a pandemic, a number of natural disasters, and political turmoil, human resources departments are now having to find ways to confront the fallout.
Promoting a culture of data awareness should start with HR. When people managers see how easy it can be to get the answers they need, this will quickly spread to other departments within the org. With the right data, managers can become change agents within an organization and respond to even the most difficult leadership challenges.
Learn more:
About the author: Lee Sherman
Lee Sherman is a data-driven journalist with 30 years experience covering technology, personal finance, music, and fashion. He prides himself on his ability to make complex topics more relatable. When not writing about the future of work, he enjoys film photography, playing synthesizers, and traveling.
Be the first to know!
Never miss a story! Get the Outsmart newsletter.
Related Articles
HR SUPER LEADERS 2021
HR leaders around the world rose up to meet new challenges last year. Here, we celebrate 25 of them, and learn the powers that got them through.
LEADERSHIP
At the 2021 People Analytics Summit, HR leaders shared their focus on leveraging data-driven insights to improve the employee experience. Find out how.
THE C SHEET
This week in our work news recap, we cover: attrition, "water cooler innovation," and though it may only be September, holiday workers.