Talent Management
5 Min Read
How Turnover Reports Impact HR's Credibility
When determining the impacts of employee attrition, the devil is in the details. Consider the surprising discovery (described in this HBR post) that one fast-food chain's executives made after looking at the company's turnover data: some stores with high overall turnover were extremely profitable. Stores with high manager turnover, however, were less profitable.
As this story shows, managers are unique in how they impact business performance. They are also unique in how they experience work. According to Gallup, managers are more likely than individual contributors to report feeling stress — but they are also more likely to report that their opinions count at work.
This suggests that managers leave or stay for different reasons than the general worker population, and indeed, one study we conducted reveals that promotions are a retention factor for millennial managers — but not for millennial non-managers. At the same time, though, not everyone in the same job level can be painted with the same brush.
For a deep dive into the true costs of manager turnover and turnover reduction interventions, download the FULL REPORT HERE.
To keep good managers, then, granular insights are key. But turnover (the most requested statistic in HR) is often reported as a blanket number.
Many HR analysts start by generating a report of voluntary terminations from the HRIS or payroll system. The turnover rate is then calculated (following SHRM's formula) by dividing the number of separations during the measurement period by the average number of employees during the measurement period, then multiplying that figure by 100.
SHRM recommends further segmentation, but barriers prevent HR from going beyond the high-level statistic. The lack of segmentation found in traditional turnover reports can impact HR's ability to gain buy-in for retention programs. A lack of standard data definitions can also make the reports appear less credible.
Here is a dive into the impacts of these two key issues and some advice on how to overcome both problems:
Problem #1: Lack of Segmentation
When an organization has a high attrition rate, turnover within a specific role or region is often the culprit. The people analytics team at BBVA Compass, for example, discovered that turnover was highest for one particular revenue-producing role. Using our people strategy platform, they found that at certain branches, turnover for that role was significantly higher: 70 branches — about 10% of all branches — accounted for 41% of all turnover.
To help improve retention, the team crafted a strategy targeting the 70 high-turnover branches. The results have been significant: annual turnover for the revenue-producing role has improved dramatically, dropping by 44% since the start of the project.
As this story shows, analytics can help HR pinpoint where the problem is happening and the impact to the business. This can help HR strategically invest in programs that will have the biggest results.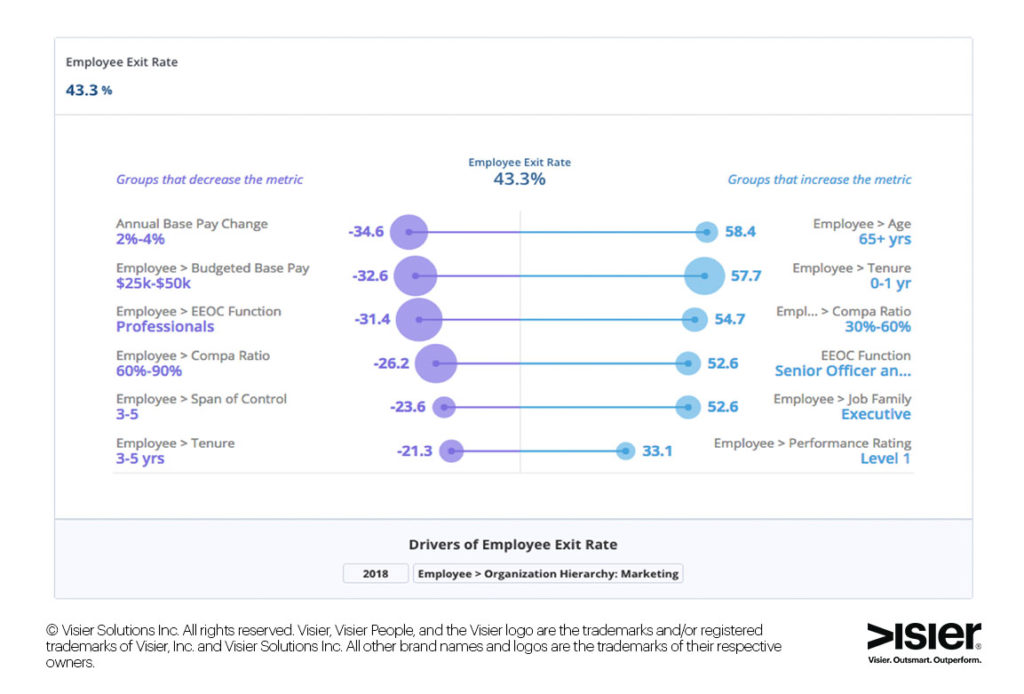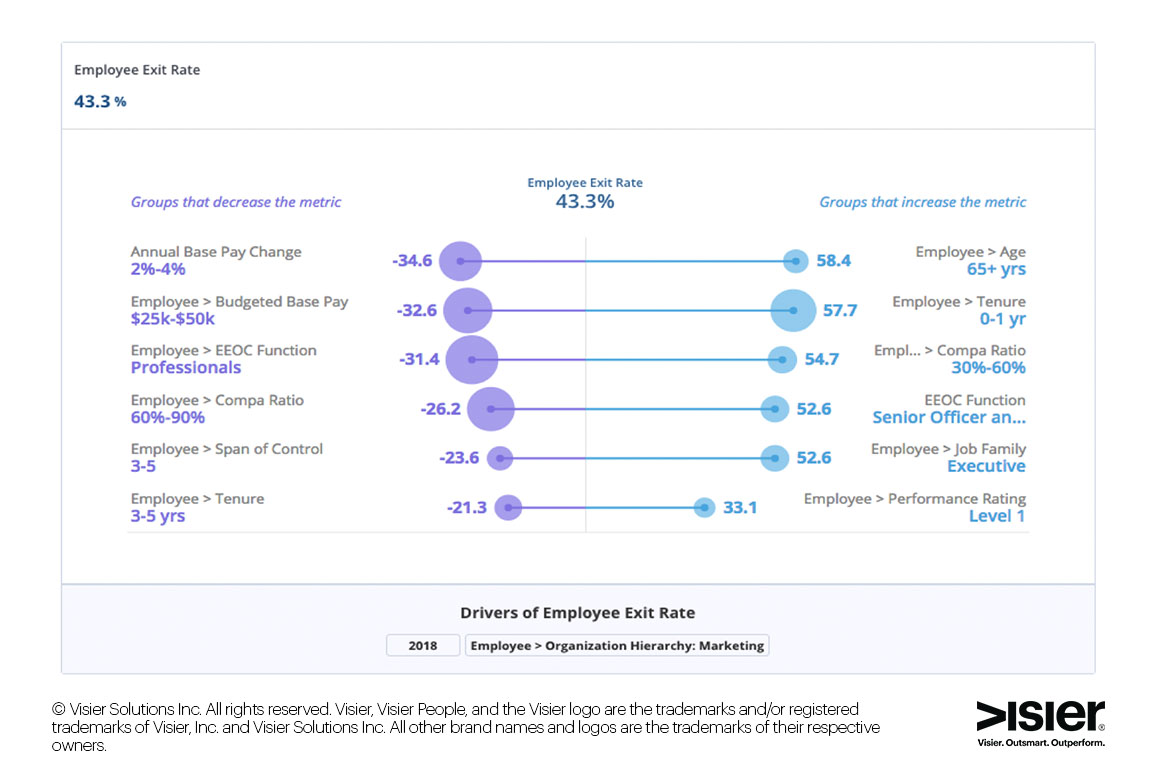 But instead of using analytics that produce granular insights, many HR leaders rely on the kind of one-dimensional metrics generated from transactional systems. These systems were not designed to generate reports, and definitely not analytics. The data is isolated at the source, requiring a significant amount of work to view turnover by job level, region, or performance level.
This means that, far too often, well-intended employee retention tactics are applied to everyone in the organization. When retention programs are spread thin across the organization, costs go up and effectiveness goes down.
It is not the standalone metrics that brings the insight, but the ability to quickly build comparisons, identify trends and find outliers that makes the difference. With a pre-built analytical solution, all the effort is removed, and much of the regular content is simply ready to serve.
Problem #2: Lack of Standardization
Current guidance on how to measure turnover from organizations like SHRM and the ISO (International Organization for Standardization) can be vague and open to interpretation. (For a more detailed discussion of this topic, see this earlier post I wrote.) It's not uncommon for teams within HR to have vastly different definitions for what counts as voluntary turnover or for who can even be counted as an employee.
For HR leaders, standard definitions are key to data trust. Talk to any accounting professional about how revenue is defined, and be prepared to answer a whole host of questions around whether the transaction is a cash payment by a consumer or a subscription payment by an enterprise. Time is also a crucial factor in determining when revenue can be legitimately reported, even though it may already be in the bank. If individual departments within an organization could make their own choices about what revenue is and when it is counted, trust would evaporate.
Like revenue, turnover data is something that can be used for high-stakes decisions (turnover is costly — and so are ineffective retention programs). If business leaders don't trust the data, and they don't like the answers provided by HR, they then have grounds to challenge the numbers.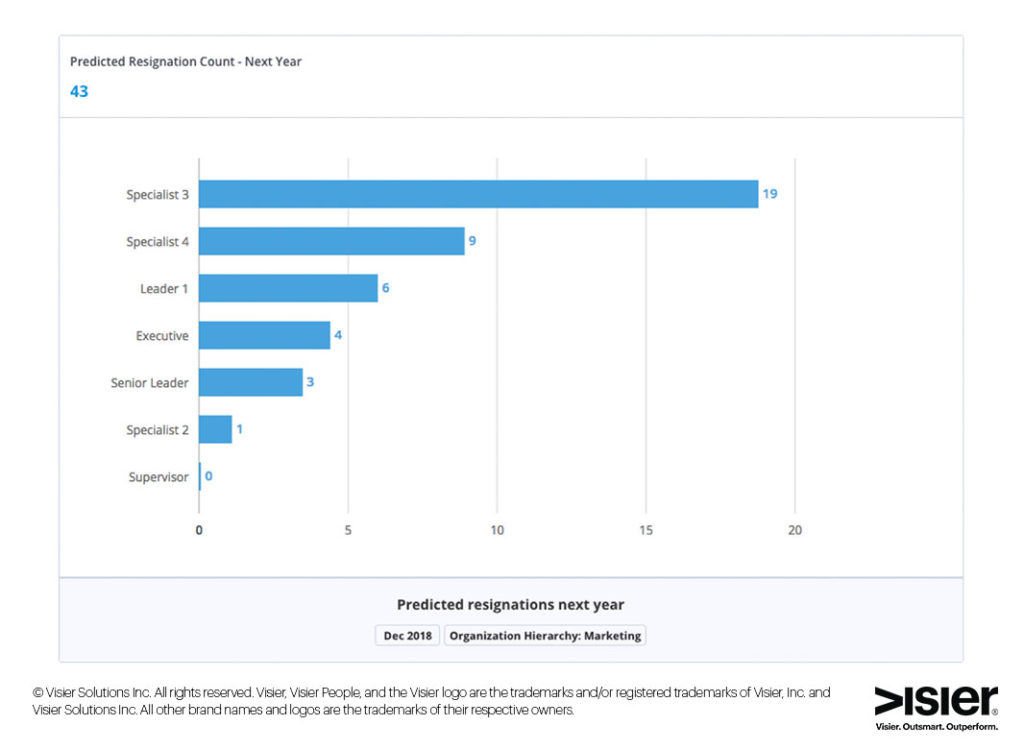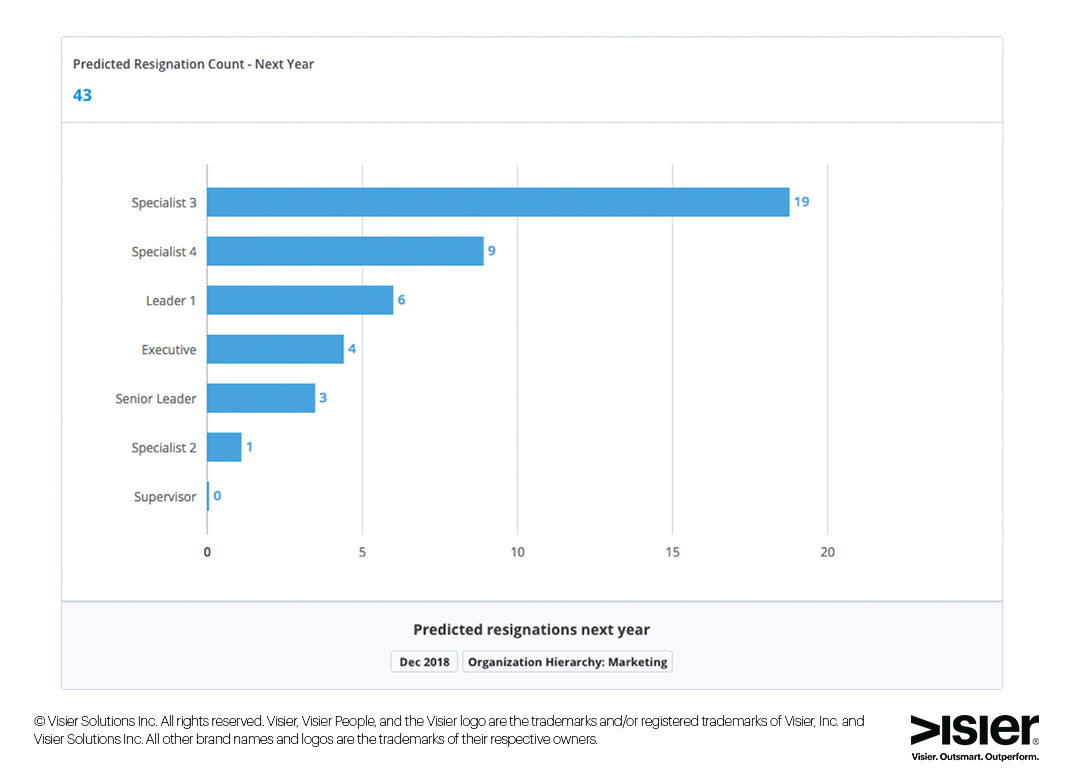 The most proactive HR teams start with better collaboration, ensuring turnover data definitions are consistent. At the technology level, when all the relevant data is accessed from one virtual platform, it helps establish trust in the numbers. Less time arguing about the accuracy of the data means more time spent uncovering and developing solutions to pressing problems.
Increase buy-in and credibility with the business
Turnover reduction is one of the ways that HR can impact the bottom line. If this is to be perceived as true beyond HR, then the CFO and other business leaders will need to be convinced that the results can be properly measured and delivered. By drilling deep into the data and being precise, HR can tackle turnover issues head-on–in a way that will positively impact the business.
Discover more ideas for turnover reduction interventions from our report on employee and manager turnover. Download it here today!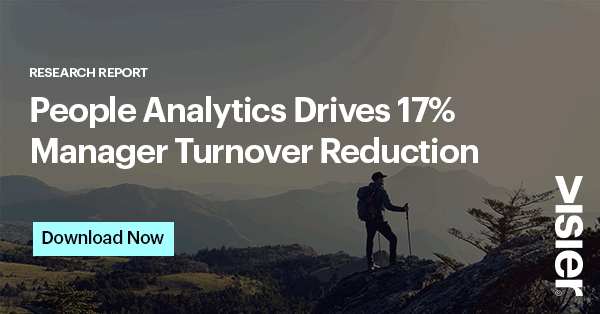 Be the first to know!
Never miss a story! Get the Outsmart newsletter.