Deeper Insights
3 Min Read
Building Your Business Case for People Analytics
Are you looking at buying a workforce analytics and planning (A.K.A. workforce intelligence) solution this year? You would be in good company.
Deloitte's 2016 Global Human Capital Trends report predicts that "in the not-too-distant future, it will become impossible to make any HR decisions without analytics. Indeed, analytics capabilities will be a fundamental requirement of the effective HR business partner."
[Tweet "Analytics capabilities will be a fundamental requirement of the effective HR business partner. – 2016 Global Human Capital Trends, Deloitte"]
Indeed, the "datafication of HR" is accelerating, driven by the critical need to create better business outcomes using evidence-based workforce decisions. Harris Poll (on behalf of Visier) surveyed 301 corporate executives across America, asking them for their view on the changing role of HR leadership.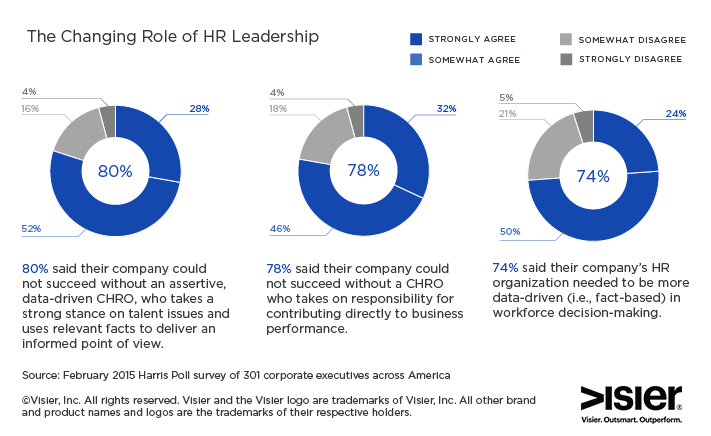 The driver behind these findings is simple: "A growing number of corporate boards, CEOs and CHROs understand that by applying data-driven solutions to improve decisions about talent, they can improve revenues and profits."As industry studies have shown, organizations that enable data-driven HR:
With its in-depth knowledge of human capital dynamics, HR is uniquely positioned to ensure the workforce is aligned with the needs of the business at the optimal cost. New technologies simplify the process of accessing the necessary workforce insights and using this data to more accurately plan for the future. Yet, how do you prove your business case for workforce intelligence? 
A strong business case shouldn't just show the HR benefits of the technology — i.e. "It will help improve employee retention" — but also explain to executives how the savings and gains from this investment will impact the organization's key performance indicators. It isn't an easy task to put into quantitative terms the value of better workforce insights and planning. The ebook, Make Your Business Case for People Analytics does a good job simplifying this task, giving you concrete ways to calculate the ROI of workforce intelligence. It's all you need to justify buying workforce analytics and planning. 
Now, more than ever, business leaders need strategic insight and the ability to model how workforce trends impact revenue and profits— quickly and accurately. As long as HR can make their case in the terms that matter to the business, acquiring the solutions they need to accelerate their datafication journey will be much easier.
Be the first to know!
Never miss a story! Get the Outsmart newsletter.