Over the past decade it has become clear that organizations don't just need people analytics, but effective people analytics. According DDI's 2018 Global Leadership Forecast, people analytics efforts were more likely to fail than not. But those who did succeed with analytics experienced many advantages.
First West Credit Union, for example, noticed that turnover was increasing at an alarming rate. The pressure was on to boost retention. After drilling into their workforce data, they discovered that turnover was focused within four key sales roles on the retail banking side of the organization, specifically in one particular region.
With this information, the company developed more effective recruitment, hiring, promotion, and training strategies, which led to $2.5 million in annual revenue generated by the roles that were retained.
The future of people analytics: New types of users
While people analytics is no silver bullet, organizations can and do extract real value from it. That's why we predict in our HR Trends 2020 report that people analytics will continue to spread. Adoption will accelerate among new types of organizations and new types of people within organizations–from C-suite executives all the way down to the employees themselves–who will use it to make better decisions.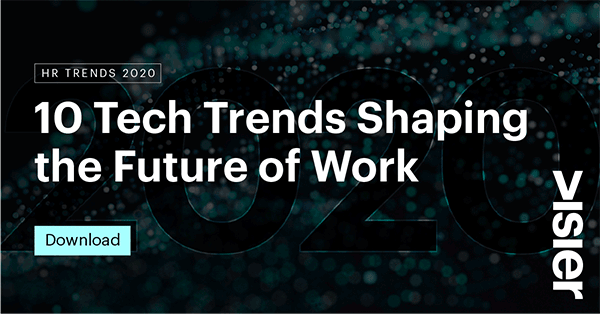 At the same time, the pace at which organizations will need to deploy this capability will accelerate. Continual business model transformation will become the norm, creating an urgent need for accurate people decisions everywhere, as well as people analytics solutions that prioritize surfacing meaningful and actionable answers for the user, rather than presenting data with little to no context.
Over the next decade, people analytics adoption will:
Surge among companies with fewer than 3,000 employees. In the past, people analytics was only possible at the large enterprise level, focusing on organizations that had the capacity to hire data scientists and analysts. With recent advances in cloud and analytics technology, it is now possible for organizations to subscribe to a people analytics solution without a hefty upfront investment. More vendors will offer people analytics that support the goals of mid-size organizations.

Accelerate among line managers. Whether it's deciding to accept or reject a counter offer or who to promote next, line managers make many important people decisions every day. Managers often make poor decisions based on gut feeling, while data-driven decisions are reserved for HR and senior leaders. Organizations will bust out of this model, and use people analytics to put data directly into the hands of all decision-makers to support better in-the-moment talent decisions.

Become increasingly urgent. The quickening pace of change means that when it comes to delivering people analytics as an enabler of business transformation, the main question for IT will be: how do we deliver the best time-to-value for people analytics? Because renting a people analytics platform delivers significantly better time-to-value at a fraction of the cost, building a people analytics solution in-house will become a thing of the past.
People analytics: Buyer beware
With more vendors responding to the increasing market demand for people analytics, HR leaders will need to be aware of other capabilities "masquerading" as people analytics. The term "analytics," for example, is often used interchangeably with other terms like "reports" and "business intelligence."
But they are not the same thing. Your basic reports are run against the system where data was originally created, such as your HRMS, Learning Management System (LMS), or Accounts Payable system. Analytic solutions, however, connect data from different records, transform it, normalize it, and facilitate the exploration of data.
Unlike transaction reports that simply display the data, analytics summarizes information and processes into metrics and measures to help you drive change. Can you seamlessly answer the next question that occurs to you, or do you need to run a whole new report? If the former, you're likely on your way to doing analytics.
With a basic understanding of these differences, you will be in a better position to enable data-driven decision making about your people. Consider these tips when starting on your people analytics journey:
Deploy your people analytics solution to all the relevant stakeholders within your organization.

Once a core group of users has been established, deploy the solution more broadly to other departments and to line managers.


Add more data sources to your people analytics solution.

These sources not only include HR and talent management systems, but also data from workforce management, safety, financials, operational systems unique to the industry, employee engagement, marketing, sales, as well as external benchmark data. Sierra-Cedar research shows that organizations that outperform are those that more frequently use a higher number of data sources and metrics. As a result, the scope of analytics in these organizations is broader and more impactful.


Prepare your organization for a data-driven culture.

Equip your people analytics champions with a narrative that highlights the benefits of making data-driven decisions so that you can maximize the number of users who will benefit from people analytics within your organization.
This topic appeared as "Trend #2: People Analytics Becomes Accessible to Everyone" in our HR Trends 2020 report. Download the full guide to get more tips related to this trend and learn about 9 other trends that will impact HR and work over the next decade.
About the author: Adam Binnie
Adam Binnie's passion is creating new products for customers that leverage analytics to transform how they do business. Adam is an analytics software veteran with more than twenty years experience, and has created wholly new analytics software and solutions for organization like SAP, Business Objects, and Crystal Decisions.
Be the first to know!
Never miss a story! Get the Outsmart newsletter.
Related Articles
TALENT MANAGEMENT
Employers have shifted from asking what they can get from employees to asking what they can do for employees. Here's how to act on this trend.
PRODUCT INSIGHTS
These stories reveal how others use people analytics analysis, what they learn from their analysis and, how they then take action to achieve value.
TALENT MANAGEMENT
Follow these 4 steps to move away from focusing on your organization's turnover rate and instead, calculate how it impacts your organization's bottom line.