You may be familiar with the 4 C's of diamonds – cut, color, clarity and carat. These are four variables that combine to evaluate and communicate the quality of diamonds.
Quality has many facets (if you'll forgive the pun), all of which must be considered to ensure you are getting the characteristics you desire in a stone. The same can be said of quality of hire.
There are many elements that go into understanding quality when it comes to talent acquisition. So I'd like to propose 4 C's of Quality of Hire, to help organizations improve the quality of their hires and their hiring processes: Candidate, Consistency, Contribution, and Commitment.
Candidate
It has been said that today, the candidate is king. Aptitude Research Partners' recent talent acquisition research found that 87% of organizations felt that a positive candidate experience has a significant impact on a candidate's decision to join the organization, second only to compensation.
In addition, putting in place a formal process to get feedback from candidates on the hiring process was the number one capability cited by study respondents. It's only a quality experience if the candidate agrees that it was a high quality experience, no matter how efficient it is for the organization.
Consistency
Delivering a great candidate experience one time is not enough. Organizations must ensure they are providing a consistent experience across the organization and across roles. Consistency is at the core of a strong employment brand. It means setting applicant expectations and delivering on them. So it's not surprising that delivering a consistent candidate experience was the top strategy in place among organizations with above average quality of hire.
Consistent, positive processes also play a role in building or protecting your reputation as an employer. Our research shows 67% of organizations feel that their online reputation on sites like LinkedIn or Glassdoor have significant influence on someone's decision to join.
Why People Join Companies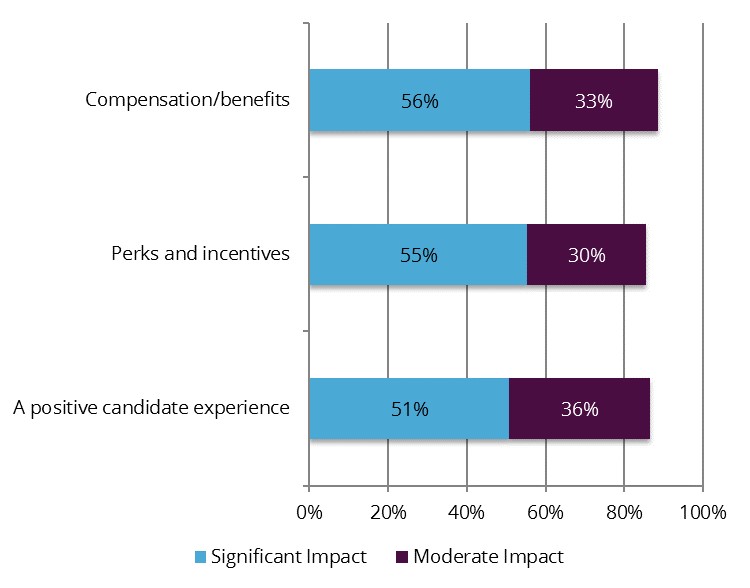 Contribution
When we asked our study respondents to break down quality of hire, the most common element was first year performance, cited by 67%. In addition, 43% look at contribution to team performance when evaluating quality of hire.
The ability to integrate hiring data with individual and team performance data, as well as with other talent management data, is an incredibly important element to understanding whether or not you are getting real value from your new hires.
By looking down the road and understanding who created differentiated or lasting value to the organization through ongoing high-performance, promotions, and other measures of business impact, organizations get a much better picture of their truly successful hires. Impact on the business must be the standard by which recruiting is measured.
Commitment
Hiring has real costs. Financial costs, resource costs, and opportunity costs.
When you get the right fit, the return on this investment is well worth it, but having to go through the process again due to new hire attrition can be painful. So organizations must do everything they can during the hiring process to ensure they can find candidates that will commit to the organization and be a good long-term fit.
Organizations using tools like pre-hire assessments to ensure cultural fit are five times less likely to lose high-potential people compared to those not using such tools to look for fit.
Organizations are also looking to better recruitment marketing to improve quality of hire. By clearly articulating organizational values, as well as role requirements, it is easier for candidates to self-select into roles and organizations where they can be most productive.
Quality of hire has real business impact. Our research has shown that organizations with higher levels of quality of hire also have higher overall engagement and lower turnover. But when looking to improve quality of hire, organizations must consider multiple views of the quality of the experience and its outcomes.
Getting the 4 C's of Quality of Hire sets the tone for long-standing, productive employer/employee relationships. Tune in for the next article in our blog series, where we will look at how workforce planning can transform talent acquisition from a reactive process to a strategic advantage.
Note: The image used in this blog is credited to Aptitude Research Partners.
About the author: Mollie Lombardi
With nearly two decades spent advising, developing, and studying HR and business leaders, Mollie brings a wealth of knowledge and experience in human capital and workforce management to help ignite a new conversation at the intersection of HR technology, strategy, and impact. As Co-Founder and CEO of Aptitude Research Partners, she focuses on primary research covering end-to-end human capital management, to help organizations better understand their HR needs and the landscape of HCM technology solutions, and to help solution providers articulate the unique differentiators they bring to meet those needs. She has spoken around the globe to HR audiences on topics across the HCM spectrum, and has authored hundreds of research reports and papers. Her research has been featured in the Wall Street Journal, eLearning Magazine, CIO Magazine and other trade publications. Prior to Aptitude Research Partners Mollie was Vice President, Workforce Management at Brandon Hall Group and Vice President and Principle Analyst, Human Capital Management at Aberdeen Group.
Be the first to know!
Never miss a story! Get the Outsmart newsletter.
Related Articles
PRODUCT INSIGHTS
In this article, Mollie Lombardi looks at how recruiting metrics have changed and how talent acquisition leaders are using these new measures of success.
TRENDS
This Fall 2016 round up of HR analytics articles provides different perspectives on how to take full advantage of people analytics.
LEADERSHIP
What is the value of HR analytics? Lexy Martin explores findings from recent research, including the four characteristics of quantified organizations.