Harvard Business Review Analytic Services recently sat down with our CEO, John Schwarz, to discuss why workforce planning is such a challenge, and what HR leaders can do to ensure they have a stronger voice in the process.
The majority of leaders (73 percent) have experienced talent shortfalls due to poor workforce planning, according to a new report released by Harvard Business Review Analytic Services (HBR-AS). Although business leaders know talent shortfalls prevent their companies from achieving their business goals, the report reveals that they have not aligned their workforce planning process to manage the issue.
HBR-AS: Why do companies have so much difficulty developing effective workforce plans?
John Schwarz: The Harvard Business Review Analytic Services survey results shared in this report are in line with what I hear from customers, and from my past experiences as an executive at companies like SAP, Business Objects, Symantec, and IBM. At a high level, the workforce planning challenge is that the budgets created by finance have little to do with the actual talent needed to execute the business objectives.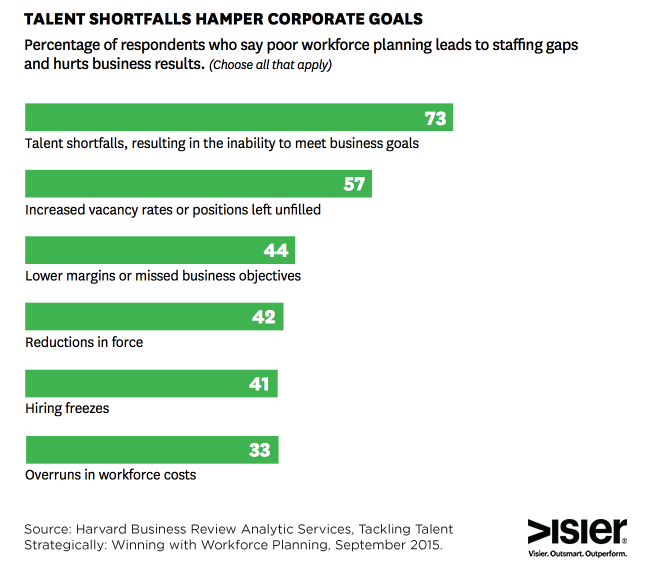 HBR-AS: How can companies shift the workforce discussion to focus on business requirements?
John Schwarz: HR, with its understanding of workforce dynamics, is uniquely positioned in the organization to ensure the workforce is aligned with the needs of the business, at the optimal cost.
HR systems are ripe with disparate data that describe the organization, past and present. Visier's Workforce Intelligence solutions connect all this data together to create a highly accurate starting point for a bottom-up workforce plan. Organizations can match talent needs to available dollars, and vice versa.
Workforce planning is ultimately about ensuring you have the talent needed to deliver on your business goals. With Visier, you can forecast and model trends, such as cost, hiring success, and attrition, and then align with business leaders on the scenario that is most optimal to what you want to achieve.
HBR-AS: What has prevented companies from adopting a data-driven approach to workforce planning?
John Schwarz: HR tends to be organizationally not as well positioned as finance. A key reason for this is that HR has been underserved by information technology — while ripe with transactional workforce data, this data is spread across ERP, HR management, payroll, applicant tracking, and other systems, not to mention in lots of spreadsheets.
The first thing we do at Visier is to connect all this valuable data together in one place on our SaaS platform. We then make it accessible in real time via an intuitive, easy-to-consume user interface. While we count many HR analysts among our power users, we count even more HR business partners, practitioners, and leaders, who would not consider themselves "data savvy." Companies that are most successful with data-driven HR are those that recognize that they need to promote a data-driven culture across the enterprise, not just with an exclusive set of leaders.
HBR-AS: Do you have solutions for companies trying to overcome these hurdles?
John Schwarz: At Visier we are pioneering a new approach to workforce planning that enables HR to play a key role in connecting talent with operational and strategic business objectives, and driving better business outcomes. A number of the world's best brands are already on board with this new approach, and we're seeing the growth of that number accelerating.
About the author: Karra Barron
Karra Barron is Visier's Sr. Content Marketing Manager and has over a decade of experience using storytelling to move people into action. At Visier, she is responsible for developing a wide range of thought leadership resources that educate and inspire business users to become data-driven leaders.
Be the first to know!
Never miss a story! Get the Outsmart newsletter.
Related Articles
LEADERSHIP
This post looks at five key metrics for manager effectiveness that will help your organization motivate talents and reduce high performers resignation rate.
TRENDS
Tracking recruitment success to drive tech innovation - Here are five indispensable recruitment metrics that will help you efficiently land quality talent.
NEWS AND CASE STUDIES
We searched for articles about day-to-day HR issues that earned high numbers of social media shares, and found 18 popular articles for strategic HR.