At our recent Outsmart panel, Accelerating Growth Through People Strategies, Visier's Chief Strategy Officer Dave Weisbeck, interviewed four experts, Cecilia Haag, Southeast Regional Account Executive of Middle Market Solutions for Insperity, Stephen Bruce, Managing Director of PeopleFluent, and Chris Bovard, Vice President of Product Strategy at Paycor.
These professionals spoke about the unique challenges of people strategy for small and mid-sized businesses, and how the COVID-19 pandemic presented an entirely new, and truly unprecedented, set of challenges. Here, we unpack how this historic time has affected small- and mid-sized businesses and their people.
The COVID-19 pandemic disrupted HR and people analytics teams everywhere, but its challenges were felt especially by small- and medium-sized businesses, with between 100 and 5,000 employees. While people are the backbone of every organization, on smaller teams, each individual has an even greater impact. That means that changes affecting their people will be felt exponentially more throughout smaller organizations.
An accelerated rate of change
Perhaps the most notable change spurred by the pandemic was the much faster, more reactive style of decision-making that HR teams found themselves pushed into. "We've seen a shorter timeframe by which people are trying to plan," says Weisbeck. "There's so much change and uncertainty that the classic way businesses are run, of building annual plans and measuring quarterly to see progress, has been thrown out the window."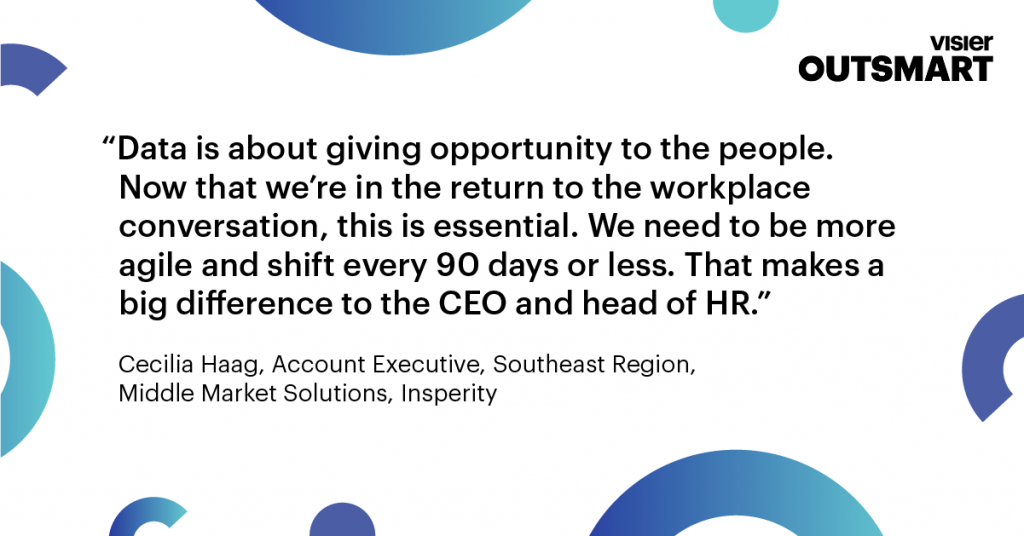 Of course, these massive shifts affected overall business objectives like sales and revenue, but perhaps more importantly, they affected employees' day-to-day, working lives. "In certain organizations, HR… is about liability," says Cecilia Rodriguez. "It's easy to let your HR department become nothing more than that. But the pandemic impacted people. And the people impact the organization."
In this climate, HR teams needed to act quickly to take care of their people—to understand, in practical terms, how they were impacted and how they can be supported. For the experts on this panel, taking care of people is one and the same with taking care of their organization, and ensuring it can reach its goals.
Seismic shifts in how we work
Not only were HR decisions expected to make decisions much more quickly during COVID-19, the impact of those decisions was often much greater than ever before.
"There's been a huge challenge for HR," says Stephen Bruce. "They were dealing with changing workforce capabilities, reorganization…. everything from furloughs to downsizing. People were having to homeschool their children, having to look for alternative work schedules. And then we start to talk about organizations that did salary deferrals and changes in pay. It was a massive impact."
To implement these changes as smoothly as possible, HR departments suddenly needed to communicate more—and differently—than they had been expected to before. With teams trying to adjust to remote work while struggling to cope with instability, lockdowns, and in some cases complete or near-complete ceasing of operations, HR needed to provide workers with reassurance and a sense of security—all without even seeing their employees in person.
"Folks are often very concerned about the stability of their businesses, the stability of their jobs," explains Chris Bovard. "It just became this demand for a lot more communication, specifically from HR, and the expectation was that it be more frequent, and definitely more omnichannel, than it has in the past."
Analytics for responsive decision-making
These high-impact decisions, many arising from unprecedented and unforeseen circumstances, needed to be made quickly and responsibly. To act decisively under pressure, HR teams must know how their peoples' lives—not to mention their profits—would actually be affected by their choices.
In this landscape, analytics became even more crucially important. To make sound, data-driven decisions on a consistent and ongoing basis, professionals needed systems that could generate insights and predictions based on accurate, up-to-the-minute data.
"One of the things I love about Visier is that we can look at [a particular time period against] that same period last quarter," says Rodriguez. "Because now, we're a lot more agile. We're making decisions 90 days at a time and then shifting gears every 30 days, as opposed to once a year and shifting every quarter."
Analytics give HR teams confidence that their decisions are responsible, compassionate, and will impact employees positively—or at the very least, minimize the negative impacts and disruption of this time of historic change.
"What we're seeing most, is just the need for quick answers," continues Bovard. "What does ramping down look like if our business takes a strange turn, and we have to go through furloughs or layoffs? How does the business change, either with putting people in different seats, bringing different people in or moving people out?"
Rapid change—and growth
While this is an unprecedented and disorienting rate of change for the HR field, especially at small- and mid-sized businesses, these professionals were optimistic about the changes it has spurred. "HR has definitely evolved as a result of having to go through this," concluded Bovard. "I think it will be really interesting to see how the practice continues to evolve as we get back to whatever normal looks like, post COVID-19."
While these shifts in the HR discipline may seem profoundly unexpected, the reality is that the pandemic simply accelerated existing trends around how businesses connect with, and care for, their people.
"The pandemic had an economic side to it, but it was a people issue first and foremost," explained Weisbeck. "We've seen a persistently shorter time to plan, and a shorter cycle to arrive at better answers. I think whenever we have a lot of change, that creates challenges, but also opportunities."
About the author: Visier Team
People-centered ideas and insights by the editorial team at Visier.
Be the first to know!
Never miss a story! Get the Outsmart newsletter.
Related Articles
PRODUCT INSIGHTS
Visier customers share their talent acquisition analytics lessons that helps them get clear information and insights on their hiring practices.
LEADERSHIP
Top people analytics experts share their views on what HR can expect from a data-driven future, including adaptive leadership strategies and roles needed five years from now.
OUTSMART EXCLUSIVE
Reskilling is critical to preparing for the future so experts from Willis Towers Watson and Visier shared seven strategies you can implement today.