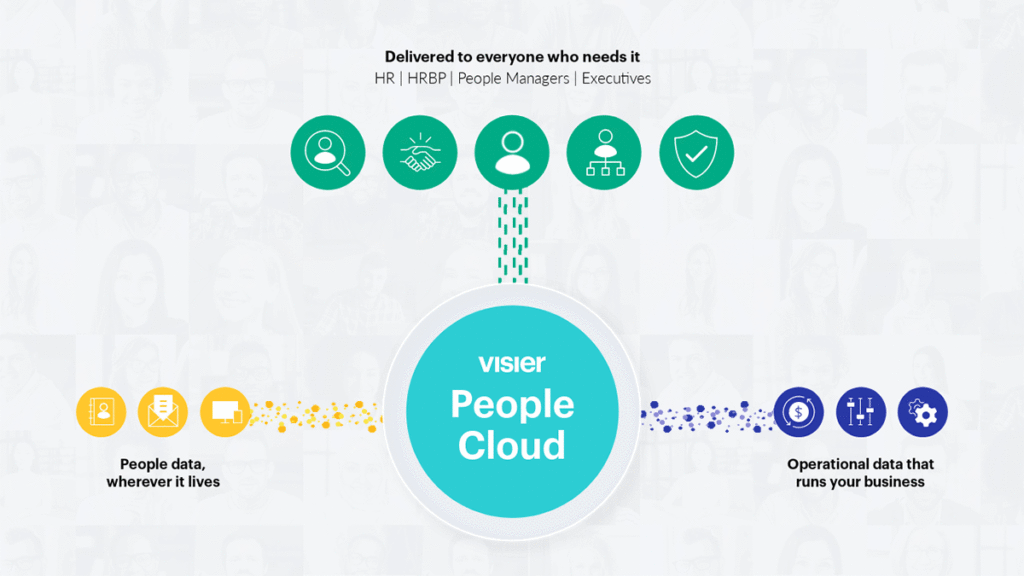 ---
In most industries, the last 25 years has been marked by an almost breathless obsession with the customer–how to acquire them, how to keep them, and how to maximize their lifetime value. 
I am convinced that the next 25 years will be similarly consumed by the employee–how to acquire them, how to keep them, and how to maximize the value they contribute to a business.
I recently shared this prediction with a well known industry analyst. Not only did he vehemently agree with the premise. He also upped the ante: 
Understanding the employee is even more consequential than understanding the customer. 
To illustrate the point, he offered the scenario of a mistargeted customer email. Annoying, yes, but until and unless it becomes a pervasive issue, it's generally forgotten or forgiven. The annoying email passes without consequence. 
Not so with an employee. When you demonstrate that you don't know them or don't particularly care, even once, it has much more dramatic consequences—particularly right now. 
The point is that, in the same way that understanding the customer has been the strategic imperative of virtually every category leader of today, understanding the employee will become the strategic imperative of every category leader of tomorrow.
Introducing the People Cloud
Visier today announced the next act of the people analytics category with a bold vision for what is next in the world of workforce data—a vision that has far-reaching implications for the future of business. The goal of the people cloud is to deliver on Visier's worthy mission:
To reveal the human truth that helps business and employees win together.
---
The evolution of employee data
To understand the people cloud you need to first understand the history of employee data. 
Human capital management (HCM) systems like Workday streamlined and automated the transactions and recordkeeping between employees and employers—vacation requests, sick time, performance reviews, etc.—for the purpose of efficiency and compliance. 
People analytics platforms like Visier then extracted insight from HCM and other sources (it turns out that only 10-15% of worker data lives in HCM systems and much of it is outside your organization) to improve decision making across the employee lifecycle.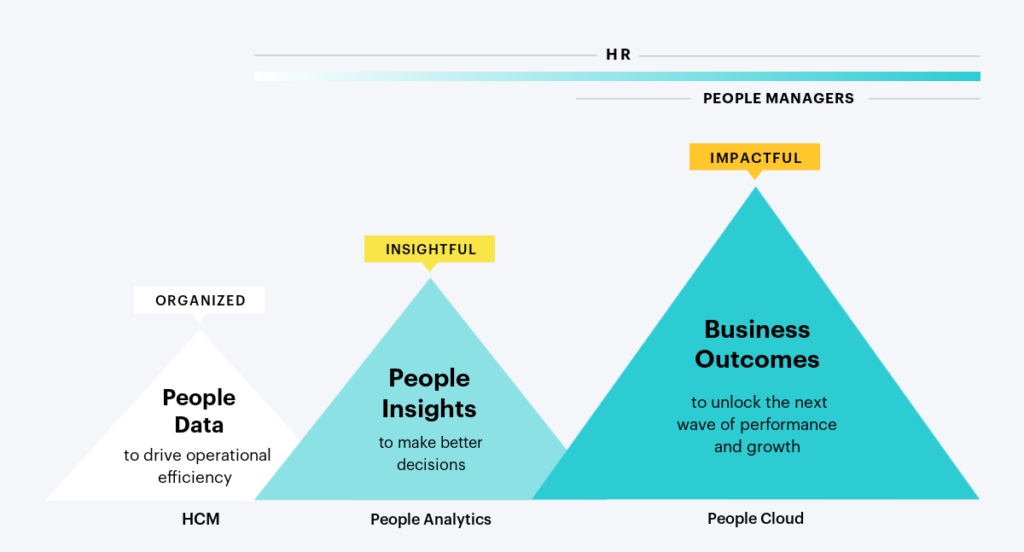 ---
The people cloud is the next step on this journey where these insights are connected to the business itself, and then democratized to the people managers who can most directly impact outcomes for both the employee and the business.
---
The people cloud in action
The reality is that this people cloud vision is already here. Literally dozens of Visier customers–some of the most recognizable brands in the world—are already combining people data with business data and putting these insights directly into the hands of leaders. 
Here are just a few examples of the questions their leaders are able to answer today:
Do we have the necessary capacity to meet our annual plan? When and where do we need to hire or promote people based on expected ramp time, performance attainment, and resignation rates?
Who of my highest performers are likely to resign? What are the contributors to this resignation risk and what can I do about it?
What is the impact—positive or negative—of our training programs? For example, what impact does sales enablement have on quota attainment? What are the other factors that are driving higher and lower performance on our teams?
How should we reorient our production operations to ensure we have enough people to meet our targets? What impact will resignations and wage inflation have on our operating costs?
---
---
The decision hub for the people-powered organization
The people cloud combines people data, wherever it lives, with business data (think CRM, service desk, etc.) to illuminate how people shape business results. This helps managers and executives to understand the explicit connection between people and the goals and objectives of the business—helping leaders to zoom in, zoom out, and see around corners to make better decisions about hiring, training, promoting, reporting lines, org structure, etc. 
The result is a lens on both the business and the employee—and specifically where they intersect and best align to deliver maximal value for both the organization and the human being.
Every company relies on people to deliver results. But I'd make the important distinction between companies that treat their employees as necessary, but commodified, inputs in value creation, and those that treat employees as equal partners in the endeavor. 
Of course virtually every company says they already do this—just as every company claims to be customer-centric. But the difference in a people-powered organization is the depth of their understanding of the employee, and their willingness and ability to put these insights to work.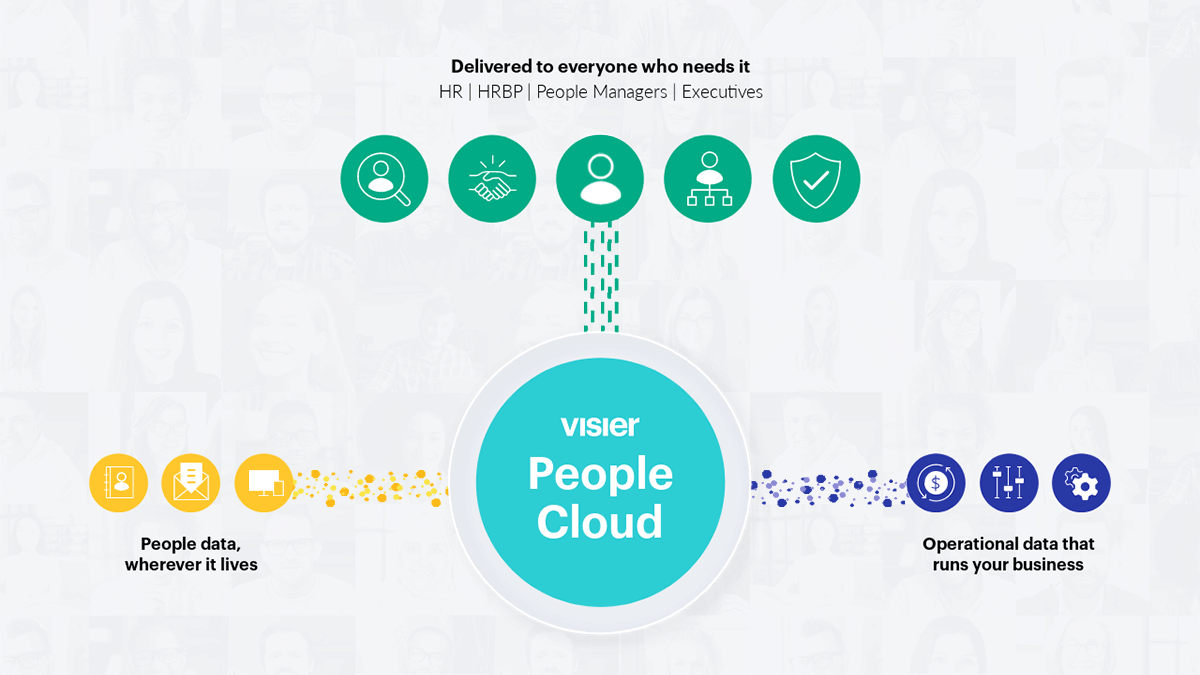 ---
There are three essential characteristics of the people cloud:
1. Connecting people to business outcomes
This is where people data scattered across all manner of systems and sources, inside and outside an organization, comes together with the operational data that runs the business. This helps companies to see the relationship between people and teams and the desired outcomes of the business. 
2. Arming leaders with the insights to lead
These insights are then securely shared with those who are best equipped to make decisions, at the appropriate moments of need. This orchestration of data ensures that the insights aren't hidden away in some HR system or revealed through periodic reporting cycles where they can only be understood retroactively, but as a continuous stream of leading indicators, nudges, and alerts.
3. Understanding what good looks like
Goals and KPIs are critical context for understanding how to interpret these people insights, yes, but so are comparative benchmarks based on an aggregated and anonymized view of similar organizations. The people cloud puts all of this context at a leader's fingertips so they can make the most informed and responsible decisions on behalf of the organization and the employee.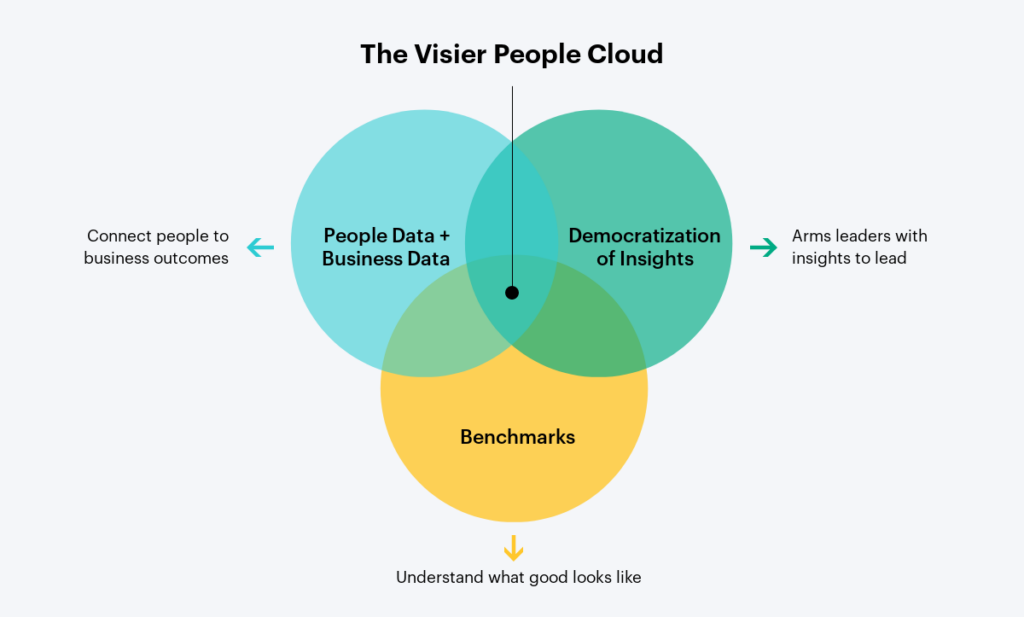 ---
Toward a people-powered future
The future is always represented in small ways by a minority of progressive organizations who have the courage and conviction to approach a problem in new and novel ways. William Gibson said that the future is already here—it's just unevenly distributed. 
Dozens of Visier customers are already there. Next comes the exciting part as this narrow slice of the future expands and intersects with the actual future and the fullness of this bold vision comes to life in transformational ways. That is the promise of the people cloud.
To be honest, it's just not just the rightness of the people cloud concept that will bring it to life—but the necessity. 
Regulators are already shaping policy that requires public disclosure of worker data, which will mandate a deeper (and, ultimately, publicly demonstrated) understanding of employees. And employees themselves are voting with their feet, leaving their jobs in record numbers in pursuit of companies that understand them better.
So the people cloud as I've described it here isn't futuristic at all. It's a simple and straightforward—perhaps even obvious—roadmap for the inevitable future of business. 
About the author: Jake Sorofman
Jake Sorofman is Chief Marketing Officer of Visier. Previously, Jake was president of MetaCX, CMO of Pendo, and chief of research at Gartner. His writing has appeared in dozens of publications, including Forbes, Inc., and Harvard Business Review.
Be the first to know!
Never miss a story! Get the Outsmart newsletter.
Related Articles
LEADERSHIP
Is your CHRO the only one with access to people data? Find out five ways companies benefit when managers have their hands on people data.
THE C SHEET
This week in workforce news: The U.S. Women's Soccer team has reaches a settlement for equal pay and a rise in moral injury at work.
TRENDS
Should you include salary ranges with job postings? Is transparency the key to talent acquisition or does pay transparency limit your talent pool?