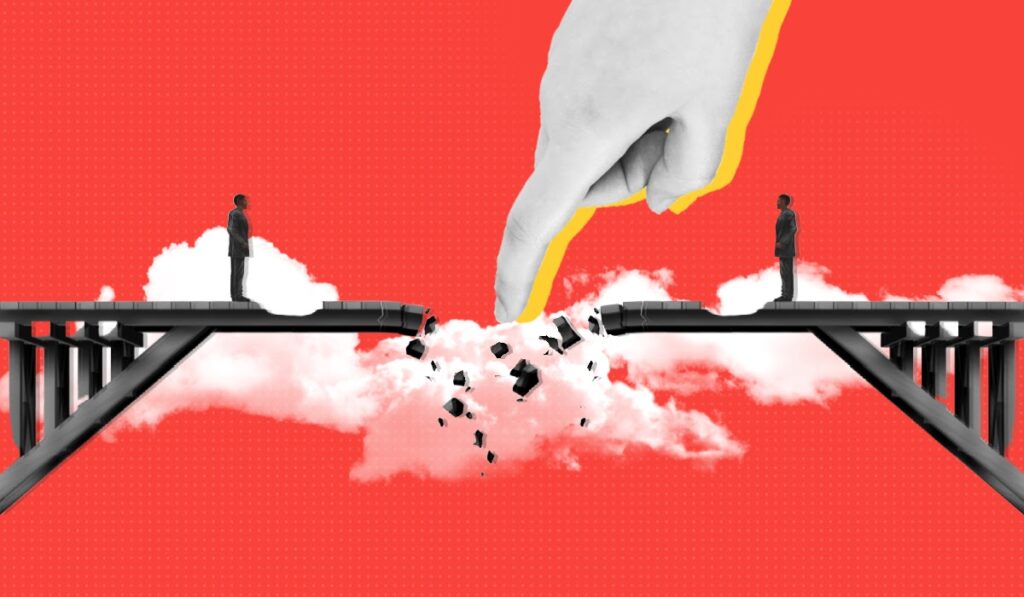 There can be no doubt that the events of 2020 are among the most disruptive the world of work has seen in many decades. The depth and extent of the changes to the whole process of work that occurred are still being understood, and the repercussions of this major disruption will be felt for the next decade or more.
One of these disruptions is, of course, the "Great Resignation," with the impacts of open positions and the challenges employers face in re-energizing, or replacing their people currently in full effect. There is another significant aspect of pandemic-influenced change that occurs within organizations that can be equally disruptive:the redesign of work—how we do it, when we do it, and where. For organizations, this reconfiguring will lead to new jobs, teams, organizing and reporting structures, all designed and deployed to align the company with a changing economic reality. For individuals this leads to deep changes which can radically alter their relationship to work. Changes to the tasks they were doing, who they work with, report to, and how this all aligns to the overall results of the business create a disruption which is not always welcome.
Anticipating change to both organizations and people
As the crisis hit, like many organizations, Visier was focused on keeping our people safe and enabling our clients to react to the pandemic, in people-focused ways. During this time we talked with many clients who were engaged in re-deploying their employees to different roles or areas of work in response to changing customer needs. For example, shifting branch banking staff from in-branch to working from home supporting online banking processes.
As the pandemic continued we realized that some of the instant reactions that organizations took would not quickly reverse and may indeed lead to completely different operating models. This view was further supported by research from McKinsey, which found that nine out of ten organizations did not expect their pre-pandemic business model to last. In addition, our own research into our client practices showed that 60% of the customers we surveyed were utilizing Visier for organizational redesign work. Only retention, diversity, and compensation had a higher rate of use.
Inspired by our customers and the business research we turned our attention to understanding the impact that the pandemic had on the way organizations were structuring work, looking to understand what, if anything, had changed and, if possible, could we decipher what the long term repercussions of these changes would be. Our goal being to inform and prepare senior leaders about the impacts to and upon their people fso they would be ready to meet the challenges of a changing work landscape.
We were also aware that every job belongs to a person and that changes in roles would impact people's experience of work. We hoped to understand if the rate of change had increased and how this change was impacting companies and the people that make them function.
The view from within
Visier has access to the detailed, anonymized employee records from thousands of organizations, representing millions of employees. The insights gained from this data allow us to analyze the patterns from a data set that is loaded directly from each client's systems of record. This provides a unique opportunity to answer critical business questions with a high degree of confidence that other methods can only approximate.
We hypothesized that the pandemic would lead to increases in the rate of job change within an organization. By "job change" we mean an employee changing to a different job name and staying within the same organization. From history we know that a portion of these job changes will come from promotions, however a far higher proportion come from organizational redesigns where new teams, departments, or even business units are created and people are moved from doing the work they were doing, to doing work within a different overall structure. So as a base measure we counted the number of people who had a change in job name in a given period and then normalized this over the average employee population during the same period. For example if the average population was 100 people and 10 people changed job names then the rate of change would be expressed as 10%.
Pandemic-induced job change
The chart below shows the high-level findings from our analysis. As expected, the rate of change in job names increased significantly from the rates prior to the pandemic. The underlying trend was up with peak rates of 50% above pre-pandemic levels. And the frequency with which this change was happening also increased, indicating that more organizations were making substantial changes to the work their people were doing.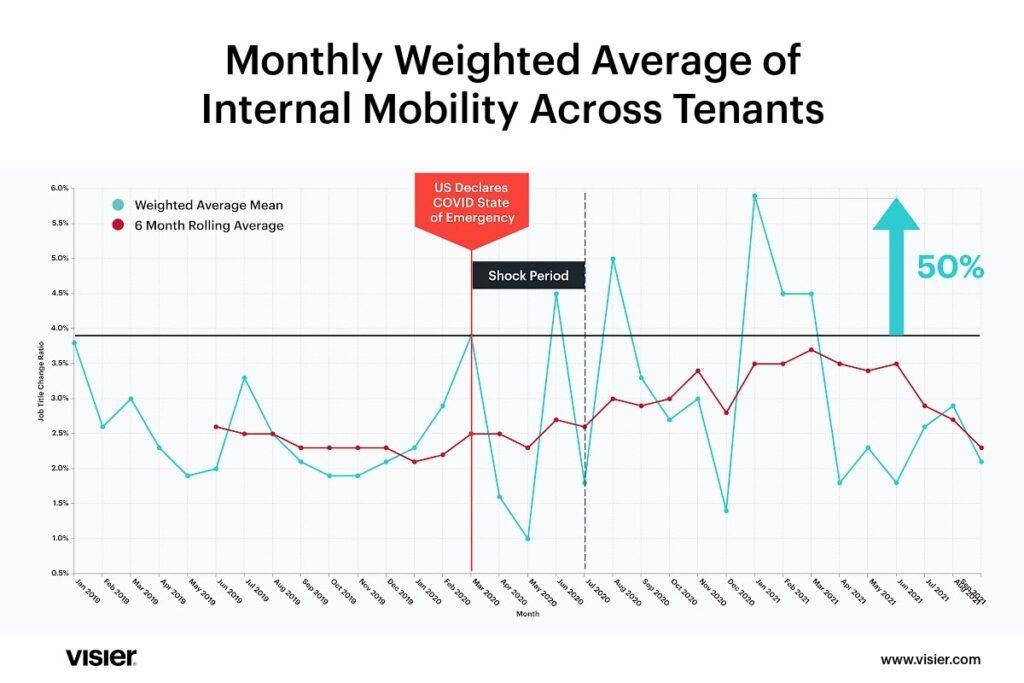 These insights confirmed for us that more change was happening, more often, triggered by the pandemic. What was also clear is that this increased rate of change lasted over a period of almost a year. The rolling six-month trend line indicates that the underlying trend started to slow down around May of 2021.
Shock or response?
From this first view we decided to further segment our analysis. Looking at the different time periods, aiming to understand the difference between changes that were driven as a response to rapid negative economic impacts versus those that came as part of a long-term response, anticipating how the economic conditions would evolve after the initial shock.
We broke our time series into three periods: Pre-Lockdown up to March 2020, Shock Period from March 2020 to August 2020 and Response Period from September 2020 until September 2021 and calculated a mean rate for each period. Looking at the rates of change this way showed that overall change had started during the shock period and continued to increase during the response period.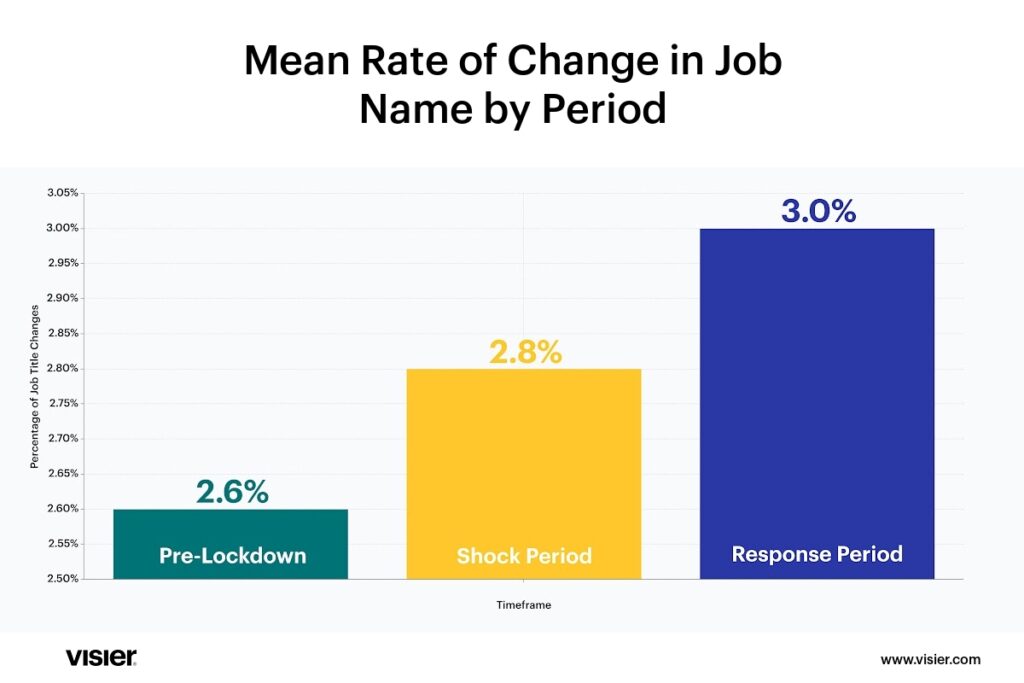 The fact that changes had continued to happen during the extended period after the initial lockdown—and that this period was combined with a rebound in economic activity—suggests that much of this change is targeted at reshaping or redesigning organizations to align with evolving business models.
The pandemic's impact by industry
Based on client conversations and information from the business press it was clear that the disruption caused by the pandemic was impacting different business sectors in different ways. This observation led us to segment our analysis by the major industries that are represented within the Visier Community Data set. This segmentation produced results which further reinforced the differing impacts and how that could have affected the work experiences of people in each of these industries.
For example the figure 3 shows that both the finance (Fire) and high tech (HT) sectors, initially reduced their rates of change. Putting planned movements on pause as an initial reaction to the lockdown. However both of these industries increased their rates of change during the response phase, with high tech returning to close to their pre-lockdown norm, and finance increasing their rates of change by close to 70% above their pre-covid levels. Banking is one of the sectors that saw a rapid shift in customer behavior which moved from a majority in branch to a majority online.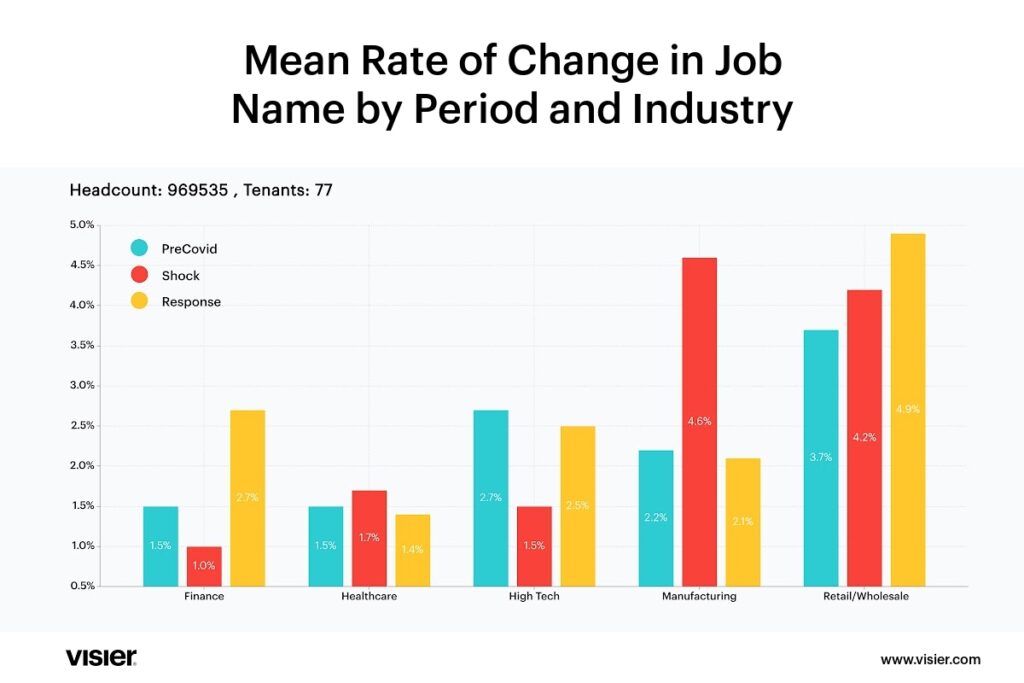 In comparison our clients in the manufacturing sector (MFGT) made rapid adjustments during the lockdown phase. Returning to pre-pandemic levels after the initial shock. And our clients in the retail, warehousing, transportation, and wholesale sector (RWTW) introduced change in reaction to lockdown and continue to introduce changes during the response phase. The economic impacts facing this sector have been profound and volatile, likely contributing to the increasing rates of change and their associated effects on people.
The sector most deeply impacted by the pandemic is healthcare (HC), and yet they are the sector which has seen the least difference in their pattern of change. This is likely a reflection of the demands of healthcare delivery where there is limited scope for organizational redesign.
Time for some stability
In conducting this research we sought to understand what, if any, disruption organizations were going through as they redesigned their work processes in response to the pandemic and other events of 2020/21. The level of change, measured through the rate at which people internally change jobs, elevated immediately when lockdowns started and remained elevated for at least 12 months after this initial shock. Different sectors have experienced different economic forces and there is some indication that those sectors whose business models were most challenged were those who activated the most job change. (That healthcare is an exception to this statement is likely due to the specific demands of healthcare service delivery. Which leaves very little room for radical change.). There are early indicators that these rates of change are reducing as the economic path forward becomes more clear and business confidence stabilizes.
It is too soon to clearly identify the long term effects of all this change. Further research work is required to make deeper connections between these changes and their impacts to people and results. What is clear is that across all sectors the work that people do, who they do it for, and how this aligns to the goals of the organization, has been significantly disrupted. We know that change can be hard on people emotionally and mentally. If you are a CHRO and your people are showing signs of burnout, or your resignation rates are increasing, it is time to explain to your executive the value that employees place on stability. It may also be time to ensure that senior leaders are communicating clearly and frequently about the business opportunities that lie ahead and the importance of the role people will play in achieving them.
About the author: Ian Cook
Ian is an advocate for the crucial role that people play in helping companies thrive. His career has focused on enabling people, teams and companies to perform at their best. For the last 15 years Ian has been helping leaders elevate their HR strategies and programs through the effective use of people analytics. At Visier, Ian led the development of our market leading solution and is now focused on the overall strategy for the people analytics business.
Be the first to know!
Never miss a story! Get the Outsmart newsletter.
Related Articles
TRENDS
What does "the Great Resignation" mean and what are its causes? Read a round up of different media takes on this subject.
TRENDS
This week in workforce news: the newest Great Resignation trends, unequal feedback, and why you should be doing stay interviews.
CULTURE
How does data help a desire to 'do the right thing' manifest as systemic change? Here we share how to accelerate progress on your diversity goals.