Over the past few months, I had the privilege of taking part in a ground-breaking research project. It leveraged the Visier Insights database — a workforce database unmatched in the world in its breadth and depth, which allowed us to examine gender equity like never before. Here's what we found.
Discovering the truth behind the gender wage gap is no easy task — and neither is closing it.
In the last 20 years, despite considerable attention, the gender wage gap has only improved by 8% — a slow pace of improvement that indicates removing the gap entirely is more than a generation away. Although significant progress has been made in employers proactively pursuing policies of equal pay for equal positions, this alone will not close the gap: gender equity is a complex and systemic issue that requires action on many fronts.
But, there is good news: a new finding (released this week) that may provide HR with the key to accelerating pay equity — and the economic and social benefits that come with it.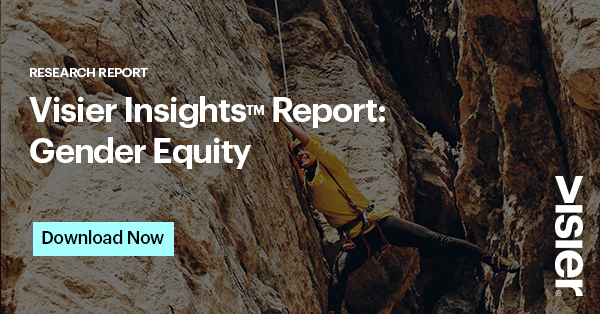 The Manager Divide: A New Finding to Watch
The Manager Divide clearly links an underrepresentation of women in manager positions — at key points in their careers — to a widening of the gender wage gap. Eliminating the Manager Divide, which coincides with the years in which women typically have children, would cut the gender wage gap by nearly one-third. Furthermore, eliminating the Manager Divide and ensuring gender pay equity in manager positions would reduce the gender wage gap by almost one-half for workers over age 32.
The key findings, based on our analysis of the workforces of large US enterprises, are: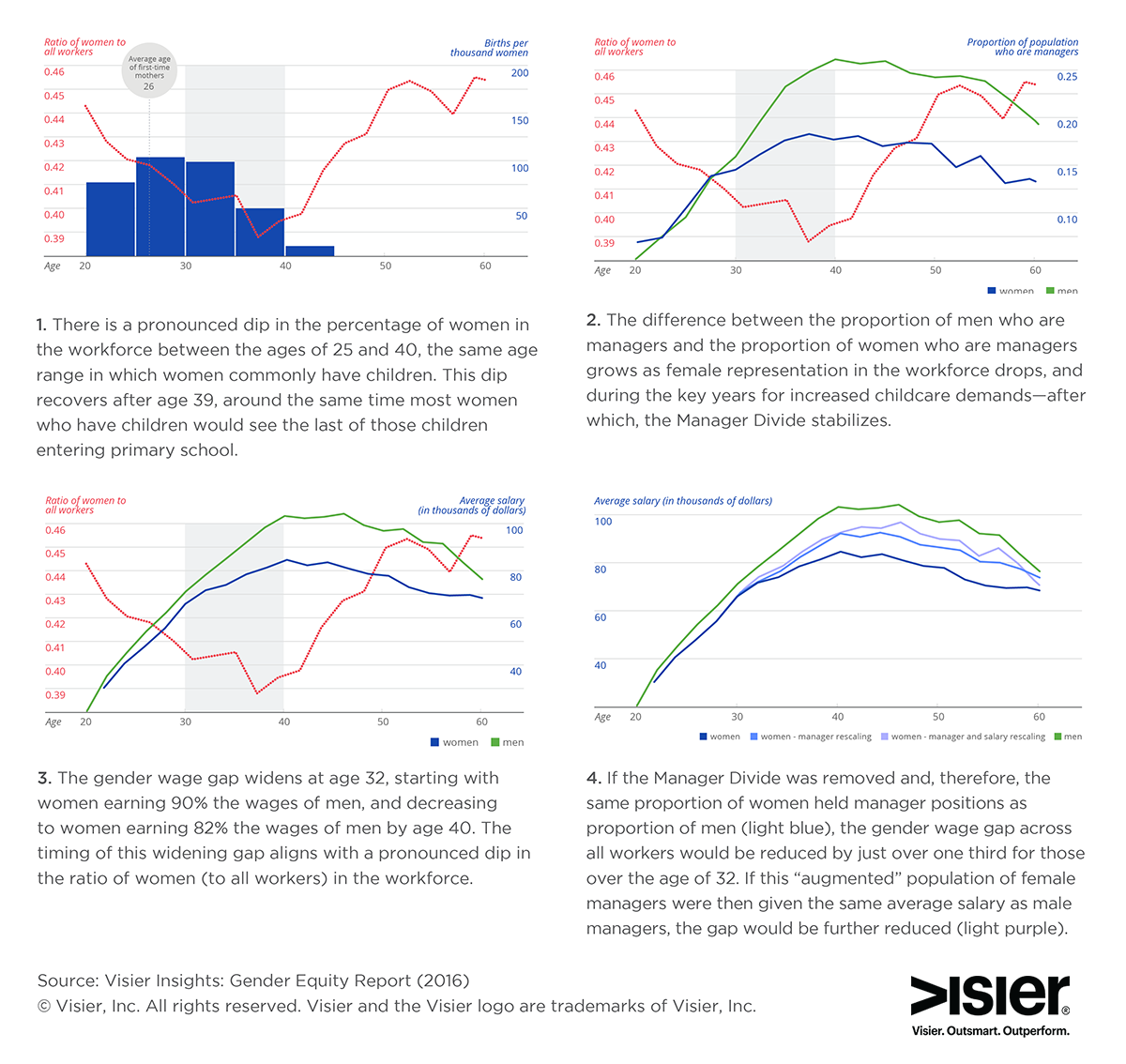 The Motherhood Penalty
In examining the Manager Divide (the underrepresentation of women in manager positions), we found a strong correlation to motherhood.
Between the critical career advancement ages of 25 to 40 there is a notable and steady decline in the percent of women in the workforce — meaning women are leaving the workforce at a higher rate than men during these years. This trend correlates to the childcare years: most women in the US who have children give birth to them between the ages of 25 and 34. With most children entering school (and, therefore, requiring less childcare) at age 5, women who have children are most likely to experience increased childcare demands up until the age of 39. These demands impact their careers.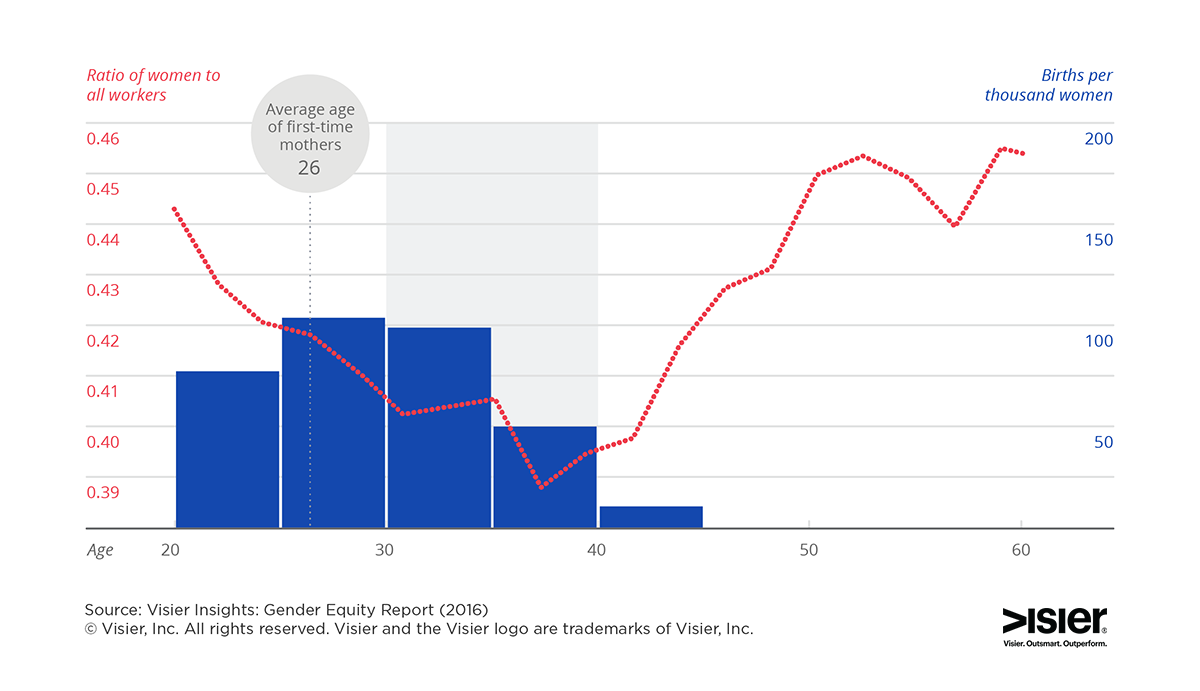 It probably won't be a surprise to many to hear that mothers are more likely than fathers to take time off from their careers or working lives to care for children. Despite an increased trend towards equal parenting, in today's society women still typically take on more of the family care responsibilities. A 2015 Harris Poll survey performed for Ernst & Young found that 50% of working mothers said they took a career break to raise a child, compared to 22% of working fathers. Similarly, a 2013 survey performed by the Pew Research Center found that:
42% of working mothers had reduced their work hours to care for a child or other family member at some point in their working life, compared with 28% of working fathers
39% of working mothers said they had taken a significant amount of time off from work for family-related reasons, compared with 24% of working fathers

27% of working mothers said they quit their job at some point for family reasons, compared to 10% of working fathers
The Impact of "Daddy Leave"
The connection of motherhood to the widening of the gender wage gap is further supported by research that shows the connection between pay and parental leave (the time a parent takes from work to care for a new child).
In the 1970s, Sweden became the first country to change its maternity leave to parental leave — leave that was available for use by both mothers and fathers. As part of the new policy, the parent on leave was guaranteed almost their full salary for their first year of leave and could choose to work 6-hour days when they returned to work, until their child entered school. As a result of this policy change, both female employment rates and birth rates in Sweden soon became among highest in the developed world. However, the share of fathers, who typically had a higher salary than mothers, taking parental leave stalled at 6% — until 1995, when Sweden introduced "daddy leave."
"Daddy leave" created a monetized incentive for fathers to take parental leave. While fathers were not forced to take parental leave, a family would lose one month of parental leave subsidies if he did not. (This was increased to two months in 2002.) The new policy had an immediate impact, quickly increasing the percent of fathers taking parental leave from 6 to 80%.
Suddenly, Sweden had a lot of data on fathers taking parental leave, which fueled new studies: in particular, a 2010 study published by the Swedish Institute of Labor Market Policy Evaluation, which found that "each additional month that the father stays on parental leave increases the mother's earnings by 6.7%."
The key finding: taking parental leave impacts earnings. Given that most leave is taken by women in the US, the playing field is uneven for men and women. A clear solution, therefore, is to level the playing field for men and women, and introduce paid parental leave — available equally to mothers and fathers.
The Movement for Paid Parental Leave
The US is the only developed country without mandatory paid parental leave. But there is a burgeoning movement to change that. A growing number of leading brands are introducing paid parental leave policies — for instance, companies like Twitter, Facebook, Etsy, Netflix, Bank of America, Patagonia, and Change.org recently introduced paid parental leave programs, making the same amount of leave available to all new parents, whether they are a mother, father, or non-birth parent. And, so far, four state governments (California, New Jersey, Rhode Island, and — most recently — New York) have signed into law legislation for paid family leave, all funded by employee payroll deductions, and covering between 55 – 67% of the worker's wages during the leave.
A 2014 White House report, The Economies of Paid and Unpaid Leave, outlines the business case for paid leave, summarizing a body of research from states and other developed countries that have paid leave policies, which found that paid leave can benefit employers by:
Improving employers' ability to retain talent, lowering costly worker turnover and minimizing loss of firm-specific skills
Boosting morale and worker productivity
Facilitating the recruitment of talented workers who plan to stay with a company after having children

Increasing the probability that women continue in their job after having a child, rather than quitting permanently, saving employers the expense of recruiting and training additional employees
Supporting this, a survey of 253 employers affected by California's paid family leave initiative found that the vast majority reported that paid family leave "had either 'no noticeable' or a 'positive effect' on productivity (89%), profitability/performance (91%), turnover (96%), and employee morale (99%)."
Similarly, a study of family leave policies and women's retention after childbirth (in the US, Britain, and Japan), found that "women who had family leave coverage were much more likely to return to work for their pre-birth employer." In the US, based on data from 1992-1995, the study found that 64% of mothers covered by leave returned compared to 43% not covered.
A Call to Action: Taking Steps to Finally Close the Gender Wage Gap
In light of these findings — in particular, the Manager Divide — what can we do, as employers, HR professionals, and community members, to accelerate the closing of the gender wage gap?
There are a number of important steps employers can take:
Implement the Rooney Rule: for every manager position you have open to fill, consider "at least one woman and one underrepresented minority" in your slate of candidates
Implement blind screening, removing names (or other gender identifiers) from resumes when selecting candidates for interviews

Increase measurement and awareness of gender equity in the rollout or implementation of HR policies, including compensation policies
Additionally, all of us — regardless of our role in our companies or communities — can work to eradicate the gender wage gap:
Support meaningful paid parental leave that is equal for both men and women
Ensure it is socially acceptable for both men and women to take time off to care for their children
Support programs that increase the availability of good quality affordable childcare for all parents
Ensure it is

socially acceptable

for both mothers and fathers to make use of flexible working time arrangements to care for children

Develop and support long-term programs —  starting in grade school, throughout high school and college, and into the work years — aimed at removing the gender bias and social taboos associated with career choices: while it might take ten- or twenty-years for these particular efforts to pay off, they are a key part of the solution for eradicating the gender wage gap
About the author: Karra Barron
Karra Barron is Visier's Sr. Content Marketing Manager and has over a decade of experience using storytelling to move people into action. At Visier, she is responsible for developing a wide range of thought leadership resources that educate and inspire business users to become data-driven leaders.
Be the first to know!
Never miss a story! Get the Outsmart newsletter.
Related Articles
LEADERSHIP
Looking to break into the tech sector? Moore's Law, risk acceptance seizing the right opportunity are just some of the ways to maximize your success.
CULTURE
To avoid drops in service quality and patient satisfaction scores, healthcare HR needs to estimate and track hiring rates more accurately.
TRENDS
HR thought leader, John Boudreau, dives into how human capital analogies can be used to accelerate HR, drive innovation, and improve strategies.