Publicly traded companies were required to include their organization's CEO Pay Ratio for the first time this year. Now that the results are in and the reverberations are being felt, what can organizations do to be better prepared for next year's CEO pay ratio filing? Let's start by reviewing what has happened so far with these filings.
Everyone's Wondering: What's the Truth Behind the Numbers?
The flexibility allowed by the SEC has led to some large variations in ratio numbers, not just between industries but within them, and this has made the filings difficult to interpret. How did the organization determine the median pay? Which employees were included or excluded? What went into calculating total compensation?
Michael Kesner, a retired principal and consultant to Deloitte Consulting LLP, shared the following anecdote:
"The wide variation in median employee pay within the retail sector shows that different companies in the same industry sector identified different jobs for their median employee. If they had all identified the same job—a store manager, for example—the data should be very close across those percentiles, but the spread is quite wide."
A small percentage of the first companies to file (99 out of just over 1000) chose to file supplemental disclosures. These disclosures helped to explain results and gave the organizations an opportunity to provide ratios using alternate calculations. Experts anticipate that more organizations will go this route in coming years as the ratios start to come under increasing scrutiny and year-over-year comparisons are done.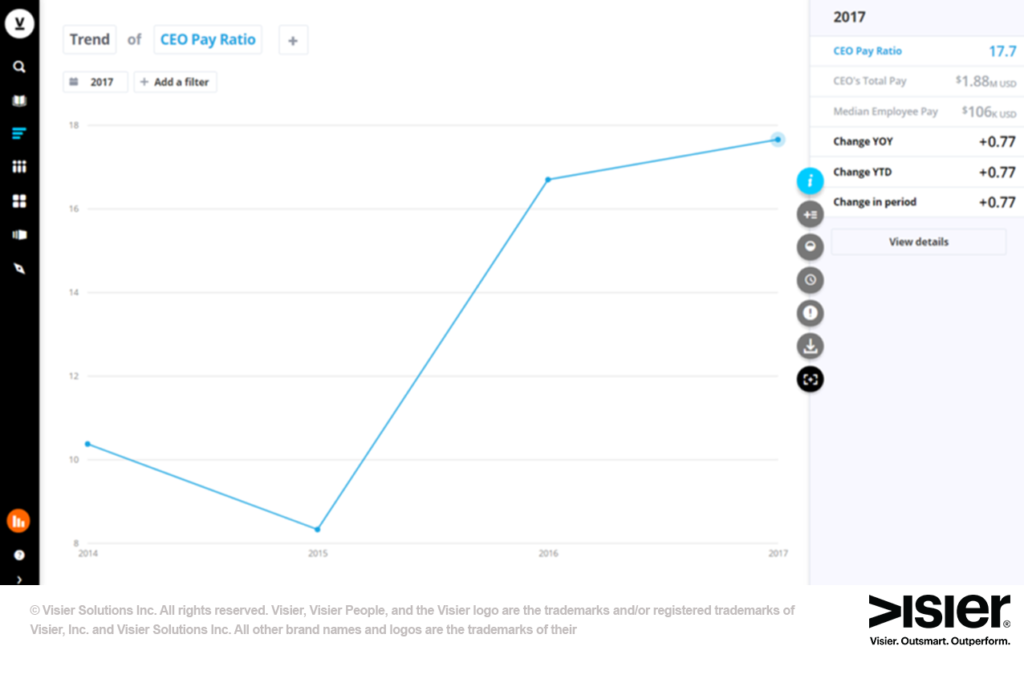 Reactions to the First Round of CEO Pay Ratio Filings
For now reactions to filings have been fairly predictable, from the expected outrage about the gaps to scores of articles explaining why the ratio really tell us nothing at all. At this point, there is little known about how employees have reacted to their filings, but many organizations certainly had employee reaction at the forefront of their mind, even to their own detriment.
For example, the vast majority of companies (84%) reviewed by Deloitte chose not to include health and welfare benefits in their determination of employee total compensation–even though this meant a higher CEO pay ratio (because the median employee pay was lower than it could have been).
Further digging suggested that this was a deliberate decision to avoid any confusion amongst employees who may not know the dollar value of their benefits and, therefore, might conclude that they were being underpaid. Examples like this show that organizations are concerned about employee perception, but they lack a communication plan.
Roadblocks to Watch For
One thing was made clear by this year's filings–the CEO Pay Ratio doesn't tell the whole story about how organizations are compensating their leaders. And while organizations can choose to create supplemental filings to give additional information, the wise organization will think beyond that.
Communications and public relations firm Dix & Eaton, suggests taking the following steps:

When preparing the disclosure, include context.
Communicate proactively with key stakeholders, especially employees, to build mutual support and trust.
Keep communications clear and concise.
Highlight other positives internally.

Take control of the story.
While the above advice is useful, most organizations won't be able to follow it as they don't have a clear view of their compensation realities or an authoritative and clear way of communicating these. For organizations using consulting services to calculate their CEO Pay Ratio, getting the additional context needed to control the narrative just adds more to an already costly engagement.
However, the organization that is pulling their CEO Pay Ratio from the existing workforce information in Visier People® has everything they need at their fingertips to prepare a well-informed–and defensible–filing and employee communication plan.
Preparing for Next Year's CEO Pay Ratio Filings
Visier customers are already ahead because they can easily determine their optimal CEO Pay Ratio for disclosure. Beyond that, these organizations can also identify the context influencing their numbers, generate additional analyses to share, and speak with confidence about their organization's realities.
For example, organizations with large numbers of part-time or seasonal workers, such as retail, have larger pay ratios because the median income isn't annualized. Geographic details may also impact the pay ratio when some locations have a lower cost of living, and therefore pay lower than the national average. This is important context to include in communications internally and externally. Organizations that can break out their part-time and seasonal workers from full-time workers can illustrate the annualized pay of these groups and how the ratios might shift when looked at from a different perspective.
Likewise, helping employees understand the total value of their compensation package, including health and wellness benefits, will enable organizations to include this in the compensation calculation. When you can illustrate different pay breakdowns, such as overtime, benefits and so on, you'll help your employees see how the total value of pay is calculated.
Visier enables organizations to quickly and easily break down types of earners, pay period details, and the breakdown of the total compensation to illustrate the necessary context for any organization's CEO Pay Ratio disclosure. And unlike the data in the various transaction systems, the data in Visier has been cleaned so that it can be trusted–by the board, by employees, and by the public.
The drill down capability and in-memory processing enables any presenter to accommodate requests for details or different perspectives on the spot. Visier People's unique data journalism format coupled with easy-to-read visualizations give you the tools you need to create content that puts this contentious number into context and allow organizations to get out in front of any future filings.
Next year, come prepared–not just to file, but to stand behind your organization's numbers.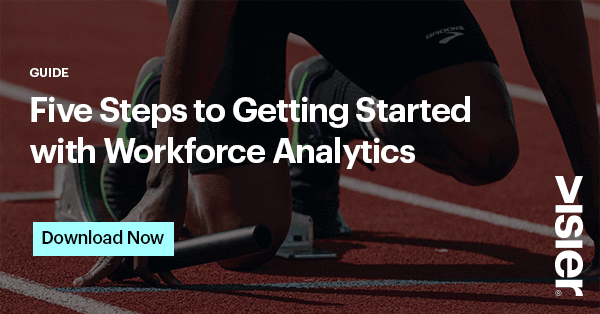 About the author: Caitlin Bigsby
Caitlin Bigsby has over 22 years of experience in HCM software solutions and has worked with dozens of organizations over the years to help them maximize the value of their investments, in both their people and their software. Caitlin shines a light on how analytic insight can elevate the strategy of Human Resources. In her spare time, she enjoys spending time with her family and dog, Toby.
Be the first to know!
Never miss a story! Get the Outsmart newsletter.
Related Articles
DIVERSITY & INCLUSION
Women in Leadership event - Speakers from Paradigm for Parity, Ingersoll Rand, and TIAA shared key takeaways on gender equity. Here is what they said.
DEEPER INSIGHTS
Top people analytics articles: learn how to put people data into the right context from an ethics, business, and organizational culture perspective.
TALENT MANAGEMENT
Strategic rapid talent allocation is not an easy feat, but these three agile workforce planning practices can make it less of a challenge. Find out how.